How to budget for an Indian wedding? These eight brides have some advice to give you on making all the right choices.
Now that we're nearing the last leg of a worldwide lockdown, it's safe to say that the world has changed. Amidst protests, climate change, recession, and a pandemic, it seems like we have collectively taken the time to reflect on life before 2020 and how we can do better. Love, despite it all, is a theme that seems to have survived it all.
As we scroll through our feeds and take in the beauty of the intimate, "new normal" weddings, we decided to reach out to a couple of real brides. We asked them to reflect on their pre-COVID weddings, about their current perspective, plus pain & simple: How to budget a wedding? While these ladies agree that celebration and love don't have to stop, mindfulness is key in the future.
Anushka Mulchandani: Lifestyle Blogger & Content Writer
"Apart from food and clothes, the costs of things like décor and entertainment can creep up on you. Find itemised costs for a range of these things. Sometimes, you'll find that one red flower versus another may have a major price difference. You can cut back on your costs without compromising vision. And with my wedding, I also made sure to tell photographers exactly what I wanted as a result, so I didn't have to throw extras into my package that can double up the cost. I didn't, for example, want an hour-long wedding video."
Zainab Jawadwala: Marketing Manager at Sony Pictures Network
"Personally, I feel like when you're budgeting your wedding, the first change that needs to happen is in your mind. I know a lot of women dream about their big day and while you can have a wonderful wedding, we should acknowledge that something larger is taking place in the world right now. Scaling down your wedding is in no way a reflection of your marriage and if anything, save those pots of money and put it towards good use. So, don't do the cookie cutter wedding and cut down on number of functions. Put that towards your travels!"
Sheefa Gilani: Fashion Stylist
"Even though our wedding was right before the lockdown, I had always imagined it to be an intimate affair. Since it was multicultural, we had the liberty to cut down whatever events we wanted and choose the ones that meant more to us. In terms of fashion, we saved a lot by repurposing outfits from our own closets for small functions like meheni & haldi. We also saved by sending out e-invites, instead of paper ones. And instead of a sangeet, we had a small getaway to Jaipur with 80 of our closest friends. Cutting down waste means a lot to us and made our wedding more beautiful, to us."
Sneha Sukhadia: Social Media & Branding Professional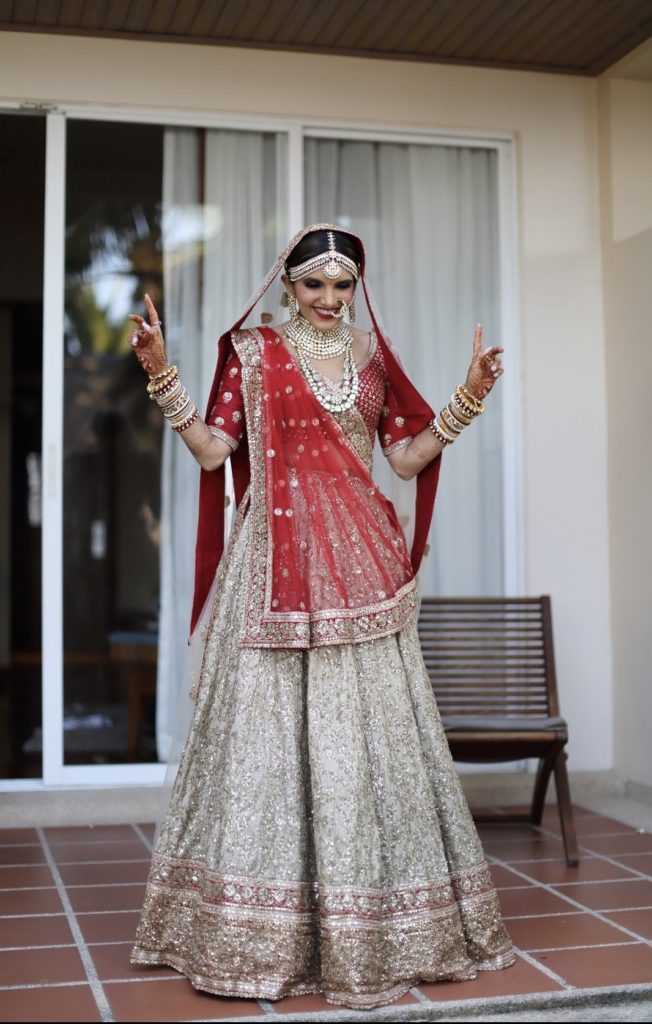 "I by no means had an intimate or low-key wedding, but that doesn't mean we didn't have a budget. If there's any advice I can give, it's setting your maximum budget. That way, you know your limit, but you know how much room you have to go lower or higher too. And pick your venue carefully. You don't have to go to the most expensive one. See what they can throw in for you, ask for added perks or bonuses."
Jaini Mehta: Content Head at Setu India
"Firstly, don't feel like you have to wear big name brand designers for everything. There's so much fresh talent out there, with people doing really conscious, current, or innovative designs. Find a designer that will suit your needs and work with you, give you the time of day to customise a dress that will be yours forever."
Krupa Shah: Senior Consultant at Frost & Sullivan
"Keep it simple, excess is just a waste. At the end of the day, your warmth and love are what lasts a lifetime and what people go home remembering. Also, instead of doing full real flowers, do setups that use both, so you can save a little. And you can also play around with lights for added drama. It doesn't always have to be about expensive décor."
Rajvi Choksi: Jewelry & Marketing Consultant at Moksh Fine Jewels
"As a jewellery consultant, I have to say that most bridal jewellery is such a waste. Set a budget for your jewellery, mix and match with heirloom pieces, and invest in pieces that won't sit in your locker for the rest of time. You should be able to use it, so mix in contemporary and fresh designs. At Moksh, we also offer customisation, so it's easier to work with what you already have, plus you can ask for things that are attachable and detachable – one-piece, multiple uses!"
Varisha Kampani: PR Professional
"As a PR professional, I'm glad I was clued into events. I chose boutique locations that are memorable and gorgeous, but not necessarily expensive, like clubhouses, terraces, and such. Another factor you can save on is food. Be mindful of variation and make sure there's something for all, but too many people are far too excessive and wasteful with food. If you have 500 items, nobody is getting around to all of it. So, pick quality over quantity. Whatever is leftover, you can always get a service to donate the food to the hungry and needy. God knows that's needed in this economy."