Decadent, intricately crafted, and exquisite nose rings have been an inseparable part of bridal jewellery in India. Whether you're an old-school maximalist or a minimalist modern bride, here is our edit of the hautest bridal nose ring designs.
From the traditional oversized, embellished nose rings of the Kumaon region to the pearl-studded Maharashtrian Peshwai Nath and the neo-ethnic septum rings, our inspiration wheel is brimming with ideas.
Minimal (yet graceful) hoops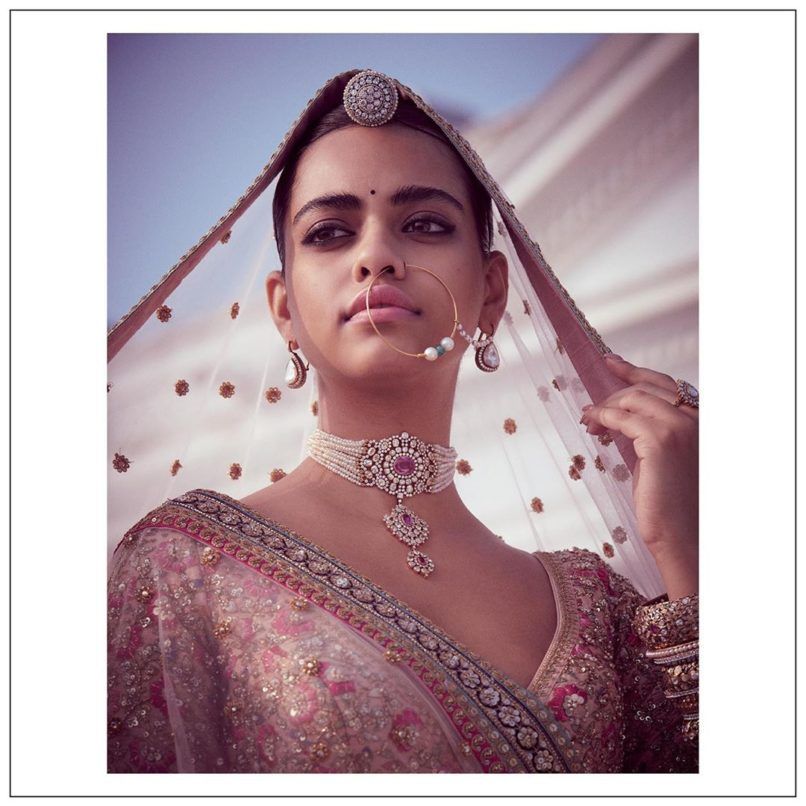 Simple and elegant, a classic minimal hoop is a way to go. You can never go wrong with them and can always depend on their sure-shot charm.
This Sabyasachi piece is giving major wedding ceremony goals. If you're looking at an affordable option, look no further than Akihi at Ogaan and Zariin.
Double hoops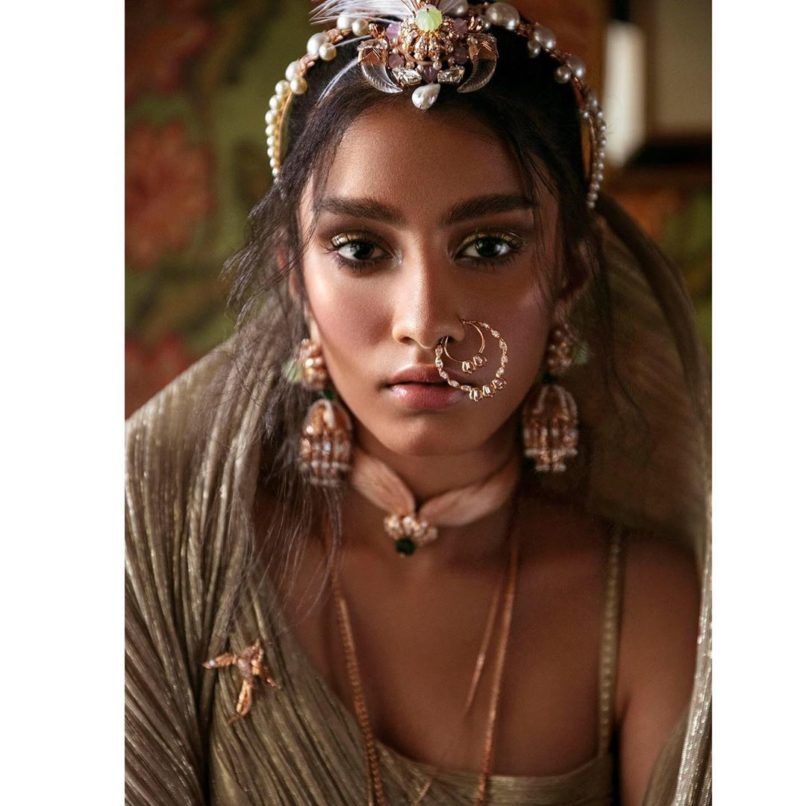 Why wear one when you can loop in two? Double hoops are all the rage lately. We suggest picking up quirky pieces; think of interesting motifs for the smaller hoop and go easy with the outer hoop. Take cues from this Outhouse piece.
Kundan is here to stay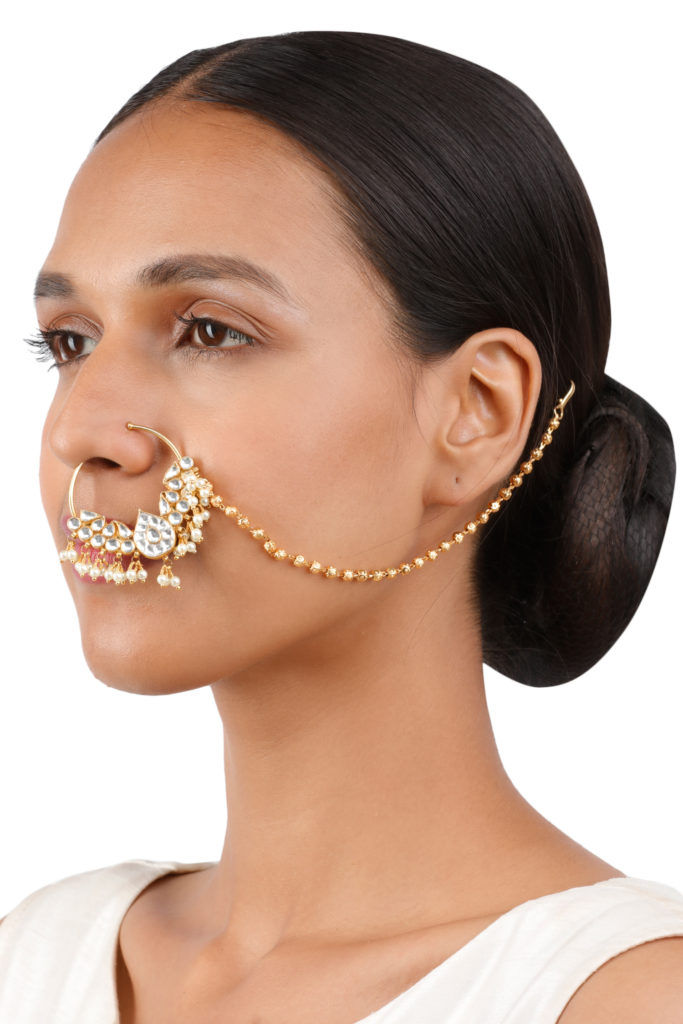 Intricate Kundan work resonates with bridal jewellery in India. What makes Kundan one of a kind is their versatility. Invest in pieces that can be looped in for functions other than your wedding ceremony.
Hema Khasturi at Aashni & Co showcases some great nose rings with Kundan work, perfect for modern brides. Nepra by Neha Goel at Aza Fashions keeps it minimal in Kundan too.
Neo-ethnic septum rings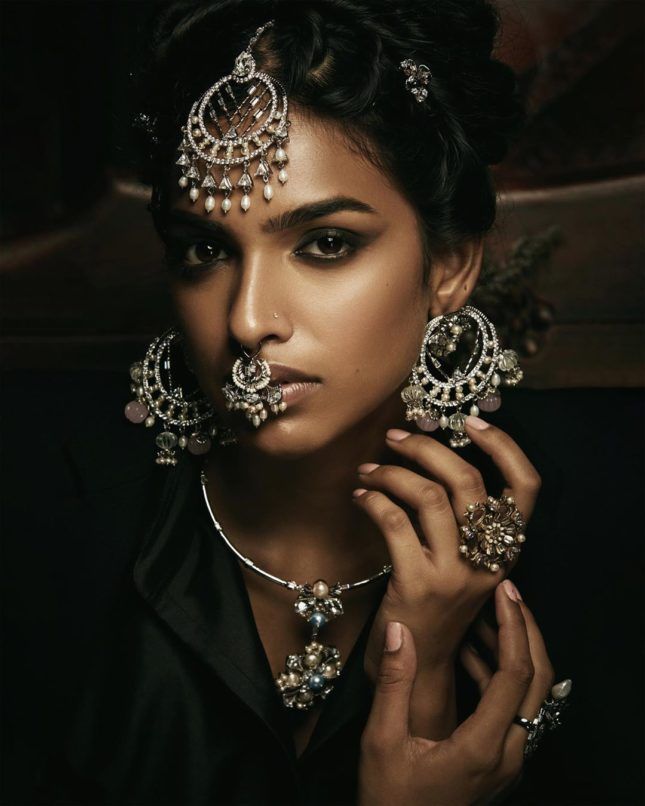 Septum rings are not just those edgy jewellery pieces limited to a music festival look. Lately, they have made headway into mainstream bridal jewellery, thanks to the likes of Outhouse and Tarun Tahiliani.
Whether you are looking for something in silver or pieces crafted in metal, beads and fabric, you'll be spoiled for choice with ample options. Raabta by Rahul houses some great septum rings too.
Single chains with oversized hoops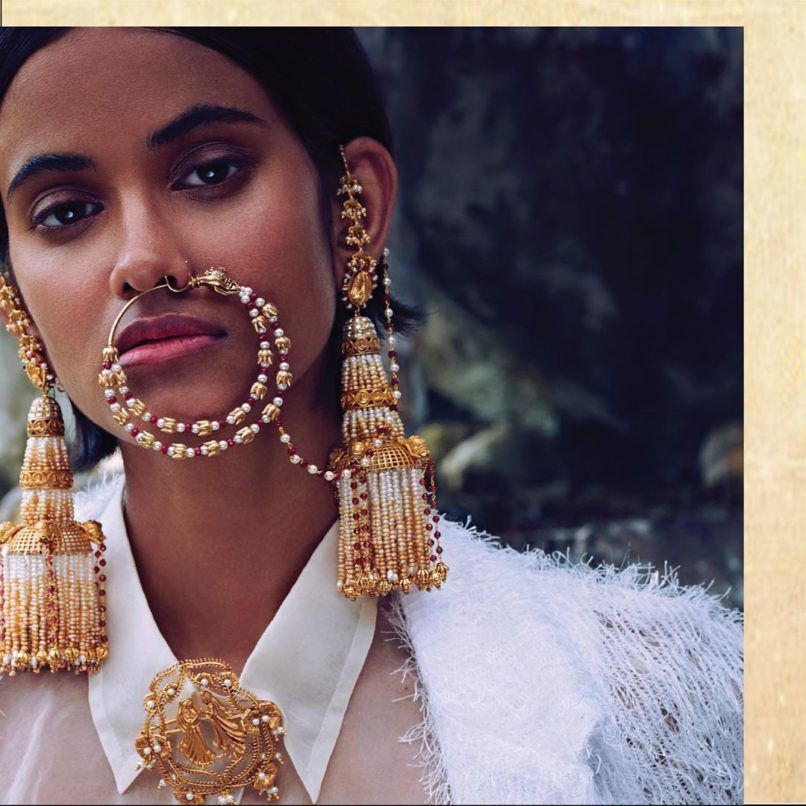 The idea is to have fun with tradition and what better way than to go for a quirky oversized hoop (maybe even double) and wear it with a chain that is attached to your bun. Even though the trend might have been done to death, you can always add your own spin to it.
Experiment with chains, colours, and gemstones. Pernia's pop up shop does give you a great many options in this style alongside Mortantra.
Do not shy away from textural/material interplay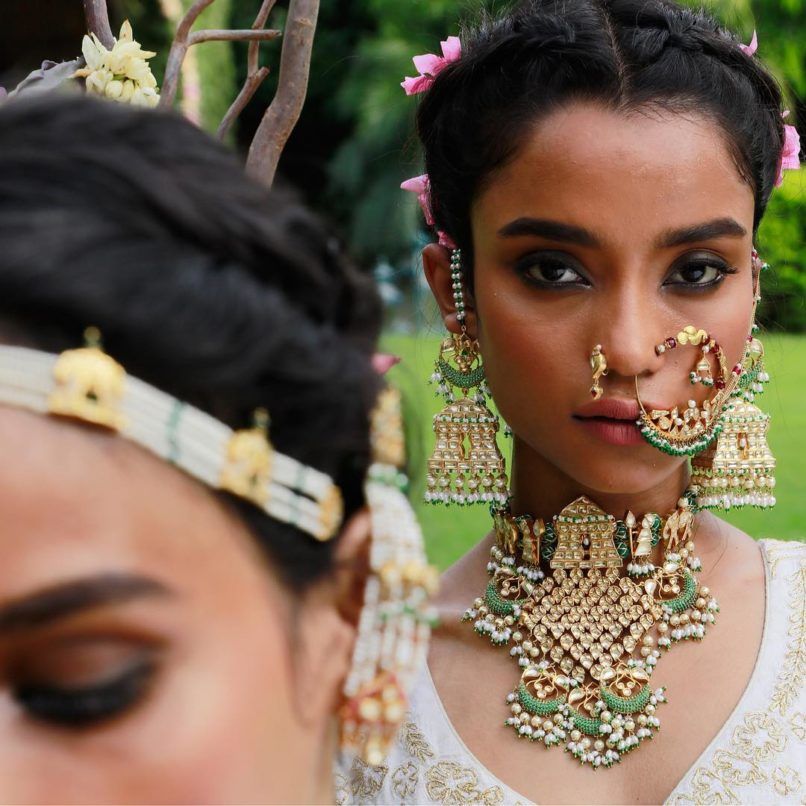 You might be a purist, believing in simple gold or pearl nose rings, but these days it is about assimilating different elements into your look. So, why not start with your nose ring.
Pick up pieces that feature colourful beads, Kundan, and gold; case in point being this Raabta by Rahul piece. The clash of green, white, and pink beads with neutral Kundan shade makes it a winning piece.
Multiple chains
Think of traditional bridal nose ring designs and multiple chains become an obvious choice. If you are planning to opt for smaller hoops you can always attach multiple chains to them. Amrapali has some great designs in this style that work for every bride.
A retro take on the traditional nath designs
They are not just limited to big-screen costume dramas. Brides who want to loop in their bit of tradition in the look, what better way than to depend on an exquisite Marathi Peshwai Nath or a bejewelled version of the traditional Pallaku nose ring from the south.
Art Karat is a great place to check out new-age, contemporary styles.
Traditional motifs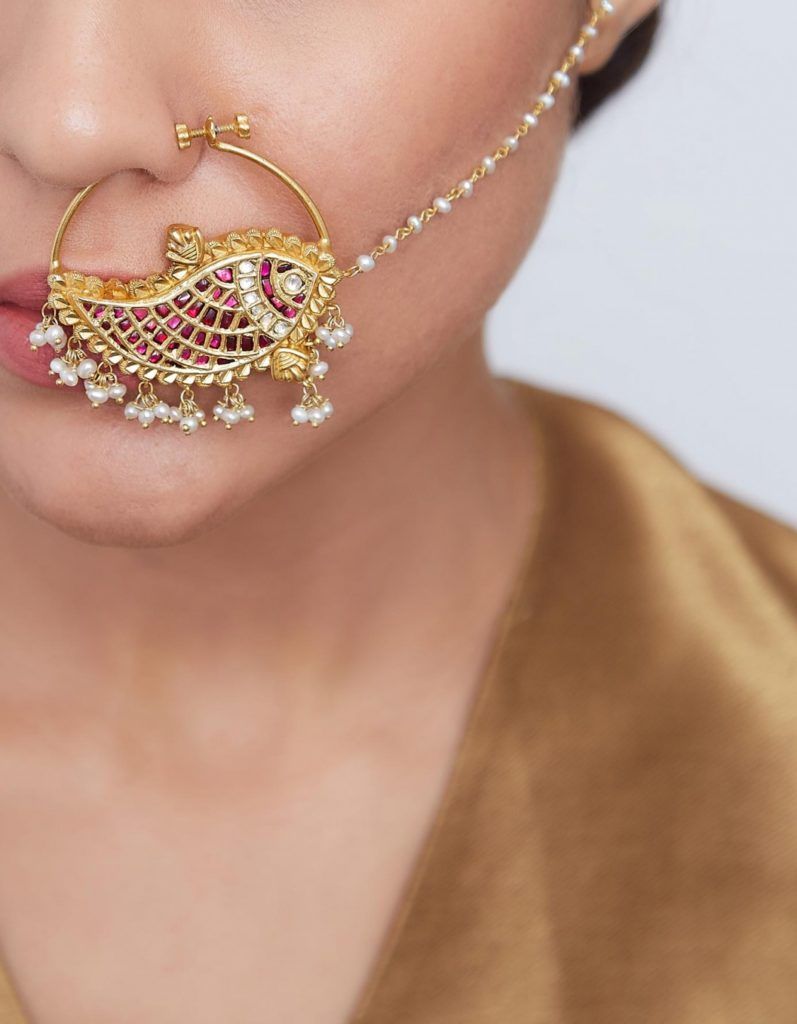 South Indian temple jewellery naths are a great option if you are looking to add a royal touch to your bridal look. Motifs like fish, temples and mango motifs add that much-needed traditional charm especially if you are opting for Benarasi or raw silk lehengas.
This beautiful fish-design from Amrapali is perfect. Raabel is another label that has some great contemporary designs.
Minimal and modern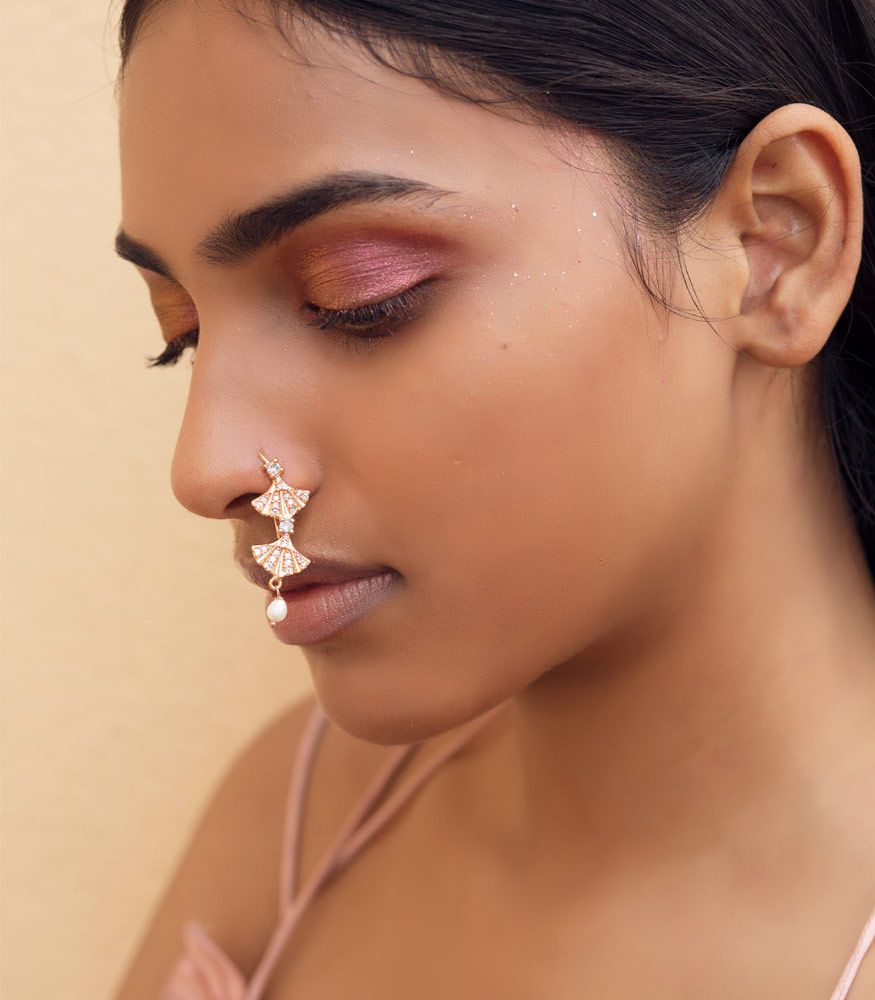 If you're a bride who loves something new, the minimal nose rings at Zariin make for a perfect choice. More brides are opting for Swarovski and modern designs when choosing bridal jewellery.
Things to consider while buying bridal nose rings
Outfit: One of the most important aspects to keep in mind while buying a nose ring is that it matches your bridal outfit, especially its embellishments and colour scheme. For instance, wear a polki-studded nose ring with an Indo-western inspired outfit.
Budget: Depending on how much you are willing to spend, you can go for semi-precious, gold, or diamond-studded jewellery.
Style: While buying a nose ring for your special day, pick something timeless and classic.
Versatility: If you like to experiment, then buy something unique, like a minimalistic pearl nose ring or Kundan-studded one, which will complement almost all types and colours of outfits.
Can I wear a nose ring without piercing?
Definitely. You can wear either a nose ring or a nath without getting a piercing. The secret lies in its screw. Buy a nath that is light in weight and comes with a clip-on screw that helps it stay in place.
Nath designs for every face shape
Let's explore some common face shapes and what type of nath to pick accordingly.
Round face
People with such face types have a softer jawline and a much rounder chin than other face shapes. A small-sized nath will look the best to accentuate the chin area.
Square face
This face type owes its appearance to a pronounced jawline cutting at sharp angles So, big naths are a suitable choice but make sure that they are not heavily embellished.
Buy half-studded and minimalistic naths.
Oval face
This versatile face shape can sport almost any nath design. Big and round naths will add dimension to the face.
Diamond face
Medium-sized or half-studded minimal naths will add grace and draw attention to the best features of this face type.
(All images: Courtesy Instagram)