Weddings in India conjures an expansive image of jewellery. These heirlooms don't just call for financial investment but require significant time to plan too. From traditional necklaces such as chokers and rani haars to exquisite passa, gold cummerbands and haathphools, the repository of bridal jewellery is brimming with ideas and inspirations. So to ease it down for you, we round up a few bridal jewellery must-haves. 
Passa
One of the most popular hair accessories, passa dates back to the Mughal era when it was introduced in India for the first time. Available in polki, diamonds, pearls, and other studded with multiple jewels, passa is a must-have. You can look up to brands such as Purab Paschim, Raabta by Rahul for the same. Jaypore, interestingly has a few underrated labels that showcase modern, yet contemporary designs.
Haathphool
Out of all the traditional insignias of bridal jewellery in India, haathphools are the most popular. Look for pearl work, filigree or Meenakari work, these are invest-worthy pieces. Who better than Sabyasachi, Sunita Shekhawat, Raabta by Rahul, Outhouse and Ogaan to checkout the same.
Chokers
Chokers are one of the most celebrated bridal necklaces, which originally belong to the Nizami jewellery spectrum. Besides a spectrum of jewellery labels in Indian such as Amrapali, PC Jewellers, Purab Paschim, Raabta by Rahul and Tanishq, it is Sabyasachi who is known for his exquisite range of chokers.
Rani Haars
If you are a fan of decadent necklaces, then rani haar, defined by studded gemstones, is your piece. Amrapali and traditional polki brands such as Raaniwala, Kishandas & Co for Anushree Reddy and Sunita Shekhawat lead the pack when it comes to making statement rani haars.
Satlada
Satlada is made of seven strands of pearls, each with pendants made of gold and precious stones. The length of the neckpiece increases with each strand, all of which are attached to a small bejewelled plate in between. Traditionally, the Satlada is supposed to have 465 pearls, but designers today have created their modern prototypes in diamonds and other gems stones. Sunita Shekhawat's newest collection has a few, that are perfect for contemporary brides. 
Anklets
Often referred to as 'payal' or 'pajeeb' in North India, anklets define a quintessential Indian bride. Made in gold, silver, and sometimes even pearls, a wide of range of them is available at Raabta By Rahul, Khanna jewellers and Nepra By Neha Goel.
Matha Patti and mang tikka
Traditional matha pattis never lose their charm. Made in pearls and gold, their dual-toned appearance makes them glam. If you are too adventurous, opt for heavier pieces in multi-coloured gemstones. Remember the one opted by Sonam Kapoor when she closed Ralph & Russo's couture show? If you are picking up something so decadent, go easy with neckpieces and earrings. Let your statement pieces do the talking. Almost all jewellery designers have created beautiful renditions of Matha Pattis. For reference, check out Sabyasachi, Outhouse, Amrapali.
Nose rings and nath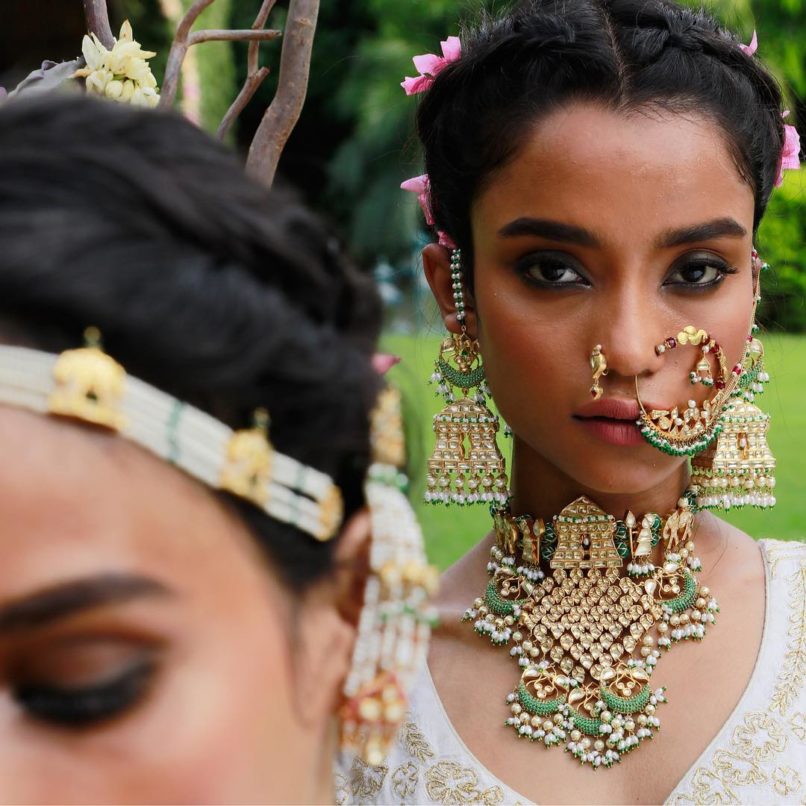 Single or multiple hooped; with chains or septum rings. Decadent and exquisite nose rings have been an inseparable part of the bridal jewellery in India. Whether you're an old-school maximalist or a minimalist modern bride, this is our edit of the hautest bridal nose ring designs.
Jhumkaas or chandbaalis
One cannot do without a decadent pair of jhumkaas. From polki to diamonds to pearls, there is no dearth of inspiration when it comes to traditional jhumkaas. Another earring type gaining popularity is chandbaali. From the old school Nizami bracket, these have been experimented by the likes of Sabyasachi, Kishandas & Co for Anushree Reddy, Maheep Kapoor, and even Tanishq.
Hero image: Courtesy Sunita Shekhawat/ Featured image: Courtesy Anushree Reddy & Kishandas & Co