Matha Pattis on real brides that caught our attention. From the stylish polki ones to the stunning multi-layered additions.
Framing the face is important when it comes to being a bride and if your best accessory to achieve that is the humble matha patti, then it's a cake walk. But the big question then is: what kind of matha patti should you choose as a bride? Thankfully, there are no wrong choices. The market is teeming with all kinds and all sizes of matha pattis and we found 14 brides who showcased them in style. Here are some ideas if you're scouring the  internet for some much-needed inspiration.
The Polki Matha Patti
Photography: @arjunmahatta. Mahatta Weddings; Makeup: @makeupbyspeastland16 Hair: @hairbyahmad786; Decor: @sepia_events
Naina, the bride kept it simple in a traditional matha patti that is made with polkis and pearls. The design is minimal and the coloured beads match the red lehenga.
Navratna Matha Patti
Photography: Mavikhazam
A navratna matha patti is one of a kind and suits every outfit and this bride has made sure all the colours worked to make sure her trousseau is stunning.
Matching Matha Patti
Photography: Gaatha by Priyanshu Bhargava; Makeup: @nilofermakeup; Outfit: @sabyasachiofficial
Pratha (@flyingparatha), the stunning bride matches her jewellery set with her matha patti giving it that beautiful charm.
Stunning Pearl Matha Patti
Photography: Hitched & Clicked;Makeup: @paveenarathour; Outfit: @sabyasachiofficial; Decor:@eventfullyyoursdesign; Planner:@nishchaygandhidesigns
Tarini, the bride makes sure the pearl matha patti showcases her personal style and keeps it vintage and fun. We love how she chose one with bigger pearls around the polkis.
Black Bead Matha Patti
Photography: The Wedding Story
Trust Bipasha Basu to keep it beautiful, this black bead matha patti resonates with her personal style and we love how she matched it with her oversized nath.
Sonam's Off-beat Vintage Matha Patti
Sonam Kapoor always does it in style and her multi-strand pearl and multi-stone matha patti is as stunning as they come.
New-age Matha Patti
Photography: @deepikasdeepclicks; Makeup: @makeupbytripti
Alka, the bride knows just how to choose a matha patti that accentuates her entire look. This pearl and polki addition is just simple yet stunning.
Multi-strand Matha Patti
Photography: @lakshya_chawla1 of Shutterdown Photography;Makeup:@samairasandhu; Wedding Planner @catapulttweddings
This bride, Aanchal, wore a graphic design matha patti that accentuated her whole jewellery game and took it to the next level.
Traditional Hanging Matha Patti
Photography: My Sun & Stars. Co 
This beautiful polki hanging matha patti adds grace to the simple look and creates a beautiful balance.
Many Matha Pattis
Photography: @prashantkumar.photography;Makeup: @maketress_by_parul
This bride made sure she layered on two matha pattis to create an ideal OTT look. The enamel style went beautifully with the minimal polki design to create a new look altogether.
The Quirky Matha Patti
Outfit: @arpitamehtaofficial; Photography: @sam_and_ekta; Makeup: @natasha.moor; Hair: @arifanurjayant0_hair_do
The bride, Piya (@piyaplumploo) keeps it fun and effortless in a pearl and gold quirky and bohemian matha patti.
Multi-layered Matha Patti
Photography:@thebigdaystory; Jewellery: @purabpaschim
Actress Niti Taylor keeps it fresh with her multi-layered headpiece that offers great style and matches her simple yellow lehenga.
The Intricate Matha Patti
Photography: Through The Barrel; Outfit: Sabyasachi 
We love headpieces that make an impact and Ragini, the bride made sure her matha patti is the talk of the town. The design is intricate and the styling, impeccable.
The Unique Matha Patti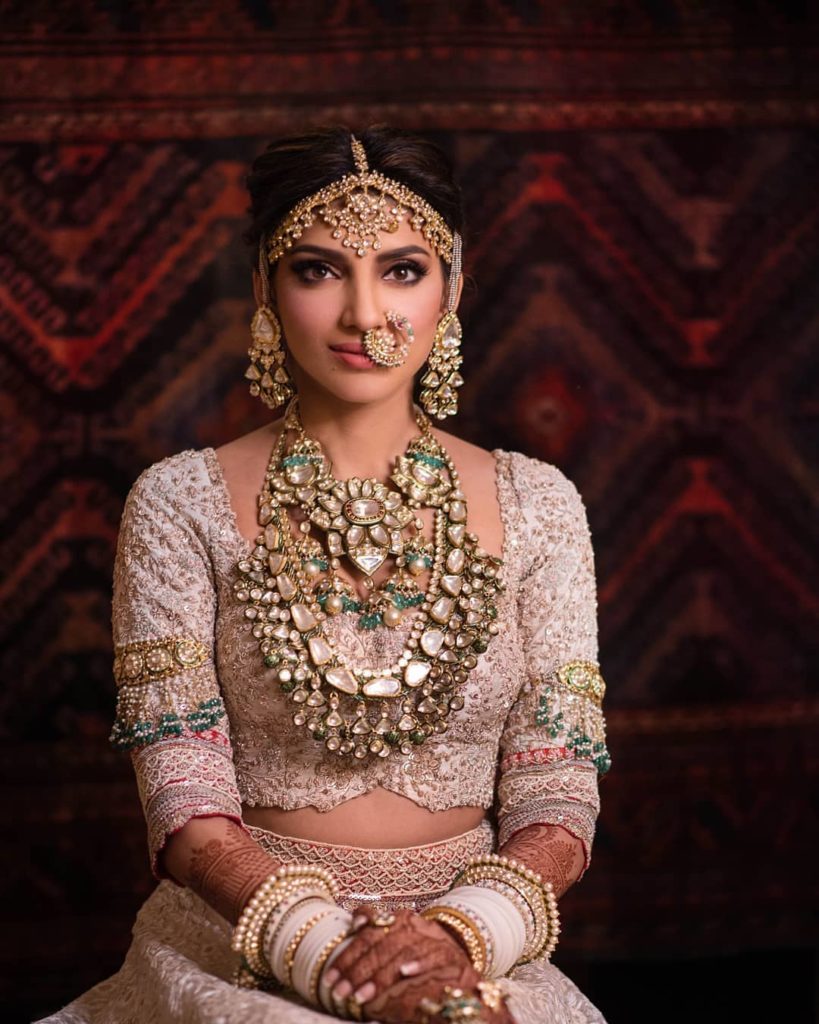 Photography: @rohan.foto;Makeup: @makeupartisttamanna;Jewellery: @krsalajewellery; Outfit: @anamikakhanna.in
Trust Miheeka, the newest celebrity bride to kick up a storm in a uniquely-shaped matha patti that is done beautifully by Krsala Jewels.