Think of Indian bridal couture and one of the first names that comes to mind is JJ Valaya. In an ever-evolving fashion-scape, it is his commitment to uncompromised levels of craftsmanship that make him stand out. Be it intricate lehengas, exquisite velvet dupattas, blouses that double as works of art, or saris featuring chevron stripes, the designer's keen sense of design is evident in all his creations.
Take, for instance, his latest couture offering — the 2020-21 collection, Bursa, was inspired by the Ottoman Empire. Taking inspiration from their famed silks and miniature paintings, Valaya created a line of exquisitely crafted lehengas featuring zardozi, crystals, beads, and pearls. Alongside, he rolled out his new Ika jacket.
With a career spanning almost three decades, Valaya has created a patronage that includes some of India's foremost business families, Bollywood, and even royalty. At a time when fashion's narrative is going through an overhaul in terms of changing shopping habits, what makes him relevant? His understanding of the Indian bridal market, and the value of heirlooms and their cultural relevance. And how can these age-old pieces of finery stay current in the contemporary bridal-scape.
We caught up with JJ Valaya to understand how modern brides can experiment with heirlooms.
On the relevance of heirlooms in the millennial fashion-scape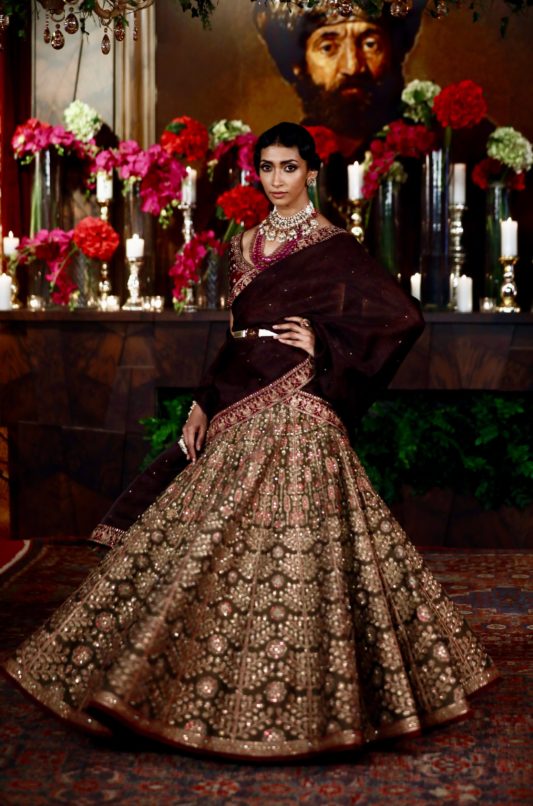 "Irrespective of the generation, people always love exceptionally beautiful things — couture pieces that last forever. It is now more than ever that heirlooms acquire more value, particularly in the post-COVID scenario. I think there will be a few consumers concentrating on the basics of life, while others will shop with a point of view to live in the moment and enjoy the present. They will travel more and spend more. Sustainability has also become an inseparable part of fashion, and it makes sense to talk about it now more than ever. Heirlooms are a symbol of sustainability — the intricate detailing that goes behind creating these pieces has long-lasting essence."
"Today, we have our clients coming back to us even after three decades to get their heirlooms refurbished for their daughters. For us, that's the biggest sign of sustainability. You spend a little more, but you know the value of the piece."
On the ways in which one can refurbish an heirloom lehenga
"The beauty of the heirloom is in its very form in which one inherited it. I personally veer away from experimenting with original embroideries, colours, or embellishments. But customising can be done — necklines can be recreated as per the requirement, we can experiment with the length of the blouse and sleeve. For brides who want to loop in their inherited heirlooms, most of the experiments happen around the blouse. Don't compromise on the originality of the lehenga and the dupatta."
On adapting dupattas
"Double dupatta, as a trend, is here to stay. Mostly you will see a heavier dupatta with a lighter veil. Even while looking like royalty at the wedding, a modern bride wants her hands to be free, so the best way is to hold your dupattas with a statement belt. We have recently introduced the phoenix belt that can hold those heavy heirloom dupattas when paired with beautiful, lighter veils."
On making heirloom saris fit the modern bridal canvas
"Old-school bridal saris were pure works of art; they had a certain purity and a reverence to them. Again, I do not believe in compromising original weaves, but you can experiment with the blouse. You can even loop in a beautiful jacket and a belt to bring the look together."
On how can one look after their heirlooms
"Getting the packaging right is important. We have had mothers of some would-be brides coming with pieces that we created a quarter of a century ago. And seeing how well the fabric has been restored is great. Do not hang your couture piece; it will loosen the embroidery. You need to flatpack it, put layers of butter paper between each fold. Then the whole package goes in a muslin bag, which is further protected by a box."
All images: Courtesy JJ Valaya