Getting married in an astoundingly magical place, anywhere in the world, is a dream come true for many. Today, it's not just about perfect outfits; walking down the aisle or sitting at a picturesque mandap at a breathtaking venue, surrounded by loved ones, is equally important.
Easily and strategically, many couples turn to Bali as the go-to destination for their wedding receptions. The island destination is popular for its stunning hotels — some really out of the world — as well as breathtaking scenic views of the ocean, the mountains, and the rice terraces.
Whether it is a low-key wedding with just family and close friends, or an extravagant celebration (you can book the entire villa resort for everyone), these places have the best offerings to help you curate the most memorable experience without all the stress and worries. Some even offer helicopter rides for you to really 'make a grand entrance'. Here are the best resorts in Bali for Indian weddings in 2019 and 2020. 
(Featured image: A shot by @zohaibali.co.uk; Event planner: @eventures.asia; Outfits: @sabyasachiofficial)
1
The Bale Dedari at The Chedi Club Tanah Gajah
If you and your significant other are looking to get married within the surrounds of Bali's pastoral and rural landscapes, The Chedi Club Tanah Gajah might exactly be what you've had in mind. Tucked in Ubud's lushest rice fields, it is difficult to not fall in love with nature when you're here. Small wedding ceremonies are perfect at The Bale Dedari that's blessed with the most scenic view of Mount Agung in the distance — you can have an intimate afternoon soiree with your loved ones right after the exchange of vows. There are also larger venues like the Amphitheatre that holds up to 100 pax.
Capacity: 10 to 15
see more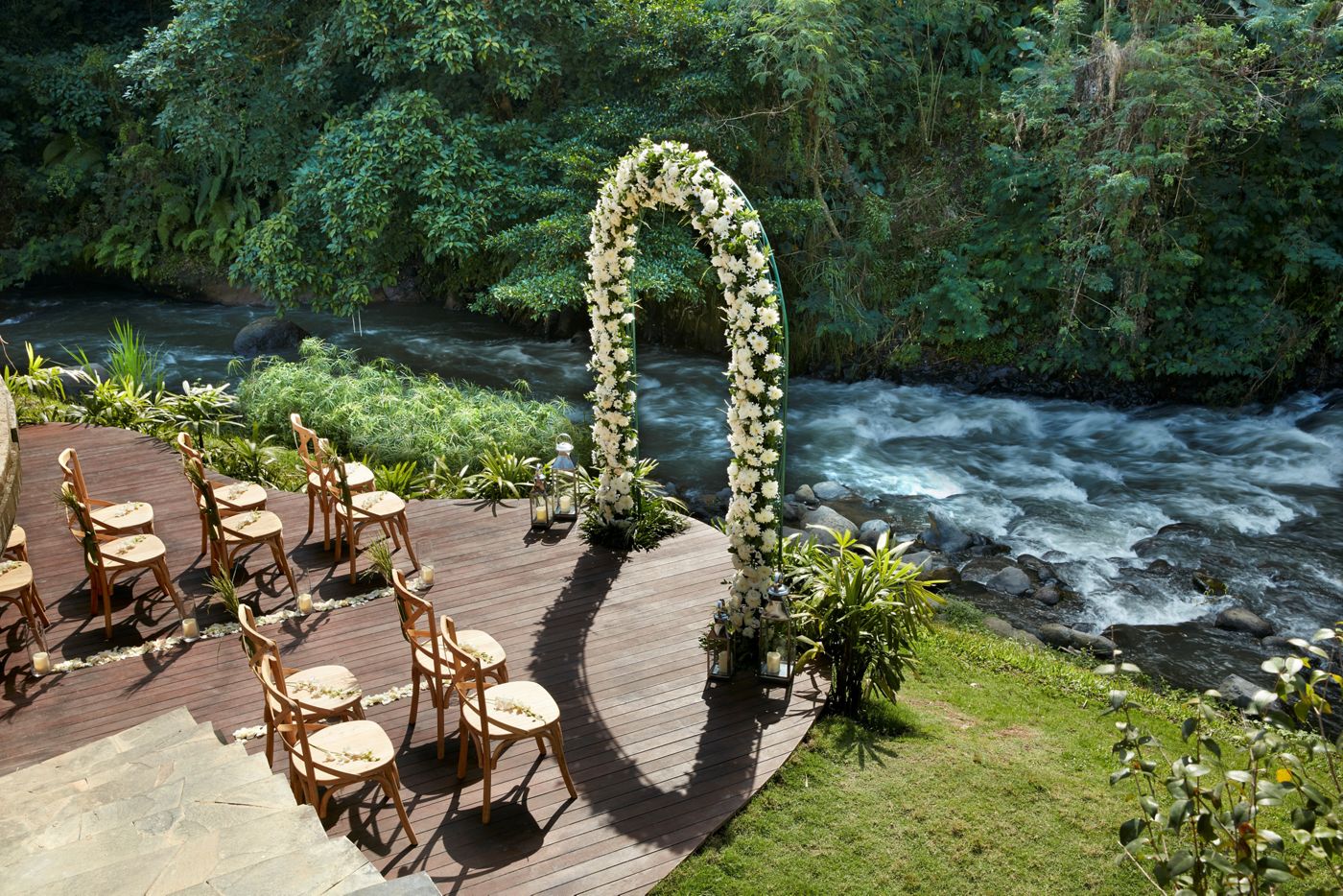 2
Ayung Riverside at Mandapa, a Ritz-Carlton Reserve
Mandapa Reserve is the place to have an outdoor wedding reception framed by lush paddy fields and undulating hills in the background. There are six different venues and three restaurants to choose from but we'd suggest having it at the Ayung Riverside. During the day, it is best for nuptial rites as you immerse in the sound of gushing water amidst the verdant foliage. Come dusk, let your hair down and bask in the romantic ambience with flickering candlelights and dance freely under the stars as newlyweds.
Capacity: 100 pax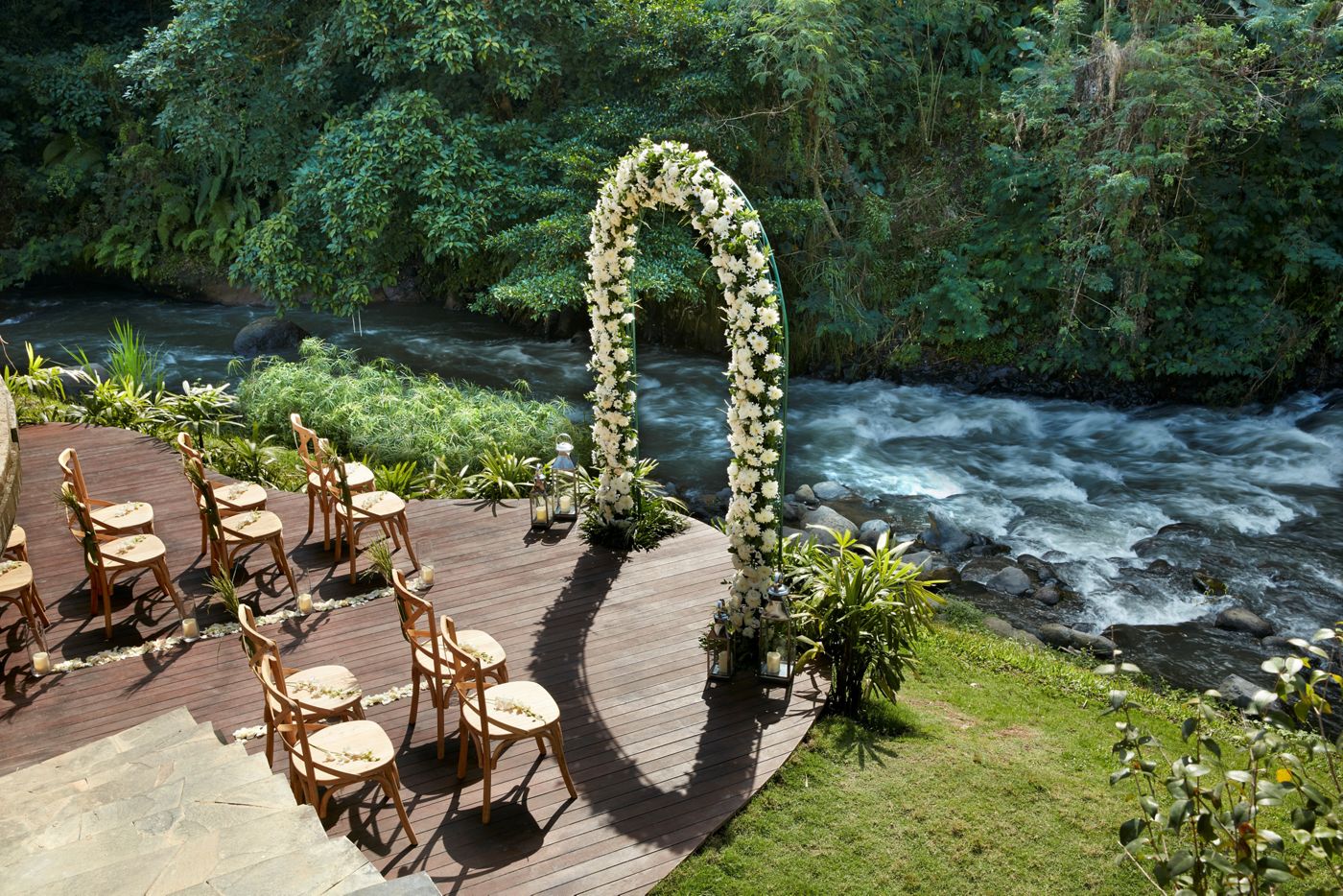 see more
3
Beach Wedding at Bulgari Hotel & Resort
Skip the mandap and let nature surprise you with its splendour when you have your wedding ceremony by the pristine beach at Bulgari Hotel & Resort. Relish in the expansive slice of paradise as you say 'I do' by the seaside, set against the majestic architecture of the hotel. There are also private pool villas and mansions (with up to five rooms) for you to stay during the occasion. This is where you want to have your closest family members and best friends around to be part of an important moment of your life in one of Bali's most prestigious properties.
Capacity: Flexible
see more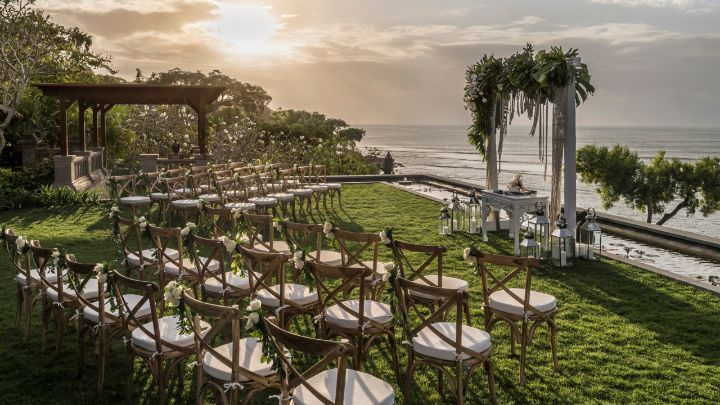 4
Imperial Villa at Four Seasons Resort Bali at Jimbaran Bay
Four Seasons Resort Bali at Jimbaran Bay offers stunning architecture and interiors that come straight out of glossy design magazines. And the Imperial Villa is one place where you want to have your wedding at. The two-storey villa oversees sweeping views of the bay with rooftop gardens, infinity pools, thatched roof verandahs and a picture-perfect balcony. Have your reception at the alfresco area that doubles up as a dance floor. It is also a perfect honeymoon destination for newly weds.
Capacity: Up to 40 pax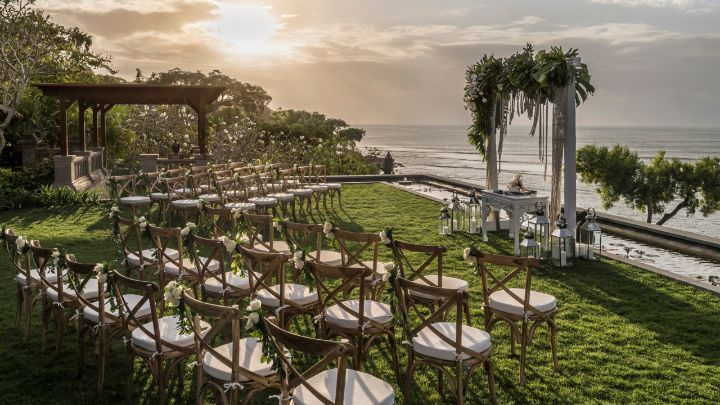 see more
5
Eternity Chapel at The Mulia, Mulia Resort & Villas
On top of the three wedding chapels at the Mulia Resort & Villas, The Eternity Chapel is one of the most breathtaking places to have your wedding — be it an intimate affair, private reception of a big flamboyant celebration. This floating glass chapel is a dazzling venue that sits in the middle of the shimmering waters of Mulia Lake in the middle of the resort. There's also a professional team in the resort to help you manage everything; so you can sit back, relax and enjoy the wedding.
Capacity: Up to 250 pax
see more
6
Beachfront at W Bali
Exchange wedding vows at the beachfront at W Bali in the vibrant Seminyak area if your guests are the more outgoing kind. W Bali offers bespoke wedding services especially with its one-of-a-kind 'Wed your Way' wedding experience that allows you to customise your preferred arrangements. From creating a personal playlist to hiring a private helicopter to make an entrance, it is where you want to splurge for an unforgettable matrimony of a lifetime.
Capacity: Up to 250 guests
7
The Cliff-Edge Cabana at Alila Villas Uluwatu
Another crowd-favourite is the Cliff-Edge Cabana at Alila Villas Uluwatu that's blessed with its beautiful infinite horizon complementing its gravity-defying architecture. Located in the more secluded Uluwatu, the Cliff-Edge Cabana is a birdcage-like structure that's built for two, with an aisle that cuts across the gorgeous garden. You can also book out the entire resort for your guests that's flying in for the wedding.
Capacity: 120 pax
see more
8
The Forest Pool at Bisma Eight
The mystical views and enchanting forest are exactly what you'll experience at Bisma Eight which is located in the heart of Ubud's cultural centre. Have your wedding reception at the Forest Pool, a floating aisle within the jungle setting that looks like something from the pages of a movie. Perched high up in the treetop canopies, the space faces an infinity pool that makes the perfect backdrop for wedding photos. The team of professionals at Bisma Eight is also readily helpful to provide a stress-free experience for the perfect wedding.
Capacity: 100 pax
see more
9
Villa Tamarama at The Ungasan Clifftop Resort
Expect nothing less from this six-star private resort when it comes to planning your the most lavish wedding ceremony of your dreams. The stunning villas, paired with views that electrifies you into complete speechlessness are what you, your partner and your guests will be experiencing here at The Ungasan Clifftop Resort. The colonial-style Villa Tamarama is the venue for a white-themed wedding thanks to its pristine architecture and a connecting outdoor space for both day and night soirees. If you want to take your wedding up the notch, book the entire villa for your guests and take over the Sundays Beach Club for everyone to enjoy the beach (and sun) as a token of gratitude for their presence. (Credit: Source)
Capacity: 100 guests
This story by Martin Teo first appeared in Lifestyle Asia Kuala Lumpur 
see more