Real Indian Wedding: This week we have Namha and Edul's intimate, multi-cultural, social-distanced wedding that has all the hallmarks of a minimalist and real Indian wedding with a touch of style.
It's not often that we see
intimate weddings
that are not just simple but take the stress out of the events as well. With social distancing still continuing to be a trend, we are seeing more and more brides and grooms opting for smart lunches, small ceremonies and cozy dinners to set the pace and spend quality time with their loved ones. Case in point, Namha who married the love of her life Edul in a terrific small ceremony with family and friends, masks and sanitisers and the prettiest set-up in a cozy venue – all hallmarks of a great event handled in the most fun, most social-distanced way.
Namha surprisingly is also the wedding planner at her own wedding, give or take a bit of help from her family. Her own
Wedding
Planning Company, Castles & Coasters, started in 2018 is testament to the fact that the can overcome any challenge and pull off a small, minimalist wedding with a handful of people with all the super fun details in place. 
The wedding:
The fairytale romance of Namha, a Punjabi and Edul, a Parsi was  nothing short of a rollercoaster ride. As the two love birds got their friends and families in place for this wedding, Covid just happened and they could not go ahead with their mega celebrations. Hailing from two different cultures, they went ahead with a civil marriage, most couples are doing it these days. And once the ceremonies are over, it's about love that is celebrated through a beautiful dinner with loved ones around cheering them on.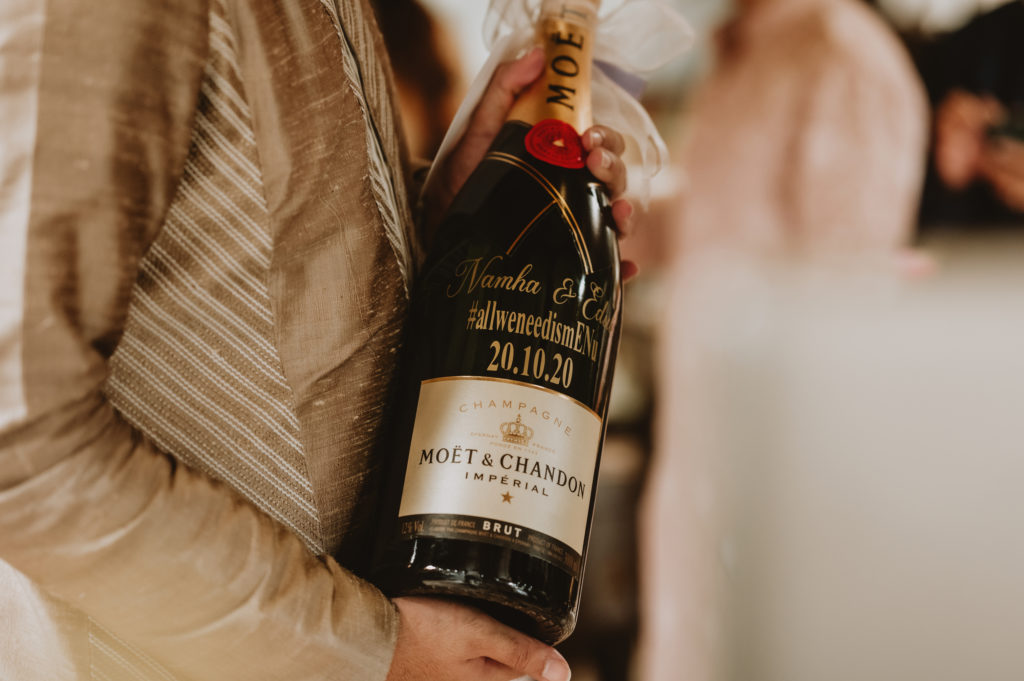 The set-up & decor:
OTT décor was replaced by sturdy court walls with a bit of old-school glamour thrown in. Instead of heavy embroideries and weight-y extravagant ensembles, the couple went ahead with lightweight outfits in pastel shades and the big fat Indian wedding celebration was now, a court marriage with a band playing quietly on the side while loved ones gathered around. We love how the tables in wood glistened in the light with white and pink flowers with a touch of gold decor. The muted greens and golds on the couple looked resplendent against the light and the bride wore her kundan jewellery accentuated by pearls which showcased her love for simple and practical style. 
The process was simple – the wedding planners have divided their marriage ceremony into two parts. One, the civil registration and then the traditional Indian rituals and marriage customs followed by a big lunch. Edul Mahudavala and Namha Malhotra's journey is all about simplicity in modernity – and the wedding was a testament to that spirit. 
Vendors: