The new normal is here and when it comes to the big fat Indian wedding, it's all about going sustainable and minimal for the foreseeable future. It's not as tough as many think — it's simply about being mindful and conscious of the choices you make. Nilma Dileepan, a well-known eco-conscious wedding designer from Bengaluru and her company With Love, Nilma are known to pull off spectacular soirees while keeping it stylish and sustainable. Here are her simple tips for sustainable Indian weddings that one can easily try.
"Safety is everyone's priority, so everyone is going to be cautious and conscious. That means more eco friendly, sustainable, locally sourced details and ideas," says Dileepan. Being mindful is now the mantra and Dileepan has been working consciously over the years to go local and budget-friendly with sustainable ideas that will work for every wedding, big or small. 
The trends are pretty obvious though. "All efforts this year will go into detailing and personalisation. Couples will want to showcase their story in an effortless way, bespoke and personalised gifts for guests are very much in trend and we might even have old-school handwritten invites. This year, it's also about going back to nature: Adding more greenery into wedding decor and investing in interesting foliage, local flowers and handmade fabrics – it's all about less is more."   
The more pressing question though is if sustainable weddings are possible at all? And where can one find inspiration? "Sustainability is hugely underrated. If planned much ahead, great measures can be taken to be sustainable with minimal efforts. I advise all couples to look around you for inspiration — your culture, your homes, the practices your folks or community follows. Go back to nature, see how to work it into your wedding," advises Dileepan. "Chalkboards, potted plants, recycled props, carpooling, digital communications, going paperless or printing on both sides if needed are again some of the tiny measures one should be mindful of," she explains. 
Here are a few tips on how to go minimal and effortless this year with your wedding decor and rituals according to Nilma. 
1. When it comes to invitations, look for recycled paper, seed paper or probably an e- invite. Also try using options of vegetable dye inks for your invites.
2. To cut down travel and carbon emissions, avoid multiple locations for various ceremonies or parties — try and fix it all in one venue.
3. Avoid large tented set-ups at outdoor spaces. Find spaces that have natural cover with trees so guests can sit under the shade. Consider tents only if you are expecting rain, but otherwise, it's about enjoying nature. 
4. Do not opt for places or function halls that have air-conditioners. Outdoor weddings are so much better for you and your guests to move around freely.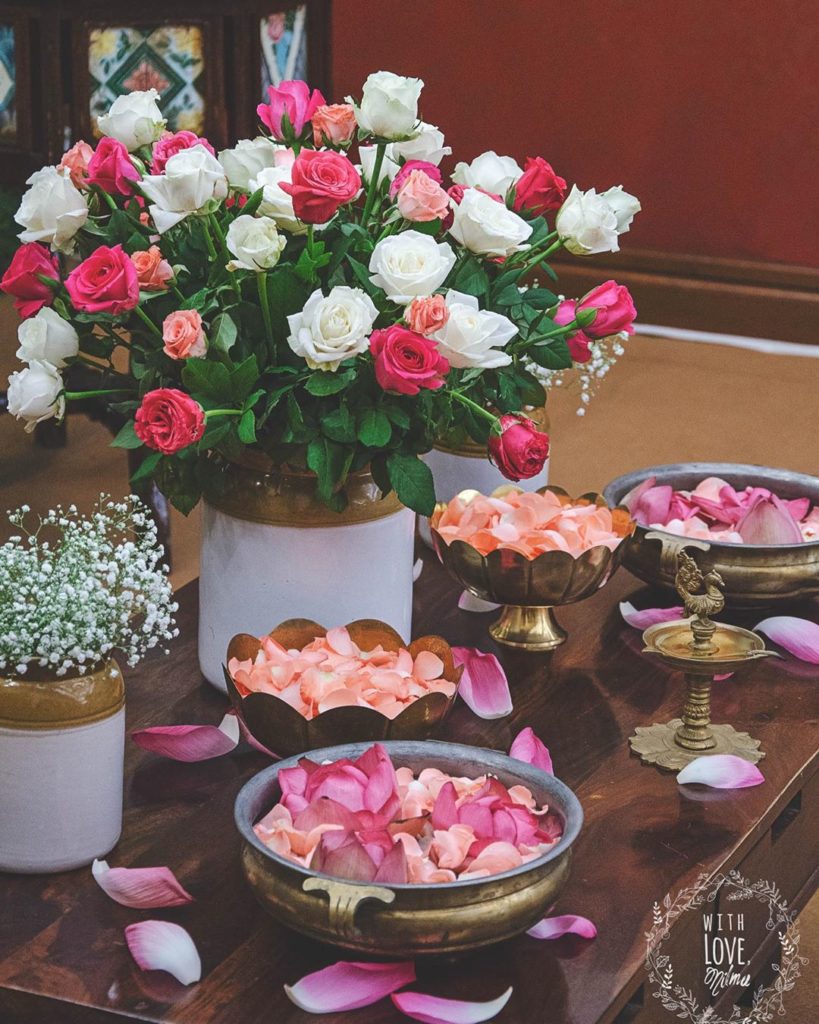 5. A set-up for photo-ops or decor must include local flowers instead of elaborate designs featuring flowers flown from around the world. Simple, elegant set-ups are better than over-the-top, ornate ones. 
6. Even with outfits, go for your mom's sari or your granny's dupatta for at least one function. It has such an old-school charm about it. Ditto with jewellery — heirlooms are always better. 
7. Look at using steel, glass, porcelain, edible or reusable cutlery/ crockery at the wedding instead of plastic. "For my wedding we rented steel tumblers for water and served food on banana leaves. We had a few water cans at convenient spots and people filled water and drank from the steel cups as and when needed, hence avoiding a landfill of plastic water bottles," says Dileepan.
8. Opt for reusable, resourceful decor as well: Whether it comes to lighting/ drapes/ paper craft/ wooden signs or props and chalkboards. All of them work instead of printed signboards.
9. Follow the 4 Rs: Reduce, reuse, recycle, refuse. Reuse: Drapes/ lights/ wooden decor/ furniture. Reduce: Flowers and electricity. Recycle: The flowers after the wedding for other functions; use banana leaves that can be given to a bio gas or composting. Refuse: Anything that is not eco-friendly. 
10. Use the natural setting the venue comes with and plan decor accordingly. If it has trees, make sure your set-up is part of it. If you look around, even mandaps need not be created from scratch — you can use the venue itself and see where it can fit in. 
11. Forage everything from flowers to centrepieces from the venue itself to keep the theme going. Local and seasonal produce is better than exotic options – use dried flowers and even fruits to create innovative decor. 
12. Materials to be looking out for: Jute, cane, wood, and scrap metal. Fabric and paper are great for decor too instead of foam, thermocol, and plastic. 
13. When it comes to giveaways, be mindful yet smart. Look at making local purchases: We sourced Coorg coffee for one wedding as gifts. Look out for local NGOs that sell coffee, tea, jams, pickles, and honey. When in doubt, give out plants — they are beautiful and thoughtful.  
14. Sourcing old furniture and renting vintage items are a good way to avoid wastage and they add an old-school charm too. 
15. Donate anything that can be donated — leftover food, flowers, and party favours. 
Pictures courtesy: With Love Nilma