The boldest choker designs of Indian brides. We took a look at the stunning pieces that ruled the styling game this year
Indian jewellery, especially when it comes to brides, can be a tad heavy. But it's the big day and that's also the only time you get to flaunt your style and wear something traditional and note-worthy. We took a look at the best chokers we found on real brides – some are big and bold and definitely not for the faint-hearted, some are sweet and dainty perfect for that minimalist look and most are just stunning to look at and glorious in pictures. Here's our list of the 10 best bold chokers we found on real brides that can make you bridal look, one for the magazines!
Matching polkis Rimple & Harpreet Narula Instagram
This stunning bride, Mehak Bakshi kept her look in tune with her jewellery and her red polka choker just added all the glam.
Waterfall meenakari choker Photography: Joseph Radhik; Jewellery : @sunita_shekhawat_jaipur
Trust Sonam Babani, our favourite influencer to give the choker her own twist. She wore a sabyasachi low-cut blouse that gave the choker, enough room to shine.
Mixed metals

Bride Vidhi Kheni knows a thing or two about mixing metals and her Jodha Akbar neckpiece is in gold with an emerald pendant.
Layering goddess Jewelry: @maliramjewellers; Photography: Sutej Pannu
Bride Jasleen layers her choker so beautifully with her long necklaces – it's all about going monotone.
Multi-Coloured choker Tavleen keeps it fresh with a multi-coloured choker that can make any outfit stand out – we loved the blues and greens.
Pastel-hued choker Photography: @cupcakeproductions13
The beautiful waterfall design choker matches the bride's lehenga beautifully and the crescent-design is alluring.
Polkis and pearls This old-school choker with minimal design and stunning semi-precious stones is perfect for the millennial bride.
Enamel-work choker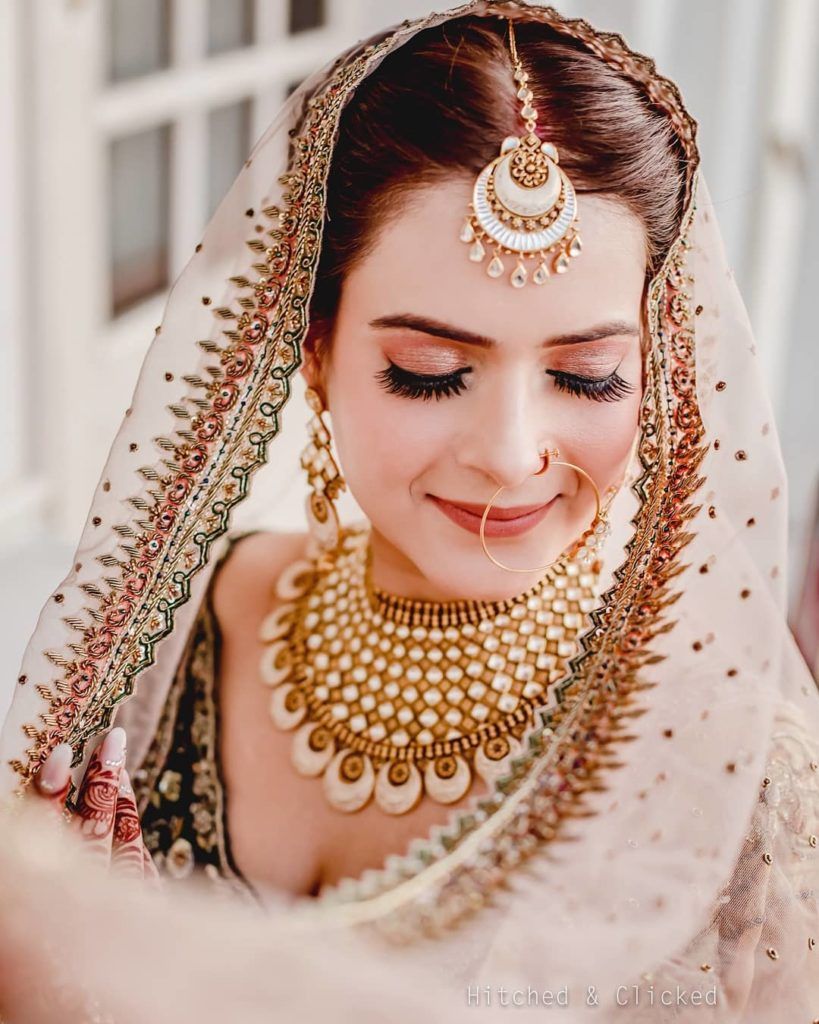 Photography: Hitched & Clicked
We all love an Enamel-choker and this bride, Shubi chose to wear hers in white – such a new-age look.
Bold choker Photography: House in the Clouds
The cluster necklace fits in beautifully with the orange lehenga and the bride's look is as radiant as they come.
Stunning multi-layered neckpiece Photography: @israniphotography; Jewellery: @ajewelsbyanmol
The multi-layered visual feast, this double choker look is very bold and totally noteworthy.
Featured image via Hitched & Clicked. Hero image via Sutej Pannu.