'Temple Jewellery' is a term North Indians often utilise, when referring to South Indian, gold jewellery. But the truth is, from Karnataka to Tamil Nadu, and across the board, South Indian jewellery is as diverse as it gets! It's a source of inspiration, can be modernised, or worn in its classic splendour. Some of south India's most iconic pieces of jewellery are Guttapusalu (adorned with pearls), manga maalas (mango motifs), kasi Mala (coin jewellery), and so much more. Here's a list of Chennai stores that offer all of these options and beyond.
Best South Indian jewellery stores in Chennai –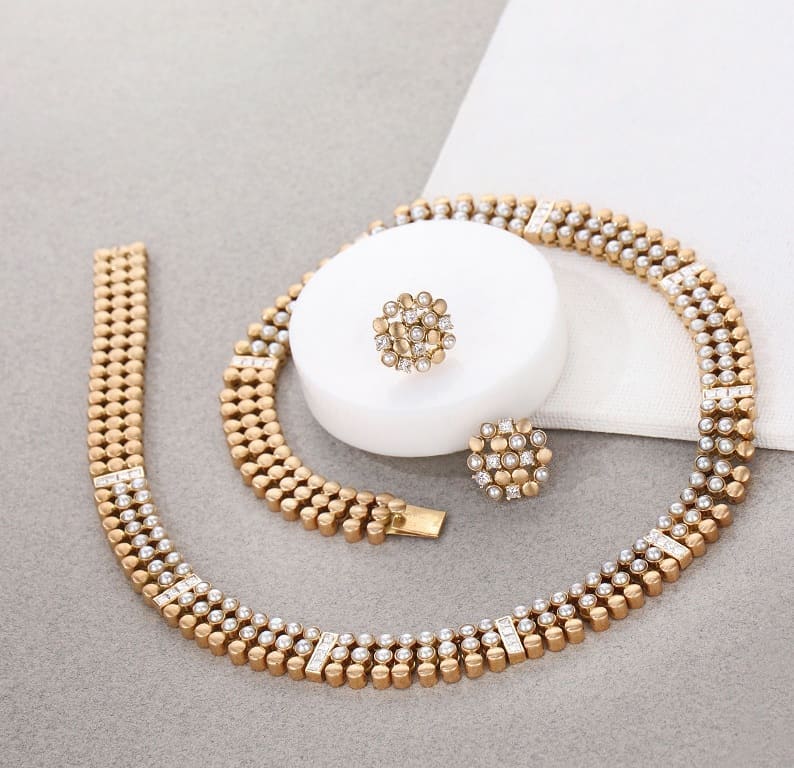 Ahalya, the eponymous label, was founded by jewellery designer Ahalya S. Her jewellery is sold at one of Chennai's most popular saree boutique: Kanakavalli – the flagship store. While her jewellery line is a beautiful mix of contemporary-meets-classic-South, she's popular for her Bespoke by Ahalya line. So, whether you like bridal jewellery with a contemporary twist, or you're investing in something traditional yet unique, Ahalya offers a fresh take on jewellery. Sayar is a family-run jewellery showroom. They've been in the jewellery business, within the south, for decades and they know how to read their clients. Whatever it is you're looking for, Sayar will sort you out. They're known for their blend of north and south traditional jewellery. They feature some exquisite gold and ruby sets that are essentials, for South Indian brides. Nalini Pandey works out of her home boutique, so buying from her is usually appointment only. For the discerning client that wants something bespoke, unique, or custom, Nalini will listen to your needs and craft you a piece that speaks to you. Whether it's a pair of statement earrings or a contemporary twist on the classic Guttapusalu (Navratna necklace adorned with pearls), she's great at what she does! Back to classics: Vummidi is one of Chennai's classic, most well-known jewellery stores for traditional, South Indian jewellery. They haven't veered from their original aesthetic one bit, and that's exactly what makes them a go-to. Most jewellery experts would advise, that if it's your first South Indian jewellery purchase, opt for the classics. One of the most promising Chennai jewellers to watch out for. Bapalal & Co. Jewellers, similar to Vummidi, is also one of Chennai's most well-known jewellery stores. They focus on traditional jewellery, and their respect for jewellery truly shines through. Unlike most mass stores in Chennai, Bapalal and the other jewellers on this list place their importance in design, gold, and gemstones, above all else. Studio Tara creates custom-made, one-of-a-kind gold and gemstone jewellery. The brand celebrates individuality and highlights gemstones. Gemstones, like gold, also play a big part in traditional South Indian jewellery. Studio Tara is a great place to make and find jewellery that is contemporary, fresh and cool, but they also specialise in creating traditional pieces with a unique perspective.
All images: Courtesy brands