Girls, listen up. Did you dream of your ideal wedding since you were a kid, almost following a certain Monica Geller-like? Well then, we have news. Take a deep breath, because these most expensive Indian weddings of all times will make you reconsider everything.
India as a country sanctifies marriage. Naturally, weddings are a huge (read: expensive) affair here. Families save up for decades to host a grand Indian wedding for their kids. But looking at the most expensive Indian weddings, every saving account seems trivial. If you thought you had seen grand weddings, wait till you find out these weddings with a budget ranging in crores. And if you are thinking these are just Bollywood weddings, you couldn't be more wrong. Here's a sneak peak into the most lavish Indian weddings that redefined the wedding industry and how!
Most expensive Indian weddings of all times
Isha Ambani and Anand Piramal: INR 700 crores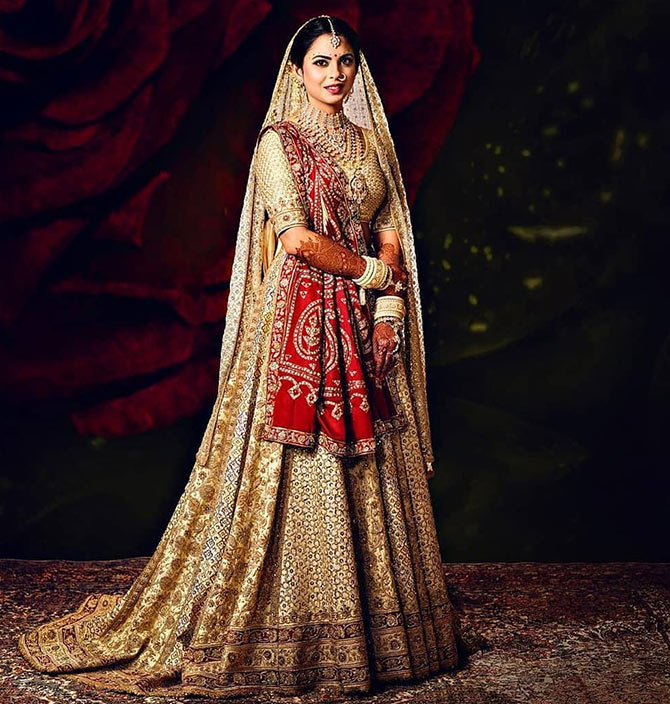 Of course, Ambanis had to be there on top of the list. The first Ambani sibling to have got married, Isha Ambani's wedding to Anand Piramal was nothing short of magnificent. Mukesh Ambani who is Asia's richest man spent a fortune on his daughter's wedding.
The wedding celebrations were spread across Udaipur, Lake Como in Italy and then at their home in Mumbai. The wedding invitation to guests came in a Dolce & Gabbana box. Reportedly, Beyonce was paid US $15 million for a 45-minute appearance, which featured a number of costume changes. These are just some of the extravagant things that were a part of the gala wedding festivities.
Sushanto Roy and Seemanto Roy's double wedding: INR 554 crores
Before Sahara Group met with the massive downfall, Sahara chief Subrata Roy was known for his lavish lifestyle and even more for the opulent parties he threw. His sons Sushanto and Seemanto tied the knot in a double-wedding back in 2004 and Roy left no stone unturned to make it an expensive affair.
The wedding was held at Sahara Stadium in Lucknow, and the celebrations continued throughout an entire week. With more than 11,000 guests in attendance, it was attended by the who's who of Bollywood and the sports world.
Brahmani Reddy and Rajiv Reddy: INR 500 crores
View this post on Instagram
The wedding of mining baron and former politician Gali Janardhana Reddy's only daughter drew a lot of flak. Reddy threw the wedding at a time when the entire country was going through a cash-flow crisis. Nevertheless, the wedding made headlines for its sheer opulence and grandeur. A five-day celebration held at the Bangalore Palace was attended by 50,000 guests, including a number of Bollywood stars and politicians. Reddy's daughter got married to Rajeev Reddy, the son of Hyderabad business tycoon Vikram Dev Reddy.
The decorations shouted luxury and how. The wedding featured recreations of ancient Indian temples that were designed by Bollywood art directors, bull-drawn carts to transport guests and huge helium balloons bearing larger-than-life images of the family. There were 3,000 security guards who were recruited for the venue.
The grandeur doesn't end here. What also made it one of the most expensive Indian weddings of all time was the bride's wedding saree, which cost a whopping INR 170 million. The wedding invitations were gold-plated and featured an LCD screen, which featured a video of the couple and the politician lip-syncing to an Indian song, costing a whopping INR 5 crores.
Shristi Mittal and Gulraj Behl: INR 500 crores
Steel tycoon Lakshmi Mittal is one of the richest NRIs, with a net worth of USD 1,750 crores (at the time of filing this). His niece Shristi Mittal married investment banker Gulraj Behl and the three-day extravaganza became one of the most expensive Indian weddings of all time.
The wedding took place in Barcelona, which was attended by 500 guests after they signed a confidentiality agreement. Coming to the luxurious details, there were over 200 butlers and cooks flown in from India and Thailand and the food served at the wedding was headed by Michelin-star chef Sergi Arola.
Sanjay Hinduja and Anu Mahtani: INR 140 crores
View this post on Instagram
Chairman of Gulf Oil International Limited, part of the privately controlled multi billion Hinduja Group of Companies, Sanjay Hinduja's wedding to his long-time girlfriend and known fashion designer, Anusuya Mahtani is another of the most expensive Indian weddings ever. Bollywood stars like Malaika Arora, Arjun Kapoor, Ranveer Kapoor & even Nicole Scherzinger and Jennifer Lopez performed at the wedding. There were more than 16,000 guests who were chauffeured around in BMWs.
Hero Image: Courtesy AFP; Featured Image: Courtesy Instagram