A simple bun is no longer a style the bride gravitates towards in 2020. It's about the well-maintained, perfectly-coiffed look with accessories in tow that are making all the right noises in the bridal beauty book. Hairstyles are now filled with effortlessly cool ideas that are also Instagram-friendly, with beautiful hair clips, stunning pearl additions, and fresh exotic flowers in the mix. So get those inspiration boards and Pinterest tags ready because we got you all the best bridal hairstyles to bookmark in 2020. 
Best bridal hairstyles for weddings in 2020 –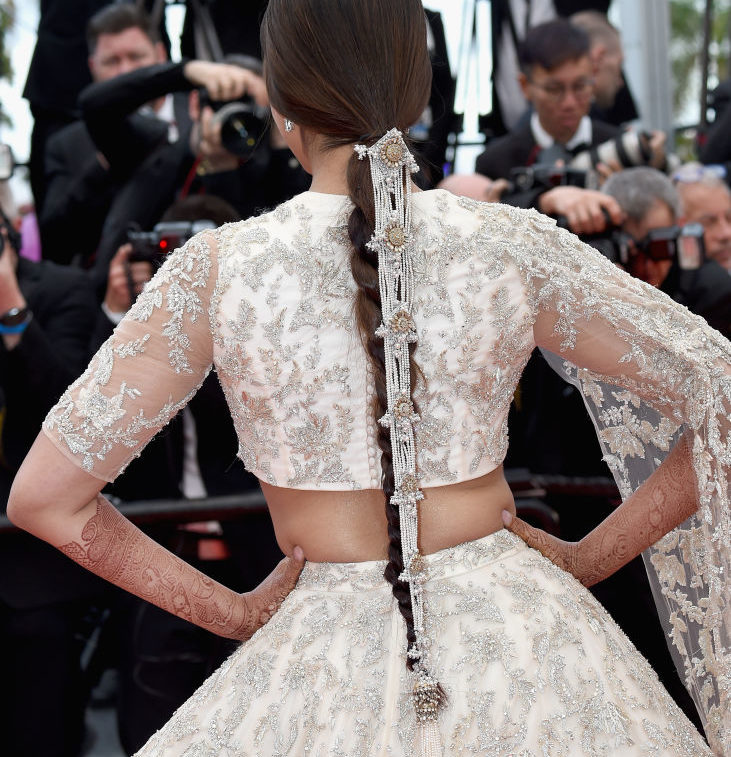 Remember the time when Sonam Kapoor sported this trend with silver jewellery from Amrapali at Cannes? Since then, it's now taken on a new avatar. Old-school Jada or braids are back, and they're trending on social media too. From Indian jewellery additions to pretty gota parandis – braids of all kinds are the one trend that we think will top the hair charts for brides in 2020.
Bridal jewellery with pendants as hair accessories
Anita Dongre has always been a pioneer when it comes to creating an entire look for the bride through her campaigns and look books, so we think that this pearl and jewellery hair accessories add glamour and old-school style to the bridal look.
We loved how the pendants added the final touches to the braid in the end.
Flowers on braids
If you think that floral hairdos are out, think again. This time, brides are using exotic flowers and baby breaths to give it a neat and delicate look. This staggering floral braid by Ritika Kadam is worth a mention here. This hairstyle has also been a staple in most Sangeets and Mehendis.
Another interesting one is the braid that uses bigger flowers like roses to create a multi-dimensional and OTT effect. We loved how hairstylist Sunita Nadkar used roses on this bride, stunning.
Old-school parandis
Trust Abhinav Mishra to get you back into a trend that was popular among Punjabi brides for years. Using gota, he once again captures the beauty of a Parandi on brides, and the trend is here to stay.
Add a beautiful brooch to your hair for some extra drama and balance out the braid. One of the best bridal hairstyles we saw on Instagram these days.
Coins for style
Another interesting trend we spotted in Abhinav Mishra's campaign is the coin braid that's such a treat to watch. Brass coins on a braid make for a stunning Instagram picture.
Dupatta designs
If you don't want a braid to show, you can use a dupatta to create a braid that's not just great but will look beautiful in pictures too. An alternative for an elaborate hairdo, right? This embroidered dupatta by Tarun Tahiliani is as innovative as they come.
Gota braids and kundan jewellery
This trend from a Pakistani designer Mohsin Naveed Ranjha has been doing the rounds on Instagram, and we love the way the Gota ribbons are embedded into the braid alongside pretty kundan jewellery.
The style is pretty effortless, but it's the jewellery that adds the perk.
All pictures from Instagram from the respective brands. Featured image: Getty Images