At a time like this, it's important for Indian weddings to cut down on unnecessary fluff. That means no more extravagant additions, too many functions and dinners, and most of all, trimming down smaller details like floral arrangements and larger-than-life mandaps. Which brings us to minimal mandaps that are doing the rounds on social media – intimate, small, and genuinely Insta-friendly, these small set-ups are here to stay.
We got you our top mandaps of 2020 for inspiration –
Small mandap with a canopy of florals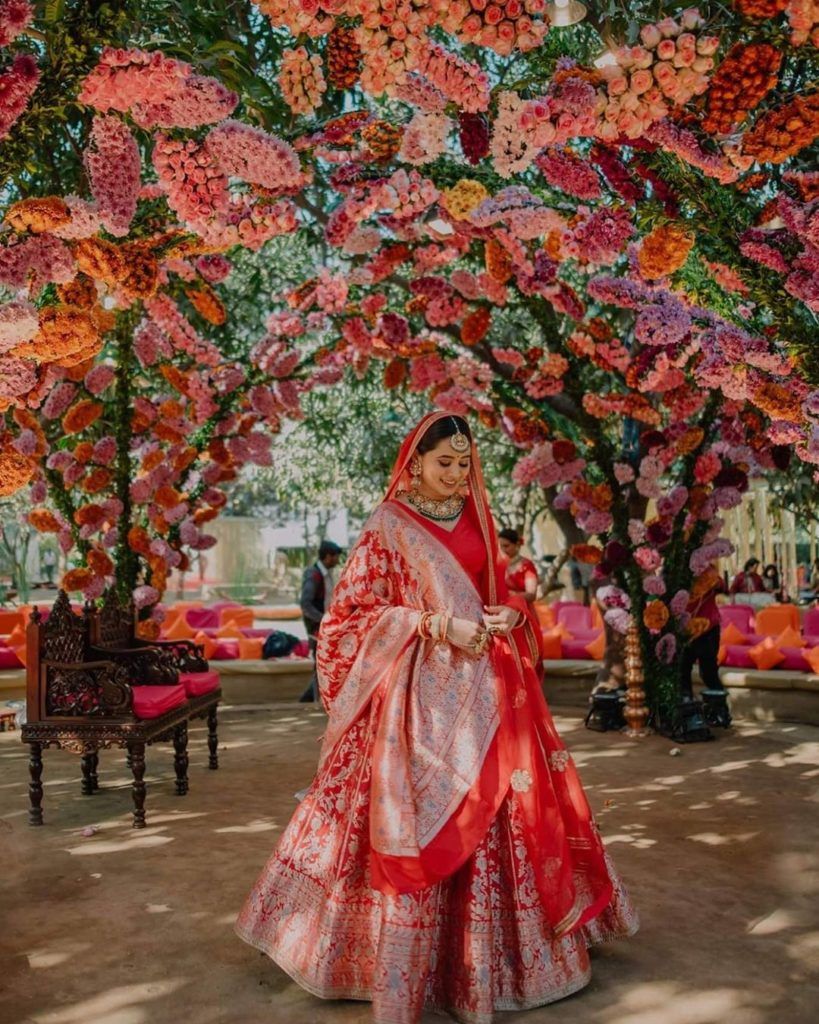 Wedding planner: @the_factory_events, @hardiksheth; Decor: Radhika Doshi; Photography: @royalaffairweddings
This beautiful set up is just dreamy. But while it is not on the super minimal space, it is noteworthy for the fact that the mandap is not made of huge chairs and a big stage. A canopy of florals covers the entire space so guests can hang out and chat with the couple.
Bohemian settings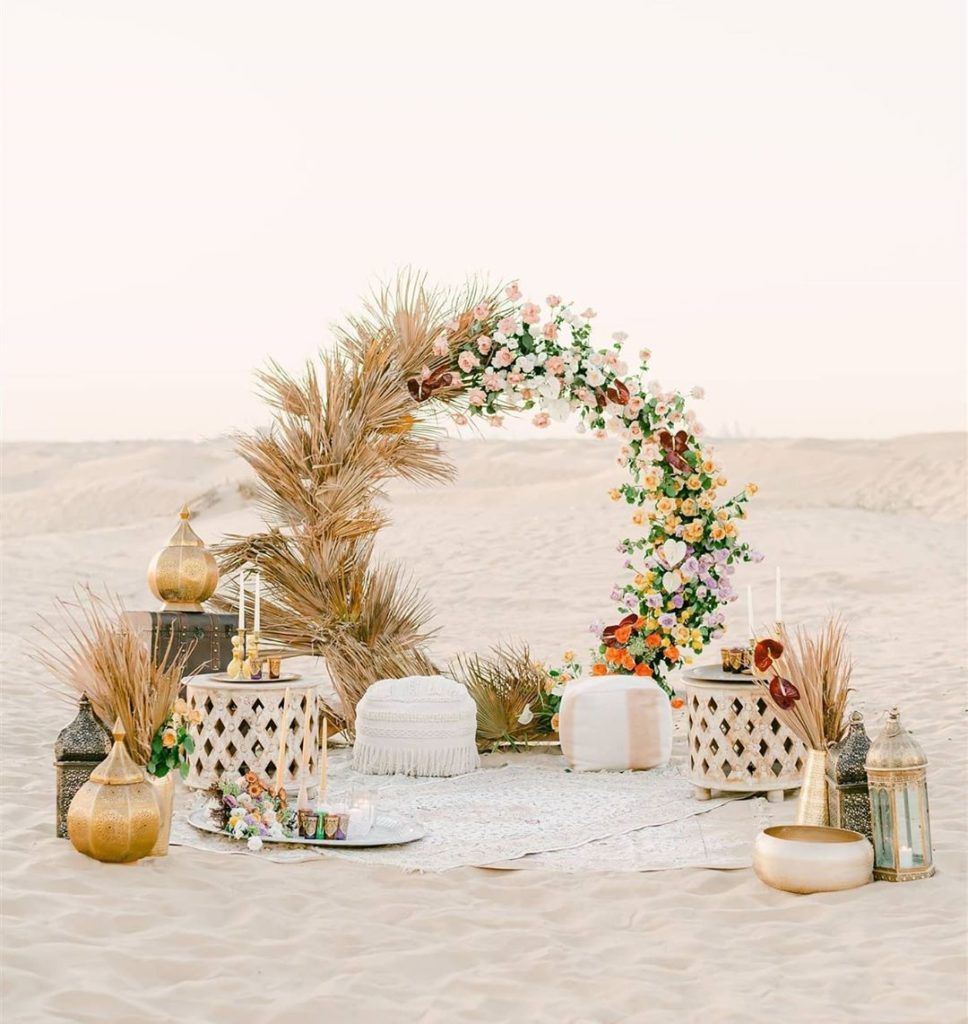 Photography: @eliaskordelakos; Flowers: @lmf_dubai; Decor: Purple Chair
Since more ceremonies will take place outdoors, small mandap settings like these really add to the charm. Big florals are replaced partially by dry flowers, which give it a rustic yet sophisticated look.
Acrylic panels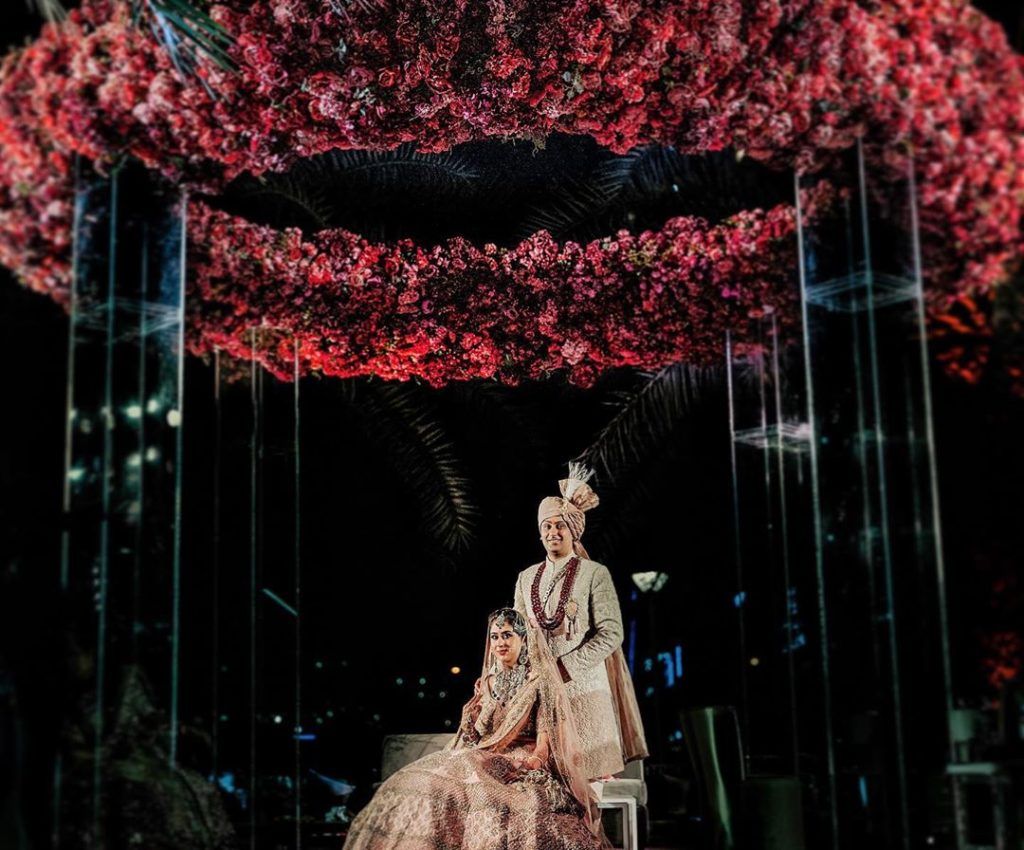 Photography: Cupcake Productions
If you hate over-the-top mandaps for the night but still want a bigger space to move around, acrylic pillars can really make a difference. We loved how this wedding took place under the night sky with just a floral wreath to add.
Mogra drapes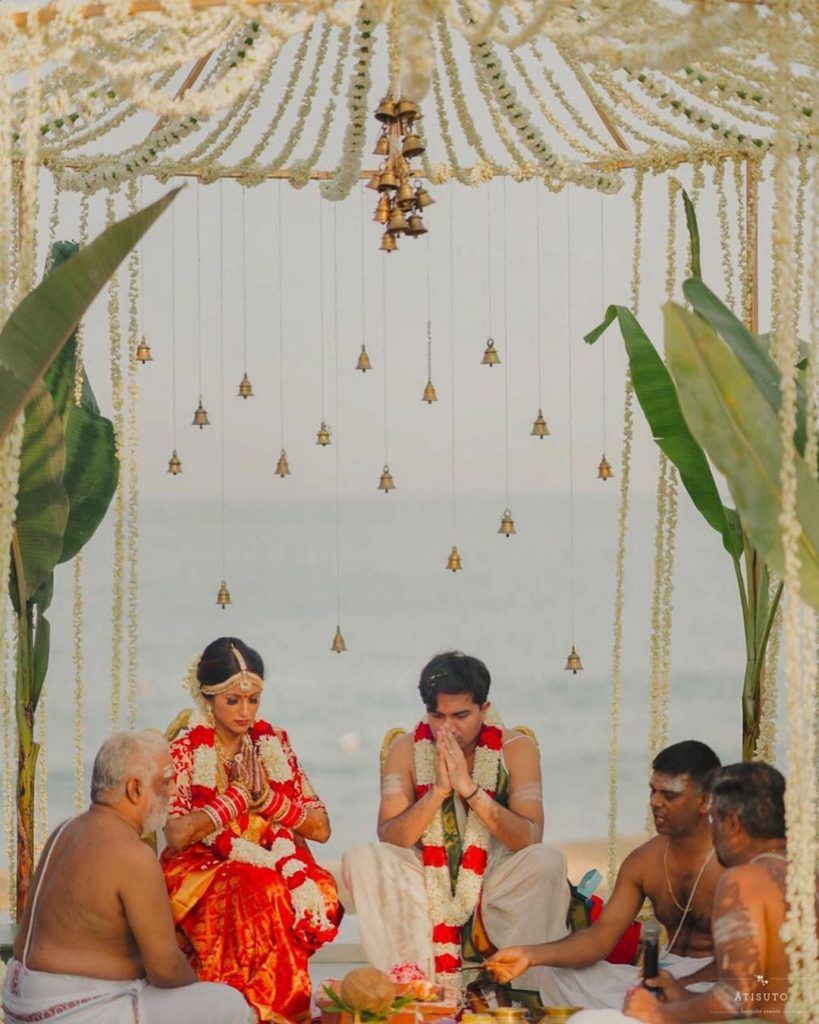 Designed & styled by @atisuto_events; Photography: @namanverma93
Mogra always adds a minimal touch to any wedding. Here mogra garlands are used as drapes so you can see how gorgeous they look. We loved how the decor is punctuated with old-school bells.
Backyard marigolds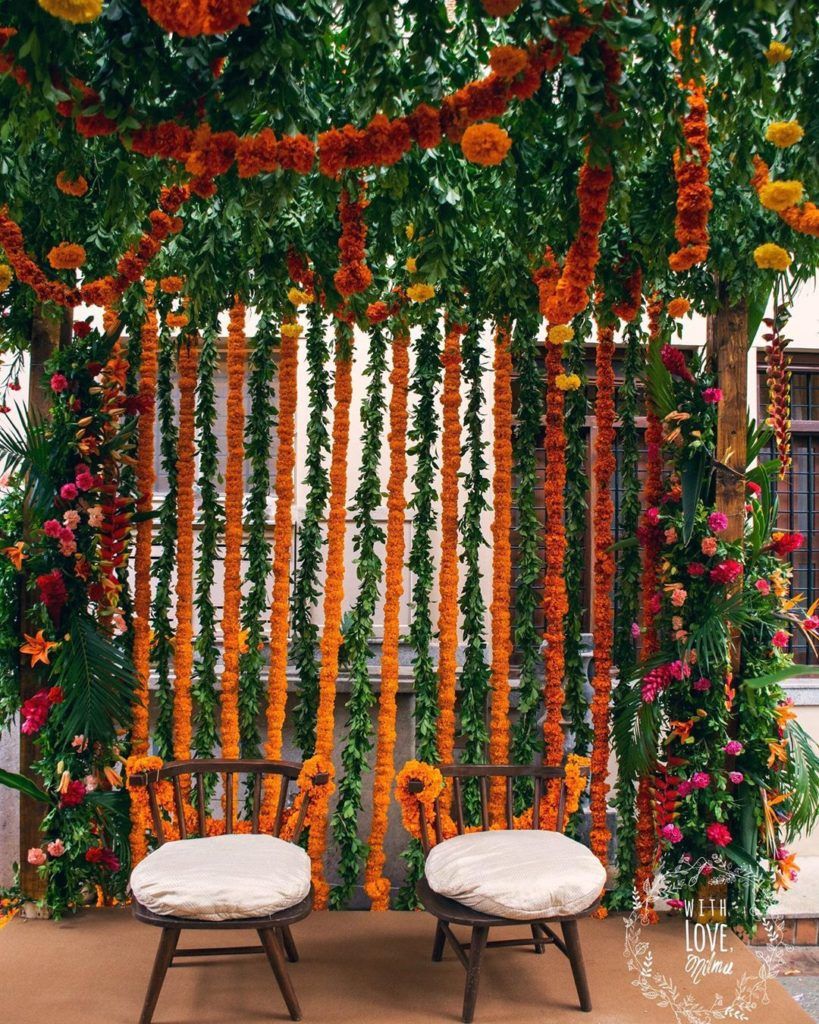 Wedding designer: With Love Nilma; Photography: @romaganeshphotography 
We loved how the wedding designer Nilma took this backyard wedding up a notch with this mini-stage that had greenery as drapes and marigolds accentuating the couple's earthy style.
Natural backdrops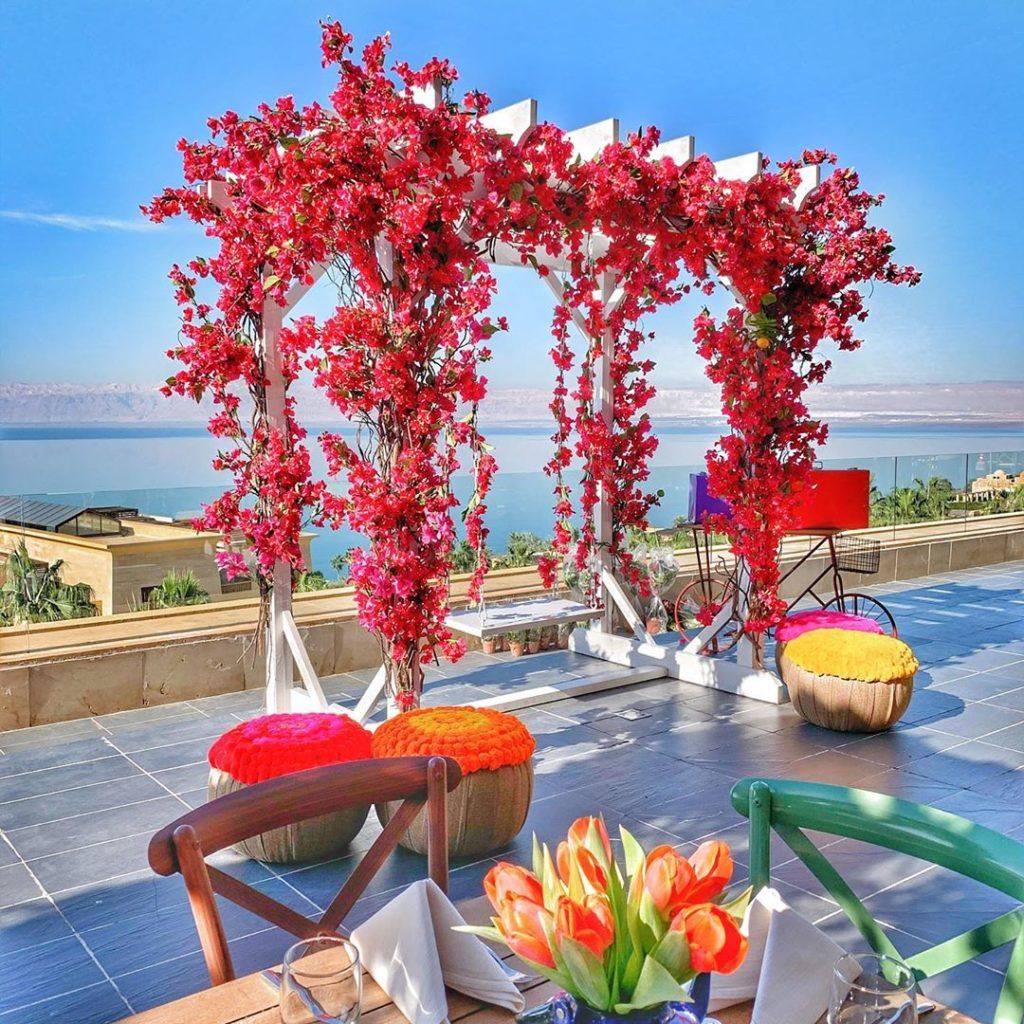 Venue: @kempinskiishtar; Dead Sea, Jordan; Concept, Design & Styling: @amaahyaaj @linadakkakofficial; Florals: @amaahyaaj@linadakkakofficial
Though this can also be doubled up as mehendi seating, the backdrop of the sea in Jordan makes this a mandap to remember. The florals are more down-to-earth and they stuck to just one colour.
Using architecture as mandap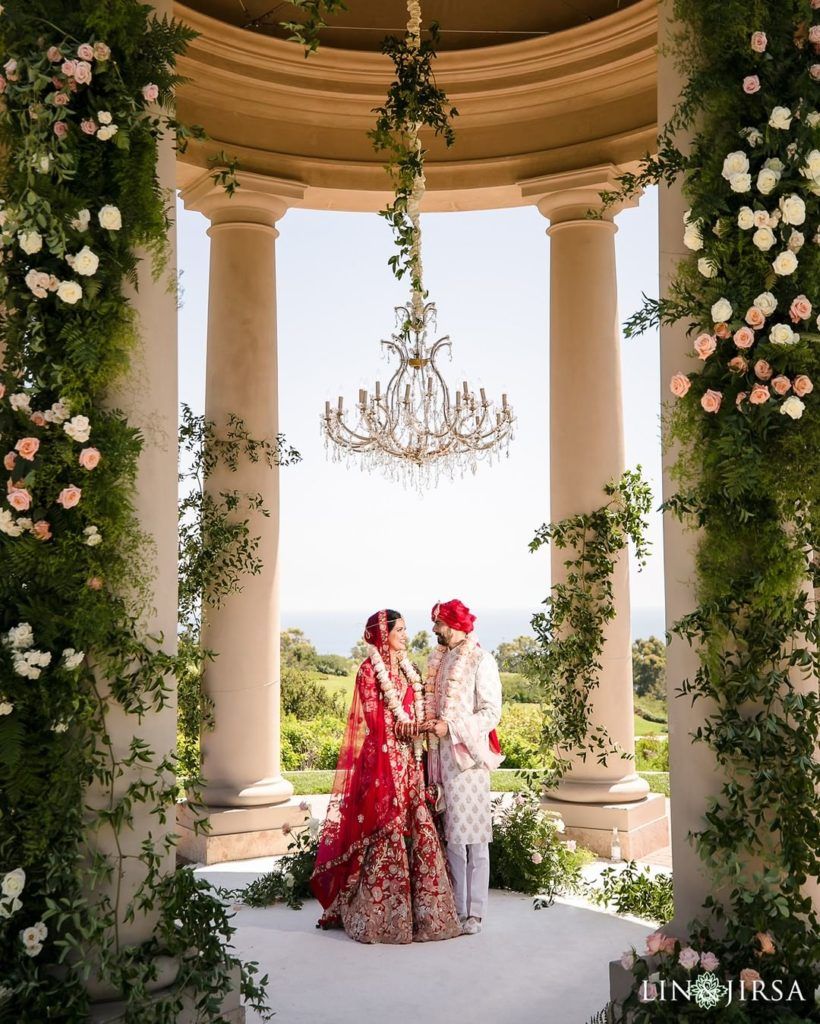 Venue: @pelicanhillweddings⁠; Planner: @alfredhouseproductions⁠; Florist: @shawnayamamoto⁠; Photography: Lin & Jirsa
We loved how this couple chose a picturesque spot to create the mandap of their dreams. The minimal floral arrangement and the ideal way the pillars stood out made for a natural setting instead of an artificial one with the stage.