From the birthplace of the rainbow flag in San Francisco to the election of the first openly gay mayor in Laguna Beach, California made history in 2018 as the first state in the United States to formally recognize June as LGBTQIA+ Pride Month, taking a pioneering role in championing equality and inclusivity.
With the flags and streets adorned in the vibrant colours of the rainbow, we know that the month of love has arrived. As we celebrate Pride Month, it is impossible not to mention California. California was the first state in the United States to officially honour June as LGBTQIA+ Pride Month, paving the way for other states to follow suit. The state embraces diversity and celebrates it in various ways, including through the vibrant tapestry of Pride parades, captivating street art, colourful festivals, and dazzling concerts. Furthermore, Laguna Beach, a city in California, proudly holds the distinction of being the first U.S. city to elect an openly gay mayor.
If the idea of fully embracing Pride Month inspires you to plan a trip to California, we have prepared a comprehensive itinerary that will guide you through the various Pride festivals and events across the state.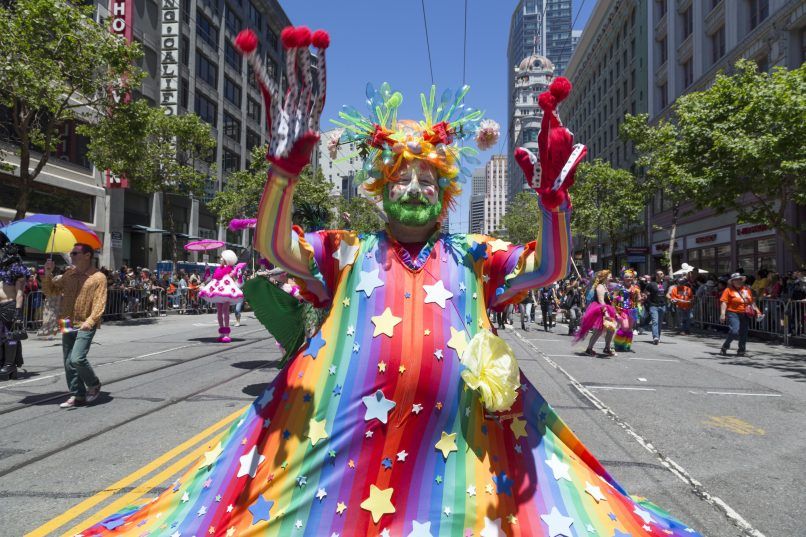 A Guide to Celebrating Pride Month in California
Sonoma County Pride
Sonoma County Pride, now in its 38th year, celebrates the theme of "Community" and honouring the strength of diversity and inclusivity. You can attend the OutWatch Wine Country's LGBTQIA+ Film Festival in Sebastopol from June 9 to 11, in addition to special winemaker dinners and tours, a part of the Out in the Vineyard Gay Wine Weekend on July 14-16.
San Francisco Pride
It is exactly how fun it sounds in your head! San Francisco Pride is back with the 2023 theme of "Looking Back and Moving Forward" for its renowned annual festival on June 24-25. The Civic Center Plaza will come alive with an array of live concerts, comedy acts, and captivating cabaret performances on the main stage. Join in the excitement of Sunday's Pride Parade, beginning near the Embarcadero and culminating on the majestic steps of City Hall. Discover more remarkable events throughout the Bay Area, such as the popular Fresh Meat Festival showcasing trans and queer artists in the vibrant Z Space in the mission from June 14-18, and the much-anticipated Frameline47: The San Francisco International LGBTQ+ Film Festival, running from June 14-24. L.A. Pride
Yet another steller city on the list that you just can't miss is the trailblazing city that hosted the world's first permitted gay Pride parade aka Los Angeles. The city invites you to witness history in action at its 53rd annual event on June 9-10. So get geared up to immerse yourself in the excitement as music icons Megan Thee Stallion (Friday) and Mariah Carey (Saturday) grace the stage at Pride in the Park, held in the enchanting Los Angeles State Historic Park.
Catalina Island Pride Month
Embark on an exciting journey from Dana Point, Newport Beach, Long Beach, or San Pedro as you hop on a boat and sail across the waters to the breathtaking Catalina Island for Catalina Pride on June 24. Make your way to Avalon, where a world of festivities awaits. Experience captivating live entertainment on the vibrant Wrigley Stage, join in the Pride March leading to Casino Point, and witness the illuminating rainbow lighting of the historic Catalina Casino. This picturesque island becomes a haven of celebration, offering an enchanting setting to honour and embrace LGBTQIA+ Pride.
OC Pride
Experience the vibrant LGBTQ+ tourism scene in Orange County during OC Pride on June 25, taking place in downtown Santa Ana. Be enthralled by world-class performances and dazzling drag shows featuring stars like Ninel Conde, a Mexican singer, and Morgan Michaels from RuPaul's Drag Race. Disney enthusiasts will also find joy in a nearby celebration as Disneyland Park presents Disneyland After Dark: Pride Nite for the first time ever. On June 13 and 15, from 9 p.m. to 1 a.m., guests can revel in special after-hours access and entertainment. Palm Springs, Laguna Beach, Oakland, and San Diego—Later in 2023
Pride celebrations in California extend beyond June, with cities hosting vibrant festivities throughout the year. San Diego Pride has a fantastic lineup of events from July 8 to 16, including She Fest, Pride 5K, Spirit of Stonewall Rally, and a thrilling two-day festival in Balboa Park. Laguna Beach will bring the party to the sand on August 12-13 with the dedication of the new Rainbow Lifeguard Tower of Diversity. Meanwhile, Oakland will host a parade, along with the family-friendly Carnival and Fun Fair, on September 9-10. Mark your calendar for Greater Palm Springs Pride on November 3-5, featuring the energetic Arenas District Block Party with talented DJs and the iconic Pride Parade and Festival along Palm Canyon Drive. Get ready for year-round celebrations of diversity, inclusivity, and pride across the beautiful state of California.
Hero and Featured Image: Courtesy California