Smooth, silky hair doesn't come easy especially after all that bleaching and styling.
You've heard of the term 'self-love' pretty often now — like treating yourself to that scoop of ice cream or soaking in the bathtub for an extra 10 minutes. These are just some of the many things that you can do for self-care. Taking care of your appearance, in this case: hair, is also a form of self-love. And by that, we actually meant treating our locks with hair treatments and not just have conditioner on for five minutes in the shower.
While many would tend to argue that conditioners do the work just fine — it does but only to a certain extend. Every day, your hair is exposed to various stressors, whether it is environmental or from the styling products or heat tools that you use. You may be washing your hair every day but leftover hair products that you apply still accumulate and resides in your hair. An occasional deep cleanse is definitely needed.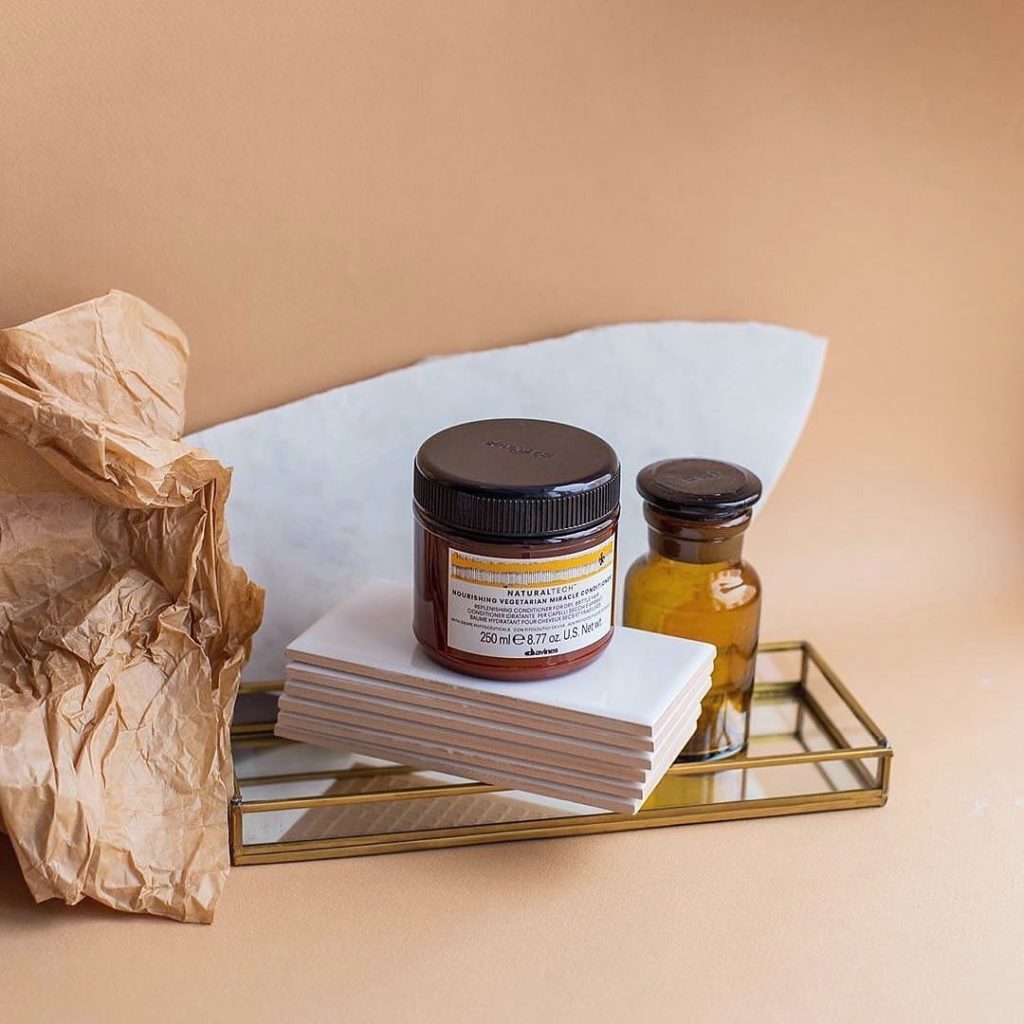 Davines' Naturaltech Nourishing line is one that concentrates on both scalp and hair nourishment since its release. Now the family not only sees new additions but also brand new ingredients and technology that only enhances its results. Plant keratin, a combination of rice proteins and mix of amino acids, has been added, along with Biacidic Bond Complex which is a mix of molecules that's created in the Davines Research and Development laboratory.
Plant keratin's main purpose is to protect our hair from dehydration, which is often caused by the sun, smog and wind. It reinforces its fibre with protection and resistance against breakage so hair becomes softer and shinier over time. The Biacidic Bond Complex is a combination of active ingredients which not only protects but further reinforces weak bonds that may break overnight. So you'll wake up the next day confidently knowing that your hair strands are strong enough to go through the day.
Review
In the Nourishing family, there is the Nourishing Shampoo, Hair Building Pak, Vegetarian Miracle Conditioner, Vegetarian Miracle Mask, Keratin Sealer and Hair Royal Jelly Superactive; while Keratin Wonder Superactive and Keratin Booster are only available in Davines salon. While it may seem to be quite a handful of products, the treatment process was relatively easy. It starts off with the standard shampoo and conditioning, but the one that seals the deal was the combination of Nourishing Keratin Wonder Superactive and Keratin Booster.
The Nourishing Keratin Superactive is already rich with its core ingredients on its own, but with the additional drops from the Keratin Booster — it intensifies results that are already enhanced. Immediately after application, even with dripping wet hair, you'll still be able to feel that immediate silkiness. The comb is able to go through without any sheer amount of resistance — that's how you know that your hair is at its softest. The following steps of the treatment continue to intensify the treatment; followed by another mask, sealer and the finishing oil. Another product that's notable is the Keratin Sealer, that's meant for sealing the hair cuticles to prevent any more moisture from seeping out.
The Davines Nourishing hair treatment is one that does what it says — which is that it nourishes your hair from deep within. And how we tell is not by the fact that our hair was immediately smooth and shiny after the treatment — it's how it was days or perhaps weeks after that. Our hair is still soft and silky, even with multiple washes and a couple of styling here and there. This is indeed one of the best ways to give your hair some self-love.
All images: Davines