It's Fashion Week season here in Kuala Lumpur and the who's who of the city are all scrambling around pulling together looks — fashion and beauty — to make sure they turn heads at crunch time. For the five days of fashion fabulosity that will be taking place starting 17 August 2016, we've put together five stunning makeup looks (one look for each day, of course) for you to recreate at home using some of Bobbi Brown's best products. Don't worry about not being a makeup artist, because these looks are exactly what Bobbi Brown is all about — simple and stunning.
Before we forget, you can also win your very own Bobbi Brown full makeover during Kuala Lumpur Fashion Week Ready-To-Wear 2016. We will be giving away three makeovers and two Bobbi Brown lipsticks every day to lucky winners. Find out how you can win here.
Until then, start flipping through the photos below and start mastering these gorgeous Bobbi Brown beauty looks!
1
Bright & glamorous – the bold lip
If you're the type who likes to turn heads, swipe on Bobbi Brown's Luxe Lip Color in Retro Red (RM107).
To achieve the flawless complexion to go along with your bold lip, use one of Bobbi's favourite items — the Instant Confidence Stick (RM181) that  blurs fine lines and wrinkles with a lightweight, all-day formula. It allows for touch-ups and shine control throughout the day.
To create a seamless base for your makeup, use the Bobbi Brown Foundation Stick (RM155) to get a smooth finish. This miracle worker has a unique transparent base plus colour-correcting pigments for a natural look. The Foundation Stick is available in 24 skin tone-correct shades.
The rule to the bold lip is to keep the eye makeup to a minimum, but that doesn't mean you have to forego it completely. Ditch the eyeliner but pile on the Smokey Eye Mascara (RM111) for maximum smoulder.
2
Sexy & sultry – the smokey eye
Because a flawless base is the best setup for perfect makeup, start your look with Bobbi Brown's Skin Foundation Cushion Compact SPF50 (RM185). 
Make your peepers stand out with a great smokey eye look that you can create using the Bobbi Brown Long Wear Gel Eyeliner in Black Ink (RM93). With an eyeliner brush, draw a (not too thick, not too thin) line along your lash line. Use a cotton bud to smudge the line for a smokey look.
Give your lashes two (or three) coats of the Eye Opening Mascara (RM111) for added sultriness. Don't forget to treat your brows too – the Natural Brow Shaper & Hair Touch Up (RM82) will help keep them in shape and looking neatly groomed.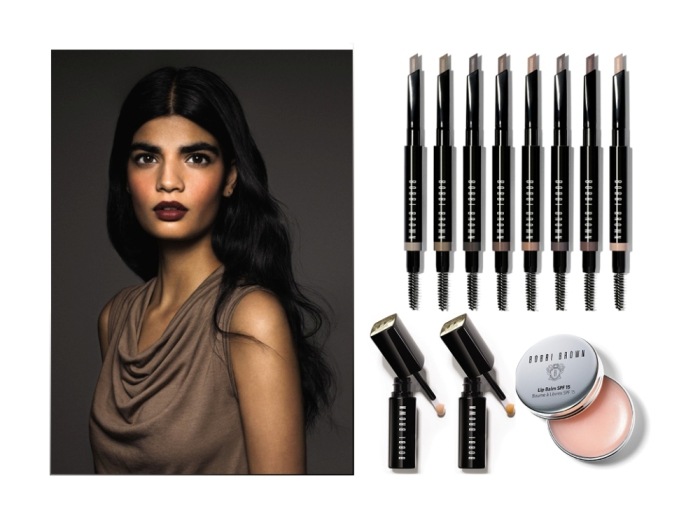 3
Bold & natural – the power brow
Move aside Cara, Bhumika Arora's brows are our new reference points for the perfect power brow look. Bobbi Brown's Long-Wear Brow Pencil (RM138) will not only fill in your brows, but the brush at the end will make sure they look freshly groomed.
Dull peepers don't work for any look, so combat under-eye discoloration with the Intensive Skin Serum Concealer & Corrector duo (RM155 each). The Corrector works to neautralise under-eye discoloration and primes the eye area for seamless Concealer application. Your eyes look younger, brighter and fresher instantly!
To lock down your look, smoothen lips with the Bobbi Brown Lip Balm SPF15 (RM90). Its non-greasy formulation with wheat germ, and avocado and olive oils work to soften and protect your lips. Lipstick, for this look, is optional.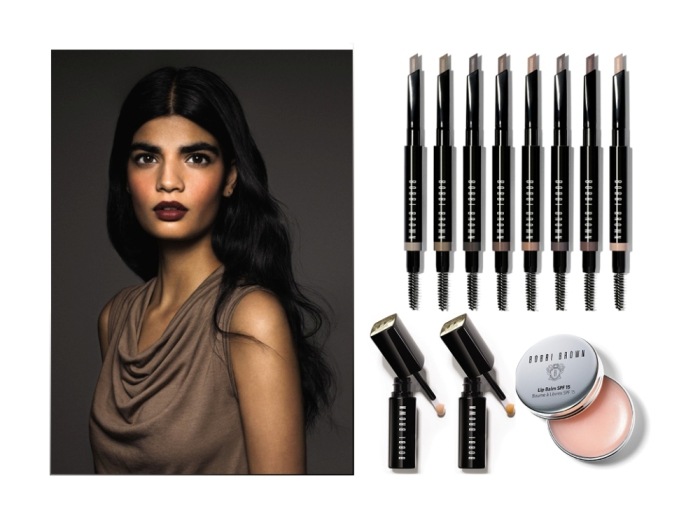 4
Glowy & gorgeous – the bronzed goddess
Because healthy, glowy skin is what makes the bronzed look, start out with the Bobbi Brown SPF15 Tinted Moisturizer (RM170) to hydrate skin and create a flawless base for the rest of your makeup.
Apply the Long-Wear Brow Gel (RM83) with the Dual-Ended Brow Definer Groomer Brush (RM132) to shape and perfect your brows. Next, apply Bobbi Brown's Bronzing Powder (RM151) to the high-points of your face (forehead, cheeks, nose bridge and chin — all where the sun naturally hits) for a tropical-fresh, sun-kissed glow. Expert tip: Don't forget to bronze your neck for an even look.
Finish off the look with Pot Rouge for Lips & Cheeks (RM103) for a bit of a flush, and then highlight your cheekbones, brow bones and cupid's bow with the Retouching Face Pencil in Illuminate (RM125) to create a subtle strobing effect for bronzed perfection.
5
Nude & natural – the no-makeup makeup
Minimalists, here's one for you. Start out by bringing the life back to your skin with the Extra Illuminating Moisture Balm (RM245). Next use the Skin Foundation Cushion Compact SPF50 (RM185) to perfect the rest of your face.
Before anything else, use the Bobbi Brown Retouching Wand (RM160) to lightly colour out blemishes, fine lines and the like to the land of never. This no-blending-required, airbrush-finish goodie is indeed Photoshop on a stick.
Bobbi Brown's Nude Library Palette (RM816) is indeed a nude shade library because it has 40 different shades of nude for you to pick from. Whether you're going for a light pinky shimmer or a rich chocolate wash, you'll be sure to find a shade that will work for your barely there look.
Use the Bobbi Brown Nude Finish Illuminating Powder (RM179) to finish off your look and give your skin a fresh, luminous and lit-from-within glow.