In the eternal quest for the fountain of youth, it may be worthwhile to turn your attention instead to luxurious anti-aging skincare that actually works. Look no further than Swiss brand La Prairie.
The brand started out in 1982, but its history could be traced back all the way to 1931, when it was still a part of Clinique La Prairie. For over 50 years, Clinique has been a pioneer of anti-aging and cellular technology. It counts politicians, celebrities, and high-profile guests like Marlene Dietrich and Winston Churchill as its customers.
Fast forward to current times, La Prairie has developed a reputation for its extremely secret and exclusive Cellular Complex, which is based on the science of cellular therapy. Essentially, the Cellular Complex enhances the skin's natural renewal process by giving life back to skin cells using its potent and luxurious ingredients such as caviar, platinum, and gold. The formula is top secret, so much so that three separate labs are needed to contain the process: one for the yeast fermentation, another for the micro-organism fermentation, and the third lab for blending components together.
To date, La Prairie has six collections available: Platinum Rare, Skin Caviar, White Caviar, Swiss Ice Crystal, Radiance, and Anti-Aging. It can be overwhelming to pick which products from this luxe skincare brand to start with, but fear not as we've listed five best anti-aging products from La Prairie for you.
1
Skin Caviar Essence-in-Lotion
The Skin Caviar Essence-in-Lotion is no ordinary product. It contains steam-distilled caviar water. The steam distillation technique captures caviar components in a pure and crystal-clear active fluid, so not only does this lotion have hydrating properties, it also helps any anti-aging product you use after this step absorb better and more efficiently.
2
Skin Caviar Absolute Filler
The Skin Caviar Absolute Filler is the brand's latest addition to the Skin Caviar line, and also its most expensive retailing at RM2,880. It is designed to be the final step in your skincare routine and works as a moisturiser. We loved the smooth texture of the cream and how easily it is absorbed, refining skin contours and increasing skin elasticity. The new packaging design in a pump jar ensures that the perfect amount is dispensed each time while preserving the formula from free radicals.
3
Swiss Ice Crystal Eye Cream
The secret of Swiss Ice Crystal lies in how the botanicals in that region is resilient to its harsh conditions; in return, what you get is skin that's able to adapt to life's daily strains, while staying well-hydrated. With this eye cream, you can reduce the appearance of under-eye circles, puffiness, dryness, and fine lines.
4
White Caviar Illuminating Pearl Infusion
The White Caviar Illuminating Pearl Infusion is unique as its potent ingredients are encased in white caviar pearls that burst right as you press the pump nozzle to dispense the serum. This ensures that the formula stays fresh without oxidising. As for the serum itself, it is designed to correct three types of skin discolouration: dark spots, redness, and greyness caused by pollution. The serum also contains golden caviar extract to lift and firm skin. The result? Luminous and younger-looking skin.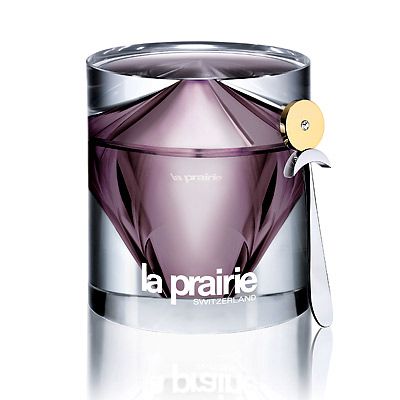 5
Platinum Rare Cellular Cream
Retailing at approximately RM5,000 for 50ml, the Platinum Rare Cellular Cream is definitely one of the most expensive moisturisers in the world. The formula contains platinum extract, which helps skin retain moisture and provide instant firming. Not only does it reduce fine lines and wrinkles, it also preserves the skin's texture and tone.