The best limited-edition makeup collections have been unveiled for the holidays.
Whether you're a collector of limited-edition makeup series – the holiday collections are always the best – or want to gift them to someone who loves makeup, the Holiday 2020 pieces this year don't disappoint.
From beautiful, limited-run designs to gift sets that will delight its recipient, we've rounded up 10 of the best makeup collections this holiday season to covet.
Gucci Beauty Limited Edition Rouge À Lèvres Lunaison
Gucci Beauty's lipsticks are always a work of art, and the Limited Edition Rouge À Lèvres Lunaison pieces this year are worth collecting (and using, if your heart so desires). Available in three new glittery shades – 302 Agatha Orange, 402 Vantine Fuchsia, and 511 Madge Red Rouge – the colours are vibrant and glide onto lips effortlessly, leaving an iridescent satiny finish.
The bullet itself is a thing of beauty, coated with sparkly pearls that shimmer in the light. The iconic Art Deco-inspired case is dressed in a festive metallic purple, making for a good addition to your dressing table.
The Gucci Beauty Limited Edition Rouge À Lèvres Lunaison is priced at RM159 each and is available in Gucci Beauty Suria KLCC and Gucci Beauty counter in Sogo Southkey Mall.
Fenty Beauty Holo'daze Collection
For the holidays, Fenty Beauty has released a series of limited-edition pieces and mini coffrets, aptly named the Holo'daze Collection. When we say it's limited-edition, we mean it. First, there's the Full Snap Shadow and Mini Mascara Set (RM130) which features a full-sized Snap Shadow in a completely new colour palette featuring matte and shimmery shades of purple duochrome, gold, metallic red, and more. The set comes with a mini Full Frontal Mascara to finish off your eye makeup look.
Next, there's the Fenty Glow Trio (RM190) featuring mini-sized versions of the Gloss Bomb Universal Lip Luminizer, Cheeks Out Freestyle Cream Blush and Diamond Bomb All-Over Diamond Veil in a universally nude shade, Fenty Glow.
Moving on to the lips, part of the Holo'daze Collection includes new shades of Fenty Beauty Gloss Bomb and Stunna Lip Paint available in respective sets. The Glossy Posse: Holo'daze Edition (RM160) has four brand new shades: Cake Shake (shimmering bronze), Baby Brut (shimmering champagne), Taffy Tea$e (shimmering coral), and Ruby Milk (shimmering fuchsia). Meanwhile, the Two Lil Stunnas (RM110) comes in two brand new shades too: Unmatched (deep cool red) and Underrated (deep berry).
The Fenty Beauty Holo'daze Collection is available online and in-stores at Sephora.
Laneige Celebrate Holiday! makeup collection
It's time to celebrate the holidays in the best way Laneige knows — with flawless skin and makeup. In the Laneige 'Celebrate Holiday!' makeup collection, you'll find something for the complexion and something for the eyes. The Celebrate Holiday! NEO Cushion Matte (RM160) features the brand's latest cushion foundation in a matte finish. Unfortunately, this will only be available in shades No.21N Beige and No.23N Sand. Another exciting product is the Celebrate Holiday! 6 colours eyeshadow palette (RM135) which features a myriad of neutrals, matte, and shimmery colours including a pop of red to brighten things up.
The Laneige Celebrate Holiday! Collection is available at all Laneige beauty counters and boutiques nationwide.
Nudestix Smokey Nude Glow Kit
There's no need to pack your makeup kit for the evening when everything you need for a smoky eye makeup look is available in one handy kit, specially curated by Nudestix co-founder Taylor Frankel. This limited-edition kit comes in a gorgeous metallic pouch and has six products that will work together to create not just a smoky glam look, but also a flawless natural glowy look when the occasion calls for it.
Within the Smokey Nude Glow Kit you'll find the Magnetic Nude Glimmers in 24K Goddess, Magnetic Plush Paint in St. Tropez, Magnetic Luminous Eye pencils in Rustique and Immortal, Gel Color Lip in Tay Tay, and the Intense Matte Lip in Fringe. Of course, the iconic Nudestix tin with a mirror and sharpener will also be available in the kit.
The Smokey Nude Glow Kit is priced at RM305 and is available online and in-stores at Sephora.
M.A.C Frosted Fireworks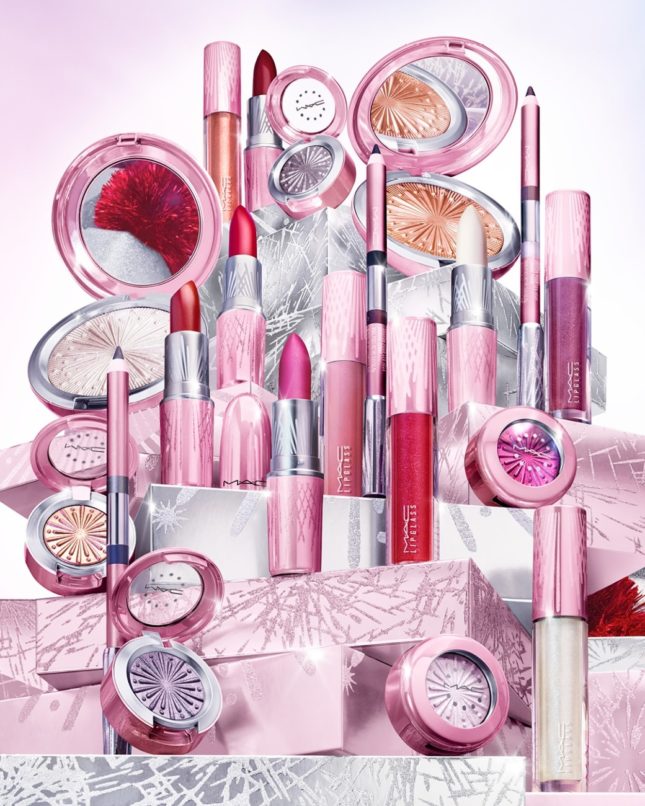 While we can't have a white Christmas this year, M.A.C Cosmetics is set on giving us one with its Frosted Fireworks collection. Dressed in shades of metallic pink and silver, the range features lipsticks, Lipglass, Foil Eyeshadows, Powerpoint Eye Pencils and Extra Dimension Skinfinish highlighters. As one can expect, the products come in lustrous shades that will light up your face — just like fireworks.
The M.A.C Frosted Fireworks collection online and in selected M.A.C stores.
Becca x Barbie Ferreira Prismatica Face Palette
You may recognise Barbie Ferreira from her appearance on the cult favourite, award-winning series Euphoria. Much like the makeup looks from the series that inspired the internet, her collaboration with Becca also features shimmery shades in the form of the Prismatica Face Palette, just in time for the holidays.
The face palette allows you to highlight, bronze, blush, and sculpt your eyes with the five shimmery shades available. Don't be alarmed if they seem the purples and frosty white shades seem to contrast too much with the rest — each shade has been specially picked out to complement the rest seamlessly.
The Becca x Barbie Ferreira Prismatica Face Palette is priced at RM189 and available online and in-stores at Sephora.
Dior Beauty Golden Nights
Dior Beauty's holiday collection is opulent every year, and 2020 isn't any different despite the circumstances. Themed 'Golden Nights', the collection comprises two eyeshadow palettes – Black Night and Golden Snow – the Diorshow 24H Stylo pencil eyeliners in Sparkling Black and Satiny Gold; a Rouge Dior Couture Collection featuring six lipsticks housed in a gorgeous box pouch; Diorific Golden Nights lipsticks, a blush, cushion powder, and nail polishes to complete your festive look.
The Dior Beauty Golden Nights collection is available at Dior Beauty boutiques.
Anastasia Beverly Hills Soft Glam II Mini Eye Shadow Palette
Loved Anastasia Beverly Hills' original Soft Glam eyeshadow palette but thought it was far too large for you to fully utilise? Don't worry, we've got you — there's a mini version just for you during the holidays. Featuring all the right matte and shimmery shades for that glam eye look during the holidays, this mini-sized palette will fit perfectly into your compact makeup kit.
The Anastasia Beverly Hills Soft Glam II Mini Eye Shadow Palette is priced at RM150 and is available online and in-stores at Sephora.
Make Up For Ever Sparkle Brush Set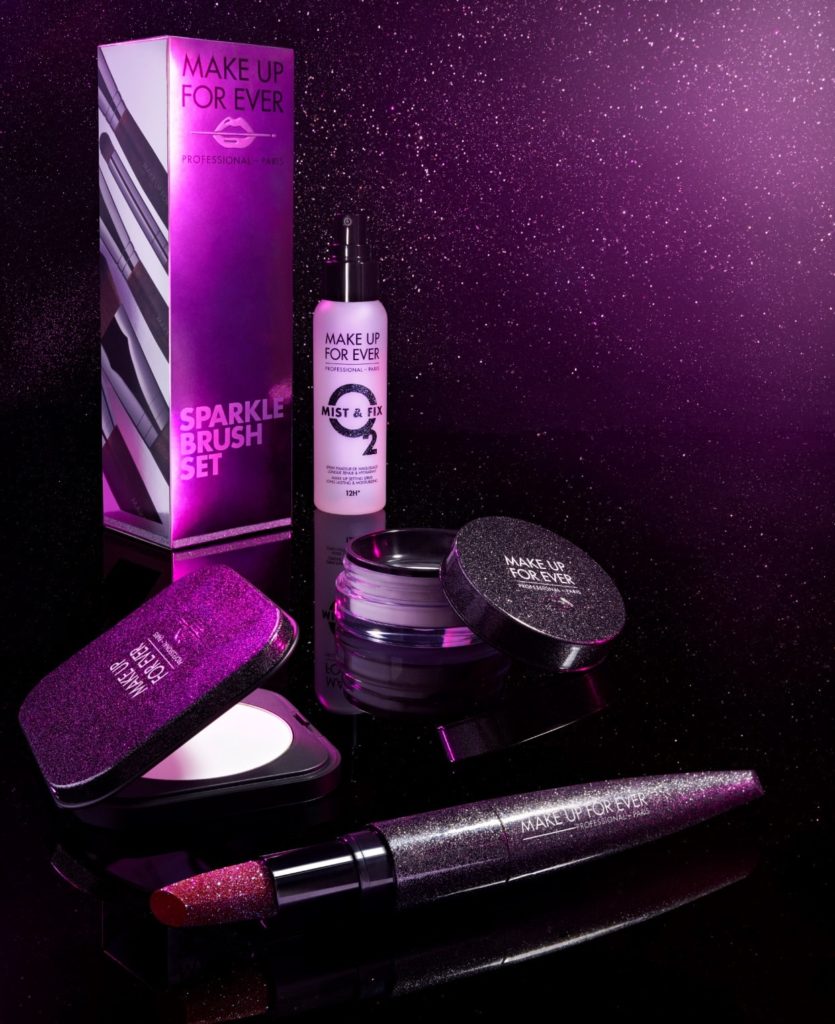 Got a friend who has always wanted to get into makeup but always felt intimidated? Get them – or you – started with this Sparkle Brush Set from Make Up For Ever's holiday collection. Within the set you'll find four of the best-performing makeup brushes from the brand, including Brush #106 for foundation application; Brush #128 for compact and loose powders; Brush #156 for blush; and Brush #216 for smudging eyeshadow and eyeliner in the crease and along the lash line.
The Sparkle Brush Set (RM299) is just among one of the several items that Make Up For Ever has in its holiday collection. Check out the full collection in Make Up For Ever Pavilion KL, or in Sephora stores and online.
Huda Beauty Haze Obsessions eyeshadow palettes
This latest trio of limited-edition eyeshadow palettes is what founder Huda Kattan describes as: "an evolution of the sexy, smoky eye". Featuring three colour themes – Khaki, Purple, and Sand – each palette has nine shades that will bring to the table its own style of elevated smoky eye looks. Needless to say, as with every Huda Beauty eyeshadow palette out there, the textures are buttery to the feel and has a high payoff.
The Huda Beauty Haze Obsessions palettes are priced at RM135 each and are available online and in-stores at Sephora.
For more holiday gift guides, check them out here.