The palm-sized Foreo UFO 2 may be small, but it's powerful enough to do more for your skin than some spa facials.
With Covid-19 cases looming at an all-time high and a new Movement Control Order (MCO) underway for most of us in the Klang Valley, it makes sense that you might want to limit your trips out of the house. While facial and spa sessions are great, there are some ways that you can create your own spa sanctuary at home. Setting up a nice bath or post-shower treatment and lighting some scented candles are great ways to unwind, including putting on a mask — and no, we're not referring to the ones that prevent Covid.
How about taking it a step further and creating your own specialised facial treatments using a nifty palm-sized facial device? By now, you're probably already familiar with the Foreo UFO, a 90-second facial treatment device that accelerates your masking sessions with greater efficacy. Last year, Foreo released the UFO 2, an upgraded version of its bestseller and it was finally made available in Malaysia just several months ago.
I took the Foreo UFO 2 for a spin during these trying times and I'm here to tell you that you can effectively cancel all your future facial appointments because this little device is more than enough to upgrade your home facial sessions.
Thermo- and cryo-therapy in your hands
Imagine this: you no longer need to go book an expensive facial session for thermo-therapy or cryo-therapy, because these two treatments are now available in the palm of your hands. The UFO 2 has upgraded its cooling and heating treatments (known as cryo-therapy and thermo-therapy), and they now deliver heat and cooling sensations five times faster than the first-generation UFO.
What benefits do cryo- and thermo-therapy have on the skin? Cryo-therapy is a great way to instantly de-puff the skin, perfect for the days when you wake up with an unexpectedly puffy face or eyes. The UFO 2 is able to cool skin five times faster, and this effect also gives face that 'lifted' appearance while reducing the appearance of pores. Meanwhile, thermo-therapy does the opposite — it heats up the skin and encourages more efficient penetration of products into the skin. Don't worry about getting burnt, because the device will deliver heat at an optimised temperature.
Let there be light
The rainbow has got nothing on the Foreo UFO 2. Light therapy is truly brought to a whole new level because there are eight different LED lights for you to choose from, depending on your skin concerns. The white spectrum tightens skin's appearance and reduces puffiness; purple reduces the appearance of fine lines and boosts radiance; red diminishes signs of skin-ageing; orange revitalises skin for that extra glow; yellow reduces redness and soothes angry skin; green brightens dull complexions and evens out the skin tone; blue improves skin texture, and cyan calms and relieves stressed skin.
Great with any sheet mask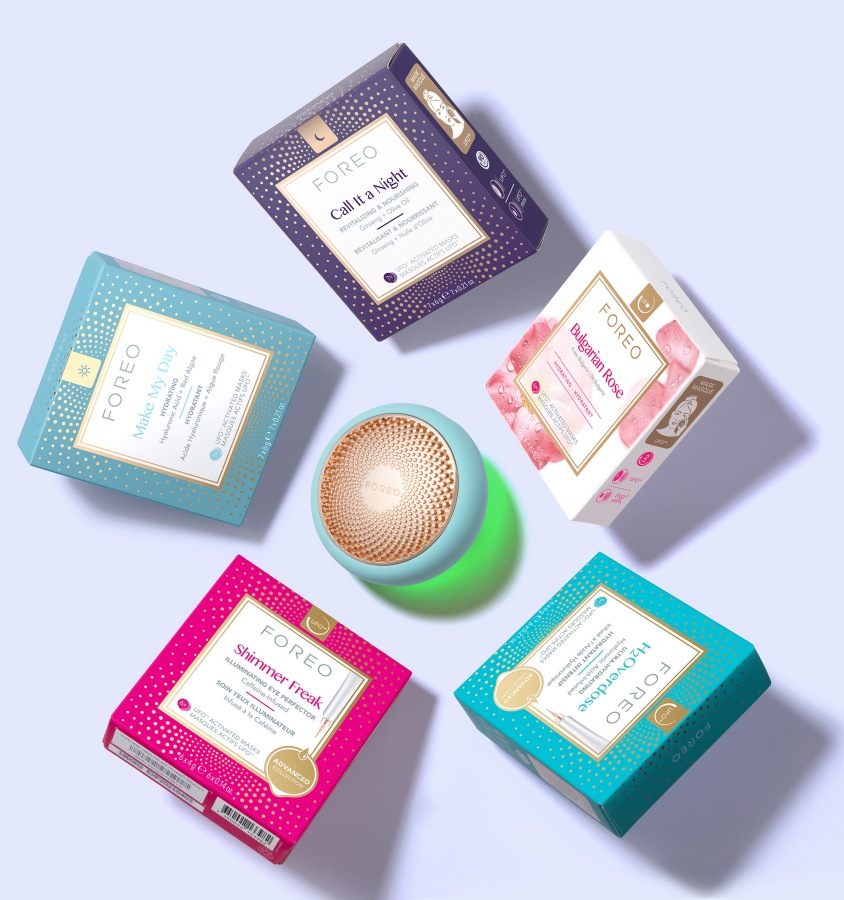 While Foreo has its own range of sheet masks to go with the UFO 2, in reality, it also works with any sheet masks you already have to boost its ingredients' efficacy. All you have to do is affix your sheet mask onto the frame of the UFO 2, set your own light and heat settings from your Foreo For You app, and mask away. However, it's worth noting that the cryo- or thermo-therapy options may cancel out certain ingredients in your sheet mask, so you should definitely do some research beforehand.
However, should you not want to go through the trouble of research, you can easily use Foreo's range of sheet masks that have been perfectly designed to target specific skincare concerns. The Swedish brand has also recently released the Farm to Face collection, a range of masks using only the finest ingredients sourced from around the world. For exaple, the Bulgarian Rose for hydration, Green Tea for purifying, and Acai Berry to make skin smoother.
Throw in a massage
Of course, what Foreo product is complete without its signature T-sonic pulsations feature? Like the best kind of facial, a bit of massage incorporated into the mix is always a soothing sensation. The Foreo UFO 2 also has T-sonic pulsations to increase the micro-circulation and absorption of active ingredients, working in tandem with the masks to increase its efficacy. More than that, the pulsations will also relax facial muscles, reducing puffiness and the appearance of fine lines.
90 seconds is all you need
When we think of self-care and facials, it normally equates to several hours of your time taken up. While we might be spending more time at home, it doesn't mean we have extra free time to spend on facials. Time is still of the essence, and with the UFO 2, you only need 90 seconds for the Make My Day and Call It A Night pre-programmed masking modes. Of course, you're welcome to make it longer, but if you're pressed for time, 90 seconds is all you need.
The Foreo UFO 2 is available in Pearl Pink, Fuchsia, and Mint and is priced at RM1,250. It can be purchased online and in-stores at Sephora, and the official Foreo store.