Fashion and interior design collide at Salone Internazionale del Mobile's Milan Design Week 2019. It is that one time of the year when the world witnesses the convergence of iconic fashion brands and the home furnishing industry in Milan – turning the city into a playground for daring and evocative furniture pieces.
Design experts and industry leaders have already made it official that fashion houses will play a huge role in purveying homeware collections – bringing its dreams and aesthetics to life in a spatial context. It is even more evident as Dior joins in the fray of other brands with existing home collections, debuting its first major artistic collaboration with a design studio for a very exclusive 14-piece presentation at Milan Design Week.
Colour is also a pervasive theme in this year's Design Week. And with luxury fashion labels delving deeper into the world of home and décor, the latest home collections have never been this, lack for a better word, flamboyant. Ultimately, what these fashion giants are selling is the whole idea of experiencing the spirit of the brand – its elegance, its quirkiness, its philosophy and its beauty. It is no longer about a piece that you can wear or carry around on the streets, but something that you want to blend seamlessly into your living spaces.
Here are some of the most outstanding home collections by luxury fashion houses from Milan Design Week 2019.
1
Dior Maison
Dior Maison unveiled 14 exclusive creations in collaboration with Dimore Studio, a design practice founded in Milan in 2003 by Italian-American duo Emiliano Salci and Britt Moran – its first major artistic collaboration with the design world. The studio was given carte blanche to design a series of precious objects for the brand, which included trays, frames, vases, a lighter and an ashtray, a chandelier and an umbrella holder. The exceptional collection blends brilliant work on various metals with Plexiglas and natural woven rattan – alchemy of excellence in savoir-faire, the French art of living and Dimore Studio's unique aesthetics.
2
Versace Home
Versace had one of the most outstanding installations at Milan Design Week – this time it was at the Palazzo Versace on Via Gesu. Interior designer Sasha Bikoff and artist Andy Dixon partnered together to dress up the various themed rooms with a wild mix of prints, colours and textures best described as a neon-tinged fever. Pieces from the Versace Home collection this time are fun and funky, bearing the signature head of Medusa.
3
Louis Vuitton Objets Nomades
Louis Vuitton introduces its latest Objets Nomades collection at Palazzo Serbelloni with over 40 pieces of lighting, lounge chairs and dining room tables from prominent designers like Marcel Wanders, Patricia Urquiola and India Mahdavi, including its latest additions by Atelier Biagetti and studio zanellato/bortotto. Key pieces at the display included the Anemona table by Atelier Biagetti as well as Giorgia Zanellato and Daniel Bortotto's Mandala Screen.
4
Loewe
Loewe has collaborated with 11 artists from Japan, US, South Africa and Ireland who engage in various styles of leather weaving to conjure an installation commemorative of this generational basketry technique. The exhibit celebrates one of the Spanish house's most celebrated pieces – Baskets – and is set inside a courtyard next to its flagship store on Monte Napoleone. The artists applied leather making techniques to craft decorative objects for the home, comprising ornaments, decorative boxes, quilts and weights.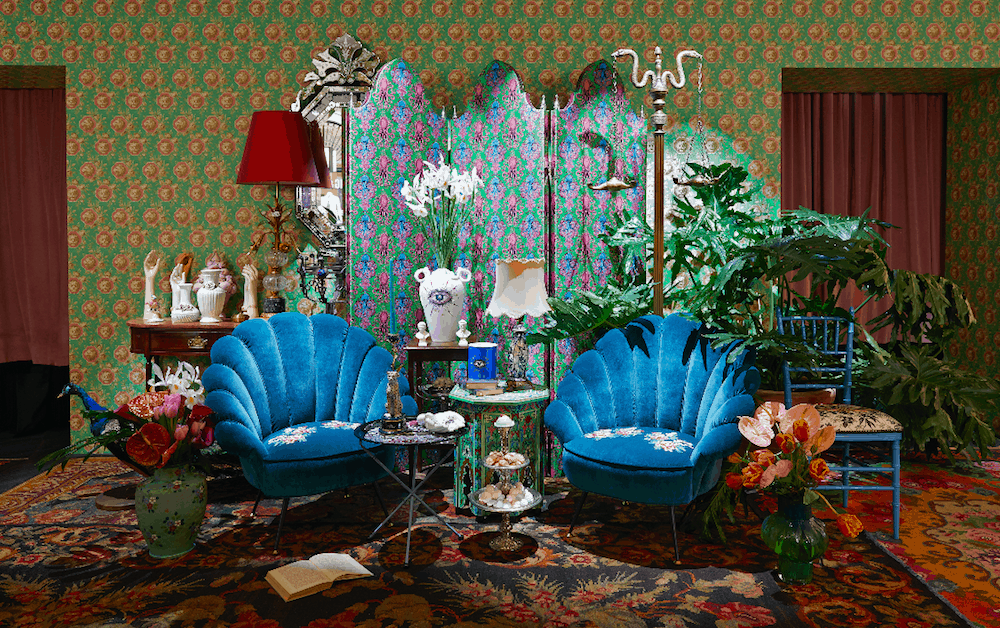 5
Gucci Decor
Gucci set up an exclusive pop-up store in Milan this year to present its new Gucci Décor collection. The scenography, which is curated by creative director Alessandro Michele, allows visitors to be part of the spatial experience and the spirit of the brand. On top of its signature embroidered cats, tigers and bees, there are new additions like owls and butterflies, as well as cat-shaped pillows joining the list. Gucci Décor's latest collection embodies the idea of maximalism and flamboyance, with a touch of refined elegance.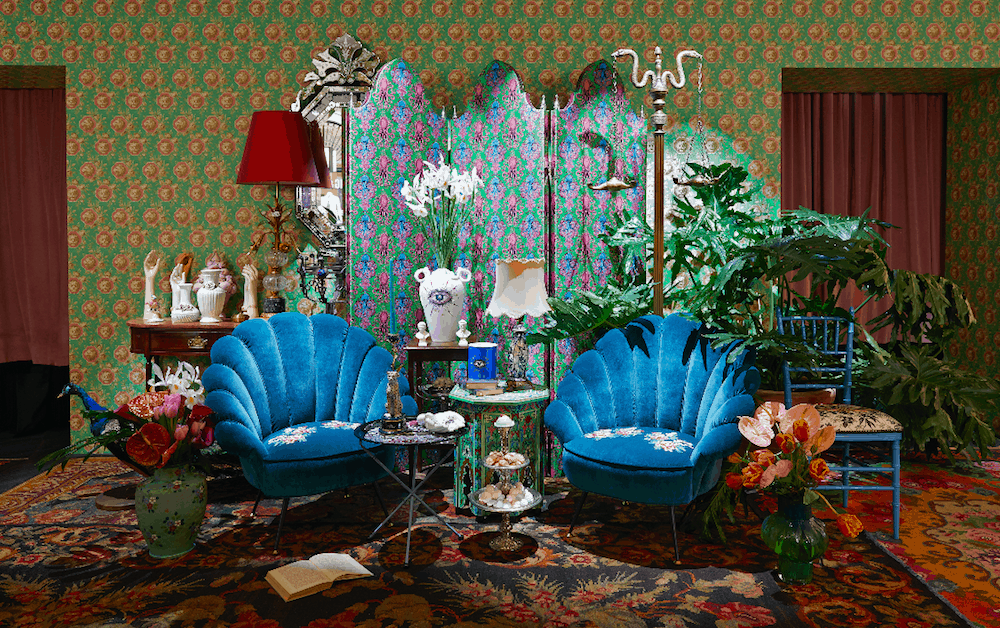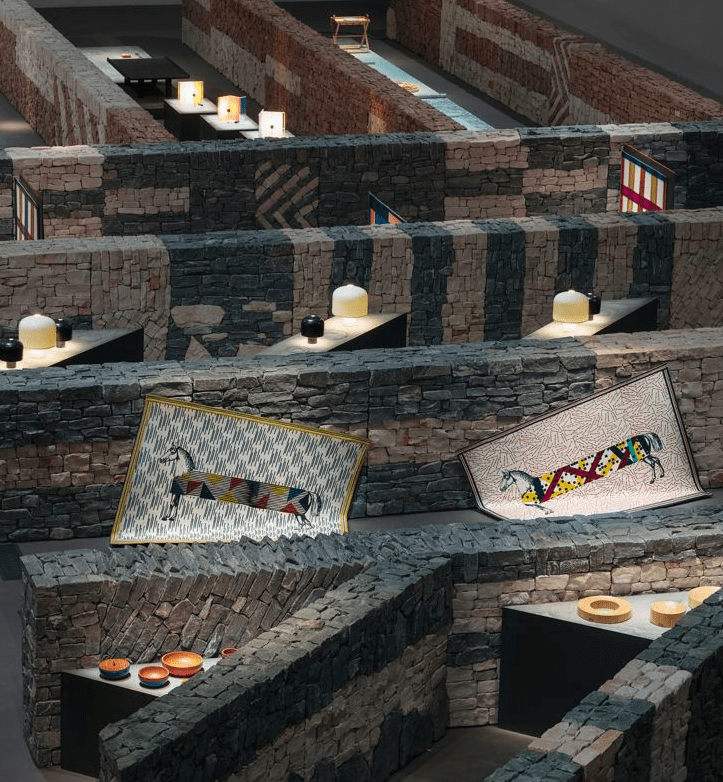 6
Hermes Maison
Hermes pays tribute to materials for the presentation of its new home collection this year at Milan Design Week. The concept behind the exhibition space emphasises on the importance of materiality in design – an extension to its significant display of tactility last year featuring 150,000 handmade Moroccan Zellige tiles. Inside the storied space is a maze of stonework imagined by artistic director Charlotte Macaux and set designer Hervé Savage. Staying true to its equestrian heritage, Hermes' signature colours and motifs were plastered all over the collection of wickers, fabrics, vases, bowls and more.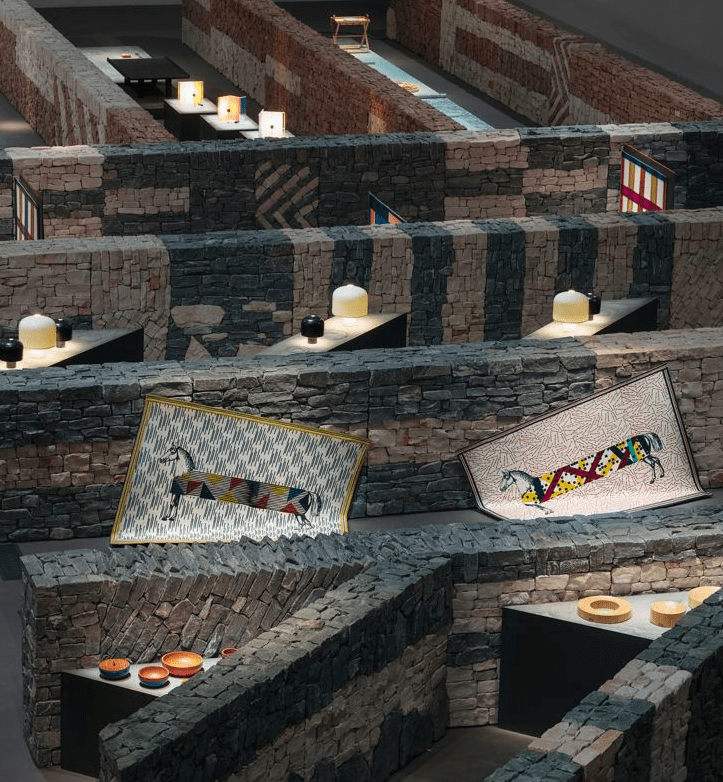 7
Fendi Casa
Fendi teamed up with architect and interior designer Cristina Celestino for a new collection in the Fendi Casa line. Fendi opened the doors of its store on Via Solari with "Back Home", a special installation showing the latest pieces including curved armchairs and fluid shapes bearing the brand's iconic Pequin striped motif introduced in 1987 – evoking Fendi's heritage of elegance and sophistication with authentic discretion. To complement the interior design collection, Silvia Venturini Fendi has also conceived an exclusive luggage set with the iconic Pequin leitmotif in a series of colour-ways.