Kenya Barris' latest series, titled BlackAF focuses primarily on slavery and black culture while also talking about what it means to be a 'new money' black family in this day and age.
The entire eight-episode series was shot in a mockumentary-style setting, which has been made popular by the likes of Modern Family, Parks & Rec, and of course, The Office. The Netflix original series focuses primarily on Barris and his irreverent and honest approach to parenting and relationships. However, there is a more underlying talking point, which shows why black culture is the way it is because of slavery.
One of the main running gags of the entire series is its titles, which all ties back to slavery. Episode one is titled, 'because of slavery' while episode two is 'because of slavery too' and episode three is ' still… because of slavery', and so on. True to its name, each episode does talk about how slavery has forced black people to act, dress, or behave a certain way because of slavery.
Rashida Jones — who was in both Parks & Rec and The Office — plays Barris' fictional wife alongside his six children, all are based on Barris' actual family. Barris plays a fictionalised version of himself with a common theme of the show being about fashion. A common theme of the entire series is the amount of drip that you will spot in the show.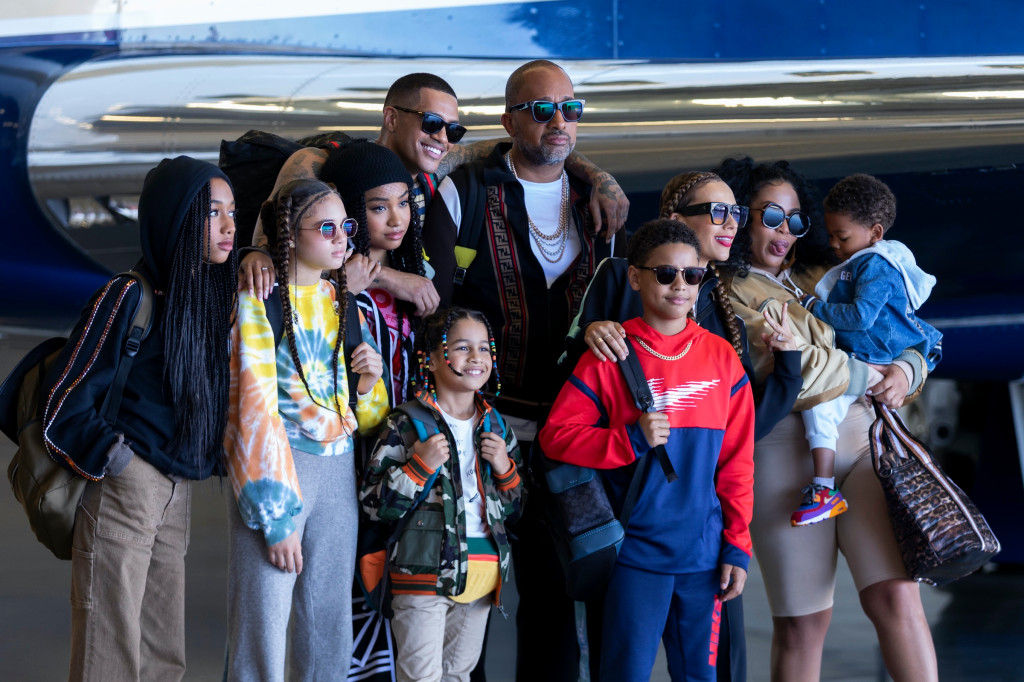 BlackAF makes sure to point out that the entire family is dressed head-to-toe in luxury pieces. This includes tracksuits from Fendi, Valentino, and Gucci; sought after pieces like the Dior x Hajime Sorayama jacket, and the Kid Cudi 'Kids See Ghosts' tour merch in collaboration with Cactus Plant Flea Market. Sneakers aren't left behind as footwear was also a big deal in the show. This includes Balenciaga Triple S sneakers, Nike x Sacai LD Waffles, Off-White x The Ten sneakers with Nike, as well as Tom Sachs Nike Mars Yard Overshoe to name a few.
Fashion plays a big part in the show, which was the main focus in the first episode. It draws comparisons to "peacocking", a term that describes one to dressing up in a flashy or extravagant manner. Barris talks about how it draws back to slavery as peacocking is within black people's DNA. This is due to how white people used to make their slaves dress up in their Sunday best for the weekly church visits to show off to other white plantation owners.
Barris goes on to point out that peacocking has been instilled in his people's DNA from the very beginning. It created this belief in black people that presentation equals acceptance. The rest of the series are more depictions on how black culture is perceived through the typical "white gaze" as the show refers it to. Each episode features a different element in black culture that has been stereotyped over the years, which then draws it all back down to a single time in history — slavery.
What makes the show such a worthwhile watch is not only for the obvious mockery it makes of the documentary-style setting but the way it goes about it as well. The show depicts itself as one of Barris' daughter's video submission to get into NYU's film school. Its mockumentary style of shooting is very much similar to the greats with the cast looking directly into the camera, thus breaking the fourth wall. This is a given when it comes to mockumentary TV series.
The level of meta humour in the show is commendable, considering how Barris and Jones are capable of pulling off their roles exceptionally well. This is nothing new for Jones as she was already one of the main cast in Parks & Rec. This is, however, Barris' first-ever acting role instead of being just the creator, director, writer, and executive producer. BlackAF also manages to snag plenty of influential African-American personalities for the show, all of whom play a somewhat fictionalised version of themselves like Lena Waithe and Tyler Perry.
BlackAF is a show about black people, for black people, who are looking to have a laugh but also a self-reflecting moment about what it means to be black. But don't take my word for it, check it out on Netflix now.
All images courtesy of Netflix.