In our latest digital cover encompassing the theme 'BOND', the three Kuan siblings — Jestinna, Christinna and Perry Kuan demonstrate how they walk the talk in Onitsuka Tiger's Tricolor Series of shoes. They talk about their strong connection and what inspires them as entrepreneurs, musicians, and content creators, as well as how they continue to influence one another in their craft.
Walking onto the set with as much swagger as the Kuan siblings do, it comes to no surprise that anyone's first description of them would be 'cool'. The Kuans — Jestinna, Christinna and Perry — band together for the first time on a cover shoot, and they simply cannot suppress their excitement. It's clear from the get-go how naturally strong their connection is, and the way they spur each other on during the shoot is truly endearing to watch.
The Kuan siblings don pieces from the latest Onitsuka Tiger Spring/Summer 2022 collection, featuring motifs of the animal that represents the year in the Chinese Zodiac, the tiger itself. Fierce and powerful, the pieces were carefully curated to fit each of the Kuan siblings according to their senses of style — whether it's meant to be sporty as Jestinna likes it; or femininity-embracing as is Christinna's flair; or loose-fitting and relaxed as how Perry prefers. The star of the shoot is none other than Onitsuka Tiger's iconic Tricolor Series of shoes, timeless and versatile as they are.
Hailing from the 'foodie paradise' island of Penang, the Kuan siblings muse on their favourite eats, things to do together, and their favourite childhood memories of one another as they prepare for the cover shoot. Their most recent success is their music video titled 'Year of the Tiger', which they filmed with their parents specially for Chinese New Year. The music video became an overnight sensation, surpassing a million views and garnering attention from neighbouring countries.
"It first went viral in Singapore and we totally didn't see that coming," quips Jestinna Kuan, the eldest of the three. If you've seen the music video, you can definitely catch the little notches in their familial bond being uncovered, in the ways they complement each other throughout the video.
Jestinna gives out a confident and self-assured presence. The 26-year-old entrepreneur and content creator comes with a strong personality both on and off social media, but don't be fooled by her 'fierce' Instagram photos — she's nothing but humble and easygoing.
"Honestly, I'm pretty much the same on both social media and in real life. Many people assume I'm too 'cool' or unapproachable, but I'm actually super friendly!" Jestinna confides. "It's probably because of the photos that I post on Instagram. Now that I'm more active on YouTube, I hope that's how people can get to know me more, because I'm just being myself."
Her younger sister, Christinna — better known as 'Ms Kuan' in the social stratosphere — shares the sentiment. The 24-year-old fashion and beauty influencer confesses that she has received numerous messages expressing surprise about her fun and friendly persona in her vlogs, especially from those who have only seen her on Instagram. Her true, bubbly personality shines through mostly on YouTube.
Both the Kuan sisters cite mummy dearest as the biggest source of inspiration for their sense of style. From a young age, it was their mother who had nurtured the sisters' love for fashion and beauty, taking them on shopping sprees after school and always encouraging them to dress up.
"When we were young, my mum would send both of us to all kinds of classes — singing, dancing, even art classes," Jestinna shares. "So, she's the one who would train us in all these different fields."
What eventually kicked off the sisters' individual careers in fashion, beauty and influencing began as simple 'outfit of the day' (OOTD) shots taken and posted on their respective social media platforms. Being quite close in age, both Jestinna and Christinna got their head start in the fashion biz on Friendster before the big shift in the early 2010s, when Instagram took over the scene. As people who have witnessed this shift first-hand since they'd begun their careers back in high school, the Kuan sisters note on media oversaturation and its impact.
"Besides Friendster, there was also the popular 'blog' trend back then," Christinna muses. "I think with how the platforms have evolved, it's gotten so much more challenging. When we started back then, it was just images. Now everyone can comment and review on the things you do. Plus, there's Instagram 'Reels', TikTok and even international apps like Xiaohongshu, which is really big in China."
Perry Kuan — the third and youngest of the Kuan siblings — expresses his excitement to be along for the ride. At 21, Perry, better known as 'DJ Perry K' is currently juggling both entrepreneurship and his love for DJ-ing while his name on social media platforms grows. As a down-to-earth guy with a natural bent for comedy, Perry likes to build his content around his persona — of which he has multiple. You may have caught a few of his funny skits on Instagram Reels, where he portrays a female version of himself, 'Perinna' and a grandmother character, 'Kuan Po Po', and the inspiration behind the different personas is just as hilarious.
"For Perinna, it was a sudden idea that came to me. My sister, Jestinna, bought a wig for a video she was doing, and I felt like it would be such a waste to not use it again — so I decided to play around with it," Perry explains. "The name 'Perinna' also came from my sisters' names [Jestinna and Christinna], and so I felt that the third Kuan sister's name can end with '-inna' as well."
As Perry explores the different aspects of comedy he can bring to his videos, it comes as no surprise that he has developed a love for acting. His next platform to tackle is TikTok, where he expresses his desire to pursue further comedy acting.
We sit down with the Kuan siblings to talk about their respective careers, future business collaborations, siblinghood and the importance of inspiring, challenging, and motivating each other to become better versions of themselves. Why don't each of you tell us something that we may not yet know about you?
J: I love eating ginger (laughs). I can actually just eat it like that. I think I've always loved eating weird stuff that other people don't really eat. Even coriander, too.
C: For me, I can have up to three ice creams in a day. In fact, I can eat ice cream every day. My favourite flavour is the classic chocolate.
P: I think people may not know that I'm a quick learner. But… that also means I can forget it very quickly (laughs). I just have good short-term learning skills. For example, with computer stuff. I'll watch a quick tutorial on YouTube, and then I can easily do it myself.
You're all so young, and yet you've each established a very strong social media presence. What would each of you say is your biggest takeaway from this?
J: I think hard work really pays off. All you really need is to have passion in what you do, and one day you will succeed.
C: When I first got started, I didn't think this would become my career at first. I'm really just grateful for all of it. From one random photo shoot session when I was in high school, it somehow turned into my career, and I'm really glad for it.
P: This has definitely taught me to go for what you love. For me, it still feels like this is just a starting point, but I first joined in because I love it. So, really, just do what you love.
What would you say are the pros and cons of being young and famous?
J: I definitely appreciate the opportunities that I get from the brands and clients that I work with. It's also a plus doing what I love at the moment. At the same time, when talking about being 'famous', people — or at least, your followers — definitely have expectations about you. Like, they might expect you to be perfect. But I will always stay true to myself.
C: I think a big pro is that you get to explore more at a much younger age. In a sense, I feel like I was able to 'save time'; I got to experience so much more compared to my peers and friends from school. But I suppose there's also a 'bad' side to this, in that at a young age, I'm already focused on working. So, I wouldn't have the best balance of both my personal and work life. While everyone else goes to parties, I would be working. But it's not all bad. That means I can retire earlier, right? (laughs) And I definitely enjoy what I do.
P: For me, it's good to have an income doing what I love. As of now, I wouldn't say there are any cons yet, because so far I'm really enjoying it all. Since I was young, I've dreamed of doing what I do now. 
What's your advice on staying positive and confident?
J: Life has its ups and downs, and I accept that. Plus, I'm reminded every day that I'm actually very lucky, and I'm always happy to be surrounded by positive people, my friends and family.
C: My advice is if you're angry, just let it out. A lot of people tend to keep it to themselves,  and they brainwash themselves to be positive. But actually, there's no point in keeping all of our emotions in. You just have let that anger go in a good way. You don't have to pretend that you're doing okay even though you're actually not. One day, you'll explode, so why not find a solution to deal with it instead?
P: Avoid overthinking. For me, I always take action first. Then, if I come across any problems, I'll work to solve them. When we overthink too much, we don't even dare take the first step. So, at the end we don't get started on anything. Even when it comes to creating content, I'll always just go for it. Because when I think too much, I'll be wasting time as well. And I don't want to waste time.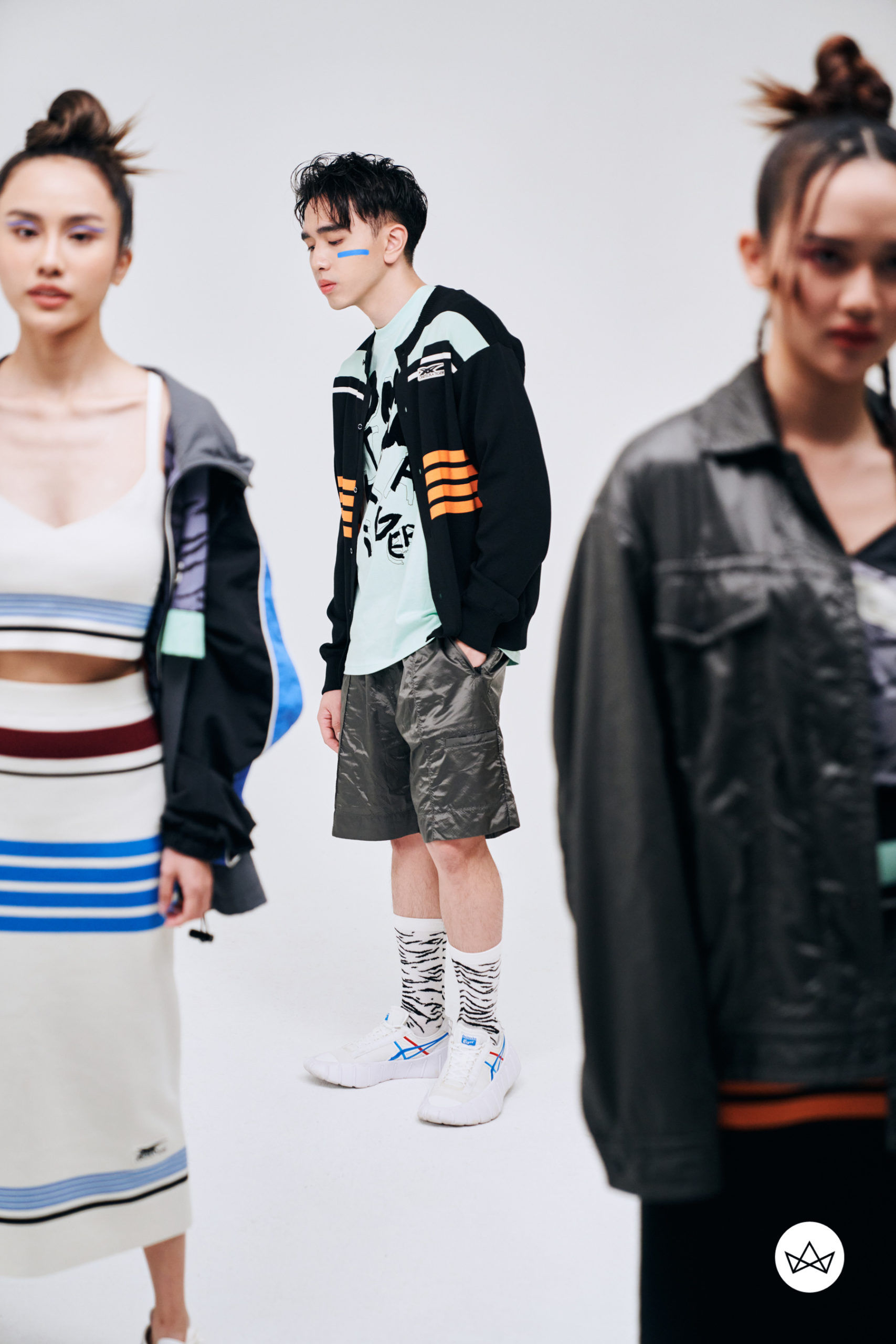 As a content creator, how do you set yourself apart from other creators out there?
J: I'm the kind of content creator that likes to go with what's currently trending on social media, and TikTok. Although people say TikTok is for Gen Z, I think as long as you're keeping up with what's trending and it helps, then it works for me. And of course, to always be true to myself.
C: I thrive on the work (laughs). One thing I've noticed about content creators is that some of them tend to take a break from social media. But so far, I feel that I don't need to take a break because I think what I'm doing is really, genuinely from my heart. And so, I don't think I'm 'lost' or that I'm not giving the audience something that's true about my life.
P: I think what I'd say that I do 'differently' is acting in a few roles. I just love acting. Ever since I was young, I've always been very dramatic. I liked to imitate my sisters a lot, and that's actually how the 'Perinna' persona came through.
Tell us more about your business, UFCO. What inspired you to start your own business?
P: We first started UFCO with streetwear. It was founded in 2018, and it was my first business — I was about 18 years old then. Actually, since I was 16, I've always been interested in doing business. I was mostly inspired by my dad, who is also an entrepreneur. I used to sell a lot of things: accessories, shirts that I would 'force' my classmates to buy (laughs). I think I've always been sort of a hustler in that way, a bit of a workaholic. I can even work from morning until midnight.
J: I'm really proud of the brand that we've created. My brother is managing the business currently. Fingers crossed, we'll have more designs and even collaborations in the future.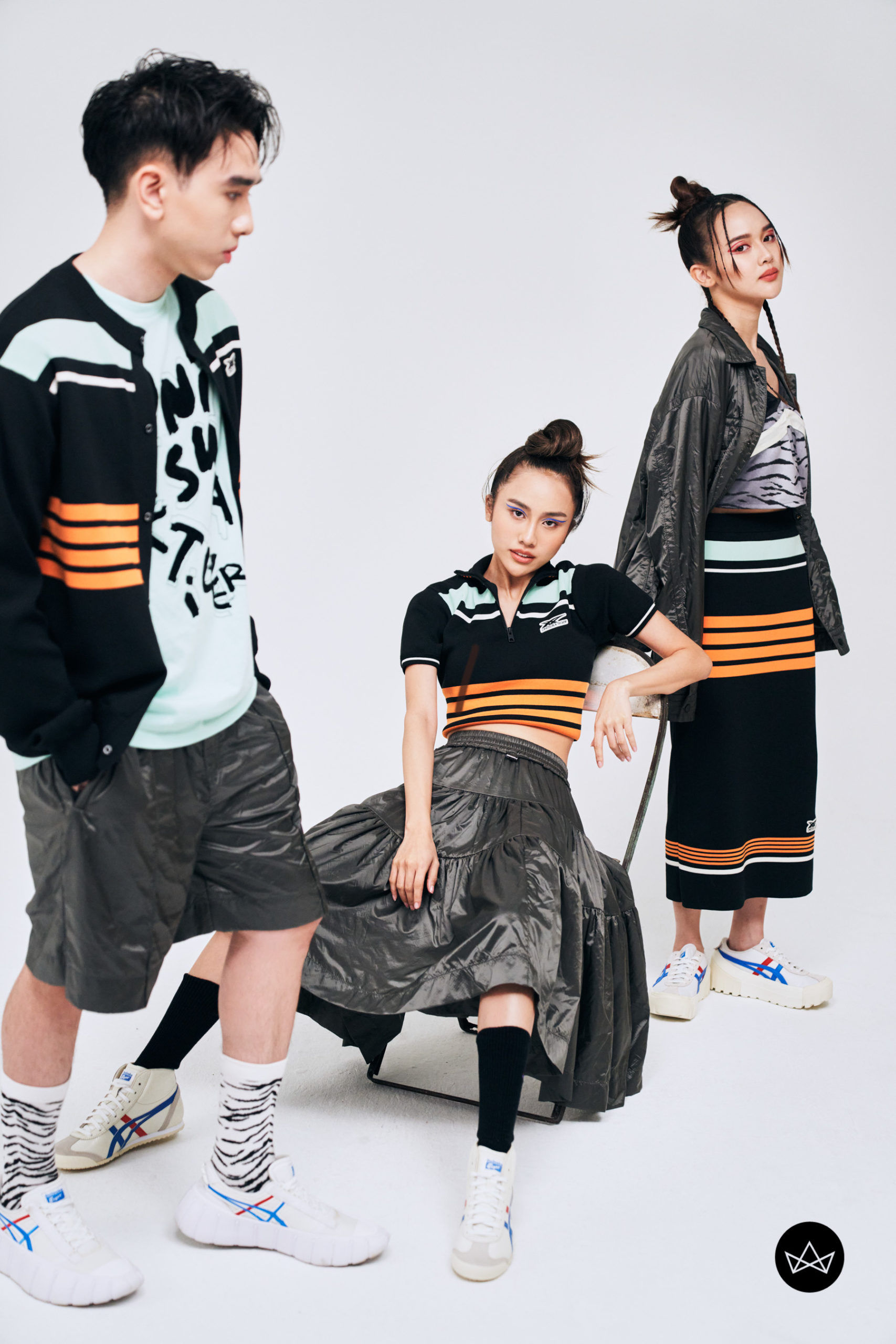 Christinna, you've also collaborated with your sister recently on the 'Sis Mask' during the pandemic. Tell us more about that.
C: The 'Sis Mask' was a very impromptu collaboration with Iconic Medicare, so it was kind of just a one-time collab. We were pretty shocked with the outcome — the response has been really good, and we've generated a lot of sales. So, now we're thinking long-term. We will probably turn 'Sis Mask' into a brand.
J: We released our first launch last year in October, and it became quite a hit unexpectedly. It was sold out within 10 minutes! We're really happy because wherever we go, we see people wearing it. It feels very touching, and we feel proud of our work. We've also had our second launch as well in February, and it was sold out within three minutes. We're really happy with the response so far.
Are you planning to expand the 'Sis Mask' brand beyond masks; maybe, accessories or beauty products?
C: For 'Sis Mask', I think we will keep it focused on masks for now. A lot of beauty products require a licence if we want to move toward that, so we'll need to really produce a good one. For myself, I've actually encountered bad acne before, so I'm quite cautious when it comes to beauty products.
J: A lot of people have been asking about possibly expanding the brand, and we're still in discussion about that. We would definitely like to look into that, but we'll need to do research and make sure the products are good — not just hastily done.
What do you love about the latest Onitsuka Tiger Spring/Summer 2022 collection?
J: I think the designs are very pretty, and it gives me that fearless and bold kind of attitude, which I really like. It's something that I'm really looking forward to putting on. I also love their classic-looking tricoloured shoes. I like a more sporty and comfortable style, so I would be able to wear the shoes with most of my outfits.
C: Oh, I love the collection! I really wanted to get it for myself, to wear during Chinese New Year. But I was told that the collection has not arrived in stores then. But yes, I really love it and I will definitely be getting it for myself. I like that the brand explores a lot of graphics in their clothing. And although I'm a heels person, I think the Tricolor Series is very cool. The designs are very minimal and nice, which I like.
P: I like the collection and I really can't wait to get my hands on them. I really like the designs, especially the tiger motifs. As someone who collects sneakers, I definitely want to add a tricoloured pair to my collection. I really like them, they look very cool.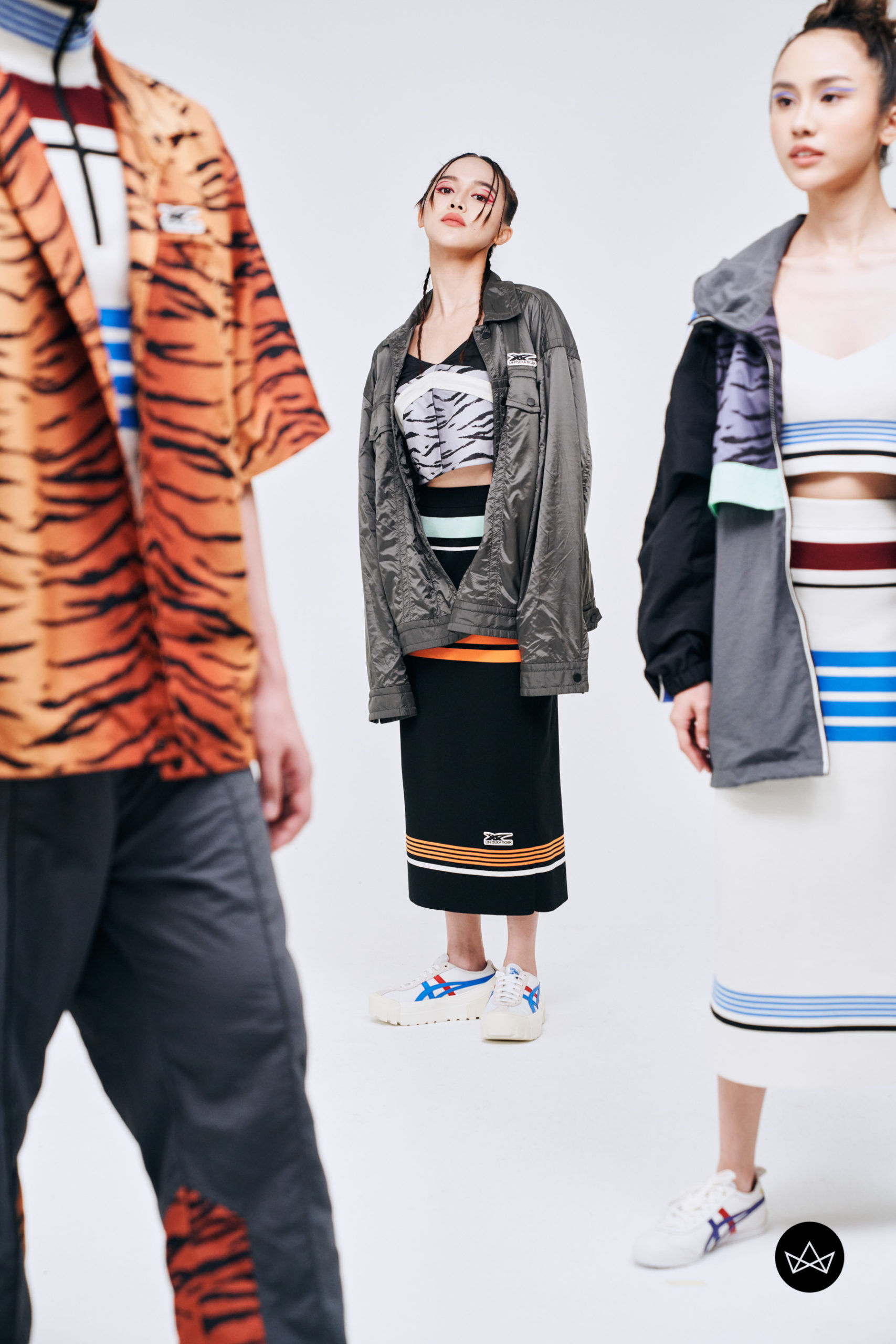 Who or what are some of your influences?
J: Fashion-wise, I love Brittany Xavier. And whatever that pops up on my TikTok, I'll just casually look them up. I really like keeping up with the current trends.
C: In terms of both style and content creation, I really like Chriselle Lim, Chiara Ferragni and Molly Chiang from Taiwan. They're not just my style inspos, but they're also my girl crushes (laughs). I get influenced by what I see, but at the end of the day I'll still wear what I like.
P: I watch a lot of different content creators. I go through a lot of content from different people on social media, and I'll select and save the videos that I particularly like.
So, what's your favourite thing to do when you three get together?
C: My siblings [Jestinna and Perry] really like to play Overcooked on Nintendo Switch. I'll usually just sit there to judge the game, but they will be the ones playing. The game is too fast for me, I can't really catch up (laughs)!
J: Honestly, we pretty much do anything when we get together, the three of us. Doesn't really matter what we do, as long as we're together.
Share with us a funny childhood memory of the three of you.
P: We used to do a home fashion show.
C: Oh, my God! Yes, definitely a fashion show at home! We used to do that all the time. We also liked to play make-believe. I would play the teacher, and Perry would be the student.
P: I would always have to act as a few students at once.
C: Yes, we usually had around 20-30 students. Jestinna usually wouldn't be a part of the school, though.
J: Yes, I am. I'm the principal. At my office (laughs)!
Would you say that you three are closer now than when you were younger?
C: I think as we grow up, we have a lot of common things that we share, so it's pretty much the same as when we were younger. We have a lot of similar interests. Most of the time, the reason people grow apart is because they don't have anything in common anymore. But for us Kuan siblings, we still love the same things; we still play badminton together, we still do sports together. So, I'd say that we're closer than ever now.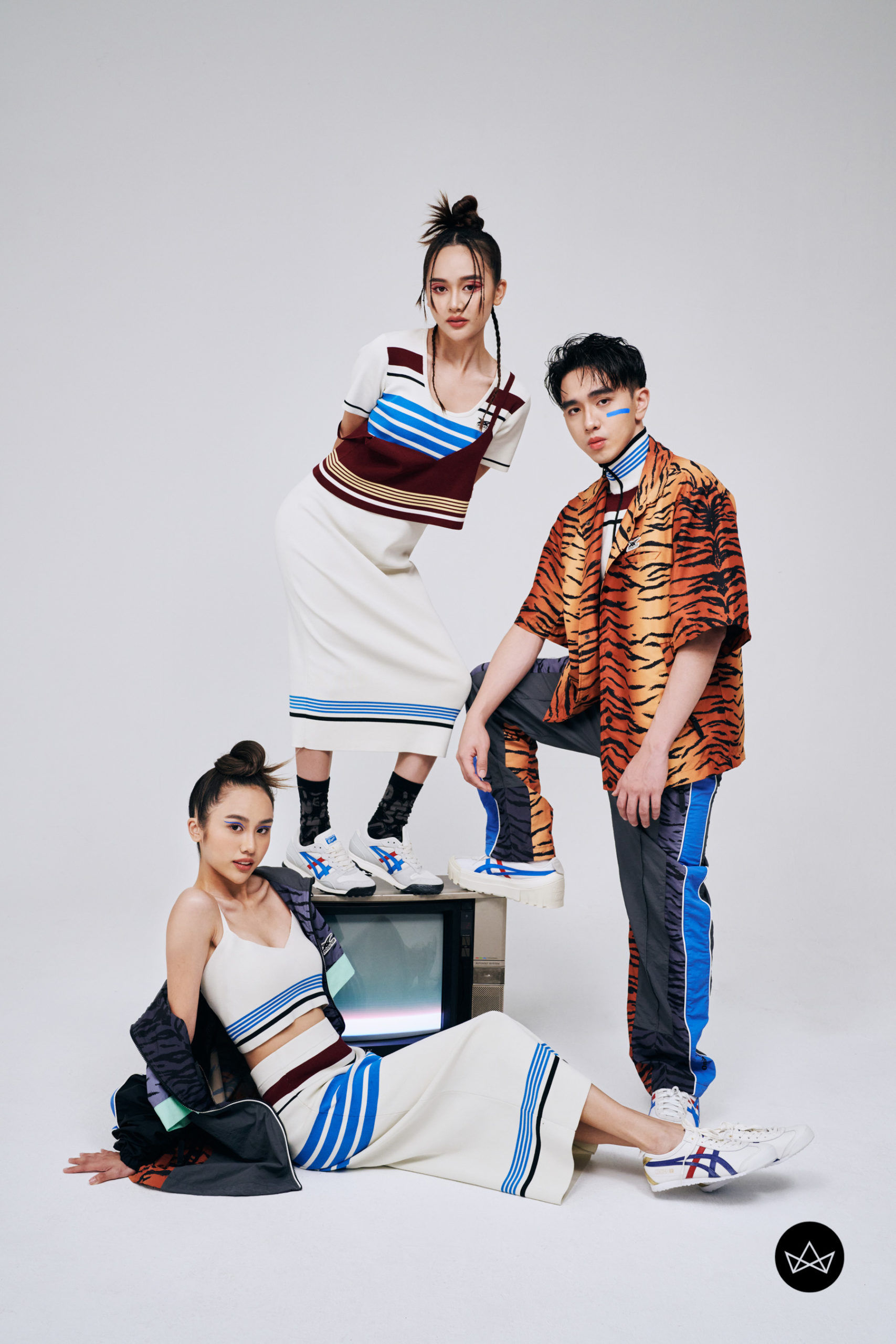 What's something that you would like to tell your siblings that they didn't know before? Is there a particular secret that you've kept from your siblings?
J: Nope! I'm an open book with my family, especially my siblings. I feel very lucky to have the support of my family, and I would say that's really the thing that means most to me.
C: Actually, my siblings know everything already (laughs)! Just last week, my brother and I exchanged a few secrets with each other. So far, there's nothing that I've not told them about myself. When something bad happens, I'll sort of compile it and we'll vent to each other when we meet up. We'll always reach out on WhatsApp when we need each other.
P: No, I tell them pretty much everything. I don't like hiding things from people, especially my family. I'm quite a straightforward person. Everything that I feel, I don't really keep inside. I just say everything aloud.
Credits:
concept & editor MARTIN TEO | interview PUTERI YASMIN SURAYA | creative ANDREW LOH | production KIM MUN@HOPSCOTCH PHOTOGRAPHY | wardrobe ONITSUKA TIGER | hair KAY TUAN@CENTRO W SALON | makeup CAT YONG
Find out more about Jestinna, Christinna and Perry Kuan in the latest issue of LSA Digital Cover Vol. 003 HERE.