The first Coach ambassador for South Korea, Yoon Chan-young, talks history with the brand, his widespread acclaim since Netflix's 'All of Us Are Dead', and dressing to express his authentic self.
With every major breakthrough K-drama series comes a rising international star: enter Yoon Chan-young from Netflix's hit 'All of Us Are Dead', a zombie apocalypse thriller that has sunk its teeth in audiences worldwide. Just recently, the 21-year-old was named Coach's first brand ambassador for South Korea, joining the likes of Jennifer Lopez, Michael B. Jordan, Jeremy Lin and Köki as a face of the global Coach family.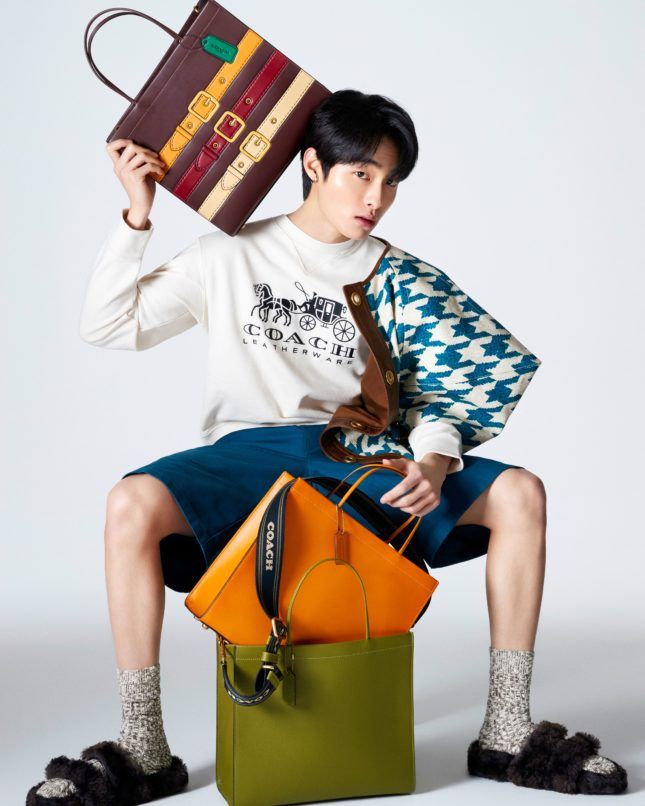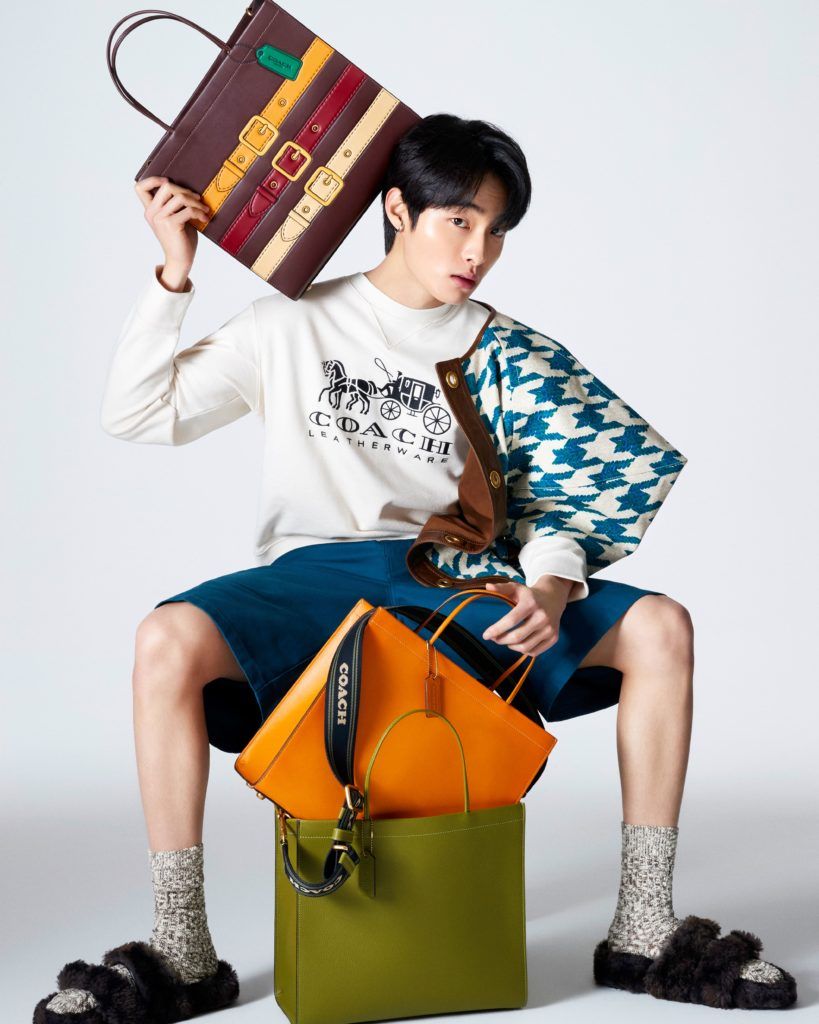 "I was initially really fascinated to hear about the history of Coach," Chan-young expresses of the brand. "I could see that there were many different types of items that Coach offers to the people. So, I think it would be really meaningful for me to continue this legacy, and carry on looking into Coach's brand of fashion."
For Coach's Spring 2022 collection, the pieces can be summed up in three words: colourful, upbeat and energetic. The line features a range of motifs, from denim to florals and bright, bold hues that tend to make an appearance in the spring and would smoothly transcend into summer. Rocking these motifs, Chan-young makes his debut in the campaign for the brand's Spring 2022 ready-to-wear, which also features the Hitch backpack — an accessory that pays tribute to Coach's rich heritage.
Chan-young shares that to him, fashion is a way of telling a story. It is fitting then, that as an actor whose roles vary in demand, Chan-young channels the characters he plays and their personalities through the clothes that he wears. For him, fashion isn't just attire. It's a means of revealing pieces of himself to the world — a way to tell people what he's truly feeling, without words.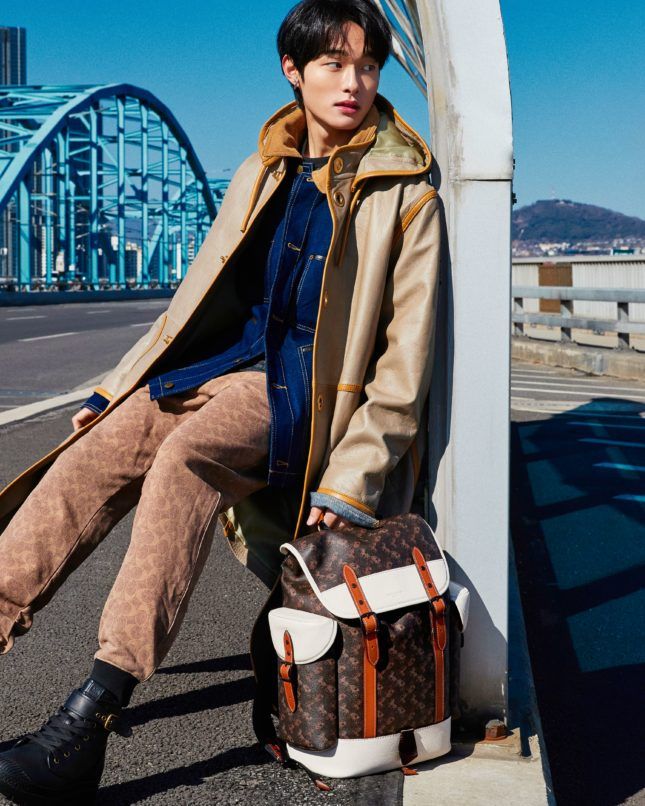 "The clothing and its styles really help represent and express the character," Chan-young explains. "So, I always keep in mind what I wear, and I try to link that with the character I'm playing in any given role."
Between celebrating his belated birthday and teaching him the Malay word for 'thank you', we caught up with Chan-young about Coach, fashion nostalgia and its future, and what it takes to be an 'Oppa' in this day and age.
What was your very first experience with Coach?
When I was in elementary school, my mom had a Coach bag. So, that was the first impression I had of Coach. Coach was never an unfamiliar brand for me. But I would say that my first proper encounter with Coach was when I had just finished shooting for "All of Us Are Dead". I received a leather bag from Coach, as a gift — and that was the very first personal Coach item that I ever possessed.
What is your favourite piece from Coach right now, and why?
There's this T-shirt I wore that I really like. It's a black T-shirt with a rabbit design on it, and I wore it for a photo shoot for this [Spring 2022] collection. It's really cute, and the best part is that it's also made out of organic cotton. So, not only does it have a great design, but it's good for the planet. From the moment I saw it, I thought, "Oh, this is definitely for me!"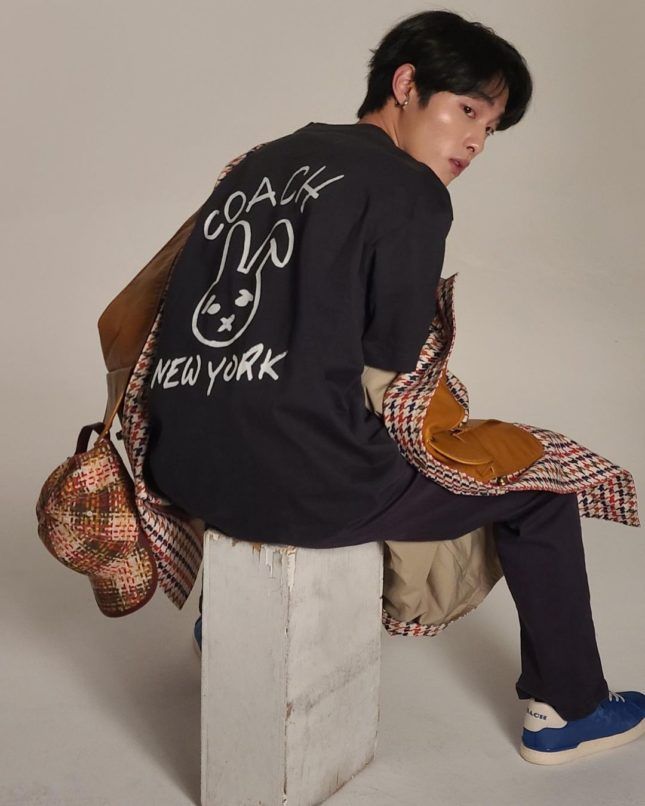 Could you share with us about your personal relationship with fashion, and how that has transformed throughout your career so far?
Ever since I was in high school, I've really enjoyed looking at different types of clothing. Then, when I was training to become an actor — of course, I do have to train still — I preferred the more 'comfortable' look. The 'overfit' outfits and the 'street' looks were what I liked to dress in. But at the same time, when I was feeling good, I liked to dress up. For example, if I was going to a party, I would wear shirts and neckties. I just enjoy looking at different fashion styles and studying them. And this is something I'd like to continue doing, with Coach especially — to carry on looking into all the different styles.
What are some of the ways that Coach's brand philosophy aligns with your own personal values? In other words, what do you and Coach have in common?
Coach's brand purpose is the courage to be real. This is definitely in line with one of my own personal beliefs and values, which is that there is a certain strength that comes out of being authentic — your 'true' you, your natural self. So, that's one thing.
Another one of Coach's brand values is 'to wonder what if'. It really encourages curiosity, and at the same time, it's a value that promotes diversity. So, I think that these types of beliefs of Coach and the values are some of the commonalities that I can find with myself in this brand.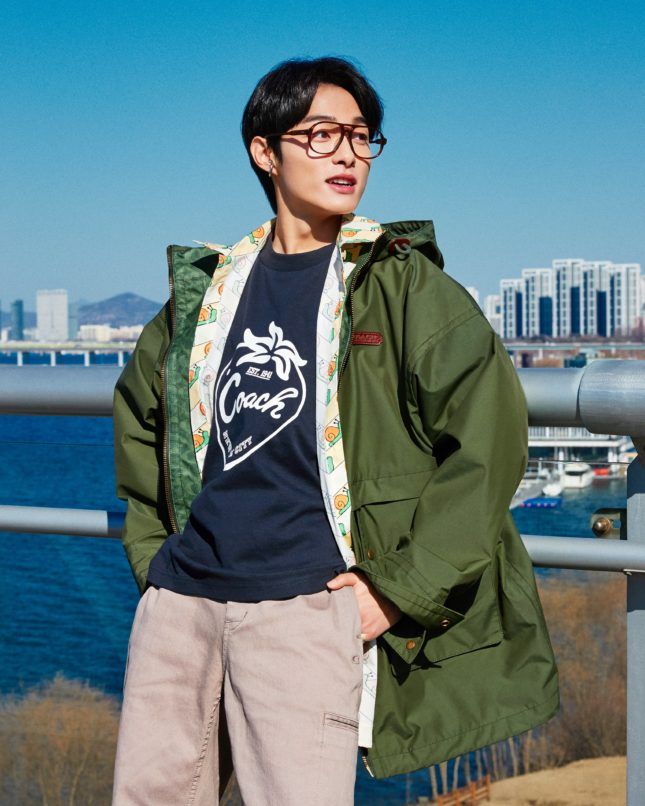 You're the first South Korean to be an ambassador for Coach. How do you foresee the brand integrating your personal culture or values in its future?
Coach is a global brand with a long history and heritage. It has luxury items with roots in its own deep tradition, yet at the same time it has its trendy items, like when it collaborates with other brands to adapt. So, I think you can combine the two together, and one of the roles that I play is to do just that. I want to combine the two and promote it, so people from all backgrounds — both the young and old — can enjoy them and learn more about them. I think that the younger generation, like myself, can actually help promote this diversity as well with my support. If I can achieve that, I believe it would be worthwhile.
How would you describe your personal style currently versus that of the characters that you have played so far?
I personally believe that fashion really represents and expresses one's lifestyle and emotions. So, I think that fashion can help me express my 'colour'. There's this Korean saying that 'clothing gives you wings'. It means that depending on what you wear, you can look even better as it would help you express yourself. Whether it's personal life or with my characters, the style really helps to bring out the personalities even more. So, I always pay attention and think about what I'm wearing, and then use that to connect with the character I'm playing.
You've certainly risen to fame since Netflix's "All of Us Are Dead". How do you feel about gaining wider acclaim and publicity after the show's worldwide success?
I've received so much attention and love since I was able to express myself in that role, and I'm very thankful for that. I have really been feeling good about myself. I've also become more confident in terms of the next steps that I want to take, and in terms of what I say and my actions. But at the same time, I do feel a greater sense of responsibility. So, I tell myself that in order for me not to feel pressured about all this, I should make more effort and try harder.
Last but not least, what are some of the latest dos and don'ts of becoming an 'Oppa'?
I think that becoming an 'Oppa' has to do a lot with your looks. What I mean is, the way you look on the exterior — you have to be really neat and tidy. You have to shower frequently, and you have to wash your face. Wearing perfume would also be a nice touch, but what's most important in all this is that you shouldn't be putting on this style all the time. It's only when you meet that special someone. You should save this kind of style for a very special kind of day.