In conjunction with International Women's Day, Lifestyle Asia KL and Chivas Regal join forces with four illustrious female bartenders in town. We sit with Penrose KL's Maria Escobia — pro dancer recently turned cocktail mixer — to discuss her newfound love of bartending, mastering the art, and adding her own feminine touch.
Together with Lifestyle Asia KL, Chivas Regal celebrates International Women's Day with the country's most celebrated female bartenders. Mark your calendars on 8th March 2023 for a special Guest Shift at BAR TERUMI, featuring Caden Chua and Shirmy Chan from BAR TERUMI; Maria Escobia from Penrose KL; and Megan Lim from BAC. Find out more HERE.
On a hot yet windy Tuesday in Chinatown, Maria Escobia welcomes me into Penrose — after I have breezed past its door three times, not realising I'm already standing right before it. Well-hidden next to its sister restaurant Wildflowers, Penrose is a one-of-a-kind establishment that gets you looking to the skies (literally, as its storefront sign is etched into the ceiling).
"How about I do a Midnight Stinger to start?" Maria offers, coolly reaching for the bottle of Chivas Regal on the counter. She is clad in a vivid red corset top underneath a dark blazer with a matching bold lip — it feels as though we have signed up for the devil's business instead of a simple drinking affair. "It's quite strong."
Upon Penrose owner Jon Lee's recommendation, we settle for the less deadly Ume Fuji: a light and fruity take on the whisky highball. And as soon as Maria begins her handiwork, I understand why Penrose dubs itself an 'elevated classic' cocktail bar. Stepping into Penrose feels a lot like going through a gateway into another realm, or a vacuum chamber. Sealed from the world with a lone square window offering a view of the outside, the bar is fairly small and futuristic in design, seating just twenty-five at a time. The lighting around the space is cleverly fitted to focus on the bartenders as they work, almost like spotlights in a black box theatre.
Performance has always been at the core of Maria's career. Watching her prepare the Ume Fuji is a show in itself: she moves in unison with the music, letting the rhythm guide her every gesture, from the way she pours and drizzles the garnish to her presentation. It's easy to see that Maria carries her dancer's grace with her even behind the bar.
"I studied ballet at ASWARA Arts Academy," she tells me. "I did contemporary, and a classical Indian dance called Bharatanatyam, then classical Chinese dance. But I found my grip in contemporary dance. It gave me the most freedom." Maria's dancing then grew into a full-fledged profession: she took up a stint as a choreographer and backup dancer with some of entertainment's big leagues, including Siti Nurhaliza (whom, interestingly enough, she shares a birthday with).
Being a rhythm machine in the world of bartending
Despite being new to the bartending scene, Maria had a strong, early start in understanding liquor. Her parents both hail from Cebu — historically where the drinking culture in the Philippines first began — and, growing up in East Malaysia, beer and whisky coloured Maria's adolescence. "I was exposed to some of the harder stuff from my own family," she says with a sly grin. "Very dangerous, actually."
When she was a choreographer, a fellow dancer friend of Maria's moonlighted as a bartender and brought her into the world of cocktails. "Let me make you an old-fashioned," he had suggested then, essentially changing her life. "That was my first good cocktail, an old-fashioned," Maria recounts. "After that I started tagging along, going to more bars. I went to see competitions, and at a Bar Awards party, I met Jon [Lee]. He introduced me to Singapore's drinking culture and I attended all the cocktail festivals. I was more of a consumer at the time, and I really made full use of that."
Prior to launching Penrose, Jon poured behind some of the world's best bars, including the avant-garde Tippling Club in Singapore. While Maria begins to craft us a second (and much gentler) glass of Smoke & Honey — once again featuring the Chivas Regal, enhanced by a sweet essence — Jon is perched on the other end of the bar, whipping up a drink for himself. It's plain to see just how seriously he takes his spirit.
"Jon is the one who would explain to me what is inside this drink, and that," Maria goes on. "And every time I would be like, 'Oh my God, I have no idea what you're talking about!' But I found it all very interesting. The first thing I would notice is that bartenders are like performers behind the bar. As a guest, I like to sit at the bar and 'watch' the 'show' that way. So, when I finally got into bartending I fell in love with the craftsmanship first, then the history behind it. Coming from dance, I had to familiarise myself with history. History plays a big role when you start creating — it's important to go through all the basics to do well."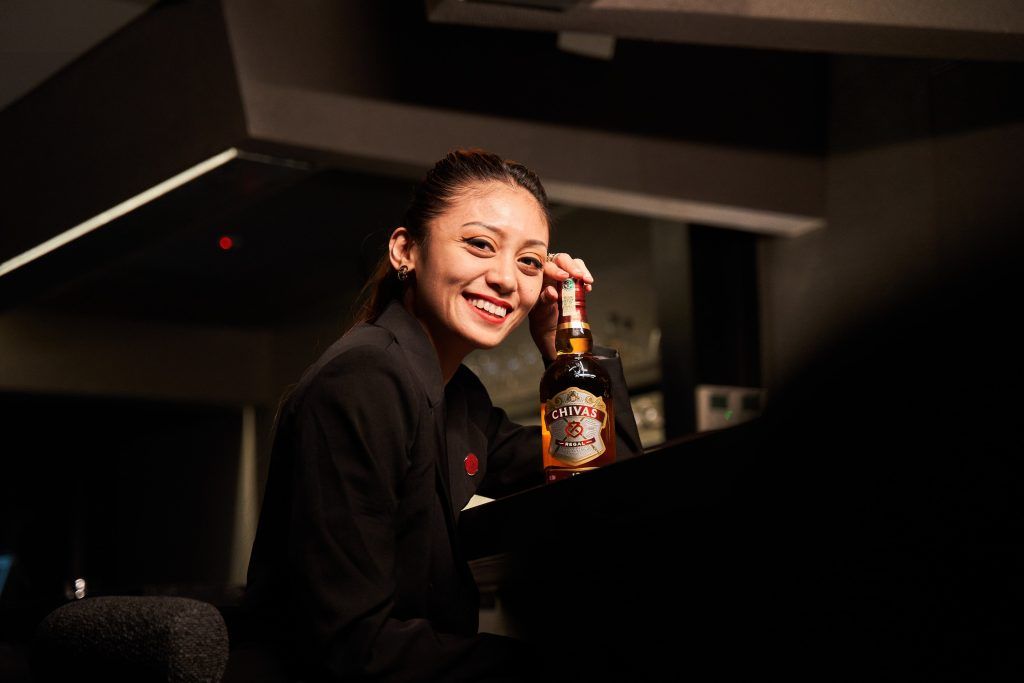 A touch of femininity in a 'male-dominated' field
Much like preparing for her dancing gigs, Maria finds the discipline that goes into bartending equally as demanding. "Making sure you appear beautiful and also comfortable for the bar is a lot like getting ready for a dance performance, donning a costume and doing makeup," Maria muses. "And the 'rehearsing' too — well, in this case, extensive preparation. Sometimes it takes hours to get everything done, from the garnish and cocktails, to bar setup."
For Maria, bartending is an art form: the bar is her stage and she performs with elegance. But it's not her womanly intuition that lends the job the grace it demands. When I ask about what it's like to make the jump from dancing, what's considered a traditionally 'female-dominated field' to bartending — a far end of the spectrum — she merely smiles.
"I don't believe dancing is a field heavily influenced by women," Maria says with a shrug. "It really depends on the genre we're looking at. In the dance industry, both men and women have advantages and disadvantages. And I think the same is held for serving drinks. Since everyone is physically and mentally built differently, it depends on you. What I do is to recognise my own strengths and weaknesses, and learn how to overcome them. In my opinion, although men and women may not be equal, they're equally free to express their different natures."
Be it dancing or bartending, Maria finds herself constantly inspired by both men and women. She cites Jon as the catalyst for where she is today. "He has this kind of aura that naturally attracts people," she describes. "I would watch the way he interacts with his guests or in competitions, and it helped me make the decision to fully commit myself to this industry. I thought, 'I want to do that, too.'" Through award-winning bartender Erik Lorincz, Maria gathered the discipline to put her own routine in place: "Every time he goes to do a bartending service, he likes to groom himself — some people say it's like going out to a barbershop. He makes sure his hair is sleek and he's wearing a suit. And I like that. It's about being consistent, and being organised."
Part of that routine for Maria is brushing up on her history. Bartending is storytelling, and the cocktail you craft is the tale. "Even with dancing, as someone who does contemporary dance, first I have to know how it was created," she explains. "You have the mothers of contemporary, Martha Graham and Isadora Duncan. It's the same with cocktails — what was the first cocktail ever made? It was the Sazerac. Before I start creating, I always try to understand not just how it was first created but also why it exists."
What differs between these art forms, according to Maria, is the crowd. Dancing is extremely personal, you bare your soul to the people, letting them see the more 'hidden' parts of you. But with bartending, you dance for the people. You make them feel welcome and important. Drawing on her dancer's lifestyle and her foothold in the industry today, Maria captures the best of both worlds in what she does, giving the bar scene a unique touch that it needs to constantly change the game.
"As a choreographer, it was very much, 'Oh, this is my art,'" Maria shares. "So, I didn't really talk that much. In fact, I was very, very quiet. But now I have to use a lot of social skills, it's necessary. It's quite funny — only after I started bartending did I realise I would always go to the bars that I feel most 'welcome' at. It feels so good when the bartender or floor staff welcomes me so wholeheartedly, like I'm their old friend. Makes a lot of sense why I keep going to those bars. That's why now I live by the philosophy, 'Treat your guests the way you want to be treated.'"
Maria offers to make us a third drink (we've truly been spoiled rotten at this point!) and I conclude our chat with an unusual question: what's a cocktail that describes her life? By now I can gauge how important history is to her, so her answer is understandably sentimental. "I have two cocktails in mind," she begins. "The first is of course an old-fashioned, 'cause it tells the story of the beginning of my career. And not only that, but it's a spirit-forward drink. It's strong and smoky. I think it perfectly sums up how I — or basically anyone who's passionate enough — want to be in this industry. Of course, along the way you have a routine and maintain it to keep the days going. So, yeah, strong drink, strong mind."
And the second cocktail? A dirty martini. "Just 'cause I love olives so much," Maria adds, and her expression is so serious that I can't help but laugh. "You know, I had it at a bar on Bond Street in Singapore recently, and they gave me one olive. Just one! So, throughout the whole night, I just kept asking for more. I think I had, like, eight olives that night. I don't know what to tell you — I just really love olives." To get your hands on your own bottle of Chivas Regal, head over to its official Shopee page HERE.
editor & creative direction MARTIN TEO | assisted by RONN TAN | production NEW STORYBOARDS PHOTOGRAPHY | location PENROSE KL