If you're already tired of cooking pasta and rice dishes, make the most out of your time at home by learning these creative ways to cook with cauliflower.
By now, you should be running out of ideas on what to cook for dinner. Surviving on instant noodles every day isn't the best idea, especially if you're trying to keep your body in shape. You may be ordering your favourite meals from these delivery services but this can do serious damage to your wallet for the long run.
And let's be real; it is utterly difficult to eat clean and restrict your diet while maintaining a positive mindset and healthy wellbeing during this self-isolation. Allow us to help inspire you with some creative ways to eat healthily with these simple cauliflower recipes.
Cauliflowers can be bought in bulk, they're readily available and can be used as substitutes to meat, grains and legumes. It is also very low in calories yet high in fibre, antioxidants and vitamins. Additionally, it's weight-loss friendly and incredibly easy to add to your diet.
(Featured image: Caitlin Bensel)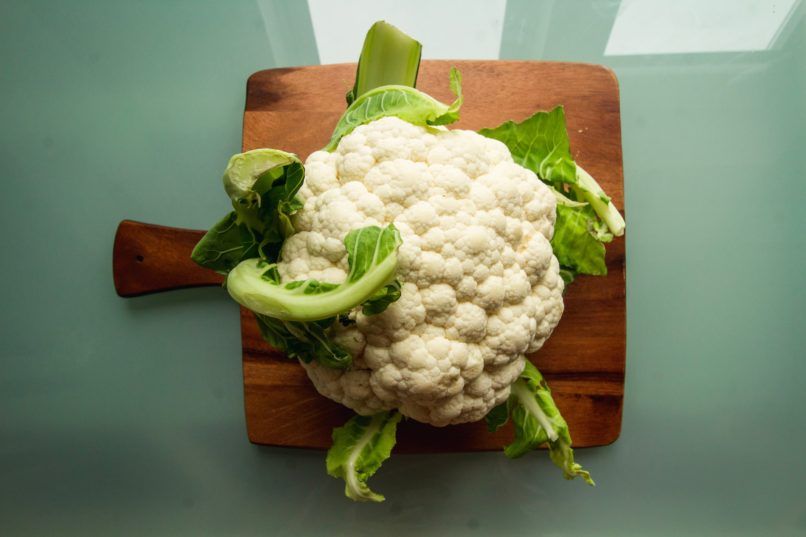 Cauliflower rice
Replace white or brown rice with cauliflower that has been grated or finely chopped in a food processor, and then cooked. An important tip is to press any excess moisture from the cauliflower rice using a large paper towel or absorbent dish towel because the water content can make your dish soggy. Be creative by adding spices like turmeric, paprika or saffron to add more depth to your dish.
Cauliflower pizza crust
Pulse cauliflower in a food processor and then combine with eggs and cheese to make a dough. Add your favourite toppings and you'll have a delicious pizza to enjoy while binge-watching these shows. Add leftover curry chicken or rendang beef to give your pizza a local twist.
Cauliflower hummus
Chickpeas can be replaced with cauliflower in any hummus recipes. You may find the flavour a little strange because naturally, cauliflower has a subtle sweetness. Keep tweaking the flavours with lemon, garlic and tahini paste to suit your taste. Dip with crackers, carrot sticks or even green apple slices. A fair warning though — cauliflower hummus can be quite addictive.
Cauliflower mash
Instead of making mashed potatoes, try making low-carb cauliflower mash for dinner tonight. It is an easy side dish to prepare and goes perfectly well with roast meat or even comforting stews. Make yours rich with sour cream and butter, or add roasted garlic to give it a more umami flavour.
Cauliflower tortillas
If you're craving for some tortillas, these Mexican restaurants may be out of reach during days of self-isolation. So why not make your own with cauliflower? Combine pulsed cauliflower with eggs to make low-carb tortillas that can be used for wraps, taco shells or burritos. You can even make them in big batches and store them for several days in the refrigerator. It is a great addition to your Paleo diet too.
Cauliflower bagels
Instead of scurrying around looking for frozen bagels for breakfast or teatime, spend the extra time at home making grain-free cauliflower bagels. Combine pulsed cauliflower with eggs and wheat flour (use almond flour or coconut flour for gluten-free alternatives). Shape the mixture into balls, then sprinkle toppings of sea salt, sesame, poppy seeds or dried herbs before popping them into the oven.
Cauliflower mac and cheese
If you've not been getting enough exercise during the movement control order, you'll want to avoid as many carbs as possible. Why not make cauliflower mac and cheese? Combine cooked cauliflower with milk, cheese and spices to make this dish that is also easily loved by kids. Add bacon, sausages or shrimps to up the ante for this all-time comfort food.
Cauliflower fritters
If you're not yet sick of cauliflowers, turn this nutritious veggie into a delicious afternoon snack. These versatile patties can be adapted to whatever flavour of your liking. Enjoy with your favourite dips, from spicy aioli to a horseradish mayonnaise sauce. Make bigger patties to turn this into a sandwich or eaten with your home-made cauliflower bagels.
For more stories that will help you ride out the Movement Control Order (MCO) amidst the Covid-19 season, check out this page.