Miss going out on fancy date nights? Want to indulge after days of home-cooked meals? Here's an idea: upscale restaurant takeaways.
Now, that's not to say home-cooked meals can't be first class. But unless you're an experienced chef who's worked in such a kitchen, there will be a difference. It could be the ingredients, the technique, or even the style of cooking. But what's great about it is that this also works out in many other ways. You can draw inspiration from what you've eaten and think of new ways to give it a twist.
Another great thing is that it's affordable and widely available (depending on the location, of course!) Given our current CMCO situation and how it has affected businesses everywhere, many have gone on to do deliveries and takeaways to keep the business running. What we can do is give our support to these restaurants to ensure that they continue operating and are still in business by the time this situation blows over.
With that said, upscale restaurant takeaways are slowly becoming a thing with more and more joining in. We'll also be updating the list as we go along, so be sure to bookmark this page.
Featured image: Entier French Dining
Hero image: Banyan Tree Kuala Lumpur If anyone knows the name Banyan Tree Kuala Lumpur may also be familiar with the video social media drama that ensued over a burger that costs RM460. This is because of a birthday dinner gone away where one unfortunate party was made to pay an additional RM460 for a meal he didn't even have, thus the running gag. Banyan Tree Kuala Lumpur (amongst many other brands!) have hopped on the viral bandwagon with The Epicurean, it's very own takeaway menu. This menu will offer favourites from Horizon Grill and Ebisu as well as local delicacies and dessert from Bake by Banyan Tree. Be sure to click on the link to place your order!
(Image credit: Banyan Tree Kuala Lumpur) Head Chef of Skillet At 163, Raymond Tham is bringing a touch of extravagance to your next home delivery meal. Introducing its Wagyu Feast, a smorgasbord of indulgence in the comfort of your own home. What's great about the Wagyu Feast is that it feeds between two to three people for only RM110. Part of the package includes pasta, a burger, and a quiche with Wagyu as well as charred cabbage, Autumn pumpkin veloute, silky milk rolls, and mushroom & truffle butter. To place an order for the new takeaway set, be sure to call or WhatsApp the number provided or click on the link to order it online.
(Image credit: Instagram/@skilletat163) Want to experience what it was like to dine on exceptional Japanese food 56-storeys above the ground? So do we and Nobu Kuala Lumpur as well. You can now have its new takeaway menu aptly named, Nobu at Home. There are plenty of choices when it comes to food, which will be delivered with Nobu's signature bento boxes. Delivery and takeaway starts from 12.00 pm onwards until 9.00 pm while dining is still a possibility, but only for dinner service. Thankfully, high-tea is also available at Nobu KL but only on the weekends between 12.00 pm to 3.00 pm.
(Image credit: Nobu Kuala Lumpur) Oribe is known as one of the OG omakase restaurants in KL, serving up authentic and creative Japanese cuisine. Its takeaway menu was only recently introduced and while it only offers limited items, each dish features premium ingredients. This includes the likes of its Wagyu Rice Bowl and its Special Rice Bowl, which includes scallops, flounder fin, salmon roe, and crab. Be sure to click the link to order between 11.30am to 6.00pm.
(Image credit: Sushi Oribe) Being one of Asia's top 50 best restaurants is no mean feat and Nadodi has certainly proven itself so. If you're looking to try its take on Indian cuisine, you can now do so by having it delivered straight to your doorstep. It offers a wide variety of dishes for you to choose from without having to compromise on quality and flavour.
(Image credit: Nadodi)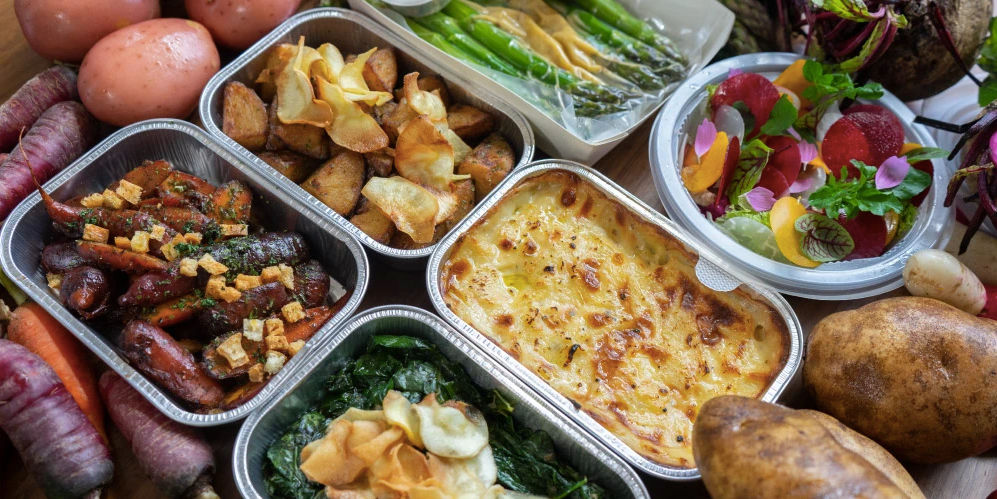 Entier has already amassed a loyal following with its modern take on classical French dishes with an Asian twist. Seeing as you can't head over to Alila Bangsar and tuck in, Entier is coming to you with its own pick-up and drive-thru service as well as a delivery service with third-party apps like Lalamove and Grab. Be sure to click the link to check out what it has to offer!
(Image credit: Entier French Dining) The contemporary fine dining establishment known as Playte is one of the latest inclusions on our list with its own take-away, pre-order, and delivery service. It offers a little bit of everything for everyone, ranging from sandwiches to snacks and even proper mains with noodles and rice. It's available from 11am to 8pm with its last order at 7.30pm from Monday to Saturday.
(Image credit: Playte) Many will know of BLVD House as one of the key locations in the blockbuster hit, Crazy Rich Asians. The restaurant has been known to serve amazing food and drink, which will now be available via delivery. The restaurant is open from 11.00 am – 7.00 pm with its last order at 6.00 pm. You can place your order via call or text through the given number, but do note about a 30-minute window if you're planning on doing a self pick-up. If not, you can always get it delivered via FoodPanda or GoGet.
(Image credit: BLVD House) Everyone's favourite no-frills steakhouse in PJ has finally got its own delivery service and it's bringing all of its signature dishes to our dining table. This includes the crowd favourite 1.5kg wagyu and angus tomahawk steaks, its other popular wagyu cuts like the New York strip as well as the sirloin. Also, don't forget about its wagyu meatball spaghetti marinara and even the potato salad; both are highly underrated dishes. Grub will be delivering daily from 11.00 am to 8.30 pm (last call!)
(Image credit: Grub by Ahong & Friends) From now until 31st March 2020, Shangri-La Kuala Lumpur is taking part in the delivery service market. With the recent announcement of the extension of the MCO, more and more people are taking part with Shangri-La Kuala Lumpur being the first hotel to do so. You can now order from three of its restaurants — the Lemon Garden, Zipangu, and Shang Palace.
(Image credit: Shangri-La Kuala Lumpur) The Nathalie Gourmet Studio in Publika has been around for quite some time now, exciting patrons new and old with its cooking classes as well as themed menus for the restaurant. During this extended MCO period until the middle of April, the Nathalie Gourmet Studio wants to make sure you don't go hungry during this period. It will be offering personal food delivery services to its customers who are looking for fully prepared meals with a healthy, balanced diet. This ranges from soups and salads to French-inspired dishes and even Italian and Asian cuisine.
(Image credit: Nathalie Gourmet Studio) Troika Sky Dining is known for its exceptional views accompanied by sublime food. While the view may be your TV for a little longer now, the quality of its food is still the same through its delivery service. That is what business partners Eddie Chew and Christian Bauer are offering with its restaurants. Now you can have Mr Chew's Chino Latino Bar's signature nori tacos, Strato's modern margarita pizza, Brasserie Fritz's iconic duck confit, and even Fuego's famous churros.
(Image credit: Troika Sky Dining)