Because anytime is a good time for comforting Chinese food.
We believe by now you've mastered the art of making bread or something more complex like Dominique Ansel's French yogurt cake. If you're wondering what to do next, why not up the ante and add basic Chinese cooking into your culinary repertoire?
Chinese cooking is simply delicious, easy to make and especially comforting. If you're planning to level up from oyster sauce based stir-fried dishes, explore with different sauces like XO sauce, fermented bean paste, pickled radish and five spice powder. From nourishing soups to braised dishes, there's a wide breadth of Chinese recipes you can always try at home.
But this time, we are going a bit gourmet but simple enough to be mastered at home. Thanks to chefs from Cassia at Capella Singapore, Mi Xun Tea House at The Temple House, Sui Tang Li at The Middle House and Michelin-starred Jing Yaa Tang at The Opposite House, we've compiled four simple and classic Chinese recipes for your next attempt to hone those cooking skills at home.
Kung Pao Chicken
Courtesy of Jing Yaa Tang, The Opposite House
The kung pao dish is loved for its umami flavours with a touch of heat thanks to the dry chilies. Best served with rice, you can cook the dish with fish, pork and squid. Add in baby corn, mushrooms and carrot slices to make the dish even more wholesome.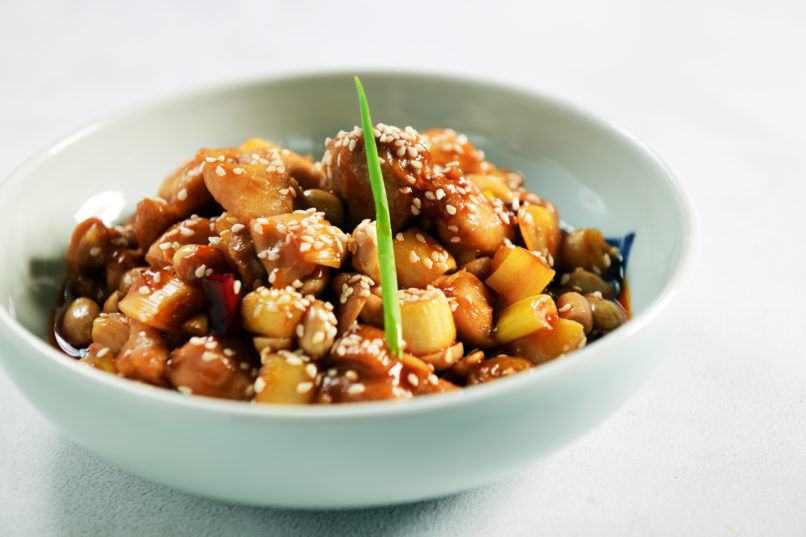 Ingredients
200g chicken thigh
50g onion, diced
25g cooked peanuts
25g cooked cashew nuts
5g sliced ginger
5g sliced garlic
5g dried chili
A – salt (2g), rice wine (5g), sugar (1g), egg (1/3), corn flour (6g)
B – sugar (30g), salt (3g), rice vinegar (50g), corn flour (10g)
Mix and pickle the diced chicken thigh with seasoning (A)
Heat up oil in a wok, and fry the pickled chicken and diced onion until chicken is cooked.
Cook the sliced garlic and ginger and toss in the dried chili. Add in cooked chicken and onion and cook for one minute to elevate the taste. Pour in ingredients (B) and stir well. Turn off the fire and add in cooked peanuts and cashew nuts to keep them crispy. Serve hot.
Mapo Tofu
Courtesy of Jing Yaa Tang, The Opposite House
Mapo tofu is the all-time favourite comfort food that's best served with hot white rice. The beautiful harmony of flavours combining fermented soy bean, Sichuan pepper, sugar and rice wine contributes to its delicious umami taste. Substitute minced beef with other meat options of choice.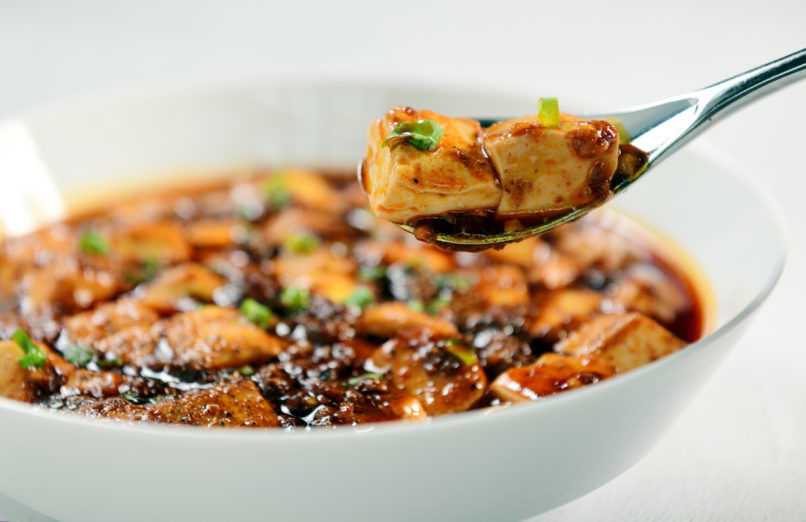 Ingredients
1 piece tofu
50g minced beef
5g scallions
5g minced ginger
5g spring onion
20g fermented soy bean
5g sugar
8g sesame oil
8g chili oil
5g rice wine
25g soy sauce
15g soybean paste
8g chili powder
3g Sichuan peppercorn powder
Cut tofu into 3cm cubes, boil with hot water for 5 minutes and set aside.
Cook minced beef until golden brown and scoop out into a bowl. Fry ginger, scallion, soybean paste and chili powder before adding in tofu and rice wine. Add in water until it covers 2/3 of the tofu. Then, put in sugar, soy sauce and half of the minced beef. Simmer with low heat for five minutes to reduce the sauce before mixing fermented soybean. Continue cooking for two minutes until sauce thickens.
Plate the dish and add the rest of the minced beef, sprinkle spring onion and Sichuan peppercorn powder.
Wok-fried Three Colours Cauliflower with 5J Iberico Ham
Courtesy of Sui Tang Li, The Middle House
Sui Tang Li's Chef Tony says that cauliflower goes really well with fatty work and is a popular traditional Chinese dish eaten at home. In Northern China, the dish is also cooked with chilies.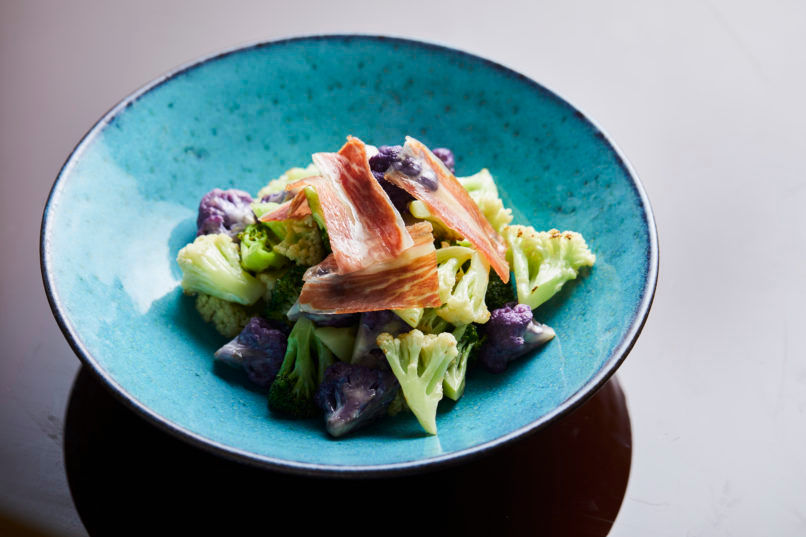 Ingredients
Equal amount of three colours cauliflower – white, green, purple
Cinco Jotas (5J) Iberico ham
Melt pork fat from the Iberico ham in a wok.
Take a portion of sliced Iberico ham and stir fry it with diced white, green and purple cauliflower.
Once cooked, plate the dish and serve with a little of the pork fat to complete.
Chef Lee's Sweet & Sour Pork
Courtesy of Cassia, Capella Singapore
This quintessential dish the kind of comfort food you'd look for after a long day. The beautifully balance of sweet tomato sauce, tangy vinegar and slightly spicy chilli sauce is key to its addictive taste. You can also substitute pork with fish or chicken.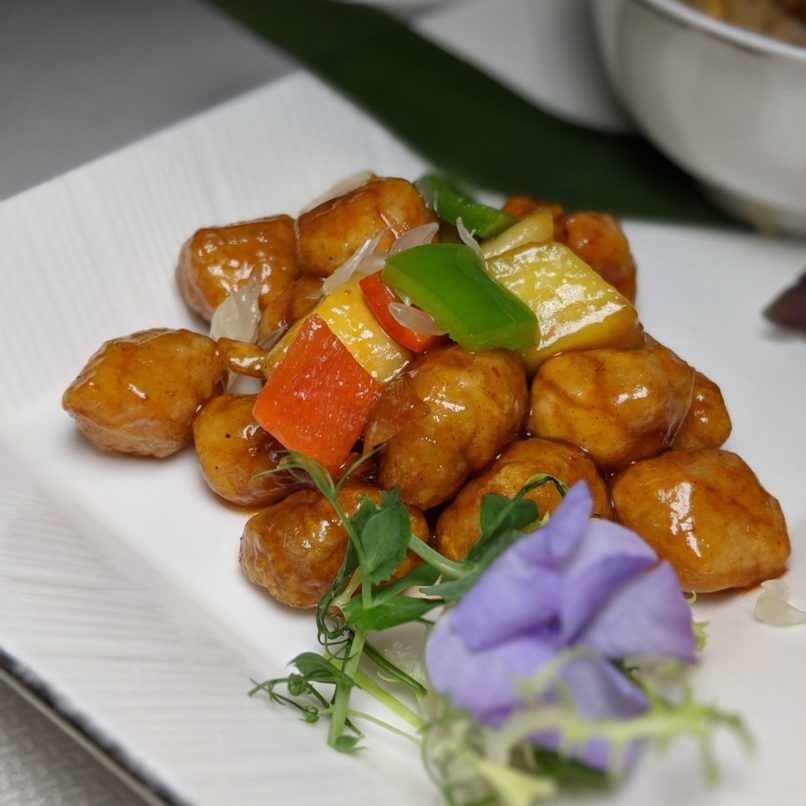 Ingredients
200g pork tenderloin, cubed
100g pineapple, cubed
100g red bell pepper, sliced
20g spring onion
Egg batter
A pinch of salt
Corn starch
Sauce
90g ketchup
28g chili sauce
130g vinegar
A pinch of salt
3.5g plum, deseeded and cubed
60g water
Mix cubed plums with half of of the egg batter and salt. Place pork tenderloin in the marinade for 15 minutes.
Add in cornstarch and remaining egg batter. Deep-fry pork for six minutes, or until golden brown. Drain excess oil with paper towel.
In a separate wok, stir-fry spring onions and bell peppers. Add in the remaining ingredients until the sauce forms. Add in pork tenderloin and toss a few times before serving.
Chef Tony's Sticky Rice Balls
Courtesy of Mi Xun Tea House, The Temple House
Sticky rice balls are great snacks that can be filled with anything from sweet bean paste to sesame cream and additive crushed peanut. Like the Japanese mochi, these rice balls can be enjoyed with hot tea or eaten on its own.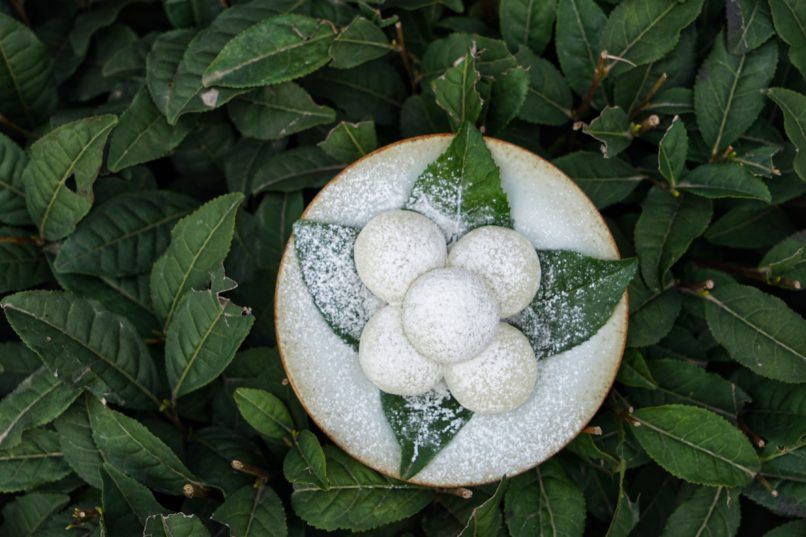 Ingredients
500g glutinous rice flour
150g white bean paste
150g mountain yam, peeled
50g green tea powder
50g white sugar
50g vegetable oil
35g boiled water
Peel mountain yam and steam it thoroughly.
Boil water, and mix in sugar, vegetable oil and glutinous rice flour.
Mix in peel mountain yam into the same pot of hot water and mix until smooth.
Wait until the mixture cools off. This will be the skin of the sticky rice ball. Portion each ball to approximately 30g to 40g.
Mix green tea powder with white bean paste. Each portion is roughly 10g to 15g.
Create sticky rice balls by wrapping the filling with the skin dough.