It may be situated along the busiest highway in KL (read: Jalan Tun Razak), but fairly new Ampang neighbourhood mall The LINC KL is quickly becoming a hub of artisanal shops, upscale grocers, and Instagrammable restaurants and cafes. One new dining outlet to join the ranks is BoDining.
Once inside, you can't help but look around in awe. BoDining is by no means minimalist. In fact, it's quite the opposite. Its maximalist tropical jungle theme takes in your senses full-force that you wouldn't know where to begin putting your focus. Yet, it's anything but messy. Once you take a seat and take in your surroundings, you begin to appreciate the full effort the owners have undertaken to create this tropical wonderland.
Ambience
Is the tropical safari theme slowly taking over F&B outlets in KL? We'd like to think so. Over in BoDining, its tropical jungle theme takes on a more familiar concept. There are no leopard or tiger prints here, but local animals and natural materials feature heavily in its interior.
Space in BoDining is plentiful. The people behind this restaurant has thoughtfully created a space that can fit small groups, large groups, and couples perfectly. If you fancy being outside, there's also an alfresco area overlooking the large vine tree that makes up the heart of The LINC KL. Back inside, the tropical theme continues. On one end is a long dining table perfect for large groups, and a painted tiled mural of plants and our rainforest animal friends: the orangutan, sloths, and tropical birds.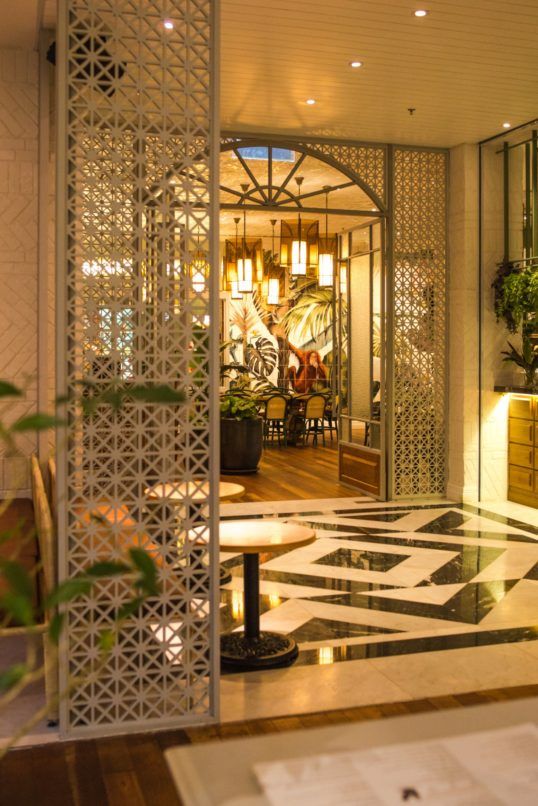 On the other end, the natural foliage continues in the seating area with wrought iron resembling ornate birdcages, and cleverly selected fittings (look out for the monkey lighting!) that echo the overall tropical jungle aesthetic.
While it's not necessarily a place that does a quiet and romantic candlelit dinner for two particularly well, we can definitely say that it caters to groups of people. BoDining's menu is a testament to that too, with larger meals that are perfect for sharing.
Food
BoDining has different food menus for different times of the day (and week!), so keep that in mind when you have something that you particularly want to order. There's a lunch set menu, a tea time menu, a dinner menu, as well as a weekend brunch menu. For this review, we'll be focusing on the dinner menu.
One of the restaurant's signature dish is the Whole Roast Chicken, the perfect protein accompaniment to a big group. While it's not necessarily a standard restaurant offering unless 'tis the season of Christmas, it actually makes for a good dish to order in a group. The whole chicken is well-roasted and tender without being dry, and the platter comes with a variety of sauces to complement your meat with. It's perfect for sharing with several people of differing tastebuds, especially if you never unanimously decide on anything.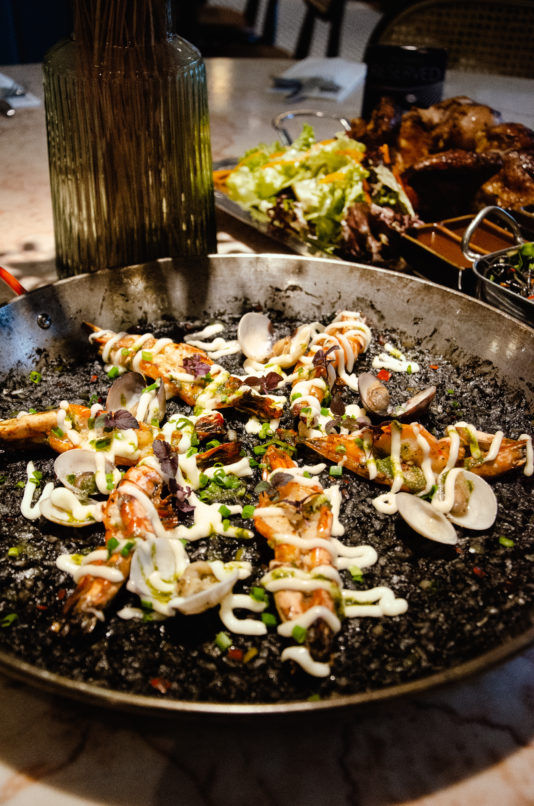 Next, we move on to something else worth sharing: the Squid Ink Paella. Few restaurants have the option of a whole platter of paella to be ordered on the spot—most require you to order at least a day in advance. Not in BoDining. The paella is certainly worth ordering, simply because it's one of the better paellas you can have in KL. If you're normally put off by squid ink, worry not because this one has nary a metallic taste. In fact, the dish is quite creamy, laden with freshly-grilled seafood.
For a local offering worth sharing, it has to be the Red Snapper Fish Head Curry. This decadent curry is not overly spicy, but wonderfully aromatic. The red snapper fish head slices are fleshy and generous, perfect to have with your carb of choice—rice or pita bread. If you think you're indulging too much, fret not, because the medley of vegetables in the curry more than compensates for it.
Cocktails
If you're the sort that enjoys having cocktails with your dinner, then you're in for a treat. BoDining has decided to be adventurous with its cocktail menu, alongside the regular offerings of wine and beer. The cocktail section is divided into two: the Gin & Tonic Cocktail Series and Fun Tiki Rum Cocktails.
The Gin & Tonic series is simple but punchy, focusing on garnishes and infusions for an upgraded G&T. Particularly noteworthy is the Gardener's G&T, Spice of Life, and Botanical Bouquet. The Gardener's G&T is the perfect refreshing afternoon drink, garnished with fresh lime and cucumber, while those with a palate for bitterness will appreciate Spice of Life with its garnishes of cinnamon, falernum, and star anise. A crowd favourite will be the Botanical Bouquet with pleasant infusions of elderflower and rose syrup with berries—the sweet yet tart drink makes it an easy one to go down.
On the other end of the spectrum, the Fun Tiki Rum Cocktails series is a spectacle on both the eyes and the palate. As per the Tiki cocktail culture, bigger is always better, and the presentations of these cocktails are larger than life.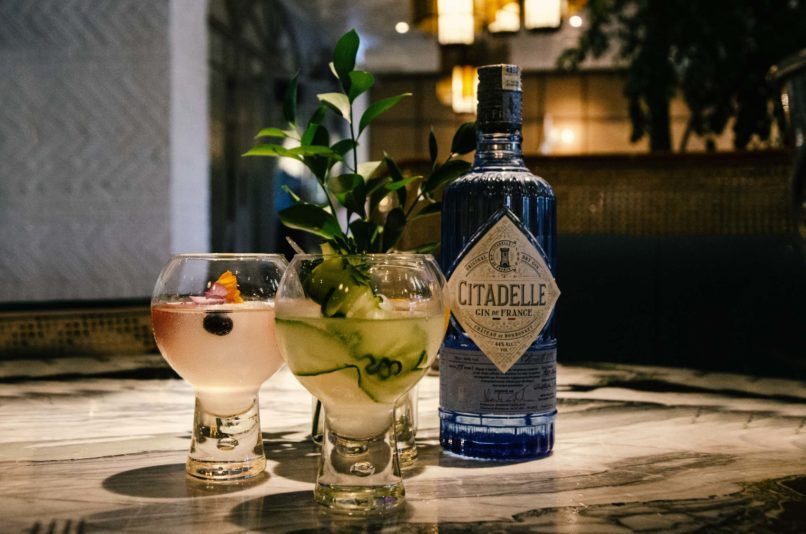 We enjoyed the Kaya Tropicolada, a Malaysian-inspired tiki cocktail made with white rum, pineapple, and local kaya. It sounds funky, but it works—the creaminess of kaya comes through in the cocktail, yet doesn't overwhelm the tastebuds thanks to the juicy pineapple cutting through the flavour. The tall Tiki-shaped vessel it comes in is bound to make for a good photo on social media later on. Also worth trying is the Memories of Birds cocktail, the restaurant's take on the national cocktail, the Jungle Bird.
Verdict
Mark our words, this lush new restaurant in The LINC KL is set to be the next Instagrammable spot in KL. With a menu that extensive (while still being delicious) and cocktails that pretty, your friends are going to want to head here for your next gathering.
BoDining
Address
LOT 1-10/1-11, 360 The LINC, Jalan Tun Razak, 50400 Ampang, Kuala Lumpur