In search of fresh dining ideas for December 2021?
Be prepared to expand your sensorial vocabulary – and waistline – in December 2021 as a host of dining events take place leading up to the annual great feast some call Christmas Day. Apart from the customary festive-themed brunch, lunch and dinner promotions, restaurants are also introducing revamped menus. After rapacious gluttony, ease your digestive tracts with some fine whiskies as the country's largest whisky-tasting fair returns grander than before. Tickets are selling out fast, get yours before you rue the missed opportunity.
The best dining and drinking ideas in KL for December 2021:
The Chow Kit Kitchen, The Chow Kit – An Ormond Hotel For the festive season, except 24, 25 and 31 December 2021, The Chow Kit Kitchen is serving a delectable seasonal spread. Spotlighting local produce and flavours, your gastronomic journey begins with Tangy Grilled Prawn Salad featuring freshly grilled prawns and caramelised pineapple on a bed of selom salad with a tangy calamansi and kelulut honey balsamic dressing, followed by a warm, hearty oxtail soup or seasonal pea soup with pan seared scallops topped with ikura.
For mains, it is a choice of Sous Vide Short Ribs or Salt Baked Senangin. The Australian short ribs are sous vide for 12-hours ribs with a silky five-spice glaze served with sides of serunding roast potatoes, brussel sprouts & baby carrots. The kitchen's salt baked Senangin fillet is served on a bed of buttered fenugreek rice with aromatic roasted vegetables. Have a sweet ending with a rich and creamy chocolate tart with caramelised homemade strawberry jam, sprinkled with sea salt flakes.
The December Seasonal Menu is priced at RM144 on Mondays to Thursdays and RM180 on Fridays to Sundays.
Call 03-2778 6688 to reserve
Whisky Plus Regardless you are a casual drinker or a whisky savant with highly trained olfactory organs, Whisky Plus caters to you. Malaysia's largest whisky show descends on Pavilion Hotel Kuala Lumpur, 11 December 2021. Divided into 2 sessions, attendees can expect infinite sampling exercises. More than 80 brands and exhibitors will be present. If you haven't procured your VIP passes yet, get it before the window closes on 6 December 2021.
Look forward to The Balvenie, Eiling Lim, Highland Park, The Glenlivet and a constellation of non-whisky spirits such as gin, cognac and vodka.
More information and secure your ticket here
Kita Food Festival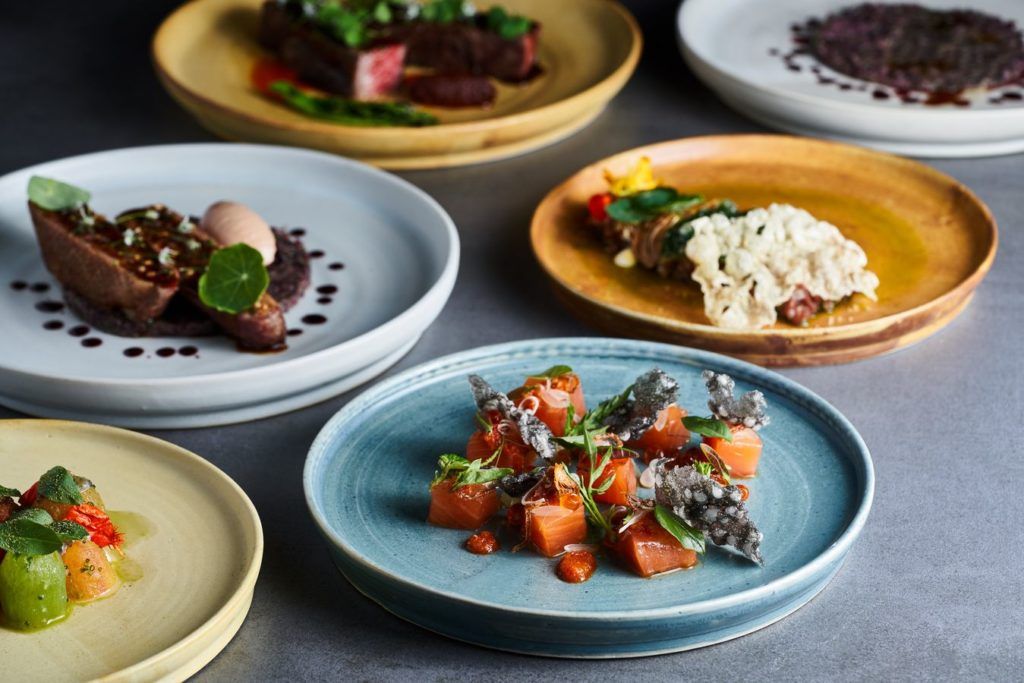 Held in Penang 3-4 December 2021 and Kuala Lumpur 8-12 December 2021, Kita Food Festival will witness a gastronomic convergence of Malaysia's top chefs in a celebration of the country's culinary culture. Expect cross-pollination and ephemeral residence by guest and resident chefs throughout the period. To whet appetite, Kim Hock Su will team up with Tyson Gee at Au Jardin, and Nadodi will join hands with Jungle Bird, among others.
Other participating restaurants include Beta, Dewakan and Kikubari.
More information and get your ticket here
Marble 8 on 56, Petronas Tower 3 If you are deprived of exceptional steaks and marvellous views of the ever-ascending KL skyline, there's a dose of terrific news. Marble 8 on 56 has reopened. Drop by for an impressive selection of Wagyu and Angus beef grilled to perfection. The modern steakhouse has also added seafood and vegetarian options, so no one is alienated.
6pm-10pm daily, the last call at 9pm. Call 017-688 0167 to reserve
Marini's on 57, Petronas Tower 3 This is likely the most democratically priced cocktail omakase set you'll find anywhere in KL. Marini's generosity ensures you develop a buzz after downing 5 cocktails paired with 5 equally exquisite canapes for only RM127+ per person. For drinks, you can look forward to Marini's own interpretation of the classics like mojito, cosmopolitan, katchai gin, Italiano and mellow sundown, while for canapes, you might be served fried soft shell crab with tartar sauce, rice chips with marinated tuna and fish roe, Kalamata olives with parsley mayo, mini wagyu burger and eggplant Parmigiana. Given the curious nature of omakase, you will not necessarily be on the receiving end of the same delectable creations in every visit. However, you will always be assured of an excellent time.
Available Sundays till Thursdays. Call 03-2386 6030 to reserve
Chynna, Hilton Kuala Lumpur For December only, Chef Lam highlights familiar flavours with a contemporary interpretation in a 6-course culinary medley. The indulgence kicks off with Mango Cheese with Creamed Egg White, Seaweed and Caviar. The famous Smoked London Duck is complemented with Black Sugar and Blueberry Sauce for added depth and character. The nourishing Seafood Soup with Blended Mint is followed by the comforting Japanese Somen Noodles with Superior Broth and Seared Scallops. A classic Steamed Fish Fillet with Lime Juice, Seared Giant Prawn with Chilli Egg Sauce precedes the refreshing Chilled Pear Infused with Midori Liqueur, Peach Gum and Ground Nuts for a thoroughly enjoyable modern Cantonese affair.
RM388 nett per person (minimum order of 2 persons)
Reserve here
Graze, Hilton Kuala Lumpur Available on 5 and 19 December 2021, Graze's bubbly Sunday brunch is made extra cheery thanks to the revival of its collaboration with Perrier-Jouët. Food comes in abundance as the brunch menu features 15 courses of modern European canapés.
RM498 nett per person (with Perrier-Jouët), RM200 nett per person (food only), 11am-2pm
Reserve here
Li Yen, The Ritz-Carlton, Kuala Lumpur Succulent freshwater prawns from Tanjung Tualang are freshly delivered to Li Yen. Knowns for its delicate sweetness and firmness to the bite, the crustacean is reimagined into a series of Chinese classics, including Fresh Tualang Prawn Noodles and Fragrant Stir-Fried Tualang Prawns with Garlic and Dried Chillies.
Mondays to Saturdays, 12pm-2.30pm; Sundays and public holidays, 10.30am-2.30pm; daily, 6.30pm-10pm
Reserve here
Yukibana, Shook!, Starhill Dining Japanese cuisine devotees are in luck throughout the month as Yukibana invites you on an omakase journey, comprising seasonal produce. Chef Machi's unique creations are crafted from ingredients air flown from his home country. Expect delicacies like Murotsu Oyster and Kan-Buri (winter yellowtail).
Along that line, the restaurant also offers a tempura-based omakase menu. The parade exhibits Chef Machi's mastery as he fastidiously prepares each dish in your presence. In addition, a teppanyaki omakase menu is also curated for December. Be prepared to clap your eyes on sizzling Hokkaido scallops and seared wagyu beef, gently seasoned with house made sauces.
Omakase: RM460 per person, Tempura Omakase: RM295 per person, Teppanyaki Omakase: RM350 per person
Call 018-929 8060 to reserve
Jade Pavilion, Pavilion Hotel Kuala Lumpur Some foods just taste better during the monsoon season. We reckon Peking roast duck is one of those dining ideas that will banish the gloomy thought of rainy December. Throughout the month, Jade Pavilion is offering the crispy poultry paired with Kaluga Queen Hybrid Dark Caviar. You may also have it other ways: Wok Fried Duck Meat with Black Pepper Sauce, Sautéed Duck Meat with Sun Dried Chilli and Ginger, Golden Fried Duck Meat with Spicy Salt and Spring Onion, Crispy Egg Noodle with Shredded Duck Meat and Garden Green, or Poached Rice Vermicelli with Duck Meat with Tomato and Salted Vegetables.
Available daily: 12pm-2:30pm and 6pm-10pm, priced at RM98+ for half a duck. Add-ons include Kaluga Queen Hybrid Dark Caviar (30g) at RM468+ per tin, Aromatic Roasted Honey Glazed Barbecue Chicken at RM 25+ per portion and Pan-fried Crispy Bean Curd with Sun Dried Shrimps at RM18+ per portion
Call 03-2117 2888 to reserve
Mandarin Grill, Mandarin Oriental, Kuala Lumpur Experience the festive season the way it should. Thanks to Chef Gérald Genson, Mandarin Grill is serving an all-new French menu deliberately developed to showcase seasonal produce and culinary heritage of France. Be spellbound by Genson's rendition of Le Duo de Foie Gras, Les Escargot, Le Filet de Boeuf Rossini, Le Boeuf Bourguignon, La Crème Brûlée, and more.
Noël Français by Gérald Genson, 4-31 December 2021, a la carte menu for lunch and dinner
Dinner on 24, 25 and 31 December 2021 will comprise a set menu
Call 03-2330 8798 to reserve
Pasadena Burger & Coffee, Plaza Mont Kiara Offering the authentic Californian dipping burger to KL-ites, Pasadena introduces a new hybrid concept with a conveniently located cafe uniting a selection of cheese-slathered, Australian beef patties-clutching burgers and 10 coffee-based beverages under a single roof. For your caffeine fix, you will find the customary cappuccino and latte made with quality Italian coffee beans at reasonable prices. You can also take things up a notch with the California Milkshake, concocted to be the perfect drink to cool down the tropical heat. In conjunction with the launch, the cafe also unveils a new option of muffin buns for the Dipping burger, as well as Cajun Cheese Fries, Habanero Chili Queso Fries and Honey Cheese Fries.
The cafe opens 8am-10pm daily. A special breakfast menu is available till 11am daily.
________________________________________________________________________________________________
Hero and feature images by December dining ideas by Li Yen. All other images by respective restaurants unless stated otherwise