Deadset Arvo has no fixed menu and you won't know where its next venue is going to be. Welcome to KL's most innovative secret dining experience of 2020.
With just three portable stoves and one charcoal grill on a bar's terrace as his makeshift kitchen, Dutch chef Joeri Timmermans took minimalism to a whole new level during his recent Deadset Arvo series at G-String KL. Yet, it was one of the best foods I tasted in 2020. For those who have yet to encounter his genius, Deadset Arvo is a pop-up dining experience by Timmermans with no permanent restaurant. In fact, diners won't even know where it will be held or what's going to be on the menu until they have received their reservation confirmation. Despite Deadset Arvo translating to 'serious evening' in the Australian slang, the secret dining experience is anything but. Guests are invited to have fun with a cocktail pairing menu and to expect the unexpected with the food. You won't find yourself in a white tablecloth establishment with a stuffy maitre d'; instead, you'll find that whatever Timmermans is about to serve you will blow your mind and your tastebuds.
A raunchy pop up
My experience for this series brought me to newly-opened bar G-String KL in the trendy Kwai Chai Hong area. The bar is known for its playfully naughty cocktails, in theory, a good partner for Timmermans' dishes. With pink and purple neon lights and thumping music, I jumped right into the experience. The night begins innocently enough with appetisers of Sexy Oyster and Tapioca Crisp. The former is essentially raw oyster with a topping of passionfruit and curry leaf oil. There are few things in this world I don't eat, and the raw oyster is one of them. But I gamely slurped it up and was pleasantly surprised to find that the curry leaf oil topping added a herbaceous touch to the briny oyster, while the passionfruit acted as the squeeze of lemon for acidity. Meanwhile, the Tapioca Crisp brings to mind a tasty local keropok, but artfully topped with a mentaiko emulsion and seaweed dusting. A good snack — a prelude of things to come, accompanied by my first naughtily-named cocktail of the night: Bubbles & Panties, a vodka-based drink with yuzu, grapefruit, calamansi, and soda.
For the first course of the night, I was presented with Stracciatella. The spun, stretchy cheese of the same name was shaped into strings akin to noodles and topped with ama-ebi (prawns) and housemade XO sauce; the Chinese version, not the cognac. On paper, the dish sounds like a strange one — cheese and Chinese XO sauce? Yet, the flavours of the two went so well together. You had the string cheese as the noodles with a rich and creamy sauce, while the lightly-cooked ama-ebi are surprisingly delightful with the XO sauce made by Timmermans himself. The ama-ebi is juicy and sweet with an amazingly crunchy texture, bringing a different feel to the dish. I should also point out that the stracciatella cheese is made by Milky Whey Cheese, just one of the many local options and ingredients that Timmermans has sought out to enrich his menu. As the night goes on, I was able to see how a chef not native to this country has managed to utilise its ingredients to the fullest, from fresh produce to local flavours.
Local flavours in a bold new perspective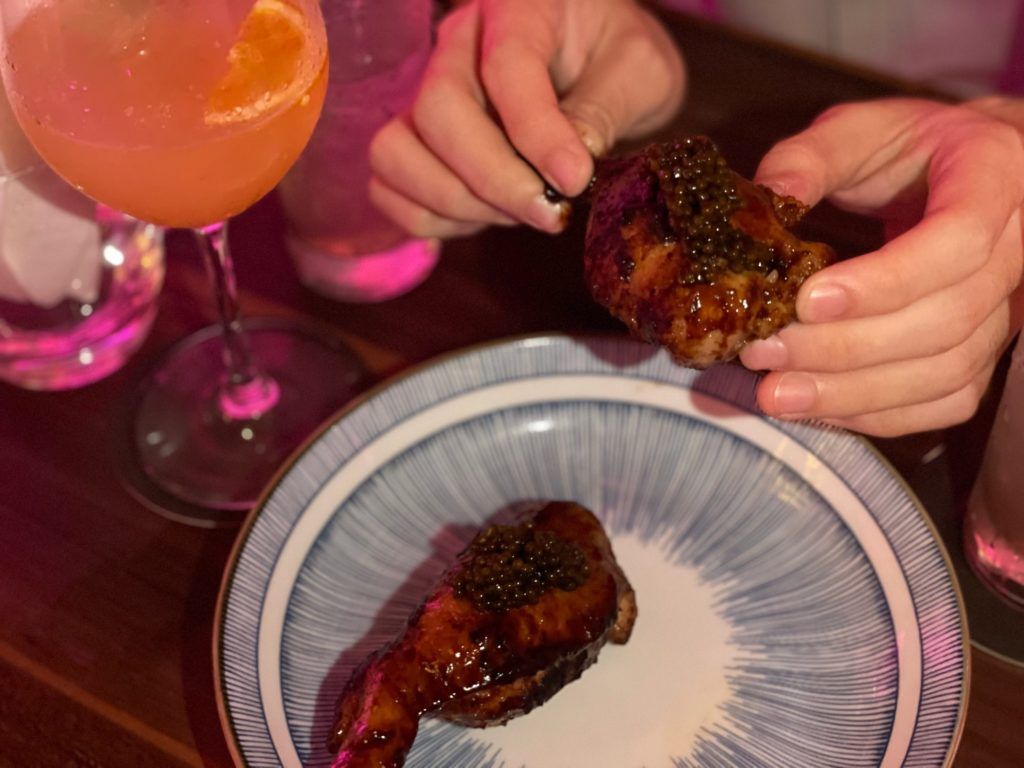 From the fairly lightly-flavoured Stracciatella, we move on to the next dish. Stuffed Chicken Wing. Yet another show-stopper, the boneless chicken wings were stuffed with a combination of rice and tiny morsels of eel, brushed with a tamarind glaze and topped off with spoonfuls of caviar. Every bite was a punch to the palate — the acerbic taste of tamarind whetting my appetite while the chicken wing and rice stuffing fulfilled it. It was an intense dish that spoke volumes, which was perfect to hold its own amidst G-String KL's overstimulating surroundings.
Next on the menu was of a leafy variety: Burnt Red Cabbage. It's a seemingly simple dish of charcoal-grilled cabbage, but the creamy green sauce accompanying the dish was what made it a standout. The sauce, a top-secret concoction by Timmermans, was rich and creamy, but when paired with the burnt red cabbage made for a decadent yet fresh-tasting dish. Finally came the mains. What mind-blowing dish would Timmermans present? Wagyu. Now, any self-respecting chef can sear a good piece of steak. But to truly make it stand out, you'll have to think of ingenious elements to add to the dish. For this, the chef has added white kimchi and roasted carrots. The latter was roasted to the point of caramelisation and added a touch of sweetness when eaten with the wagyu. The star, in my opinion, went to the white kimchi that Timmermans has fermented for several months now. Wagyu, on its own, can be too cloying with its fattiness. This is where the kimchi comes in: a bite of it and the tartness of the fermented napa cabbage cuts through the fattiness of the wagyu perfectly, allowing you to have more of each. It's a simple concept that was well executed, making a good dish great. The dinner is finished off with Moo Cow, a dessert comprising very refreshing elements of yoghurt sorbet, pineapple granita, mulberries, and chocolate mint. After the Wagyu, this made for a zesty end to what was one of my more enjoyable meals of 2020.
Verdict
If you have the chance to partake in a Deadset Arvo dining experience, I say take it. If Timmermans plans on staying in Malaysia, he will be a chef to look out for one of the more progressive dining experiences here in KL. Not knowing what to expect on the menu may seem like taking a chance, but I'm here to tell you that it is completely worth it. My only wish is for him to find a permanent place where we can enjoy his food in the best possible setting.
Deadset Arvo has served its final course in 2020, but you can follow them on Instagram to find out when the next pop up will be.
(All images shot on iPhone 12 Pro)