Actors already have to assume roles for acting projects they're involved in. What if they have to do a role-within-a-role? Feels like Inception in real life, right? Projects like these require a skilful actor to execute, and that requires more than just experience. South Korean actor Lee Je-hoon is the epitome of this, as illustrated by his role as Kim Do-gi in K-drama Taxi Driver.
This drama series was a hit domestically and overseas. This year, Lee reprises his role as Kim Do-gi in its sequel, Taxi Driver 2. The 38-year-old charismatic actor started his acting career with indie films that led to scoring his first leading role in indie movie Bleak Night and blockbuster war film The Front Line, both of which snagged him major acting awards. These achievements led to further acclaimed projects like Architecture 101, Signal, and Move To Heaven.
Lee Je-hoon stars in Taxi Driver 1 and 2
Lee stars as Kim Do-gi, an ex-special forces personnel turned taxi driver for Rainbow Taxi Company. Its employees are more than just blue collared workers; they avenge victims by punishing criminals who have escaped the eyes of the law, all while being undercover. For his role, Lee went to action school so he could do the stunts in Taxi Driver himself.
The first season of the action thriller garnered impressive viewership ratings in Korea; the second season looks to replicate this success.
To promote Taxi Driver 2, Lee recently made a stopover in Singapore for a fan-meet event titled 'Vacation' organised by OTT video streaming platform Viu. Besides interacting with fans, Lee also dropped hints about his upcoming acting project, a fictional financial crime-focused show that will see Lee tackle a substantial dialogue in English which he had been preparing diligently for prior to filming. He even revealed that he's been to Singapore on leisure trips twice since global travel borders opened up post-pandemic and shared about his love for the city.
Lifestyle Asia Singapore caught up with Lee during his trip to find out how he successfully executes his complex roles, his acting process, and his future plans.
Interview – South Korean actor Lee Je-hoon on his hit K-drama, Taxi Driver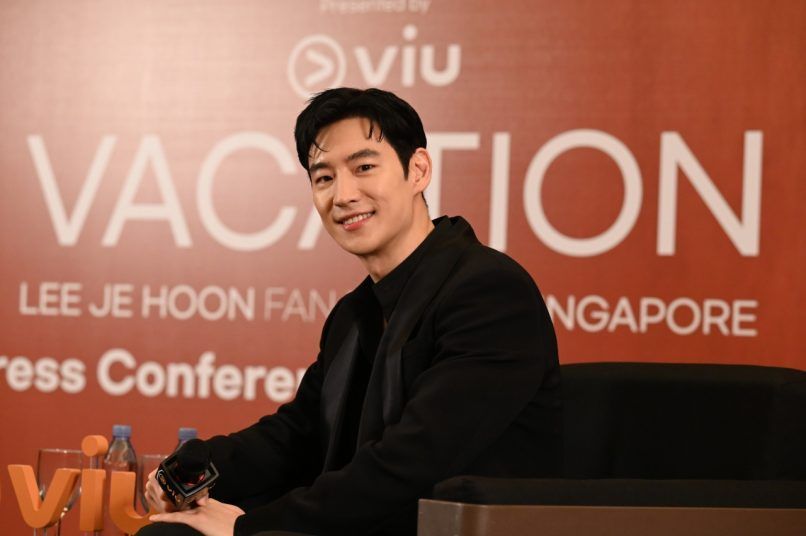 Lifestyle Asia: What aspects or personality traits do you identify your Taxi Driver role, Kim Do-gi, and why?
Lee Je-Hoon: Kim Do-gi is someone who is always reserved and doesn't waver in any situation, so I think that is why we can watch him with faith as he avenges others. He is a very trustworthy person.
I guess that kind of solidity is necessary when it comes to carrying out something significant. Hence, I can relate to the kind of character that Kim Do-gi has. I also feel this way because it is a revenge drama with such a character at the centre of it, therefore the viewers can watch it with more faith.
LSA: How do you prepare yourself and execute a role-within-a-role so well?
Lee: This drama is about 'sub-characters' who transform as they help to avenge someone. Thus, when I received a script, I would always try to understand the character first and think about what aspects can best represent them.
I also get advice from the crew members and give them suggestions regarding what I think would be good to add on during the filming. Especially when it comes to my character's appearance, a lot of the cast and crew have worked with me to help make my character stand out more and as a result, I think we have received quite a good response.
LSA: You've taken on diverse roles throughout your career as an actor. What other roles do you still want to challenge yourself with?
Lee: Hmm… I guess I'm curious about professional roles like doctors, lawyers, and prosecutors!
There is a lot more to prepare for such characters than an average character, but I think there is also a lot more I'm going to gain from the process of playing it, so I'm looking forward to that. I am also looking forward to playing such characters as it can satisfy my curiosity about playing such characters.
LSA: What matters more to you when taking up a project: the script, the role offered, or both?
Lee: I think they are both equally important, but I would read it first to see if it engages me and if I am intrigued by the production. If it draws me in, then of course it is going to be accompanied by outstanding characters because the two are organic. Hence, if there's a character that I think I can immerse myself in that is featured in the production, that is going to be the most appealing to me!
LSA: Have you thought of being, or is already, a mentor to nurture younger actors?
Lee: I still have a long way to go, but as a senior in the field, I definitely want to help the younger actors. We already have outstanding junior actors within my company and we are working on creating a synergy with them. I want to give them advice that wasn't given to me when I walked this career part previously.
Since I have walked down the same path as them before, I would like to give them advice regarding what they are good at or can improve on as that is advice that not anyone can easily give. That is because the strength of the industry in Korea lies in that there are many good actors within.
LSA: As a veteran actor, what are your thoughts on the rise and impact of contemporary South Korean films and TV in the west in recent years?
Lee: First of all, I think it's great that Korean content is becoming more influential, even if it wasn't a creation of mine. As someone in the same industry, it makes me feel proud and makes me want to work even harder to be on the global stage! I also communicate with overseas media outlets and fans because I have a lot of stories I want to share not only with my domestic fans but also with those from overseas.
As over-the-top (OTT) services become more prominent, it has become much easier to access productions from overseas markets, and as an actor in an era with such a conducive environment, I hope to make good use of these advantages and communicate with even more of my fans.
All image credits: Viu; This interview has been edited and condensed for clarity.
Taxi Driver 2 is currently available for streaming on Viu.