The Mid-Autumn Festival is dubbed as the second biggest celebration in the Chinese Lunar Calendar — the first being Chinese New Year. It's when the moon is at its brightest and roundest. A celebration is usually held for family and loved ones to gather and just eat, basically. Its main delicacy? Mooncakes, of course. Like the full moon, its roundness symbolises wholeness and unity.
To get mooncakes in KL is no difficult task, but to pick one out of so many choices may be a challenge. There may be 12 of them but each has its own uniqueness in terms of flavours or packaging. It's time to start picking.
Pick either from Red Chinese Cuisine's traditional baked mooncakes or snow skin flavours and present them in this elegant glass box. The restaurant brings back its best-selling mooncakes this year; which include White Lotus Paste and Single Egg Yolk and Bamboo Charcoal Paste with Macadamia Nut and Raisin. Those who are a fan of strawberries can opt for Snow Skin with Roselle and Strawberry Paste mooncake that is made with homemade strawberry purée.
Red Chinese Cuisine also offers customised mooncakes with your own brand or logo.
There are eight delectable mooncake flavours you can choose from The Westin Kuala Lumpur. YUÈ Fantasy is the theme for this year's selections, meant to transport individuals back to the old world charm of lunar worship and the end of summer harvesting celebration. You'll be able to find favourites such as Black Sesame Single Yolk and Pandan Mung Bean Single Yolk, and new flavours Purple Sweet Potato and Taro Sensation mooncakes.
Prices start at RM118 nett per set for a set of 4 mooncakes in a Classic Westin Box, RM138 nett for a set of 4 in a Premium LED Light Box and RM178 nett for a set of 4 in a YUÈ Fantasy Box.
Hilton Kuala Lumpur has collaborated with fashion designer, Christy Ng for this year's mooncake gift boxes. Malaysia's national flower, hibiscus is the main inspiration behind the collection — which pays tribute to the nation's homegrown pride and resource. There are two designs to choose from, Crimson Red and Royal Purple — which can be transformed into striking crossbody bags. Each of them comes with four pieces of mooncakes (either baked or snow skin flavours of your choice).
Prices start at RM35 for individual mooncakes, box sets starting at RM168.
Shang Glamour is the theme for this year's mooncake celebration at Shangri-La Hotel Kuala Lumpur. It's about combining Chinese cultural celebration with modern interpretations on the mooncake flavour selections — which include durian. Two new flavours are also introduced, White Lotus Seed Paste with Lava Salted Egg (yes it has a runny salted egg in the middle) and Ping Pei White Lotus Paste with Beetroot and Single Yolk.
Prices start at RM34 nett for individual mooncake, RM139 nett for the box of 4 and RM390 nett for a box of 6.
This mooncake gift 'box' will surely light up your, or your loved ones' life — literally. Concorde Hotel has its mooncakes packaged in these exclusive crackle glass light globe. There are three colours for 9 inch and 5 inch glass globes; Sparkling Gold, Sparkling Blue and Sparkling Pink. The 9 inch globe holds four mooncakes while the 5 inch holds two.
Prices start at RM90 nett.
Bringing fashion elements and mooncakes together is W Kuala Lumpur's collaboration with fashion designer, Melinda Looi. Together with the talented culinary brigade at Yen, the Cantonese restaurant, they offer mooncake sets that come with a translucent square pouch, candles, a paper lantern, a traditional storybook on Mid-Autumn tales, as well as a limited-edition stylish opalescent tote bag. Celebrate Mid-Autumn festival by indulging in delectable mooncakes and style with the tote bag that you'll be able to reuse after the festivities.
Prices start at MYR43nett for individual mooncake and MYR198nett for the box of four which includes a Limited-Edition W Kuala Lumpur x Melinda Looi reusable tote bag.
Indulge in traditional mooncake flavours by Celestial Court at Sheraton Imperial Kuala Lumpur this Mid-Autumn Festival. Nine palatable flavours for you to choose from, some of them are made less sweet. Snow Skin Dragon Fruit Delight with Sea Bird Nest is one of its more unique ones, which we recommend getting for your loved ones.
Price starts at RM26nett for individual mooncake and RM100nett per box of four.
A first for Latitude 03, the Deli at Le Méridien Kuala Lumpur, the hotel debuts its Mid-Autumn tradition of 'dainty' mooncakes. These are bite-size delights, hand-made to perfection in a myriad of flavours including Pandan Paste, and also onboard the durian fever, are delectable Baked Durian mooncakes.
Prices start at RM25nett for individual mooncake and RM158nett for the limited-edition gift set of six mooncakes.
You'll be able to find classic mooncake flavours here, but we suggest going all out with the novelties from Mandarin Oriental Kuala Lumpur. Available on its menu are chocolate mooncakes that are made with Malaysian single origin dark chocolate and milk chocolate, and green tea with white chocolate ganache. If these are not fancy enough, then go all the way with gold-coated mooncakes that will surely garner attention.
Prices start at RM37 onwards per piece. Sets of fours are also available that come with a gift box designed by Samantha Cheah.
Pavilion Hotel Kuala Lumpur is offering its first-ever mooncake series, featuring an ensemble of eight traditional baked flavours, two of them are more towards the epicurean palate. There is a Durian Lotus Paste with Single Egg Yolk flavour; with a rich and creamy durian-lotus filling centre that complements well with the sweet pastry.
The mooncakes are now available for purchase at Pavilion Hotel Kuala Lumpur, at MYR198nett per box, consisting six medium mooncakes weighing 115gm each.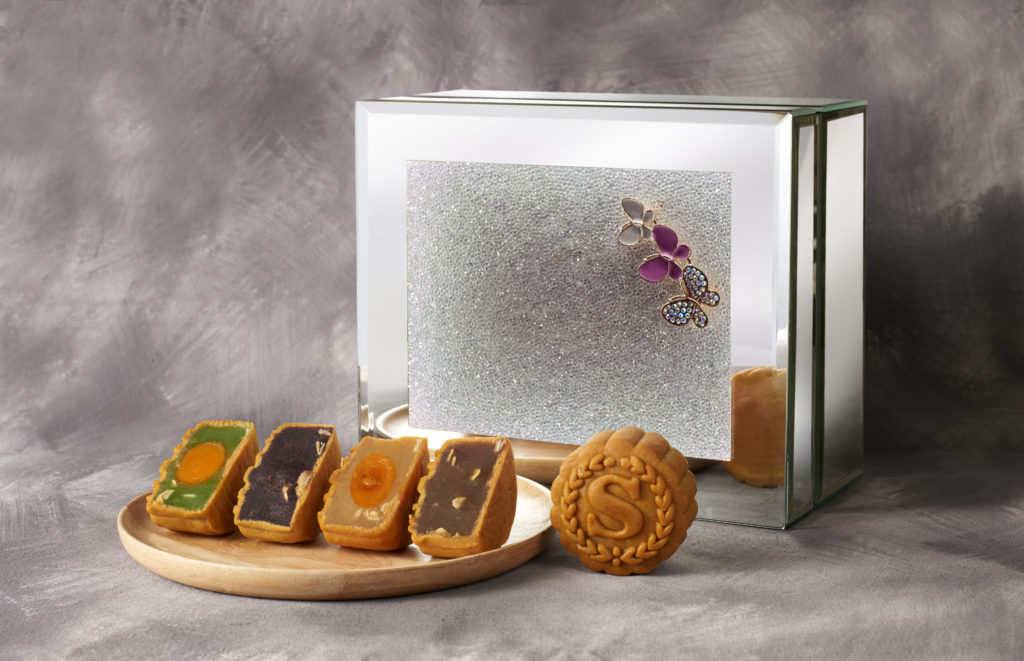 Four delicious mooncake flavours are up for grabs at Sheraton Petaling Jaya. You may choose to purchase them individually, but why do so when there are glistening mooncake boxes designed especially for the Mid-Autumn festivals. Three designs are available; Swan Crystal, Swan Pearl, Butterfly and Rainbow Stones.
Prices start at RM26nett for individual mooncakes and RM168nett for the gift box of four mooncakes.
The pastry chefs at Yun House, the hotel's signature Chinese restaurant have curated a special mooncake menu and a mooncake-themed high tea for the Mid-Autumn Festival. Pick from the wide array of premium flavours, including traditional baked ones such as Oo Long Tea and Osmanthus with Lotus Seed. Snow skin flavours are also available — Homemade Snow Skin Blueberry Chocolate and Pandan with Bird's Nest.
Not fancy enough? There is one that Four Seasons dubbed as the most exclusive mooncake in town, which is the Lotus Seed Paste with 8 Egg Yolks.
Prices start at RM45 for individual mooncakes.