Enjoy Nobu Kuala Lumpur's take on its new '14 Flavours of Nobu Omakase' menu anytime this August 2020.
This is the time of the year when Malaysians far and wide start feeling patriotic. This is because, on August 31st, our beloved nation will be turning 63 years old. Of course, Nobu Kuala Lumpur definitely has something to say about that with its latest menu, '14 Flavours of Nobu Omakase'.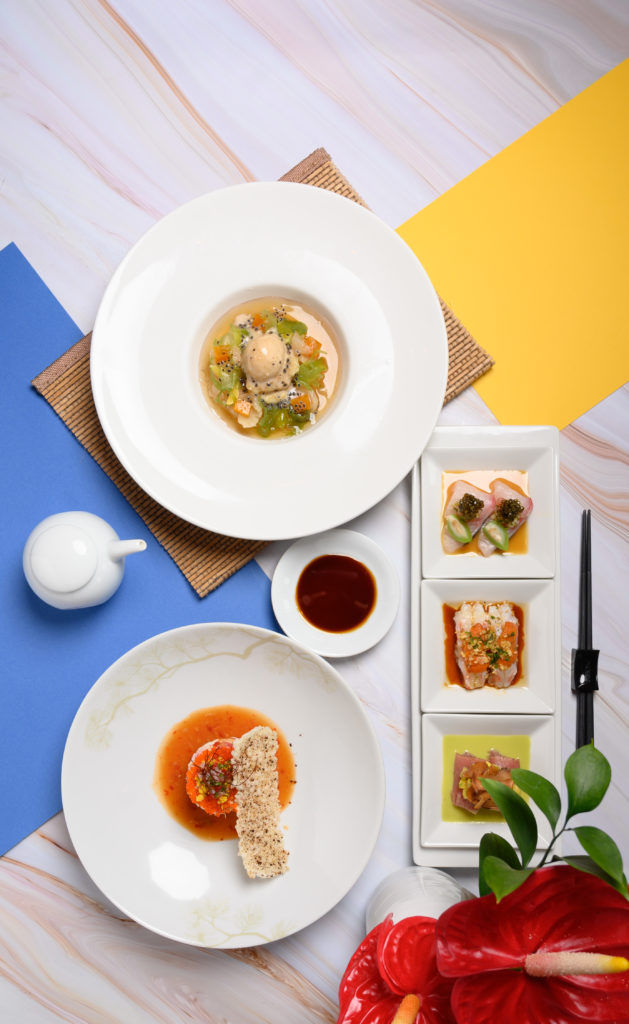 This eight-course, 14-dish menu was inspired by the same number of stripes on the Jalur Gemilang, breathing new life Malaysia's delectable dishes. This includes nostalgic flavours paired with the skill and expertise it takes to create a truly special omakase experience.
We kickstart the meal with a sashimi platter with three different cuts of fish — kampachi (Hawaiian yellowtail) karashi-su miso with caviar, tuna tataki with jalapeno dressing, diced pineapples and crispy shitake, and botan ebi with uni. Each dish brought about a different set of flavours, allowing you to experience the full depth of its combinations with each bite. As delectable as it may be, Nobu Kuala Lumpur also ensures that its sashimi gives off a unique taste, using luxury ingredients like caviar and uni to its fullest effect.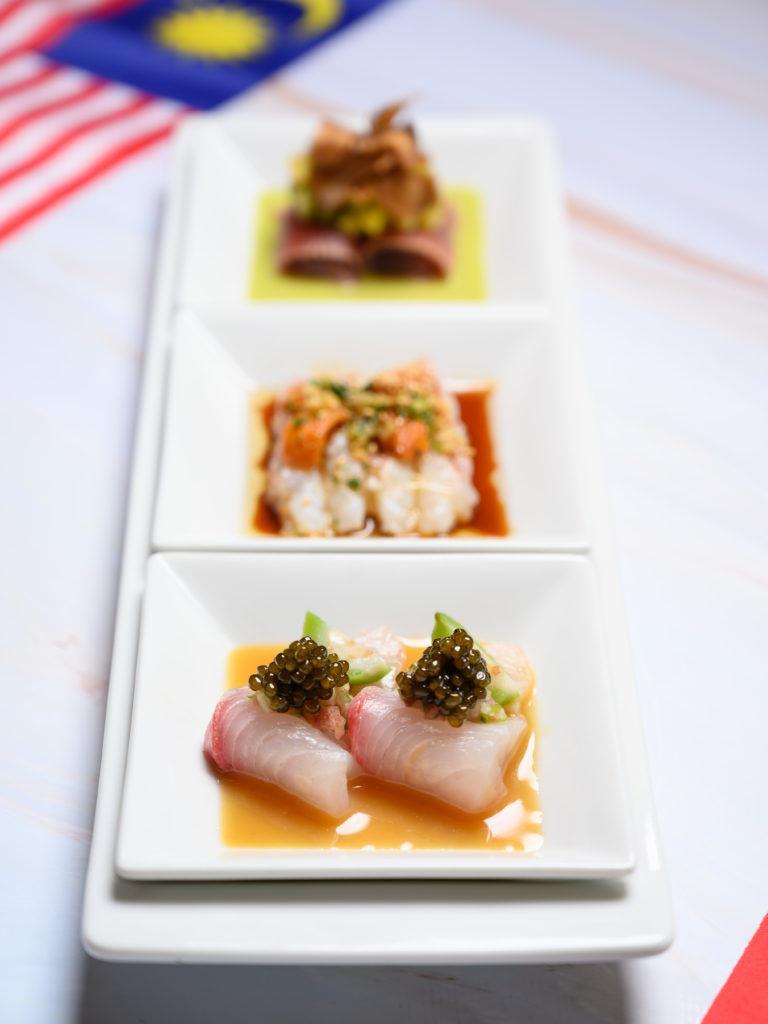 Of course, this was just an indication of how the rest of the night will fare.
Moving on to our next course — sushi. It consists of four different types — otoro (fatty tuna), yellowtail, aburi-style salmon, and Japanese sea bream. Expect nothing less from Nobu Kuala Lumpur when it comes to its sushi with freshly-grated wasabi, allowing each fish to stand out on its own with its natural flavour and texture. The otoro melts in your mouth upon entry with its creamy texture, while the yellowtail is another favourite that will fill your tastebuds with glee.
Our next course consisted of seared scallops with wasabi salsa to go along with the dragon fruit dry miso salad. The latter is an adaptation of the popular street food dish, rojak. The scallops were a huge hit with each slice packed with plenty of punch due to the wasabi salsa. Sweet, slightly spicy and with a little kick at the end was all it took to win everyone over. However, it was the dragon fruit dry miso salad that was the main star that very much resembled rojak. Light and refreshing, it was definitely a different take on a local classic.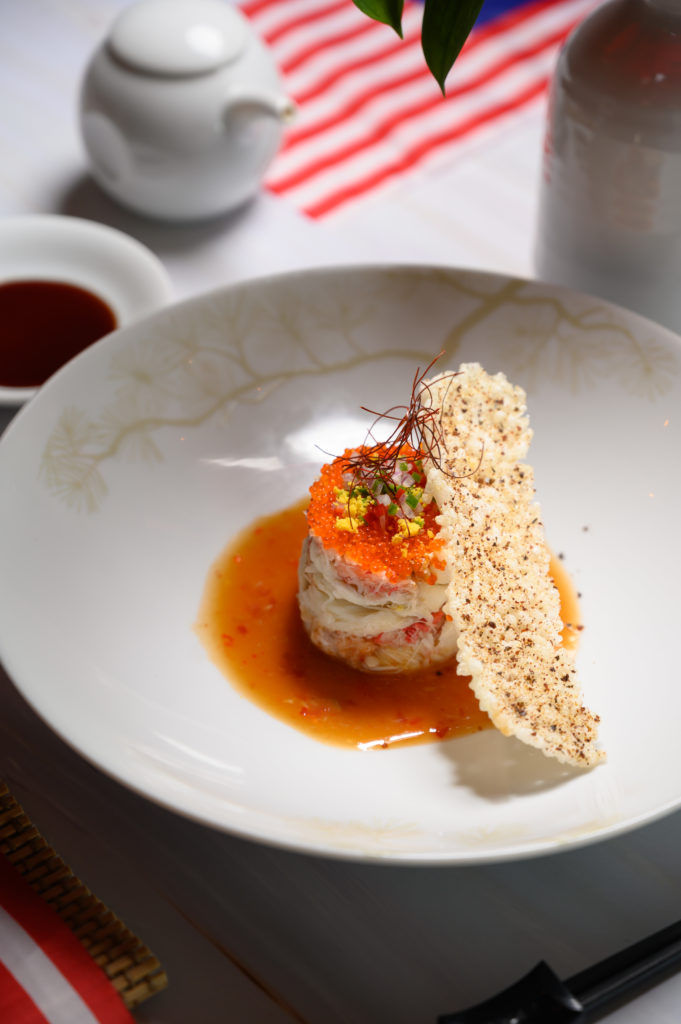 Making its way next onto the table would be the Nobu-style chilli crab. While largely a very iconic Singaporean dish, chilli crab also has plenty of history on our shores and Nobu KL goes to show how much it means to them by including it into the menu. The flesh of the mud crab had a very distinctive flavour to it, coupled with a spicy-sour egg sauce. It was fresh and tangy with just the right amount of crab so as to not feel too full; definitely a great modern-day representation of the chilli crab.
The next main course involved short ribs dressed over cacao and truffle miso topped off with Melakan chocolate. A truly delectable dish, the meat was soft, tender, and fell right off the bone. It had a slight smokiness to it, giving it a good balance of flavour without it being overpowering. The short ribs were inspired after char siu (barbecued pork) with the truffle miso providing that much-needed umami to top off the dish.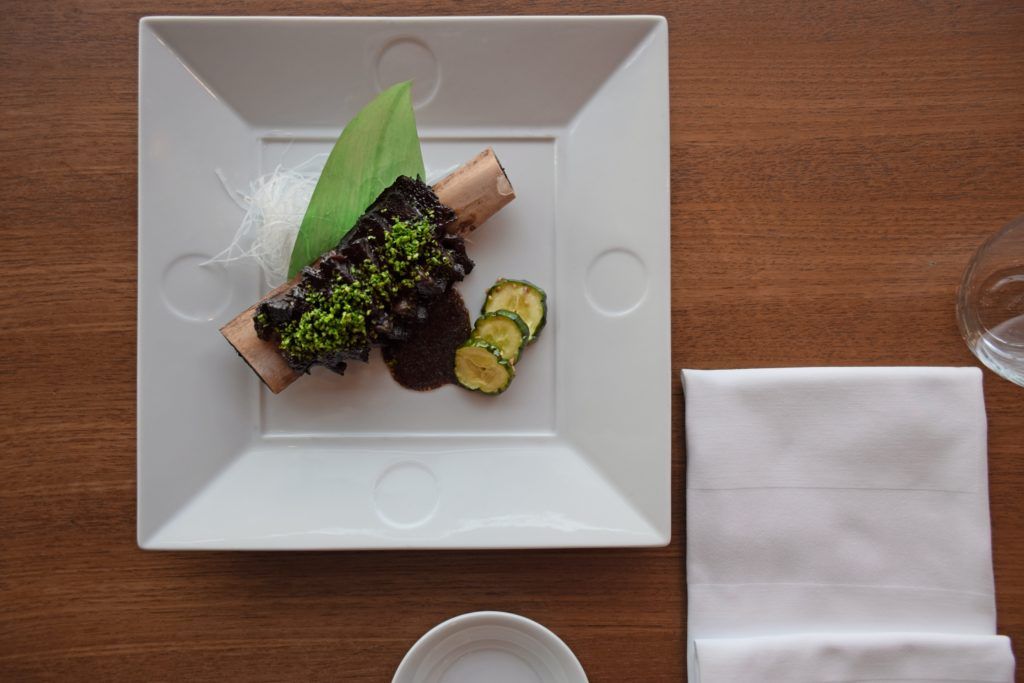 Unagi chimaki was up next, which very much resembles bak zhang, another popular traditional dish. This bamboo leaf-steamed rice came with a healthy serving of unagi, giving the rice a very fragrant aroma from the moment you unwrap it. The rice was fluffy and the unagi was cooked to perfection, ensuring each bite was worth its weight in gold. We then moved on to our final dish of the day — dessert. No matter how stuffed you are, there's always room for dessert.
Given the introduction of bold and heavy flavours to go with the entire meal, you can now wash it all down with the ryugan kakigori features longan, jackfruit sorbet, persimmon, and green kelp over shaved ice. It offers plenty of different textures in one bite, giving you a different experience each time.
From now until 31st August 2020, you can now tuck into a locally-inspired omakase meal at Nobu Kuala Lumpur at only RM398++ per person.
All images courtesy of Nobu Kuala Lumpur.