You have until 31 March 2020 to taste this exclusive pairing menu that highlights the rarity of lesser known local ingredients with Johnnie Walker Blue Label.
Johnnie Walker's exclusive collaboration with Chef James Won of Enfin has birthed a unique pairing menu that highlights the remarkable Johnnie Walker Blue Label and homegrown Malaysian ingredients. Diners will be invited to discover the nuanced flavours of uncommon local produce that complement the expressions of the Scotch whisky.
The menu highlights notes of sweetness, saltiness, sourness and bitterness with a four-course dinner that starts with an amuse-bouche, followed by an entree, Plat Principal and dessert. Supporting locavorism, specially sourced ingredients like the Borneo Heirloom rice grain, Semai Cocoa, T'lur Caviar and Job's Tears grain cultivated by the Lun Bawang community are featured prominently in the respective dishes.
"With an earnest effort to focus on the preservation of Malaysian indigenous ingredients, this menu paired with Johnnie Walker Blue Label gives our guests a glimpse into the multitude of flavours readily available on our own land, produced and harvested by the indigenous community — those who know their flavours. This partnership is able to showcase the not-commonly-known flavours here, allowing guests to embark on a journey less discovered and unique flavours uncovered," Chef James Won.
Complementing this noble effort to champion local produce is the Johnnie Walker Blue Label, an exquisite combination of Scotland's rarest and most exceptional whiskies. Only one in every ten thousand casks has the elusive quality, character and flavour to deliver the complex and intense signature taste.
For the uninitiated, the Johnnie Walker Blue Label gives away a dry smokiness on the nose that gradually infused with sweet nuances of raisins and a velvety mix of vanilla, honey and rose petals. Contrasting notes of zesty orange with notes of hazelnut, sherry and dark chocolate entail — resulting in a rich and luxuriously long finish to its signature taste.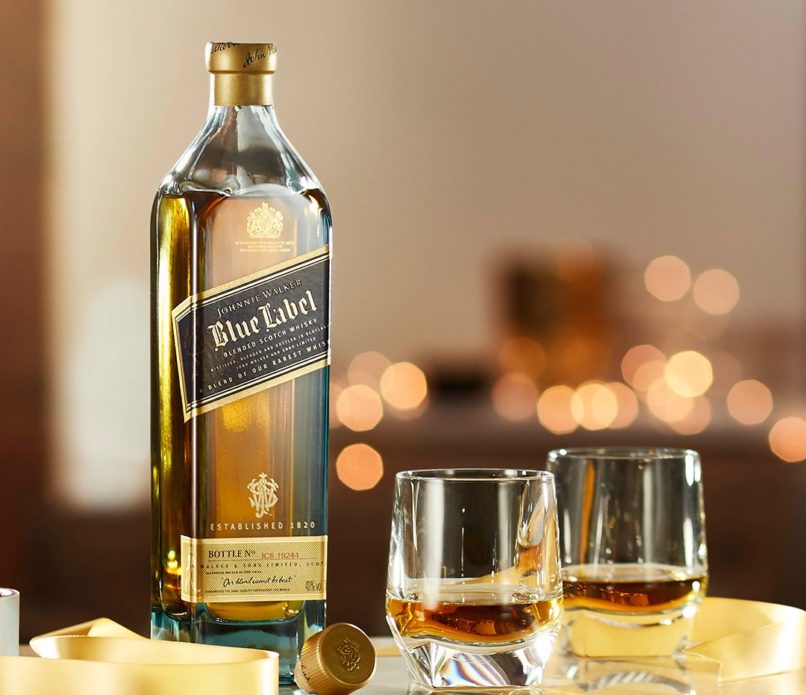 Pace yourself with the extremely addictive Scotch whisky, as you start with the amuse-bouche comprising three elegantly plated morsels — Nigiri, Like The Egg and Cress Pot. Don't be fooled as each item is not what you'd see coming. Nigiri is a creative take on sushi but without fish. Three varieties of Borneo Heirloom rice grains form the base, topped with thinly sliced aloe vera, fermented chilli and tropical sturgeon caviar. The 'egg' dish also looks ant taste the part but isn't exactly what it is as the main ingredient is parmesan tofu, paired with sea urchin and mandarin curry.
The surprise element is evident, just like the flavours that unfold with each sip of the Johnnie Walker Blue Label. As you sample with the following dishes, you'll be delighted by the unique nuances of each expression of each element. We especially love the dessert that centres the Semai single origin Cocoa, Batang Kali single origin Cocoa, locally produced Job's Tear and blue pea flower dust, paired with Johnnie Walker Blue Label soaked savoiardi (Italian sponge finger biscuit) — artfully plated like a work of art.
The Discover Rarity degustation menu by Johnnie Walker Blue Label is available at Enfin by James Won for a limited time only, from 1 January to 31 March 2020, at RM688++ and an additional RM268++ for pairing with Johnnie Walker Blue Label.