With a little help from Chef Tyson Gee, you can now cook something special for your loved ones at home during this CMCO.
No stranger to the dining scene in Kuala Lumpur, Executive Chef Tyson Gee spearheads Atas Modern Malaysian Eatery at The RuMa Hotel & Residences since its opening in November 2018. Since his arrival to Malaysia, the Canadian-born chef spends his time exploring the different nuances of Malaysian cooking as well as the many local ingredients to develop a palate that's bursting with bold, bright and rich flavours. Combining that with a strong sense of finesse and creativity, he offers a melange of modern Malaysian dishes that aren't like any other in the city — a fine balance between novelty and nostalgia.
In the recent #LSALepakSessions on Lifestyle Asia KL's Instagram, Chef Tyson Gee shares a fail-proof restaurant-grade fish recipe that you can easily master at home. He recommends round-bodied fish like seabass, cod, salmon or bream. For this recipe, he uses a fresh ocean-caught red snapper. Tyson suggests tips to ensure the fish is fresh by looking at its eyes (make sure that it's shiny and glossy), checking its gills (these have to be bright red) and smelling it (anything funky is a no-no).
He also throws in his speciality chilli jam recipe that you can also use as a condiment for fried rice, meat, stir-fries and more. Here's how: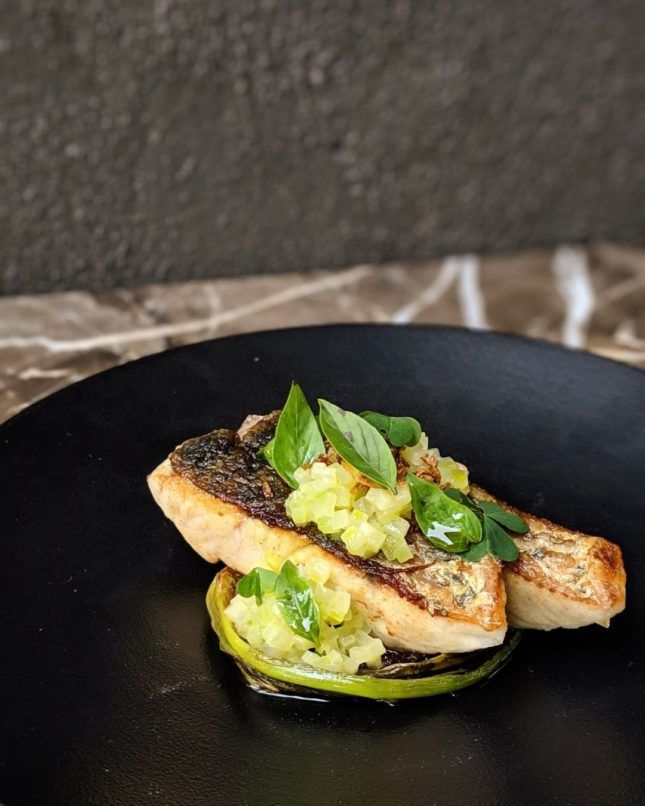 Ingredients
Chilli jam
80ml oil
5 cloves garlic (minced)
2.5 tbsp ginger (minced)
2.5 tbsp Guilin chilli
1.5 tbsp light soy sauce
2 tbsp Chinkiang black vinegar
2.5 tbsp Shaoxing wine (optional)
1.5 tbsp sugar
1 bunch of spring onion (green and white, sliced and separated)
Fry garlic and ginger in oil until golden and crispy.
Mix all the sauces and sugar in a bowl and pour into the sauce pan. Add in the white part of the spring onion. Cook until tender
Toss in the green part of the spring onion and cook until soft and jammy.   
Pickled spring onion
150ml rice wine vinegar
150ml water
75gm castor sugar
2gm chili flakes
1 bunch spring onion, washed and cleaned
Add pickling ingredients into a medium pot and bring to a boil. Simmer for 15 minutes, then allow to cool to room temperature.
Place spring onions in a container and cover with pickling liquid. Allow to pickle in the fridge for 1 week before use.
When ready, either grill over high heat or sauce in a hot pan before serving.
Fish
200gm red snapper fillet or seabass
Butter
Salt
Vegetable oil
Garnishes for plating
Celery cut into 2cm x 2cm cubes
Thai basil
Fried shallot
Pickled spring onion
Celery leaf
Heat up a medium size pan and bring to medium-high heat. Place fish in the pan, skin side down and cook until skin is lightly caramelised and golden. Flip over and place cubed butter in the pan, then baste the fish until cooked through.
Next, heat a small pan with butter and lightly sauté the celery. Optionally, you can heat up chilli jam and pickled spring onion.
Plate up and enjoy.
All images courtesy of Atas KL