If cold and hungry is the theme for your cold, dreary months of the year, this easy lentil soup recipe is your solution — well, that, and a heated blanket. It's just as quick to prepare as it is delicious to slurp. You can slash prep time but utilising pre-cut, canned, and jarred vegetables (see: onions, carrots, and roasted red peppers), and opting for a base of quick-cooking lentils means you'll spend less time hovering over the stove in general.
The ease of this recipe is brilliant, but you'll be pleased to know it's healthy for you too. This lentil soup is loaded with vegetables and plant protein for a filling meal whether for lunch or dinner. You'll get a healthy dose of phytonutrients, including lycopene (a powerful antioxidant) from the canned tomatoes, vitamin C (to promote immune function — a big bonus during cold and flu season) from the spinach, and vitamin A (which helps protect your eye health) from the red peppers.
And let's not forget those lentils (considered a type of pulse, btw) in this easy lentil soup recipe! Packed with insoluble fibre and prebiotic carbohydrates that help nurture your gut microbiota, lentils help promote overall health, steady metabolism, and strong immunity. And let's not forget that lentils are an excellent vegetarian protein source packed with B vitamins and iron.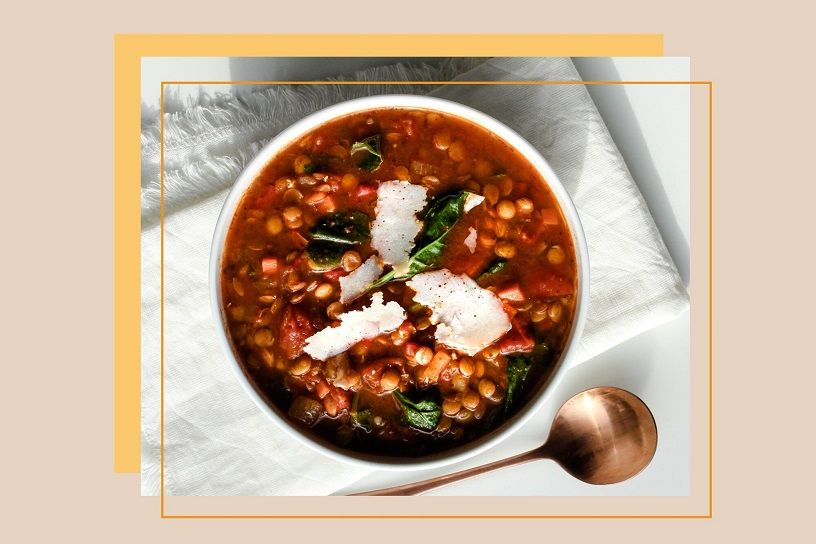 Easy Lentil Soup Recipe
Makes about 4 servings (1 3/4 cup each)
Prep time: 5 minutes; cook time: 30 minutes
Ingredients:
2 tablespoons extra-virgin olive oil, divided
1 small onion, chopped
2 medium carrots, chopped
Kosher salt
2 cloves garlic, minced
2 tablespoons tomato paste
4 cups low-sodium vegetable broth
1 (14.5 oz or 411 gm) can fire-roasted tomatoes
1 cup dry brown lentils, rinsed
1 teaspoon Italian seasoning
4 cups chopped baby spinach
2 jarred roasted red peppers, drained and chopped
2 tablespoons red wine vinegar
Crushed red pepper, to taste
Directions:
Heat 1 tablespoon oil in a large pot over medium heat. Add onion, carrots and ¼ teaspoon salt and cook, stirring frequently, until vegetables begin to soften, about 6 minutes.
Add garlic and cook, stirring constantly until fragrant, 30 seconds.
Stir in remaining 1 tablespoon oil and tomato paste, and cook, stirring often until dark red and slightly caramelised, about 3 minutes.
Add broth, tomatoes with their juices, lentils, and Italian seasoning, and bring to a boil over medium-high heat. Reduce heat to a simmer, cover with lid, and cook, stirring occasionally until lentils are just tender, about 15 to 20 minutes.
Stir in spinach and red peppers and cook 1 minute. Remove from heat, stir in vinegar and ¼ teaspoon salt. Portion into bowls and garnish with crushed red pepper.
Nutrition facts per 1 3/4 cups soup: 338 calories, 8g fat, 2g saturated fat, 49g carbs, 12g fibre, 16g protein.
This story first appeared on www.shape.com
(Main and Feature Image Credit: Sara Haas)
© 2021 Meredith Corporation.  All rights reserved.  Licensed from Shape.com and published with permission of Meredith Corporation.  Reproduction in any manner in any language in whole or in part without prior written permission is prohibited.
Shape and the Shape Logo are registered trademarks of Meredith Corporation. Used under License.