Ding! The lift doors open to a scene from the airport as Grand Hyatt Kuala Lumpur takes you on 'The Grand Getaway', your ticket to travel and dine.
It's been a while since there was a dining event that covered the entire grand ballroom of Grand Hyatt Kuala Lumpur. Upon checking in,  "passengers" are required to show their boarding passes before being assigned a seat. Just like being at the airport, there are luggage bags on the conveyor belt, boarding gates, signboards as well as a travelator that leads you to the waiting lounge — so feel free to use the mise en scène and props to relive those travelling moments you've probably been unfamiliar with by now.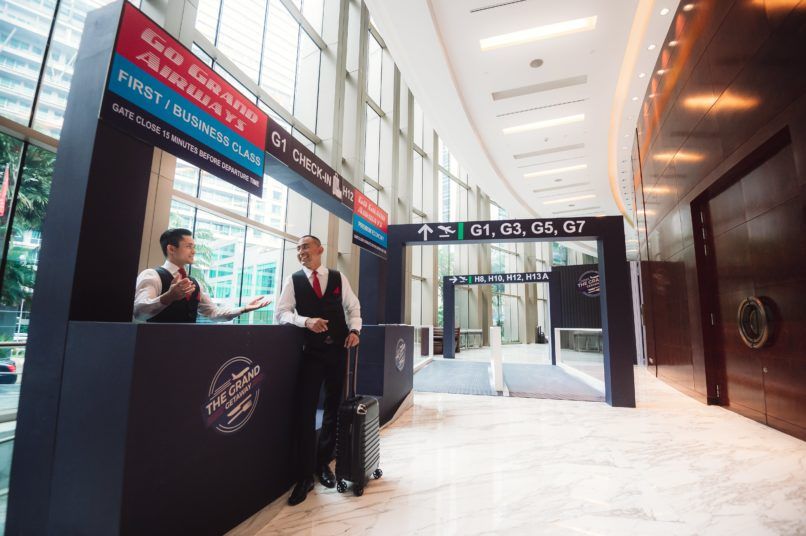 Depending on the package that you sign up for — or class tiers like boarding a plane — the Business Class includes an exclusive one-hour access to the Go Grand Premium Lounge at level 37 of the hotel where diners will enjoy pre-boarding cocktails.
A familiar jingle (yes, like the one at the airport) is followed by the ready-for-boarding announcement. The doors of the aircraft open, welcoming passengers into a hall of beaming lights, and immersive 360-degree LED screens with audiovisual effects to enhance the multi-sensorial experience of being in a luxurious airplane, about to embark on a full-course dining expedition. The ambience is extravagant, with hospitable stewards zipping around the room to lead you to your seat.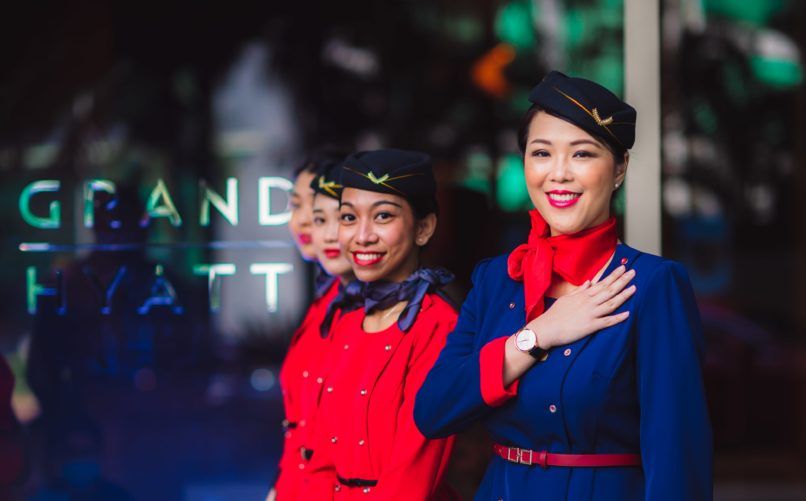 Buckle up
The seats are strategically juxtaposed, spaced out to adhere to proper SOPs amid the Covid-19 situation. Each row comes with a three-seater like the ones from the aircraft, so you and your partner will be seated on either side of the row — with plenty of legroom and space to stow your belongings (not that you need any).
A trivia adds to the excitement of this dining experience, as diners are actually sitting on seats plucked out from the historic Boeing 777, Malaysia Airlines' first Boeing received during its 50th anniversary in 1997. The aircraft also broke records by besting the Great Circle Distance Without Landing, covering a total of 20,044.20 km in 21 hours 23 minutes during its Seattle-Kuala Lumpur voyage.
With no time to waste, the Go Grand Airways takes off with a very witty announcement by the flight captain, an explanation of the emergency exits and a real-time scene from the cockpit with the rumbling sound of the engine.
"Cabin crew, prepare for take-off."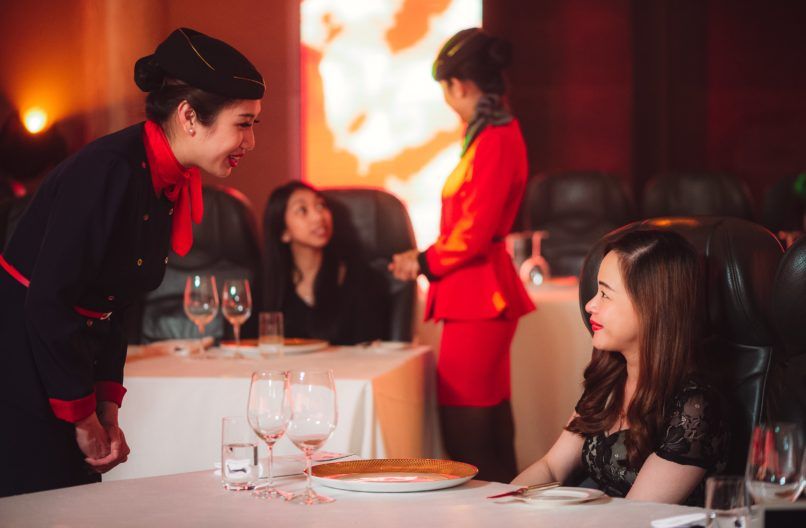 In-flight dining will be served shortly
The Grand Getaway Airliner Menu comprises five courses, taking diners through five distinct and unique cities around the world through each plate. The elements on the dishes are specially picked and curated by the team of chefs at Grand Hyatt KL.
My eyes are still glued to the screens, the flickering lights from a bird-eye view, landing quickly in Tokyo, Japan. Audiovisual effects create the environs of the Japanese capital city, with cultural music and scenes of temples, lantern-lit alleyways and the famous Shibuya crossing.
The first dish is a scallop appetiser, served on a bed of wakame with radish, sesame and shoyu dressing. Fresh and light, the dish is easy on the palate with little to comment. Soon after, diners will be taking off again to another city, with another complimentary dish to pair with the whole travelling experience.
I don't want to spoil the whole itinerary for you, so you will have the full fare with Go Grand Airways when you book your seat on the aircraft with them. But I'd definitely ask that you pay full attention during your stop in Moscow with a palate cleanser dish — a forest berry sorbet to be exact — that is served in the most theatrical fashion, a picture-perfect Instagram-worthy moment. The icy repertoire is extremely smooth, glides in the mouth with a fluttering taste of dark berries and a hint of sweetness and sourness.
Thank you for flying with us
While the 5-course dinner adds on to your existing anxiety of not being able to travel to your favourite cities, it compensates with a fully immersive experience paired with lots of fun. Be sure to stay till the very end, because you simply don't want to miss out the many details that come with The Grand Getaway.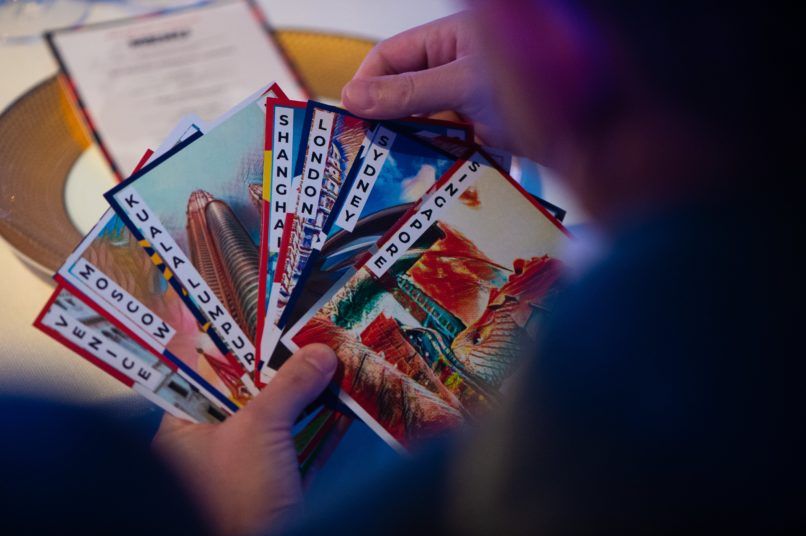 The Grand Getaway is available every day from 7.00PM to 9.00PM until 30th June 2021. Rates starts from RM450 nett per person (Premium Economy Class) to RM650 nett per person (Business Class). There is also a Junior Class for children, priced at RM250 nett per person. Exclusively for readers of Lifestyle Asia KL, you can enjoy 20% off for bookings from now till 31st March 2021. All you need to do is apply code "FLY20" upon check-out. Click here to find out more.