Some chefs have a way of making complicated classics (the sauces! the stews!) seem as easy as boiling water. And why shouldn't they be? Even if you don't have a three Michelin-star kitchen, all you need is a few basic techniques to take your cooking from simple to celebration-worthy. From crème brûlée to coq au vin, here are the must-know recipes sure to become your signature for special occasions.
Roast Lamb
"Every home cook should know how to roast a rack of lamb. With a little research, a probe thermometer, and some practise, anyone can master it. By choosing the spice profile, you instantly drive the theme. I grew up eating severely overcooked lamb chops with mint jelly, so I love to riff off of that (minus the overcooking—I like mine medium-rare). Combine some warm spices (allspice, cardamom, cumin, cinnamon) for the rub, lots of fresh, minted yoghurt, and sumac to finish!" — Michael Schwartz, James Beard Award winner, founder of The Genuine Hospitality Group, and chef/owner of Michael's Genuine Food & Drink in Miami
"Everyone loves something roasted for a special occasion—whether it's a whole chicken, beef, lamb, or even vegetables. Once you understand the cooking techniques of roasting, it's a game-changer in the kitchen." — Andre Fowles, chef and culinary director of Miss Lily's
Grilled Lobster
"I think grilled Maine lobster with summer corn is the perfect special occasion dish that every home cook should know. Lobster isn't something people have every day — it's different, exciting, and delicious. This is a dish that I serve on a regular basis when I'm entertaining friends or family for a special celebration. I typically boil the lobster for 10 minutes and then put it on the grill with butter, salt, and pepper. For the corn, I cut it off the cob and sauté it in butter or olive oil. For more crunch and flavour, I chop up some scallions, jalapeños, basil, and add lime for an acidic kick. I either serve the lobster on a bed of corn or sprinkle it on top."  — Jean-Georges Vongerichten, Michelin-starred chef and restaurateur
"Grilled lobster with a simple chilli-lime compound butter is the easiest thing to do but is so luxe at the same time. Get some white Burgundy and set up the table outside. Put the bibs on and have at it!" — Hugh Acheson, James Beard Award winner and chef at Ovide at Hotel Effie in FL
Gougères or Cream Puffs
"Having these in your cooking arsenal for adorable, mini savoury BLT tea sandwiches filled with smoked salmon mousse or coronation chicken salad is fantastic. You can make this special dish for dessert, filled with chocolate pudding (boxed is ok—we won't tell) or spread with store-bought Nutella and raspberries." — Sophina Uong, chef of Mister Mao in New Orleans
Puerto Rican Pernil
"Pernil is a slow-cooked pork roast that is typically enjoyed during the holidays, but it's also a year-round tradition when people want something a little more special for their meal. Marinate the pernil for 24 hours before seasoning it with salt, pepper, sofrito, adobo, and oregano. Slow-cook at 175°C for 5 to 6 hours and serve with arroz con gandules (rice with pigeon peas)." — Eric Roldan, owner of Marina's Café in Chicago
Sicilian Timballo and Arancini
"There's no better excuse to get the whole family together than rolling arancini or assembling a beautifully layered timballo (deep-dish pasta casserole). Though they come in many forms, I make timballo with a pastry crust filled with fresh seafood, pistachios, and saffron custard. Crispy on the outside and warm and flavourful on the inside, dishes like this express love like only Italian food can." — Steven Jarczyk, chef and owner of Sfera Sicilian Street Food in Chicago
Chilaquiles
"Chilaquiles is a traditional Mexican dish consisting of corn tortillas that are cut into quarters and lightly fried. It's a recipe that works for breakfast, lunch, or dinner—and even reheating the leftovers the next day tastes delicious. It's the epitome of comfort food, especially the morning after a long, fun party!" — Eduardo "Lalo" Durazo, managing partner of Bakan Wynwood in Miami
Crème Brûlée
"Crème brûlée is an easy and delicious make-ahead dish that allows you to focus on other courses for your special occasion. Once you familiarise yourself with the dish, you can make variations for the seasoning by infusing herbs, spices, teas, purées, and chocolates. You can also garnish with fruits and other toppings, so it can be served for any season or occasion. Bonus: Its custard base can be rich enough to go with many wines — even red!" — Rachel Haggstrom, chef at JUSTIN Winery in Paso Robles, CA
Salt-Baked Sea Bass
"Sea bass in a salt crust is easy to cook, and you just need few high-quality ingredients (the main being a whole sea bass). Fill the fish with sliced lemon peels, fresh thyme, and fennel fronds. Leave the scales on so the fish will stay juicy while it cooks (the skin peels off easily once it's baked). Make a salt mixture with coarse salt, fennel seeds, and liqueur, and then spread on top of the fish. I suggest baking the fish in the oven for 10 to 15 minutes for each pound of fish. Remove from the oven and let it stand for 5 minutes before cracking the salt crust and removing the skin off the fish." — Fabio Ciervo, executive chef at Hotel Eden in Rome
Oxtail
"Cross-culturally, oxtail is a classic special occasion dish. When done right, the meat is rich, fall-off-the-bone tender and full of fat. It's a decadent cut perfect for braising and stewing. In Miami, it's common to see two types of oxtail preparations: rabo encendido, a Cuban-style preparation with a sofrito base, and Jamaican-style oxtail stew, typically made with Scotch bonnet peppers. Both styles are out of this world and household staples for a celebration. At home, I like to experiment with Asian cuisine, and, if I'm looking to impress, bò kho is my favourite oxtail preparation. A spicy, Vietnamese-style beef stew made with lemongrass, star anise, and cinnamon, bò kho is herbaceous, and when made with oxtail, really balances out the fattiness." – Cesar Zapata, owner and chef of Miami's Phuc Yea, Arepitas Bar, and Pho Mo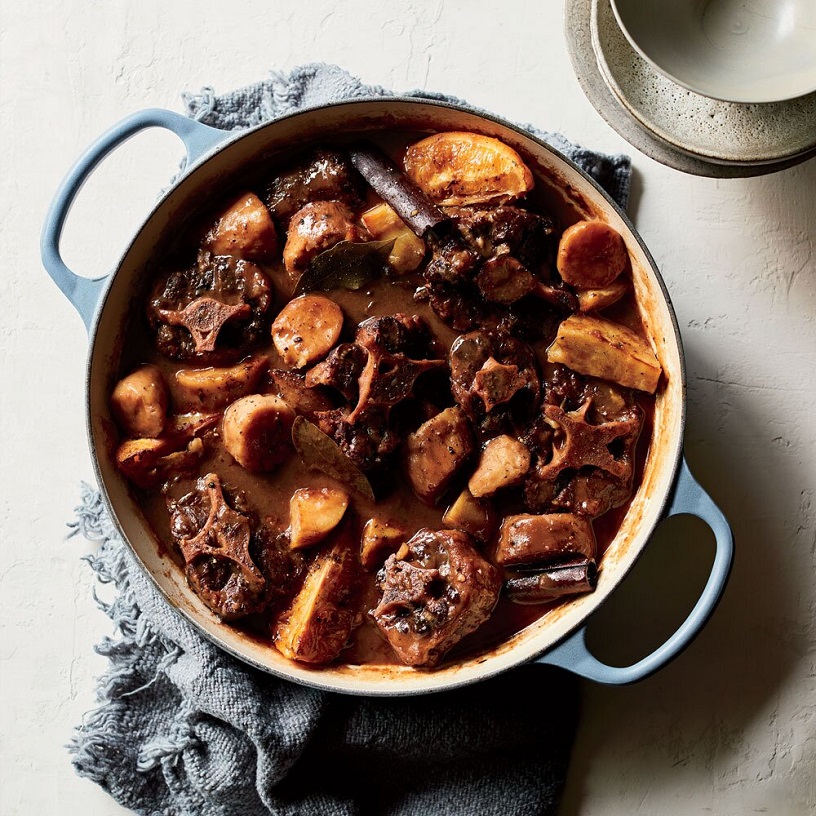 Linguine with Lemon and Caviar
"Linguine with lemon and caviar is the perfect luxurious special dish for two. It is an easy, buttered pasta with lemon zest and juice, heavy cream, and chives that is topped with grated bottarga (dried mullet roe), breadcrumbs, and a nice dollop of caviar. The lavish simplicity of this dish makes it perfect for any tête-à-tête celebration." — Daniel Boulud, chef and restaurateur
Key Lime Pie
"The creamy texture and journey of flavours, topped with pillowy meringue and candied lime zest, make Key lime pie an unforgettable part of any special occasion." — Meghan Brophy, pastry sous chef at Lido Restaurant at The Surf Club at Four Seasons Hotel at The Surf Club in Miami
Coq au Vin
"One of my all-time favourite special dishes is coq au vin—aka red wine-braised chicken—which is not as complicated as it sounds. Get a good quality chicken and whatever red wine you're drinking (a super smoky red is great). You'll also need double-cut bacon, cipollini onions, shiitake mushrooms, and rainbow-coloured carrots. The whole dish is served over a velvety, buttery potato purée (try to use the best quality butter you can find — trust me, you'll taste the difference). Throw a baguette down on the table, tear it up by hand, and make sure to sop up all those leftover juices — that's the best part!" —Josh Elliott, chef at Mamey Miami and Orno at THesis Hotel Miami
Whipped Ricotta or Cheese Dip
"I love making whipped ricotta for any special occasion: summer BBQs, a birthday, you name it. It's super easy to share and goes fast. By having fun with the ingredients or toppings, it completely elevates any special occasion's appetiser spread. It's equally delicious made from homemade ricotta (if you're going the extra mile) or even store-bought. Simply whip it by hand or with a KitchenAid stand mixer (if you have one). To go savoury, I add olives or pickled beets. On the sweet side, a basil-infused honey or peach cardamom compote does the trick. Just bring some really good bread and dip away!" — Gabriella Mann, owner of baba cool in Brooklyn
"Cheese dips are arguably always the most popular snack at any get-together, and spicy feta is the perfect elevated version of a cheese dip since it's smoky, salty, and a little spicy." — Ian Fleischmann, executive chef of Strawberry Moon at The Goodtime Hotel, Miami Beach
Seared Duck Breast
"If you really want to impress your dinner guests, pan-seared duck breast is the way to go. Make sure you score half-inch cross hatches into the skin with a sharp knife, and then cook the duck breasts in a cold pan on medium-high heat. This ensures that the duck fat properly renders and you will get the crispy duck skin everybody craves!" — Jammir Gray, executive chef of Compline in Napa Valley
Miso-Glazed Salmon
"Most of my inspiration comes from my childhood in the South of France. Growing up, we had salmon every Sunday afternoon as a family. I marinate the salmon overnight in a miso marinade, and then cook it to the desired temperature. I then add a quick smear of the miso glaze on top of the salmon as soon as it's finished cooking." — Cedric Domenech, executive chef of L'Avenue at Saks in NYC
Bouillabaisse
"For a special occasion, you can't go wrong with a perfect summer seafood dish like bouillabaisse. To me, local ingredients are key. We use Ocean City scallops, Chesapeake Bay clams, Delaware striped bass, North Carolina shrimp, and locally grown produce (especially tomatoes). This dish can be prepared in advance, so it is perfect for entertaining!" — Danio Somoza, Delaware-based chef and owner of Coastline Restaurant Group 
Paella
"In my opinion, a special occasion dish every home cook should know how to make is a backyard vegetable paella. Take your pick from the array of seasonal vegetables found at your local farmers' market, mix with fresh local herbs, and—my personal favourite—wild mushrooms to create delicious flavours that will automatically transport you to summer. While paella is typically made with seafood, plant-based paella lets fresh veggies shine and is a crowd-pleaser every time!" — David Lee, co-founder and executive chef of PLANTA restaurants
This story first appeared on www.foodandwine.com
(Main and Feature Image Credit: Christopher Testani)
© 2021. TI Inc. Affluent Media Group. All rights reserved.  Licensed from FoodandWine.com and published with permission of Affluent Media Group. Reproduction in any manner in any language in whole or in part without prior written permission is prohibited.
Food & Wine and the Food & Wine Logo are registered trademarks of Affluent Media Group. Used under License.