Because you can still show your love, even if you don't show up in their house.
Remember the good old, pre-pandemic days of CNY when we would gather in a relative's home, 30-people strong? Same. It's not going to happen this year, but you can still show the spirit of togetherness by sending them a nice CNY gift.
Whether it's a CNY food delivery or a well-thought-out gift set comprising snacks and drinks, the best CNY gifts will tell its receiver this: they are loved and thought about, even at a distance.
If you don't know where to begin looking for some CNY gifts (it's two weeks away!) we've got your back with a list of them down below.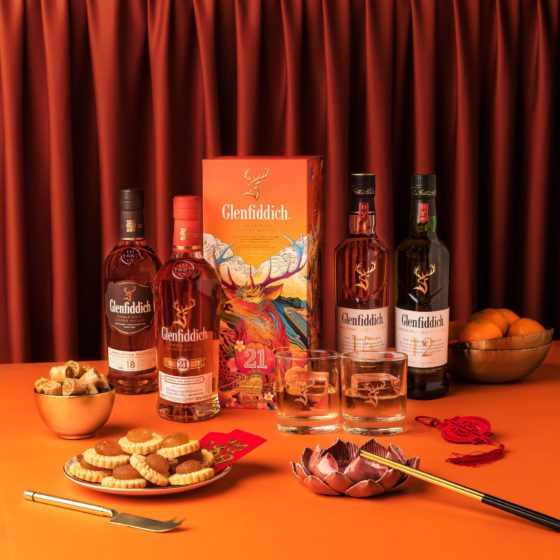 1
Glenfiddich's 'The Great Homecoming' CNY limited-edition design
This CNY, Glenfiddich is giving you the choice of not one, but three limited-edition festive gift packs to choose from. With beautiful illustrations from Chinese illustrator Rlon Wang, you have a choice of picking the 12, 15, and 18 Year Old Malt Whisky variants. There's also the Glenfiddich Reserva Rum Cask 21 Year Old available in the Chinese New Year design. The box set contains a bottle of the whisky, as well as two whisky rocks glasses. If you're planning on gifting the set to someone, you also have the option of putting a special message that's accessible via a QR code.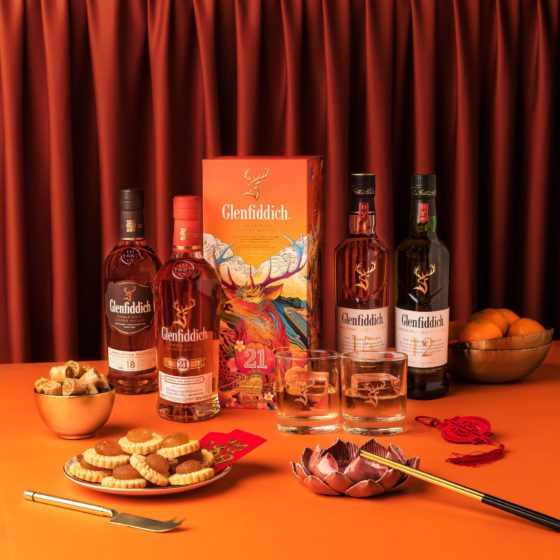 Find out more here
2
Creme de la Creme's CNY petits gateaux
A word of caution: these mini ice cream cakes may be too cute to eat. Creme de la Creme does it again this festive season with an array of delectable CNY-themed desserts. You have the "Huat Ah!", a mahjong-shaped petits gateaux with organic honey chrysanthemum ice cream, lychee rose sorbet, and peach sorbet flavours; Jade Bamboo, a bamboo-shaped dessert with salted caramel ice cream and mango passion sorbet flavours; Moo-moo, a cow-shaped dessert with milk ice cream, aged pu'er tea ice cream, and Japanese yuzu sorbet; and Lo Gam, an orange-shaped dessert with French dark chocolate ice cream and Mandarin sorbet.
A set of four is priced at RM118 and comes with a cooler bag. Pre-orders from now till 31st January 2021 will enjoy a 10% discount or a 15% discount for 20 gift-sets and above.
Order here
3
Unbox by Huff and Puff's Spin For Luck Luck
For a really unique gift this CNY, you'll have to check out what Unbox by Huff and Puff is offering. Spin For Luck is one of the three gift packs that the brand has, and it comes in a wooden briefcase filled with Oloiya's Bak-Off BBQ pork jerky. To make things a little more fun, there is a spin-the-wheel mechanism within the briefcase, allowing the universe to decide what your next Bak-Off flavour should be.
Unbox by Huff and Puff's Spin For Luck Luck is priced at RM178. You can top up an additional RM10 for a personalised wooden tag with the recipient's name.
Order here
4
The St. Regis KL's Prosperity Box
Reserve St Regis KL's Prosperity Box for only the people you love the most because it is huge. The Prosperity Box comes with a gorgeous edible Mandarin Tree Cake made out of orange butter cake, white chocolate truffles, and filled with chocolate gold coins. There's also a Fortune Box within that has almond cookies and an assortment of St Regis' original condiments; a Treasure Box containing cashew nut cookies; a Lucky Box with pineapple tarts; a Sweet Money Box with assorted CNY cookies; three variants of chocolate bars, and nian gao.
The Prosperity Box is priced at RM618+. If you want to make the Prosperity Box a little more prosperous, upgrade it with a choice of Delamotte Champagne (RM988+), or our personal favourite, with a CNY Limited Edition bottle of The Macallan 12 Year Old Double Cask Scotch Whisky (RM988+).
5
John Walker & Sons XR21 festive pack
A good bottle of liquor is always synonymous with the CNY festivities. The gold standard is, naturally, a bottle of John Walker & Sons XR21. The brand also has a special festive pack for CNY that comes with a Chinese-inspired designed rocks glass complete with an ornate metal coaster — almost like an emperor sipping whisky.
The John Walker & Sons XR21 CNY festive pack is priced at RM567 and available for purchase on the brand's official Shopee page, Stay Thirsty, Boozeat, Whisky.my and at leading supermarkets such as Jaya Grocer, Village Grocer, Ben's Independent Grocer and Mercato. 
Order here
6
Elevete Pattiserie's Firecracker Cake
Chances are, you may not be able to light some firecrackers to ring in the Lunar New Year. No matter — with Elevete Pattiserie's Firecracker Cake, it will seem like the real thing. This five-inch cake will make the perfect centrepiece for your reunion dinner. Customers have a choice of these cake base flavours: Salted Caramel Chocolate, Pandan Gula Melaka or Red Velvet or Death by Chocolate or Butterscotch Cookies Cake. Coming in at 1.2kg, the Firecracker Cake is priced at RM188.
Order here
7
Oh Cha Matcha x Lo Hong Ka gift bag
What happens when you pair two superfoods together? A delectable matcha drink with bird's nest by Oh Cha Matcha and its latest collaborator, Lo Hong Ka. In this special gift bag for CNY, you'll find four different flavours of matcha flavoured bottled drinks (Pineapple, Mandarin Orange, Red Dates and Goji Berries, and Chrysanthemum) with concentrated gold bird's nest, homemade matcha pineapple tarts, as well as Oh Cha Matcha and Lo Hong Ka red packets. These are all packed in an auspicious eco-friendly gold print juco (jute and cotton) bag.
The Oh Cha Matcha x Lo Hong Ka gift bag is priced at RM168 and can be purchased online and in-stores at Oh Cha Matcha cafes as well as Lo Hong Ka stores in One Utama, Mid Valley and Sri Petaling.
Order here