The St. Regis Kuala Lumpur's latest Malaysiaku: A Reimagined Malay Heritage Menu headlines a 6-course meal wreathed with melodious tales of local folklore and fairytales.
"I'm limiting myself to one more deconstructed laksa-inspired dish and I'm out," I subtly warrant my stand on the unapologetic bastardisation of what true Malay cooking and how it is valued in the eyes of general public.
The value of Malay cooking lies in its authenticity and its representation of the multitudes of history and cultural pollination that started centuries ago. Today, we are left with a handful of generational recipes that can only be perfected by the matriarchs of the family. For those who are keen to dig deep into the almost-forgotten cuisines, there is plenty to discover from the vast odyssey of Malay heritage cooking.
When The St. Regis Kuala Lumpur's Executive Sous Chef Norazizi Taslim was given the task to reinterpret this heritage cuisine, it was not his intention to create yet another 'modern Malaysian' dish. He wanted the Malaysiaku menu to be immersively exciting, a level up from its previous iteration. Taking inspiration from local folklore and fairytales that are hardly ever being spoken of these days, Chef Norazizi and his team, comprising Banquet de Cuisine Mohd. Ridwan Mohamed Rasit and Pastry Sous Chef Azizul Bistaman, set off a journey into a gastronomic trail through the various states in Malaysia while being enchanted with lots of tales to be told.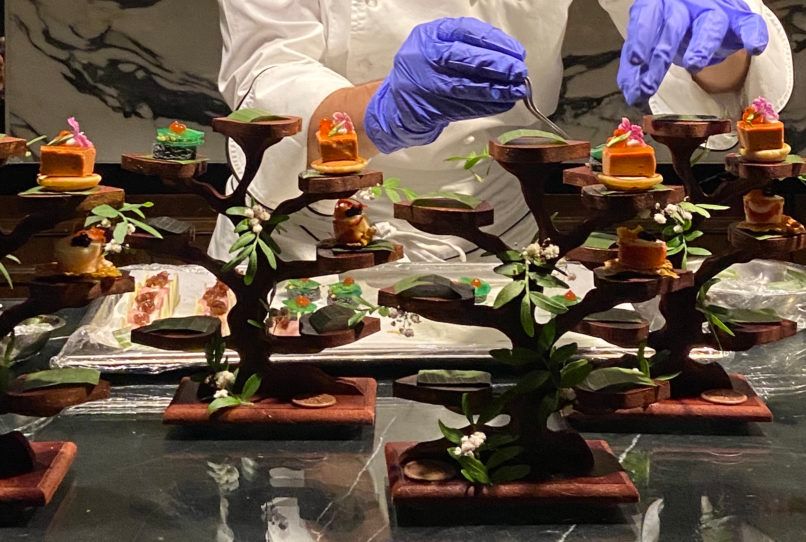 Of Folklore and Fairytales
Popular fables like "Puteri Gunung Ledang", "Bawang Putih, Bawang Merah, "Nasi Menjadi Bunga", and "Si Tanggang" anchor the menu with flavours and narratives that invite diners to explore the mystic and wonder of culinary story-telling. The menu is more than just a booklet; it is beautifully illustrated with in-depth stories of the fairytales as well as the reimagined dishes and its ingredients.
Take, for instance, the amuse-bouche that's inspired by one of the most relatable fables, Puteri Gunung Ledang. The folktale chronicles the wish of Sultan Mahmud of Malacca who desired the princess of Gunung Ledang to be his wife. He sent off his finest warrior Hang Tuah on this quest. For her hand in marriage, the princess requested for seven things — a cup of the Sultan's blood, a vat of water from dried areca nuts, a bridge made of gold, a bridge made of silver, a vat of virgin maiden's tears, a cup of his son's blood and seven trays of mosquito hearts.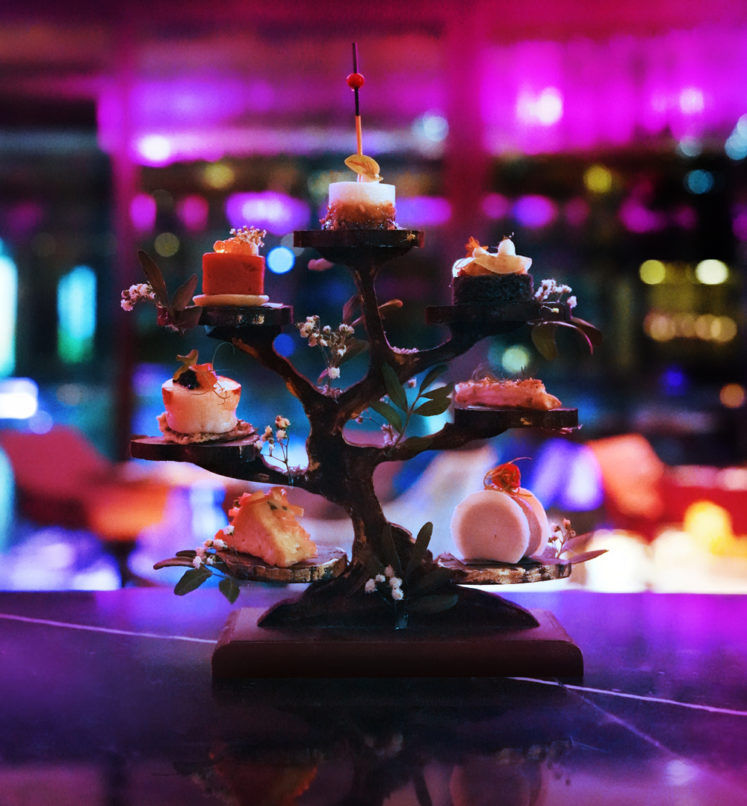 Taking each of these 'demands' onto the drawing board, the team created seven morsels to represent the unique elements both literally and metaphorically. To start, the presentation is nailed to perfection. Expect a multi-tiered tree-shaped figurine carrying seven different components being served to you — each representing the seven demands of the princess.
The Sultan's blood is represented by fiery red otak-otak, a recipe from Johor. His son's blood inspired the chilli jam on a canapé of charcoal bread, cucumber jelly and anchovies — flavours from Sarawak.
For an amuse-bouche course it is substantial, to say the least, but truly immersive as one has to read through the descriptions while reimagining the theatrics in the fairytale. One of our favourites is the Jicama Salad that's served with sweet and spicy raja sauce, crushed peanuts, and silver anchovies — that's right, representing the silver bridge. Another outstanding element is the Lobster Gula Merah Curry served with pineapple chutney and crushed areca nuts for a tinge of spiciness. No extra points for guessing what this represents.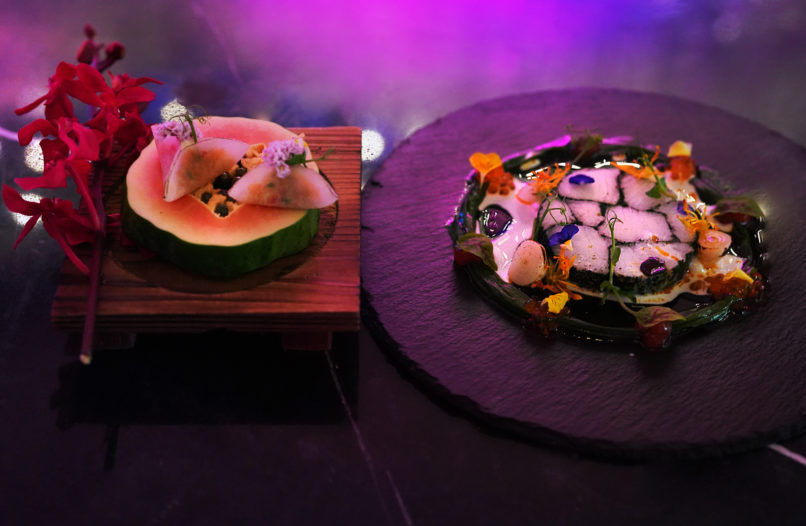 More Stories Unfold
Your next course comes as an appetiser, comprising two small dumplings with a skin of turnip and filling of papaya, ginger torch, lemongrass, and kaffir lime. The dish is a derivation from the tales of the two sisters in Bawang Putih, Bawang Merah. The dainty dumplings are served alongside Cured and Pickled Chilean Seabass that's marinated with kedondong (ambarella, a native fruit from Penang).
One of the main highlights is the refreshing nuances of the turnip-skin dumpling that require no dipping sauce. This balances the rich notes of the cured seabass, served in a pool of creamy sauce surrounded by a garland of wilted spring onion, red chilli oil, avocado cream, charred onions, and tomato jam.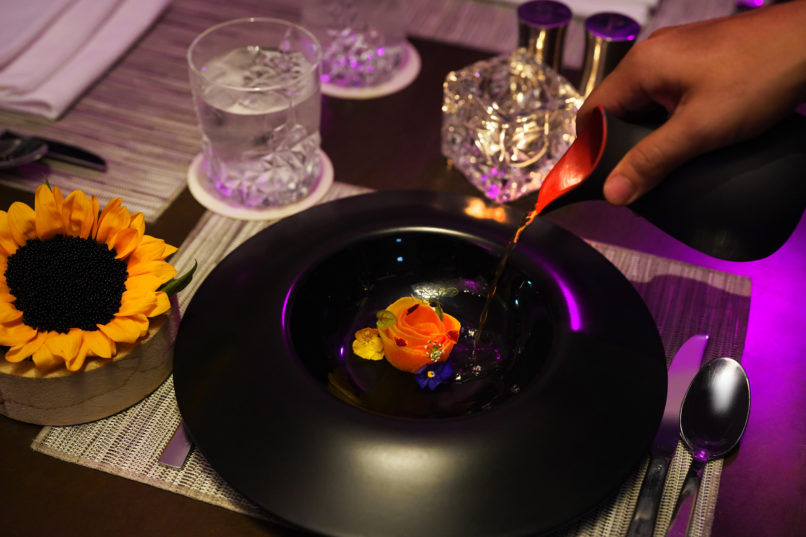 The next course takes inspiration from the folktale of the cursed crab in "Ketam Sumpahan". Like the story of The Frog Princess, the Malaysian version talks about a man who caught a crab who would eventually be his wife. In this dish, the chefs bring a clear flower crab soup, Singgang Ketam that hails from Sabah. This Bornean recipe, which is somewhat similar to a Filipino's Sinigang (a sour and savoury tamarind stew), is a delightfully bright and zesty consommé served with a flower made of thinly sliced carrot medallions.
With it comes a sunflower filled with poached crab meat, covered with caviar. So if you have not had a somewhat similar interpretation by Vladimir Mukhin at The White Rabbit in Moscow, this is one dining experience (much closer to home) not to be missed.
At this rate, all I'm seeing are fresh new ideas that take local ingredients and flavours, then turning them into impressively dramatic dishes with an overarching theme of fairytales. So when it comes to the main course, there is no holding back for the three chefs.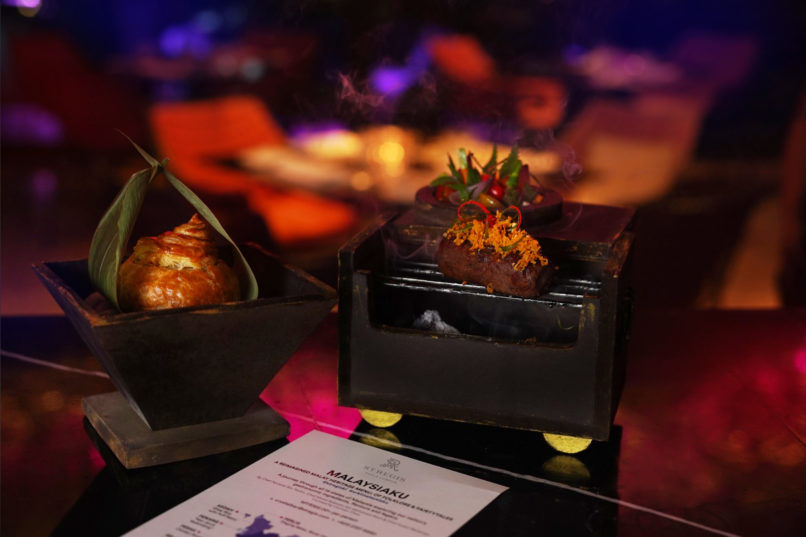 Four main components make up this rather extravagant dish inspired by the fable of "Nasi Menjadi Bunga", folklore that simply reminds us to not waste the rice on the plate. Start by enjoying the wafting smoke that comes with the Perlis state's Daging Bakar Beras Hangus crusted with rice and coconut and served with Terengganu's Sambal Hijau. And of course, there's a rice element — Chicken Biryani from Perak and Ghee Rice from Kedah, both packed in a puff pastry parcel with artistic floral trimmings.
Rice is enjoyed several ways in this dish that's a joy to eat. With familiar comforting flavours and a generous portion that sticks true to the Malaysian hospitality, I beckon the chef to give him two thumbs up for a great dive into the local cuisine.
Sweet Surprises
"Leave some space for desserts", chef Norazizi apprises at the end of the main course. And I thought the drama of the night had already peaked in the last dish.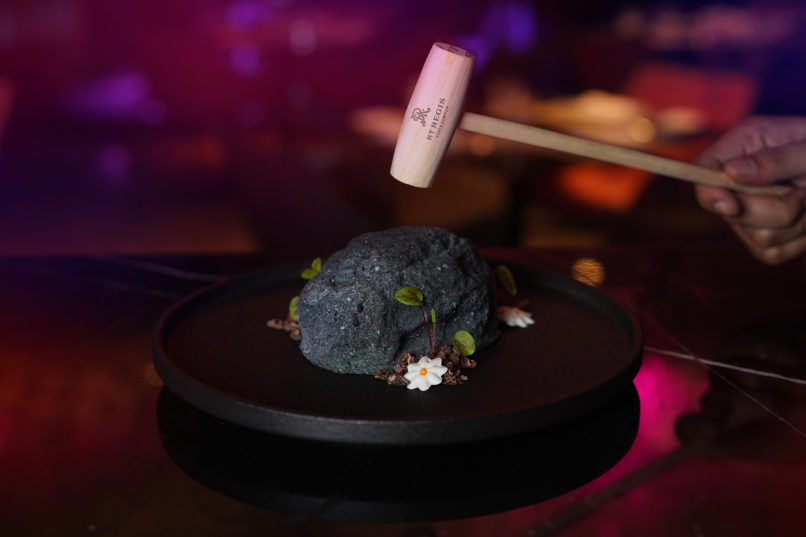 However, the next two courses showcase the theatrics coming to life — the piece de resistance of the night, and it comes in a form of a sizeable rock, roughly the size of your palm. This dessert draws inspiration from the tales of Si Tanggang, the ungrateful son who was cursed into a stone by his mother. A fun and creative dessert in its own rights, it takes a few hits with the mallet to crack open the chocolate 'rock' (made of 72% dark chocolate), unveiling three coloured glutinous rice balls soaked in salted coconut milk.
Locals would instantly recognise this dish as Puteri Mandi, a classic Kelantan dessert. Each ball is filled with smoked honey banana custard and caramel sauce, and goes extremely well with the coconut milk. On the sides, there are also cocoa nibs to add a bitter finish to the sweet dish. 
The sixth item on the menu comes in a form of an edible gramophone made of chocolate with petit four inspired by the iconic Malaysian folksong, Rasa Sayang. The 'Malaysianised' petite desserts centres around jackfruit and banana, both mentioned in the lyrics of Rasa Sayang.
I thoroughly enjoy the banana bonbons — the perfect combination of chocolate and bananas.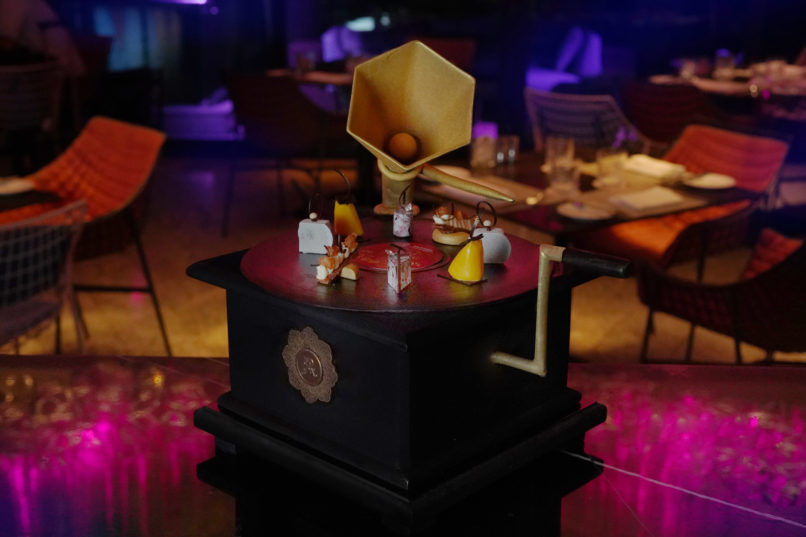 Verdict
Perhaps, you're asking this: "Is this another one of those try-hard menu that is supposedly taking Malaysian cooking to the next level?".
Malaysiaku: A Reimagined Malay Heritage Menu is a well-thought through repertoire that truly represents the melange of cultural and gastronomic references of all fourteen states in Malaysia while narrating the beautiful stories of long-lost local fairytales — a conversation starter that leaves the table wafting with joy and laughter.
Is it taking Malaysian cooking to the next level? Not just yet, but it is a great start to reintroduce people to the beautiful fables that are truly and uniquely Malaysian.
Malaysiaku: A Reimagined Malay Heritage Menu will only be available on the 7th, 20th and 31st August as well as 16th September 2020 at The Brasserie, The St. Regis Kuala Lumpur. Takeaways are available from 8th August until 15th September 2020.