The concept of farm-to-table or farm-to-fork is a social movement that's on the rising in KL's dining scene. This is where restaurants and chefs use ingredients and produce sourced from local farmers and suppliers — be it fruits and vegetables, fishery, winery or their own backyard. Generally, food is sustainably sourced to maintain a healthy ecosystem in the food business.
This is something very unique especially in Janda Baik with the 'A Little Farm On The Hill' offering a unique farm-to-table experience in its organic farm. Gourmet meals are made using fresh seasonal produce that are grown on-site. Three years and counting, the concept is still very popular among city folks who don't mind taking a 40-minute drive from KL to enjoy something different for a change.
In the city, restaurants like Sitka and Dewakan have been championing this sustainable concept for a few years now. It is not until recently that this concept boomed drastically thanks to the rise of locavorism and modern Malaysian cuisine. There is a prevalent use of local ingredients and homegrown produce over imported ones. And the farm-to-table concept has since been a dining concept in town — and some are quite healthy too.
Here's where you can enjoy the farm-to-table dining experience in KL.
(Featured images: Entier)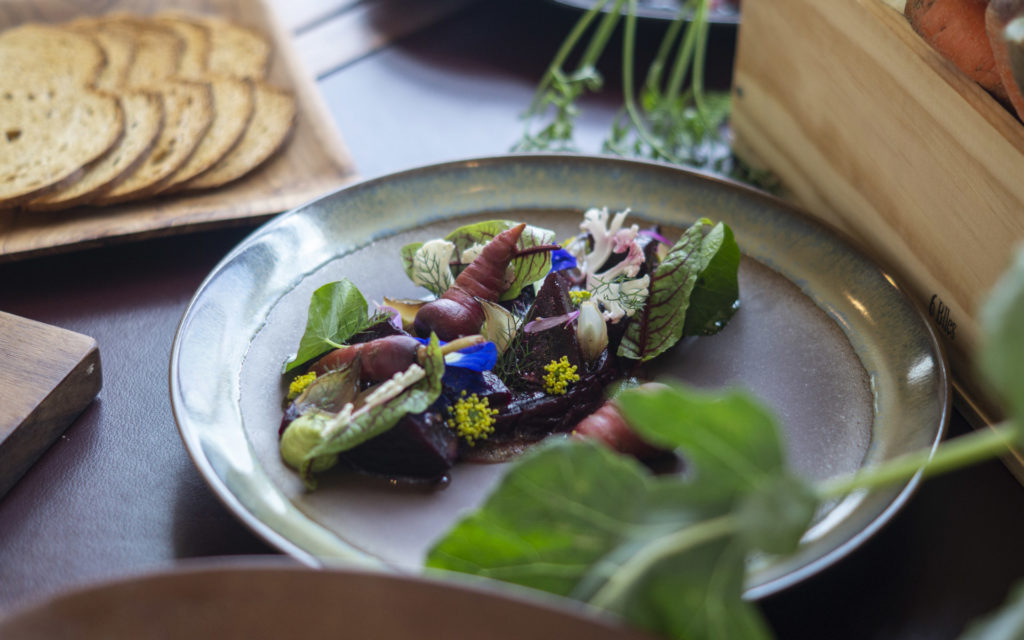 Entier prides itself for presenting the best of the Malaysian terroir with a nose-to-tail sensibility. On top of its poultry and locally sourced tropical caviar purveyed from Tanjung Malim, Perak, Entier also brings in a bevy of vegetables and fresh produce to the table. What's unique is the rusticity of each dish and the honesty of Chef Masashi Horiuchi's recipes that are equal parts elegance (his Japanese background) and simplicity (his French artistry) — but bang on with flavours.
Australian Executive Chef Richard Miller brings the farm-to-table concept to W Kuala Lumpur's all-day dining since its opening in August 2018. Boasting three farms in Cameron Highlands, chef Miller is also heavily involved growing crops and new vegetables that aren't common to Malaysia like kohlrabi, artichokes and heirloom veggies. At Flock, you'll be able to sample the freshest ingredients that are prepared in very creative ways. If you're one who wants to eat healthy, Flock is a great place to enjoy a hearty farm-to-table dining without feeling too guilty for overloaded calories.
Every dish at The Farm Foodcraft is created from scratch using fresh ingredients sourced from local farmers. There is also a 'secret' hydroponics lab — its own urban farm — where vegetables and micro herbs are grown and served at the restaurant (it doesn't get any fresher than that). There is an extensive menu of savouries and sweets, ranging from the humble Chicken and Mushroom Pie to the reimagined lei cha featuring crispy puffed rice.
Executive Chef Tyson Gee is a big fan of Malaysian produce and traditional cuisine that's layered in multi-cultural nuances. The Canadian-Chinese chef travelled across the country — both Peninsula and East Malaysia — to try out everything from exotic herbs to street food. From there, he finds inspiration to create a menu that centres around modern Malaysian cooking while working with local suppliers for the freshest ingredients available. These include Bario rice from Sarawak, local fruits, herbs, seafood and even poultry. ATAS also ages its duck meat in-house — and it is a must-try item in its latest menu.
Before the farm-to-table concept boomed in KL, the muscles behind Sitka have already been championing this in its restaurant. Local ingredients are heavily highlighted in a menu that offers a balance of sweet, savoury and everything else in between. Chef Karlyn Teo, who's currently the head chef at Sitka, takes diners on a journey into the backyards of Malaysia with familiar produce like Bentong Ginger and heirloom tomatoes from Pahang.
Of course, let's not forget Malaysia's sole entry in the Asia's 50 Best Restaurants 2019 list — Dewakan. Here, diners will be tantalised with a slew of innovative and reimagined modern Malaysian cuisine that highlights ingredients from our very own backyards. Foraged produce, local fruit and small-batch producers are highlighted creatively in the menu. From petai miso to buah kulim (a type of native fruit that is used as an alternative to salt), as well as other unusual mind-blowing pairings, Dewakan offers a refined spread made using the best Malaysia has to offer — only for ardent food connoisseurs and adventurous foodies at heart.