While we don't know how long the latest MCO is going to take, here's something to look forward to once dining-in is permitted.
Before the government announced round three of the MCO, we got the chance to try something new in these two established restaurants in the Klang Valley: Beta KL and Playte. Unfortunately, you won't be able to try these two restaurants on delivery during the MCO, but you can always keep them in your bookmarks until dining-in is permitted. In the meantime, allow us to feed your eyes with what we had during our time there.
Playte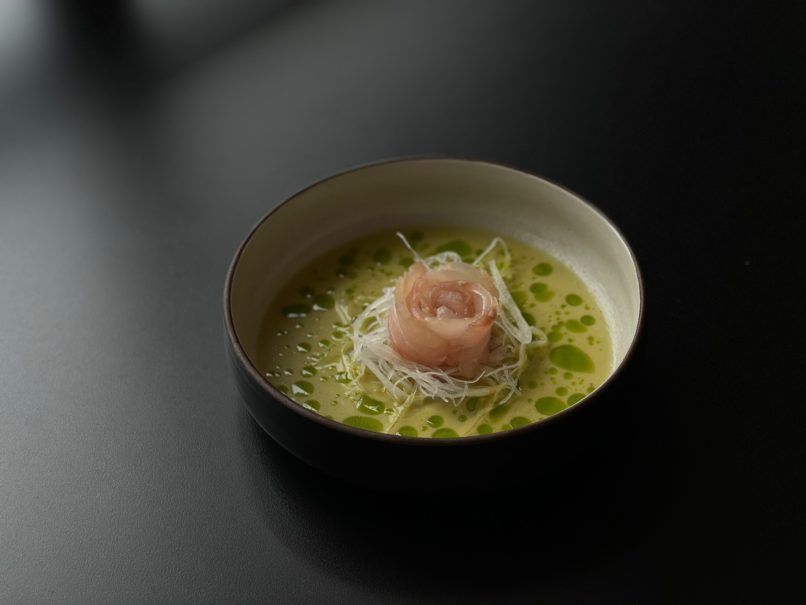 Start off your meal with Duck Confit on scallion pancakes topped with beetroot ketchup. It may look unassuming, but pop it into your mouth and allow the flavours to take over. The scallion pancakes has a nice crisp while the flavourful duck confit reminds us of our favourite tuna-on-crackers snack — except this one is way fancier. Once your palate has been piqued, order the Raw Snapper. It's served with a familiarly-flavoured Thai basil and calamansi dressing with daikon shavings. Unravel the raw snapper and swirl it around in the Thai basil and calamansi dressing — it has both a herbaceous and tangy taste, complementing the snapper well without overpowering the delicate flavour of the fish.
Need more starters for your meal? Don't worry, we've got you covered. Try the Cabbage Roll that's served with prawn mousse and an Asian-style Sauce Vierge. Slice open the cabbage roll and you'll be greeted with a delightful filling that might be just as good as a main dish. Be sure to swirl it dip it in the generous sauce, because it gets better.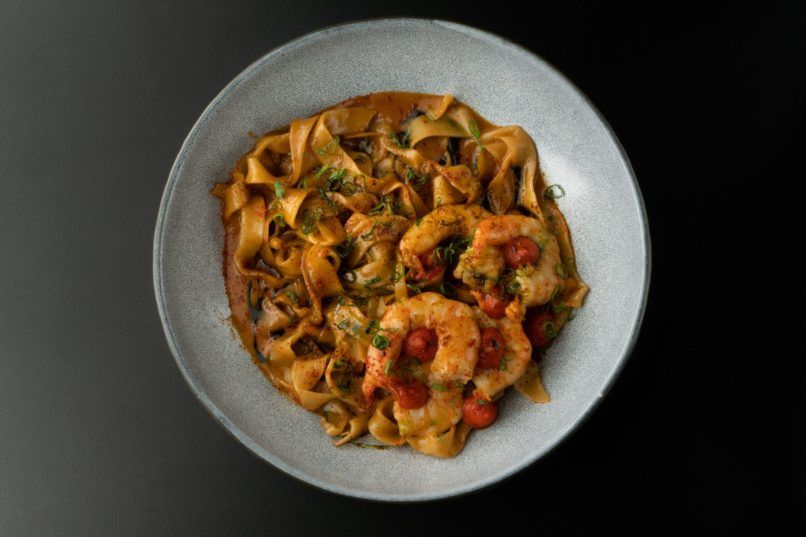 But of course, that wasn't your mains. If carbs are one of your major food groups, you'll need to try the Tiger Prawn with homemade noodles. This decadent sauce is rich in flavour, all thanks to the prawn head stock that's been simmering away for hours. There's a bit of a heat in the sauce coating the noodles too, thanks to some sambal action in there. Don't order this if you're wearing a light-coloured outfit, because in your ecstasy of slurping this up, an accident will happen.
Alas, you wore white. No matter — there are other mains you can order that will complete your meal too. The Lamb is a winning choice, comprising a loin, fillet, and belly cut in one plate and served with harissa, Szechuan pepper oil, and a side of king oyster mushroom. There will be heat and it is very much welcomed in this dish to cut through the rich, heady flavour of lamb. Count yourself lucky that you won't need to choose between three cuts, because you'll get a taste of them all.
Wrap things up with the dessert, of which both choices are extremely refreshing: Coconut Gelato or Soy Ice Cream. The former comes with passionfruit curd and pumpkin, while the latter has longan granita, kaffir lime leaves, and a cube of milk cake. Both are great options, so defy convention and order one of each.
Beta KL
Beta KL needs no introduction, and a strong selection of items in its modern Malaysian menu has garnered a solid fan base amongst its regulars. You know which ones they are: the inverted curry puff, oyster in kedondong granita, and more. While the lawas rice risotto we had during our previous visit is no longer on the menu, Chef Raymond Tham has more than made up for it with new dishes that are sure to blow your mind.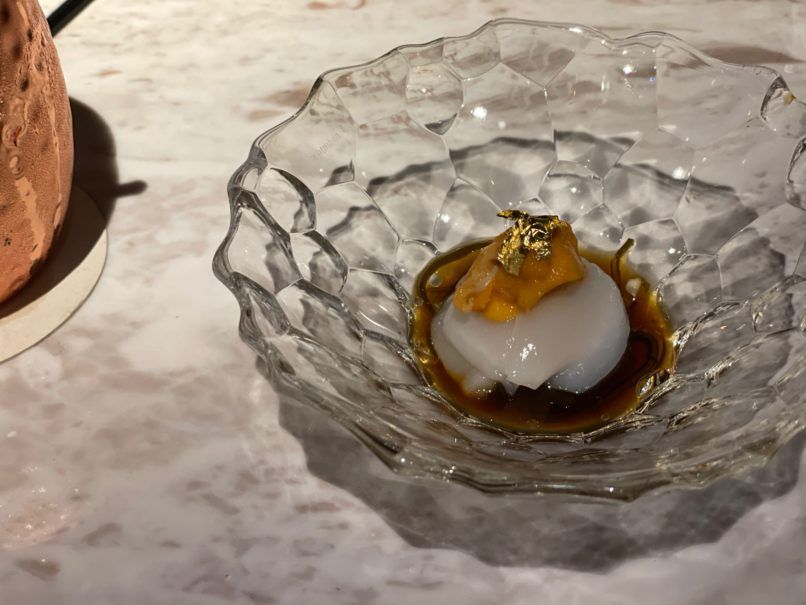 For example, the Hokkaido Scallop in the Tour of Malaysia menu (RM350) is perhaps one of the most decadent seafood dishes we've had — sliced scallop and seaweed noodles sit atop a homemade pineapple vinegar ponzu sauce, topped with slivers of uni. Let's not even start with the next course, which was a generous serving of Foie Gras dusted with curry and garum. Not many may know of garum, which is a fermented fish sauce dating all the way back to ancient Roman times. Chef Raymond took the condiment and dehydrated it, turning the sauce into a powder form that's full of flavour, not unlike the building blocks of monosodium glutamate (MSG). Of course, this is in no way the processed version — it's as fresh as it gets.
For the mains, I had to try the Empurau Fish, which Chef Raymond spoke highly of. Hailing from Sarawak, it's the most expensive freshwater fish in Malaysia — and for a good reason. Wild empurau fish has an interesting diet of buah kabang — fruits from the engkabang tree, that most vegetarians will know as vegan butter. The fruits from the overhead tree drops into the river, and the empurau fish feeds on it, making it a staple of its diet. The resulting flesh of the fish is nutty and creamy — not unlike cod fish, but not as overpowering as the latter.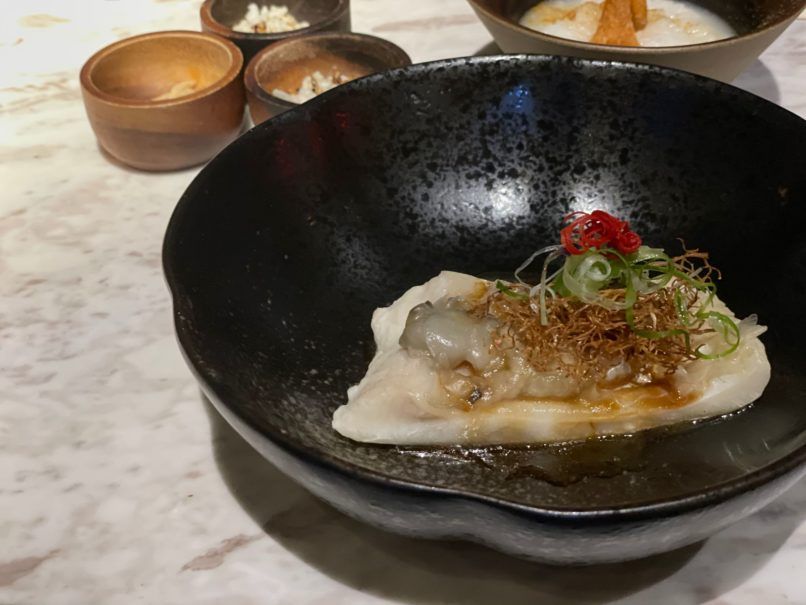 Naturally, with such a prized fish, the only way to do it justice in a dish is to prepare it in a most subtle way to fully enjoy its flavour. The Beta KL way? Steamed while wrapped in seaweed and served with a side of lawas rice congee and a myriad of toppings like deep-fried fish scales. While simple in appearance, it was absolutely comforting in flavours. Neither elements overpowered each other — instead, they all came together in subtle harmony. Indeed, steaming the fish was the best way to bring out its true flavours.
Are you salivating yet? Now you have two places to check out once dining-in is permitted.