Bangkok is home to an eclectic culinary scene with the best of both worlds. That includes award-winning restaurants like Nahm, Bo.Lan and Gaggan as well as the humble local fares zigzagging the streets in the city. If you look closely, you'll also be able to stumble upon the Michelin-starred street food, Jay Fai that's featured in Netflix's Street Food series.
But sussing out for halal food in Bangkok can be a tad tricky, especially when you're in a kingdom that predominantly observes Buddhism. If you're in the Sukhumvit area, there are plenty of commercial centres and malls such as Terminal 21 and Central Embassy where you can find clusters of halal eateries around. There are also a number of Middle Eastern restaurants here where halal food is aplenty. Meanwhile, near the Chao Phraya River, you'll find quaint artsy cafes around Phra Arthit Road and restaurants in Khao San Road where pork-free Thai cuisines are also accessible.
As for the night markets, the Phetchaburi Night Market is known for a slew of halal Thai food in Bangkok on top of the must-have som tam dish. There are plenty of meat grills as well as seafood available but dine with caution because it can get a bit messy, especially when you're in a chaotic place like the night market. 
If you're still unsure of where to go, we've made it easier and more convenient for you. Here is a list of halal restaurants in popular parts of Bangkok that you can check out when you're in the vibrant Thai capital city.
There is an extensive menu here featuring Thai and Indian cuisine. On top of Thai staples like tom yam and green curry, expect to savour the biryani and Indian curries as well. The restaurant is spacious and is able to host large groups. But if you're here alone, be sure to order Beef Red Panang Curry and some plain chapati (or Japati, as the restaurant calls it). It also has a section that caters to vegetarian diners.
If you're around the Pratunam area, head over to Maedah Restaurant for its Thai, Arabic, and Turkish menu. This quaint restaurant serves a mean Thai steamed fish that has a great balance of spiciness and tanginess. Pair your meal with a refreshing cha yen, also known as Thai iced milk tea.
Also in Pratunam area is a famous Thai restaurant where you can tuck into an authentic bowl of tom yam soup and other classic Thai dishes. The restaurant is known for several varieties of tom yam soup like the fiery red one or the white coconut milk broth. If your heat tolerance is low, be sure to let the staff know to make it less spicy for you. And just a gentle reminder, the chef loves to take selfies with his diners – so prepare for a candid shot.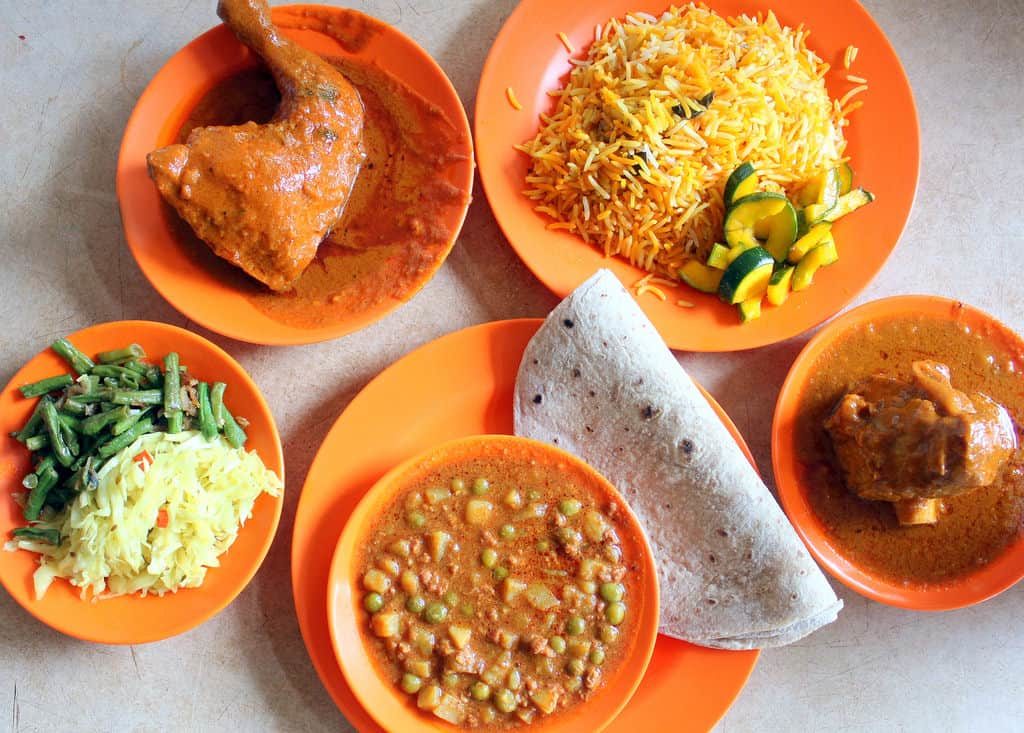 This pan-Arabic dining place is where you find yourself satisfying your cravings for hummus, baba ganoush and crispy falafel on top of the spread of Egyptian cuisine. It operates 24/7, and its location in Sukhumvit (near the Nana area) is perfect if you're looking for something to eat after midnight. Come here for flatbreads that are great with the spiced stews and sauces.
Located in the large MBK Centre, Yana Restaurant is where you'll find affordable and authentic Thai food in a comfortable environment. You can come in large groups and still manage to find seats for everyone. There's a wide variety of zesty salads as well as the usual suspects like tom yam, kra pow and crab meat omelette — everything is guaranteed halal.
Visiting Chatuchak is a must when in Bangkok. After shopping at Chatuchak Weekend Market, head over to Saman Islam for lunch or dinner. This halal restaurant is known for its generous portions despite being slightly more expensive than other street stalls. Come here for its pad thai, beef noodles and other Thai snacks like fish cakes, som tum and catfish salad. Saman Islam is only open on weekends.
Thai Muslim cuisine doesn't stop at just Thai food. Yusuf Pochana is where you find authentic Thai Muslim dishes that hail mostly from the south. While you should try the Thai-style biryani with yellow rice and roti mataba (it's like the usual murtabak), you should never miss out on trying the hearty soups and Kuruma Peh, a goat curry that they are known for at this Muslim-owned restaurant.
Another place to refuel after a long day of shopping in town is Usman Thai Muslim Food. The restaurant is homey and comfortable, serving you unpretentious home-cooked dishes like the usual Massaman curry, deep-fried seabass, crab curry and papaya salad. Try also its Pad See Eew and wash it all down with the tantalising mango sticky rice.