The holy month of Ramadhan is another reason for our Muslim brothers and sisters, and people of all races to come together harmoniously to observe a joyous season of togetherness. Oftentimes, we all come together around food.
With that in mind, hotel restaurants around the city have prepared something special exclusively for Ramadhan and these range from street food favourites to Malay night bazaar dining experiences. Some even go to the extent of digging out generational family recipes; there's Chef Halim from The Westin KL presenting his signature northern-style beef soup, a recipe he learnt from his late mother, and fascinating heirloom recipes from the south by Chef de Cuisine Norazizi Taslim and Malay Banquet Chef Mohd Ridzwan over at The St. Regis KL.
We are also excited to sample (again) the exclusive Royal Cuisine of Pahang at Mandarin Oriental Kuala Lumpur. These dishes here are courtesy of the royal palace based on a personal collection of recipes from Her Majesty Permaisuri Agong of Malaysia. We've had a taste and dare we say, it is one of the best buka puasa spread we've ever had.
So if you're already planning a month-long buka puasa feasts with family and friends, you should not miss out on these ten best Ramadhan buffets in and around the city. Here's your definitive guide to Ramadhan buffets in KL you have to try this year. (Featured image: Mandarin Oriental Kuala Lumpur)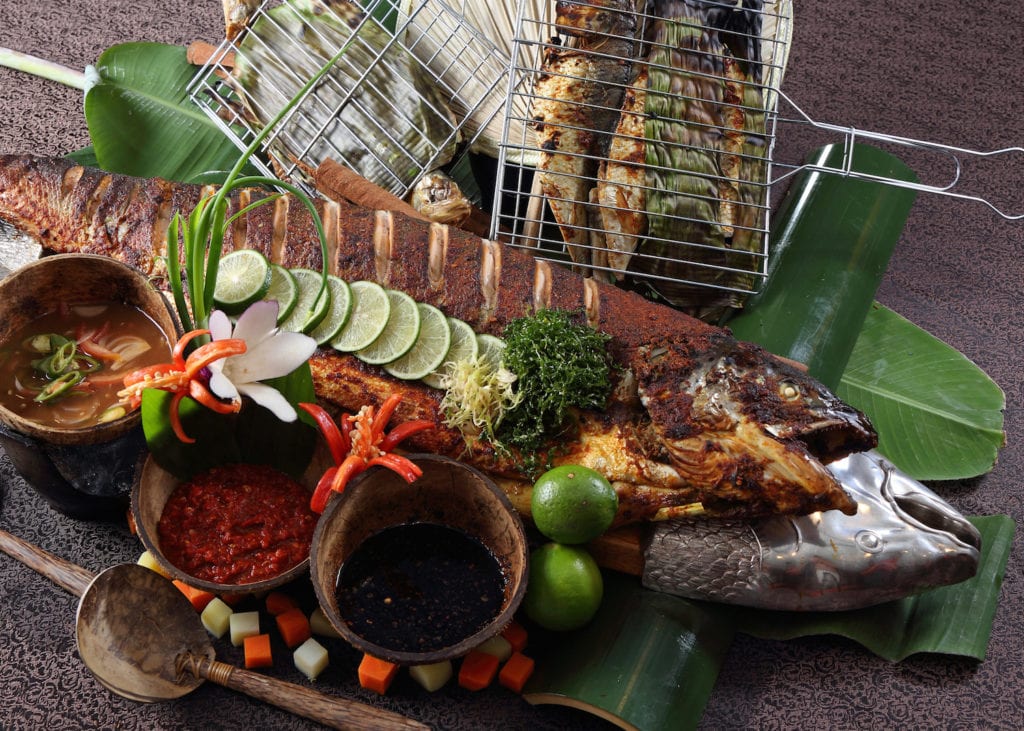 Gather at Essence Restaurant for a bounty of delicious food and share the joy of wholesome family-style dining. The restaurant's kitchen team has fashioned a 'Selera Kampung' culinary experience that consists of traditional Malaysian and Mediterranean dishes. Guests can savour the authentic aromatic flavours of Gulai Kawah Rusuk Lembu (beef ribs stew), Kerabu Pucuk Paku (fiddlehead fern salad), and Asam Pedas Ikan Pari (stingray cooked in tangy broth). Don't forget to get a slice or two of its Roasted Lamb that is marinated in strong Mediterranean spices.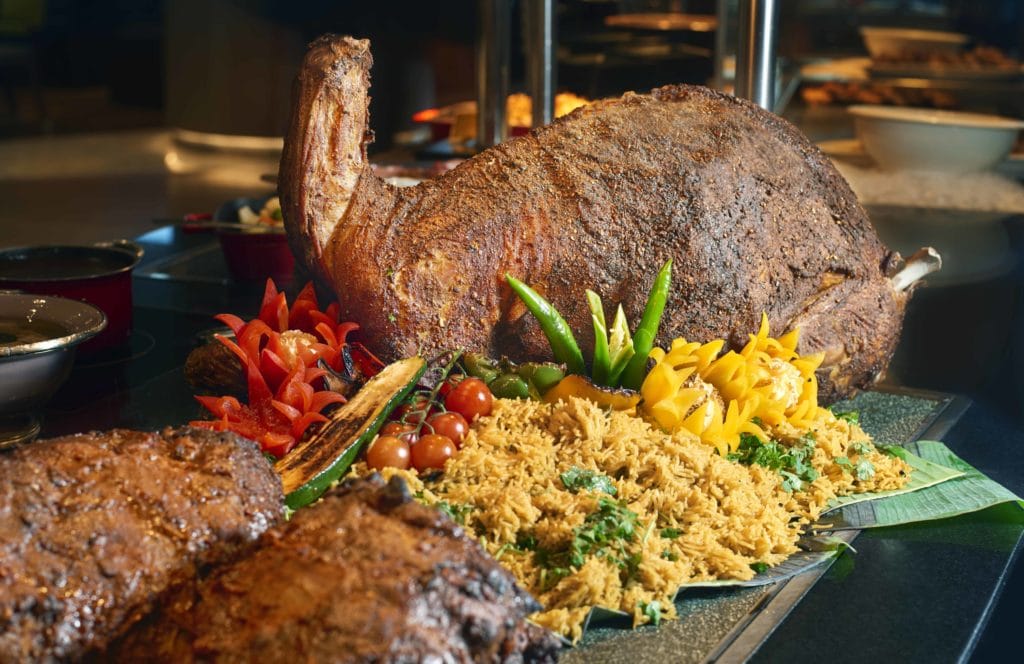 Chef Budiman and his culinary team at Latest Recipe have prepared a gastronomic feast specially for Ramadhan. Indulge in an elaborate spread of quintessential Malay cooking comprising Briyani Ayam as well as chef's signature Roasted Lamb that is marinated with Al Kausar spices, Asli sauce and Barak marinade.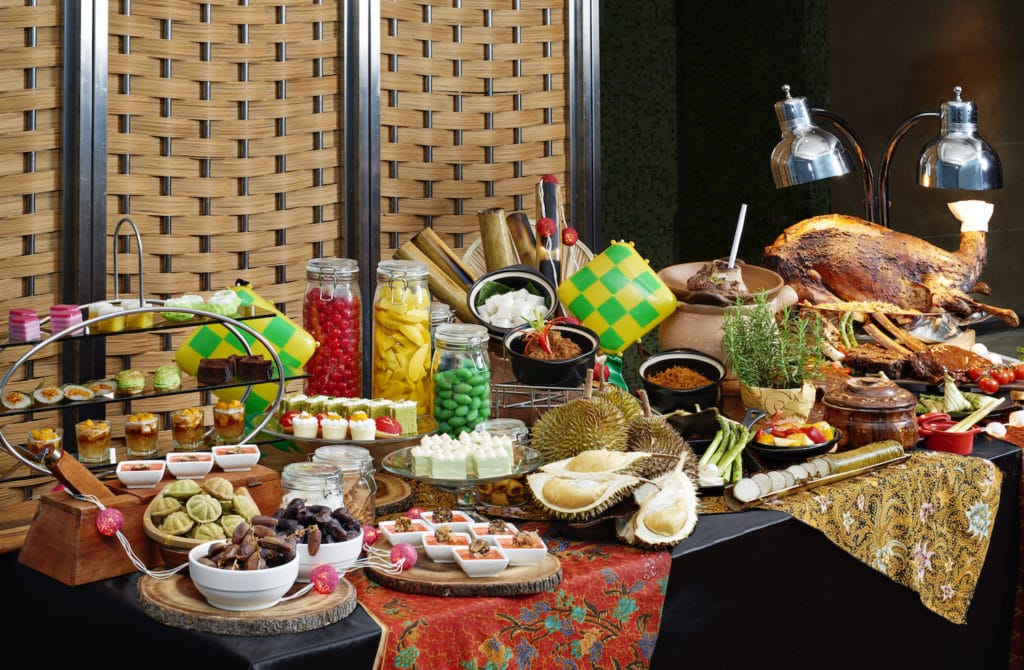 If you're already in the city centre and don't want to be stuck in traffic before breaking fast, head over to The Westin Kuala Lumpur for its Ramadhan offerings at The Living Room. Makan Bagus-Bagus Lah! Jom Berbuka offers a compelling blend of the delicious and the nutritious. Come and reunite with loved ones as you savour a scrumptious spread of Malaysian kampung favourites including Chef Halim's signature beef soup.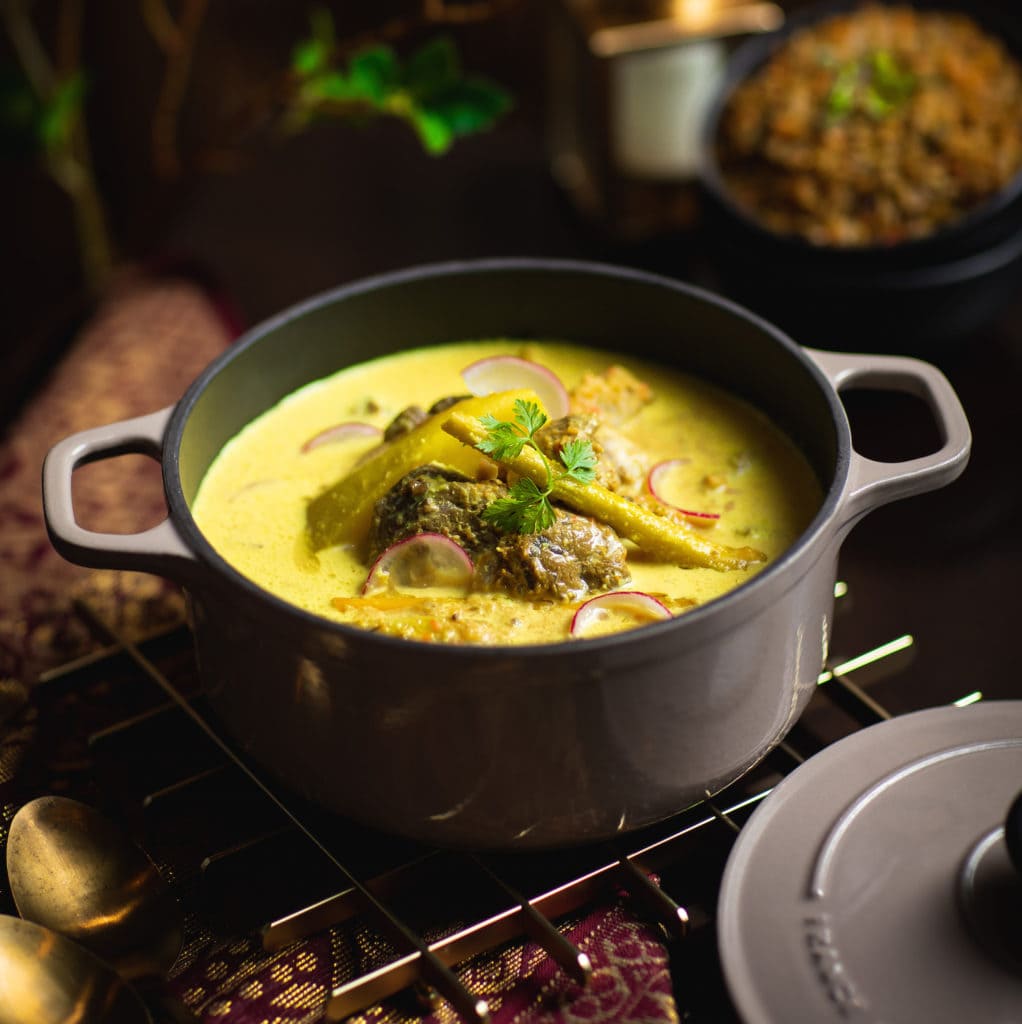 The St. Regis Kuala Lumpur will be transforming The Astor Room into a festive setting during the special month of Ramadhan from 10 May to 2 June 2019. The 'Malam Warisan Melayu' feast features generational dishes from various peninsular states of Malaysia. Among the standout dishes are Chef Mohd Ridzwan's Sri Menanti Chicken Kalio and Mambau Smoked Lamb with Bird's Eye Chili; both originating from Minang cuisine. Enjoy these rich and creamy dishes with chef's signature Batu Pahat Basmati Moghul Gam Biryani.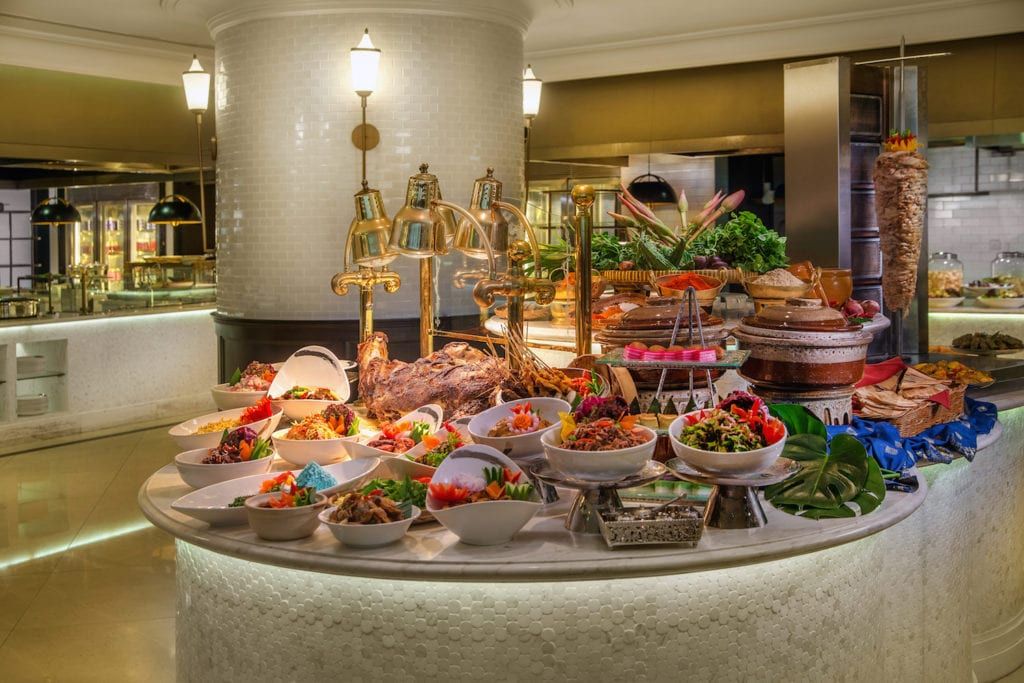 The chefs at The Cobalt Room are teaming up for a stellar showcase of signature dishes representative of the 13 states in Malaysia. Relish in famous dishes such as Asam Pedas Ikan Tenggiri from Malacca, Ikan Patin Masak Tempoyak from Pahang, Laksa Kedah as well as Terengganu's Nasi Kerabu. There are also a variety of desserts including Cik Mek Molek from Kelantan and Sarawak's Kek Lapis. Guests will also be able to enjoy a live Middle Eastern kitchen with two shawarma stations. These wraps are best eaten with its homemade hummus as well as the many sambal dishes like Sambal Udang & Petai served at the buffet.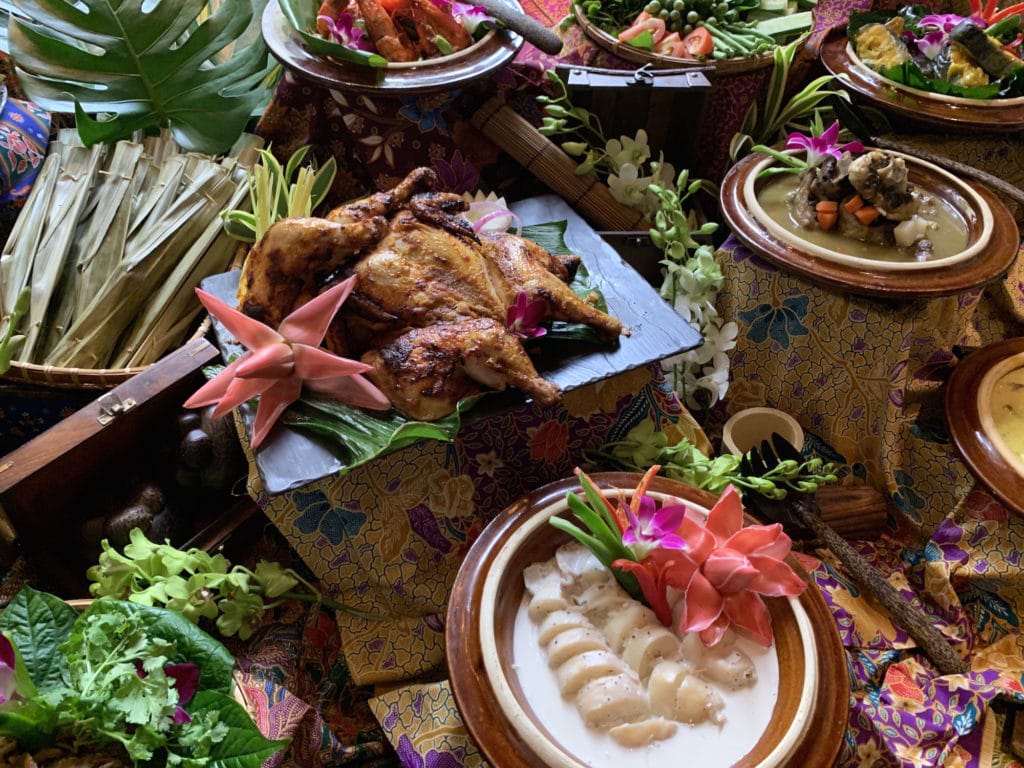 Mandarin Oriental Kuala Lumpur is collaborating with the Royal Palace for the first time in preserving local culinary heritage. The Ramadhan buka puasa feast will feature an exclusive array of the royal cuisine of Pahang based on the personal recipes from Her Majesty Seri Paduka Baginda Raja Permaisuri Agong Tunku Hajah Azizah Aminah Maimunah Iskandariah Binti Almarhum Al-Mutawakkil Alallah Sultan Iskandar Al-Haj. Don't miss out on this special menu that features classic favourites like Ketupat Pulut Sotong, Sambal Pahang, Urab Nangka, Opor Burung Puyuh and Ikan Patin Pais Tempoyak. The buffet will be served at Mosaic throughout the holy month but if you like the total royal experience, Mandarin Oriental KL has arranged something special at the Diamond Ballroom from 13 to 26 May 2019, where you break fast while enjoying traditional gamelan performances.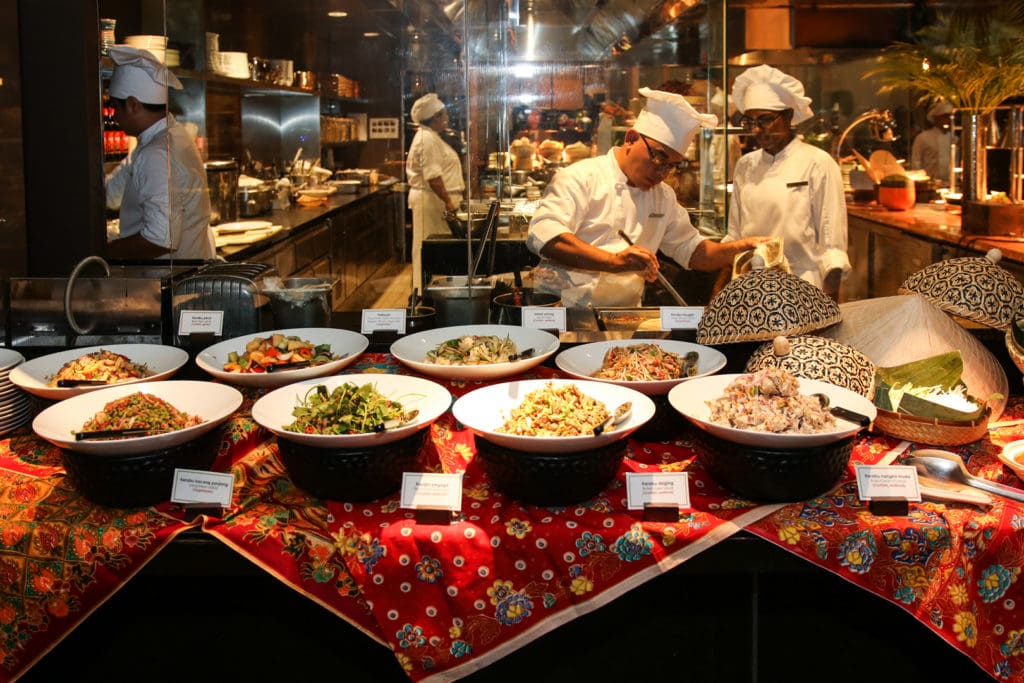 Explore authentic Malaysian cuisine at JP Teres this Ramadhan month with harmonious flavours of all ethnic groups. Curated by Chef Nazib and Chef Sanjay, guests can enjoy over 150 dishes as they check out all 20 live-cooking stations set up at the restaurant. Try the slow-cooked Kambing Golek at one of the carving stations, nasi kandar, Middle East specials as well as JP Teres' signature Chinese roasted duck pancakes. Break fast with some barbecued meat and seafood that are fired up upon order.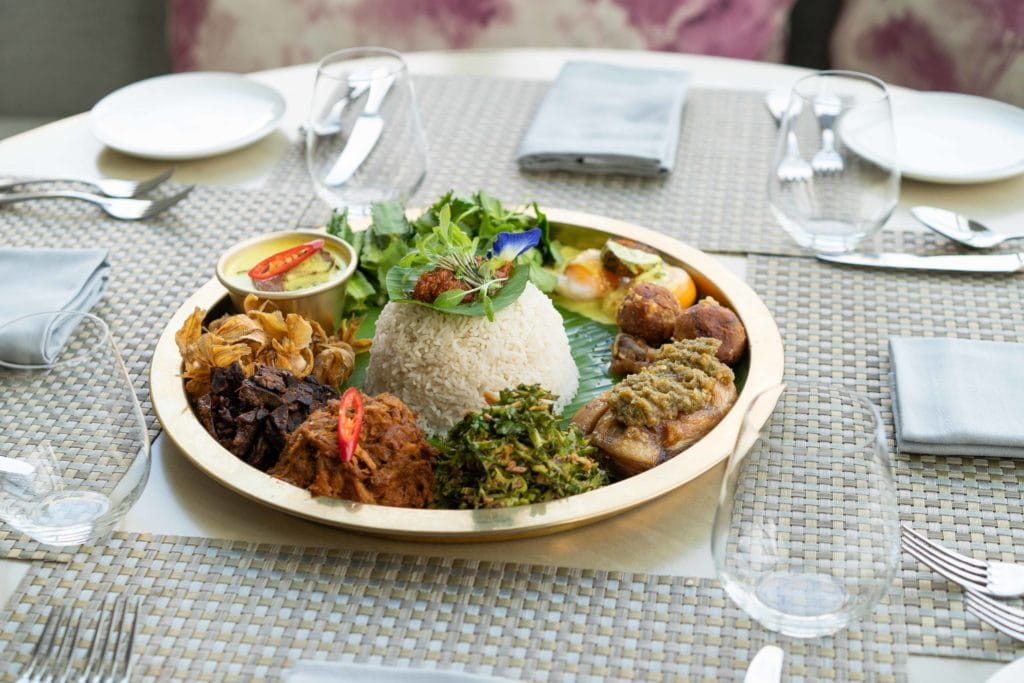 Four Seasons KL's Executive Chef Junious Dickerson is teaming up with celebrity Chef Dato' Fazley Yaakob this Ramadhan season with a special culinary showcase at Curate. Dato' Fazley takes guests on a special journey into his childhood memories with a variety of traditional recipes that were handed down to him by the matriarch in his family. From Gulai Daging Salai (smoked beef in turmeric stew) and Daging Dendeng (dry rendang) to local salads like Hinavar (raw fish and lime appetiser from Sabah) and Kerabu Jantung Pisang (banana heart salad), one visit to Curate is not going to be enough to savour all this feast has to offer.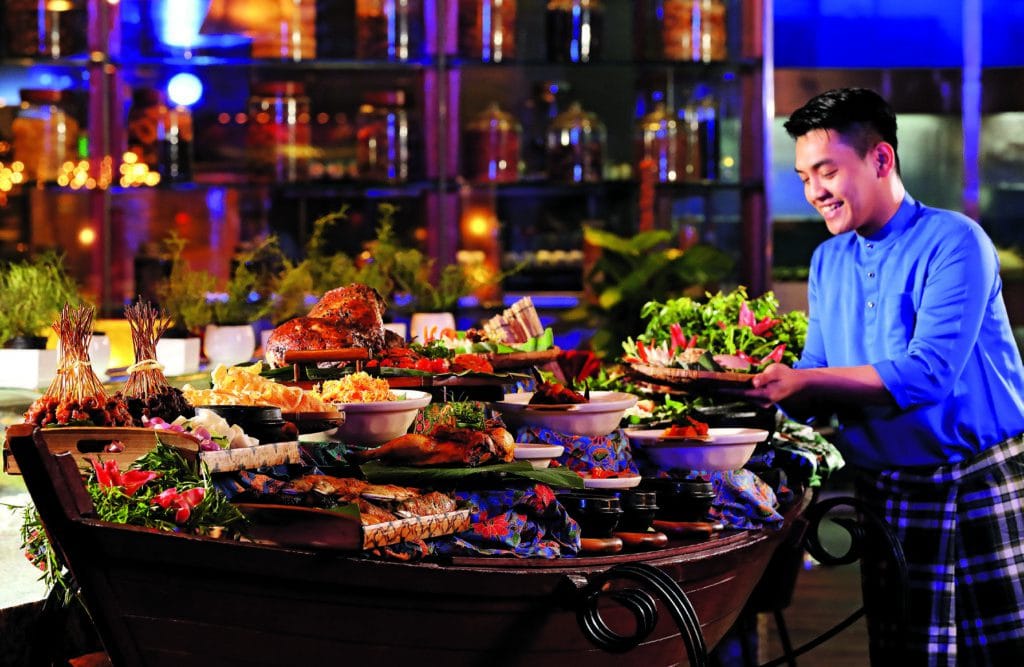 Chef Rafizan Abdul Rahim has crafted an extensive menu set in a creative village setting specially for Ramadhan featuring a vibrant and exciting traditional Malay culinary showcase served in specialty stalls. Head over to Gerai Rojak Buah for some appetising local fruit salad and Gerai Ikan Bakar for perfectly flamed spiced fish. The spread also consists of authentic dishes like Rendang Daging Tok, Sup Ekor and Bubur Lambuk. Complement these dishes with a slew of condiments like sambal belachan, cencaluk (fermented krills) and budu (classic Kelantanese condiment), as well as fresh ulam.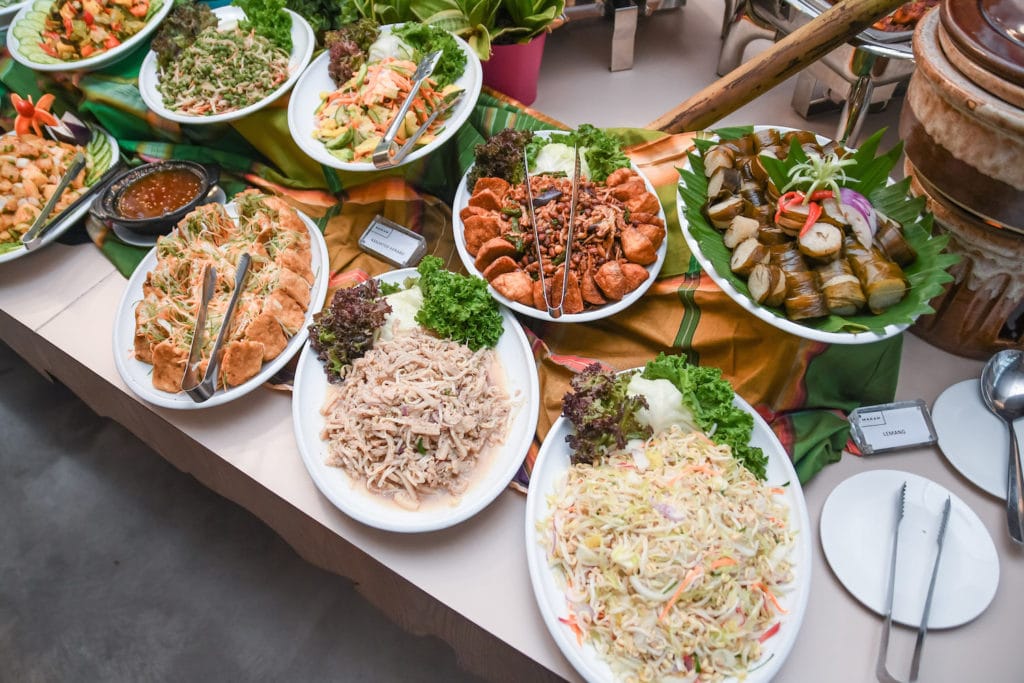 For those catching a night flight on the way home, or couldn't make it back to the city in time for buka puasa, or simply want to experience somewhere out of the city centre, Makan at Tune klia2 is your best choice. The traditional Ramadhan spread spotlights the classic Laksa Johor on top of other traditional dishes like rendang, lemang and lamb briyani. Head over to the carving station to sample your meat of choice – lamb, beef and chicken. The Ronda Ronda Buka Puasa promotion also comes with a slew of decadent desserts including the all-time favourite Sago Gula Melaka.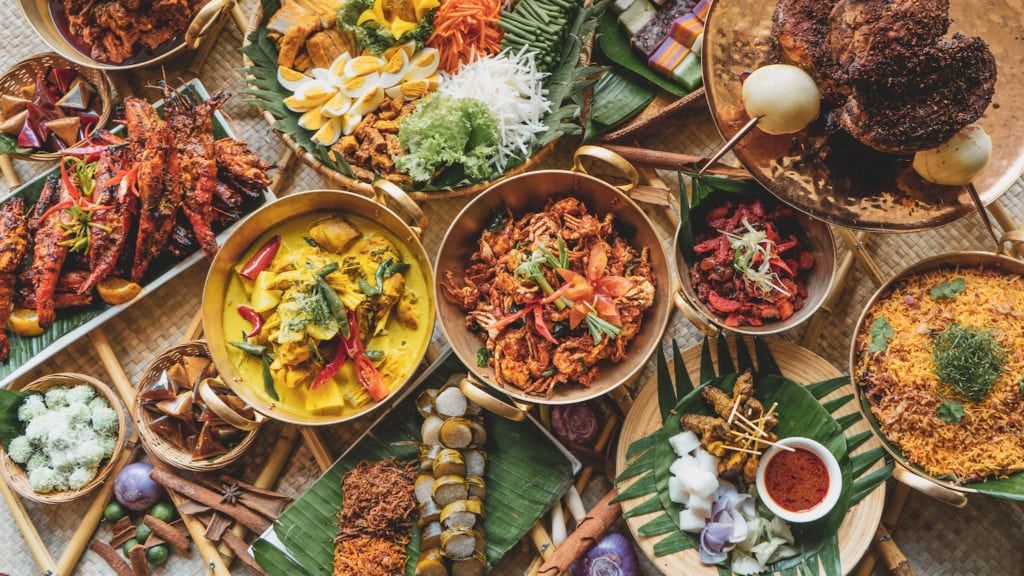 Sample more than 100 classic Malay recipes from around Malaysia prepared specially by Chef Zaidi and his team at The Majestic Hotel KL. Expect robust flavours and spices from the kitchen's signature sambal udang galah (lobster sambal), rendang kambing (mutton rendang) and ketam lemak cili padi (coconut milk crab stew). Pair this with a variety of rice options including the traditional lemang, ketupat and nasi minyak.