The true mark of cocktail appreciation is when you decide to attempt recreating your favourite cocktails at home. So you've ventured into making your own gin & tonics with alternative tonic waters and you're now feeling confident to try out more complicated cocktails. But first, you'll need some basic bar tools.
Similar to cooking tools, these basic bar tools will form the fundamentals of creating most, if not all cocktails. There's no use in trying to swap some of these tools for makeshift ones you have in your kitchen because these have been designed specifically for bartending — save for the hand juicer.
Just as much as you need certain tools for bartending, you don't need to get them all. Unless, of course, you're deciding to go pro. Stick to the fundamental six bartending tools we've listed below, and you'll be on your way to creating some impressive cocktails at home. Once you've done some shopping, it's time to stock up on cocktail recipes.
1
Boston Shaker
The most basic bar tool you'll need is the Boston shaker. There's the regular shaker as well, but the Boston shaker specifically comes in a two-piece set consisting of a 16 oz. cup and a shaker. This is perfect for any drink (alcoholic or non-alcoholic) that needs to be shaken. The Boston shaker is also versatile because the cup half can be used as a mixing glass for your stirred cocktails, which means you don't need to get another mixing glass. If you find it difficult to separate the two pieces after shaking your cocktail, just give the neck of the shaker one or two stiff smacks — the top half will come off easily.
2
Hand juicer
Most cocktails require the use of citrus fruit juice, which means you'll need some way to get the juice out without unboxing your giant electric juicer. Behold, the simple and basic hand juicer. An almost primitive design that still holds true in modern times, all you need to do is simply cut your citrus fruit in half, press down on the domed area, and squeeze the juice out.
3
Hawthorne Strainer
There are several kinds of strainers, but the Hawthorne strainer will be the most basic one you'll need in your home bar. It's easily identifiable by the coil around it, and it's designed to be used with your Boston shaker. This is especially useful when you're mixing your drinks with ice, but you don't want any ice in your resulting cocktail. The strainer also helps with sieving out extra ingredients such as herbs, pulp, and citrus fruit seeds that you may not want in your drink.
4
Jigger
While bakers have measuring spoons and cups, bartenders have jiggers. This two-sided cup typically measures 1 1/2 ounces on the larger cup and 3/4 ounces on the smaller cup. Use this to measure the amount of spirit for your cocktails.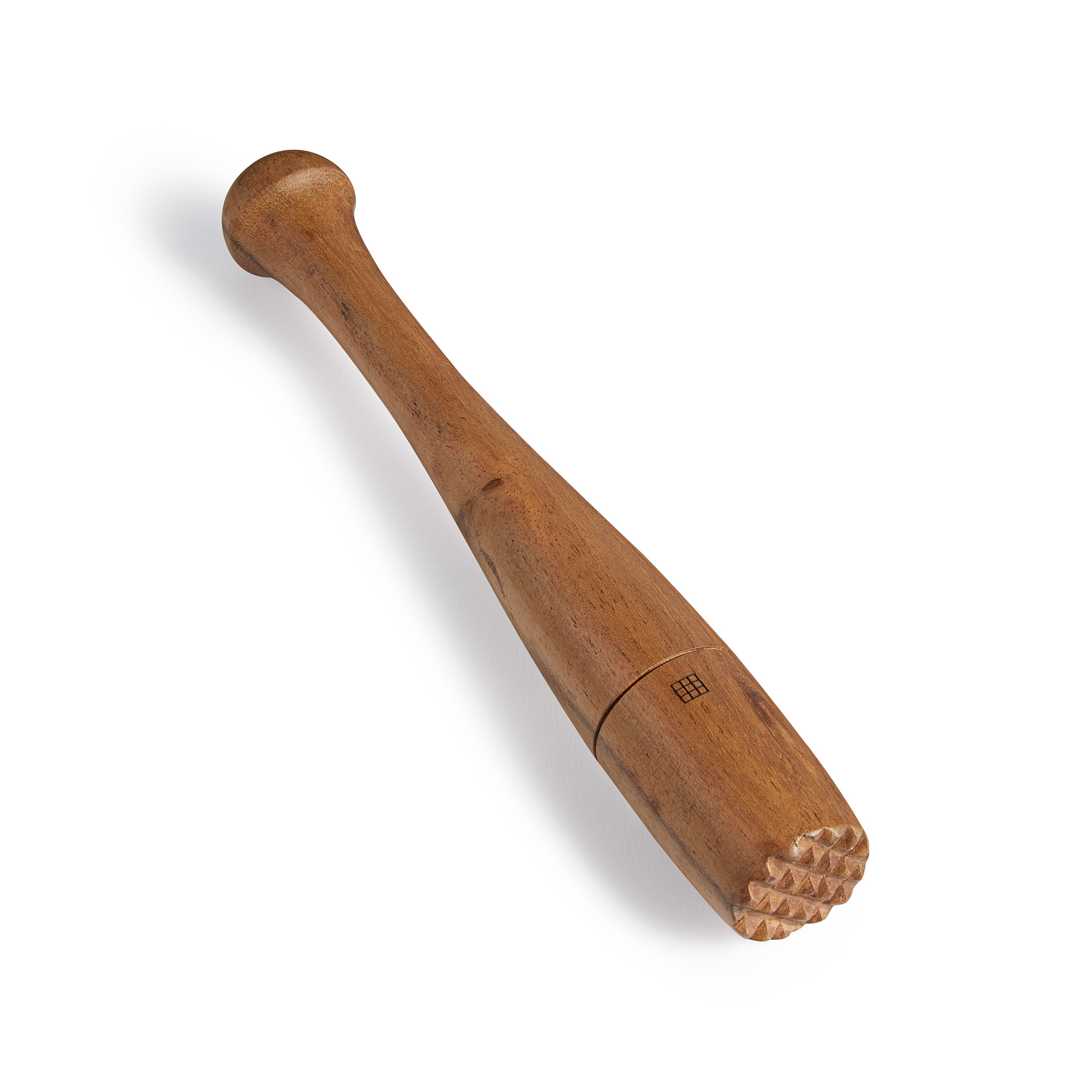 5
Muddler
Think of the muddler like your pestle, but for cocktails. This tool helps crush and mix cocktail ingredients together without giving you the same smush that a blender might otherwise result in. Muddling certain herbs will also help release their herbaceous properties into cocktails without being too overpowering.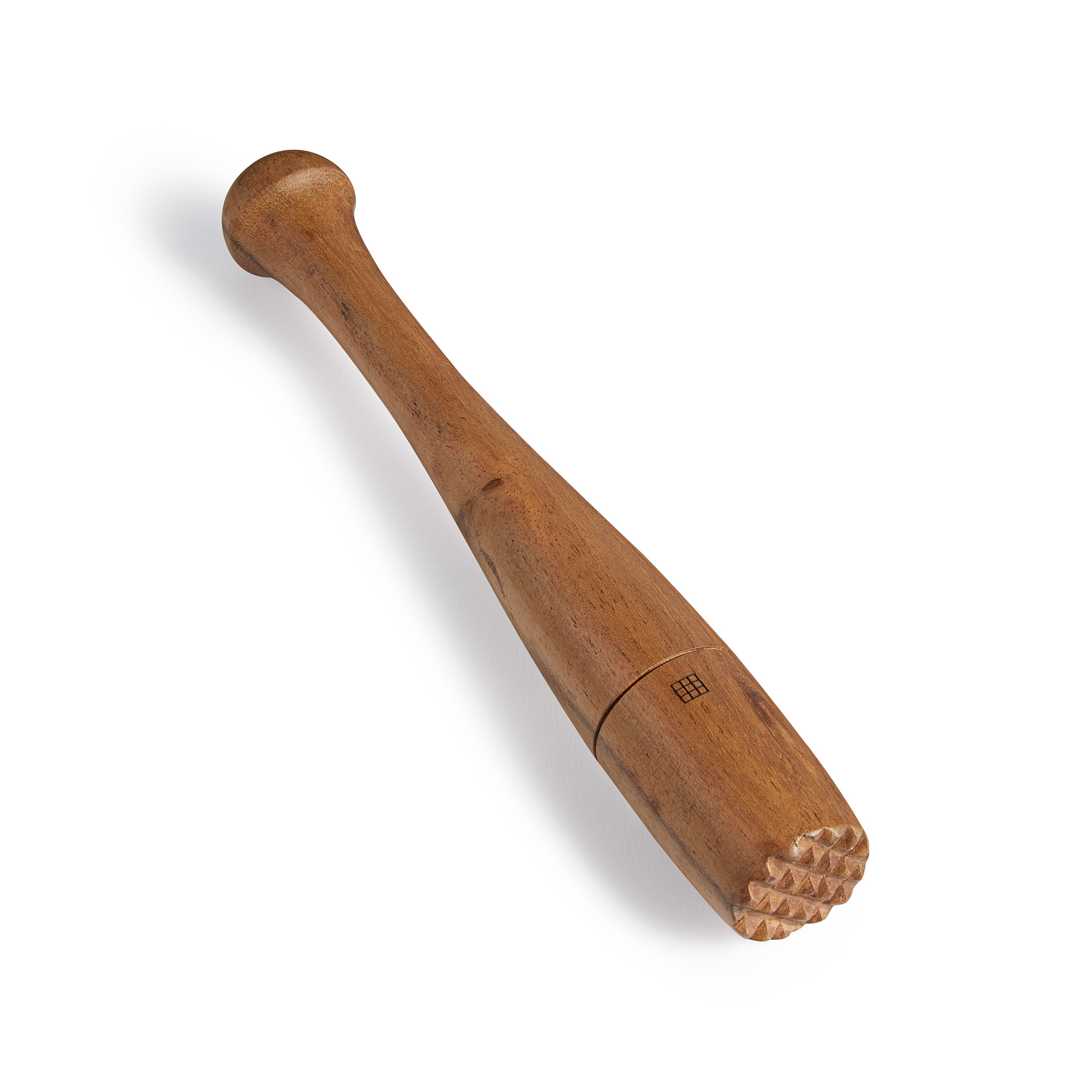 6
Bar spoon
The long-handled bar spoon has a variety of uses. The first and obvious one is to stir your cocktails. It takes a bit of a skill to master the art of stirring — do a slow and gentle swirl on the outer corners of the glass rather than a rough mixing technique. The twisted shape on the spoon's handle is actually functional, as you are intended to pour liquid down the stem so that it doesn't splash back at you. One bar spoon is roughly equivalent to a teaspoon. Bar spoons are usually selected over the shaker when you're making a cocktail in the glass that it will be served in, or when you want to gently combine the ingredients.