Running out of drinks ideas to make at home? Worry not — we're here to supply you with more cocktail recipes from the top hotel bars around the world.
Like everyone else, we too have been hit by extreme cabin fever and it's not just about staying at home. It's about travel bans and not being able to indulge in our wanderlust. And as far as international travel is concerned, we can't yet see the light at the end of the tunnel. The best we can do at this point in time is hope, do some virtual travelling, and drown our sorrows with a cocktail or two.
Now here's an idea to combine two of those activities: trying out these cocktail recipes by some of the world's top hotel bars including The Upper House in Hong Kong, Sweni Lodge in South Africa, The Fullerton Hotel in Sydney, and more. You've been cooking and baking up a storm — it's time to pair those with a nice, refreshing glass of cocktail. If you've already exhausted your list of classic cocktail recipes, this new list should keep you busy for a while.
1
Bob's Old Fashioned
Bob's Bar at Capella Singapore has given the classic Old Fashioned cocktail a Southeast Asian rendition with Asian spices and the hotel's exclusive Navegante Rum.
Ingredients
Navegante Rum
Sugar syrup
Angostura bitters
Homemade allspice dram (ovenproof rum, brown sugar, allspice berry, and cinnamon)
Cigar tincture
Chocolate to serve on the side
Directions
Place a large ice cube in an Old Fashioned glass.
Combine rum, syrup, Angostura bitters, allspice dram, and cigar tincture
Garnish with an orange twist
2
The Spirit of Sweni
With this cocktail, we invite you to travel to Kruger National Park in South Africa and stay at the Singita Sweni Lodge, a luxury safari experience. Minus the herd of elephants and pride of lions, you can instead put on a safari documentary and make this gin-based cocktail.
Ingredients
25ml of your favourite gin

100ml fresh lemonade

100ml tonic water

Ice cubes

½ lime

½ kiwi, chopped into chunks

2 slices of green apple

A sprig of mint 
Directions
Pour all the ingredients into a mixing glass with ice cubes and stir well.


Strain into a chilled cocktail glass.


Serve straight with a garnish of lime, add the kiwi chunks, green apple and mint.
3
Upper Southside Cocktail
Over at The Upper House in Hong Kong, we invite you to sit down at Cafe Gray Bar for a spot of Upper Southside Cocktail. This Hendrick's gin-based cocktail is a refreshing one, perfect for a sunny day — which seems to be nearly every day in Malaysia.
Ingredients
50ml Hendrick's gin

20ml fresh lime juice

20ml sugar syrup

3-4 pieces of fresh cucumber chunks

3-4 fresh mint leaves
Directions
Place the mint and cucumber chunks into a shaker. Add syrup, lime juice, and gin, then lightly muddle the concoction.


Add ice and shake for 6-8 seconds.


Double strain the liquid into a chilled martini glass.

Garnish with a cucumber slice.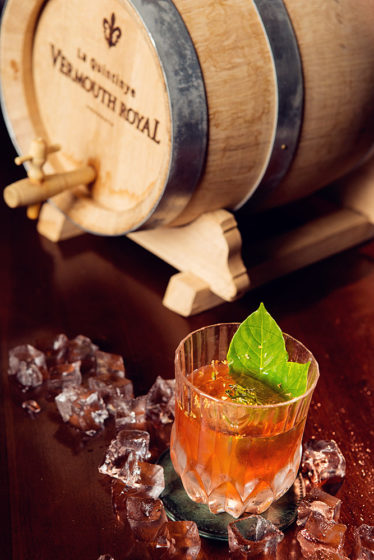 4
Sichuan Negroni
What's a day in Chengdu like without a bit of Sichuan spice? Bring the heat to your cocktails with this Sichuan Negroni recipe by Jing Bar at The Temple House. This is made possible with a Sichuan pepper-infused Campari, which you can definitely try to recreate at home.
Ingredients
50ml G'Vine Floraison gin infused with Sichuan Osmanthus fragrance for 48 hours

15ml La Quintinye Vermouth Blanc

15ml Campari infused with Sichuan pepper for 12 hours
Directions
Combine all ingredients into an ice-filled mixing glass and stir well.

Strain into a chilled glass.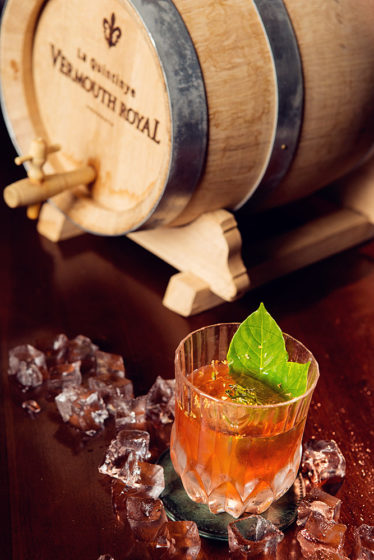 5
Sydney Sling
Now, we're going down under to The Fullerton Sydney in Australia. Shake up a glass of the hotel bar's signature drink, the Sydney Sling. Inspired by the Singapore Sling cocktail, this version is sweet with a touch of spice to balance the flavours out.
Ingredients
45ml gin

45ml blood orange juice or grapefruit juice

15ml hibiscus or elderflower liqueur 

10ml ginger liqueur or 20ml ginger juice

25ml fresh lime juice  

10ml fresh ginger juice (if using ginger liqueur)

10ml Grenadine 

20ml sugar syrup 

Dehydrated ginger slice for garnishing
Directions
Combine all ingredients and shake for five seconds.

Strain into your desired glass over ice and enjoy.
6
Negroni
Love the Negroni cocktail? Allow Union Bar at The Opposite House in Beijing to give you a different take on the classic. The bar's cocktail is garnished with a slice of dry ginseng instead of orange peel to give the drink a herbaceous flavour that's a nice balance between bitter and aromatic.
Ingredients
30ml Citadelle Gin

30ml Campari

30ml Mancino Vermouth

Dry ginseng slice for garnishing
Directions
Combine all ingredients into an ice-filled mixing glass and stir well.
Strain into a chilled glass.