Malaysia's first independent whisky bottler, Eiling Lim, lives a life surrounded by stupendous, intoxicating wines – a way of life we all dream of.
Fortunately for her, she lives up the road from France. As spring gives way to summer and as the weather gets more predictable, it means it is time for her to brush aside the cobweb on the steering wheel, embark on a pilgrimage to the viticultural mecca of Burgundy and pick out her favourites on this trip. 
In my job routine of nose, sip and write, people generally perceive that I love writing down tasting notes, purely because I have been doing that for years as an independent bottler for whisky, gin, rum and so on. Now for the very first time, I am approached to write about tasting notes for wine and it robs the fun of just sipping wine without needing to identify the aroma, the flavour profile and to describe how good or bad a particular wine is.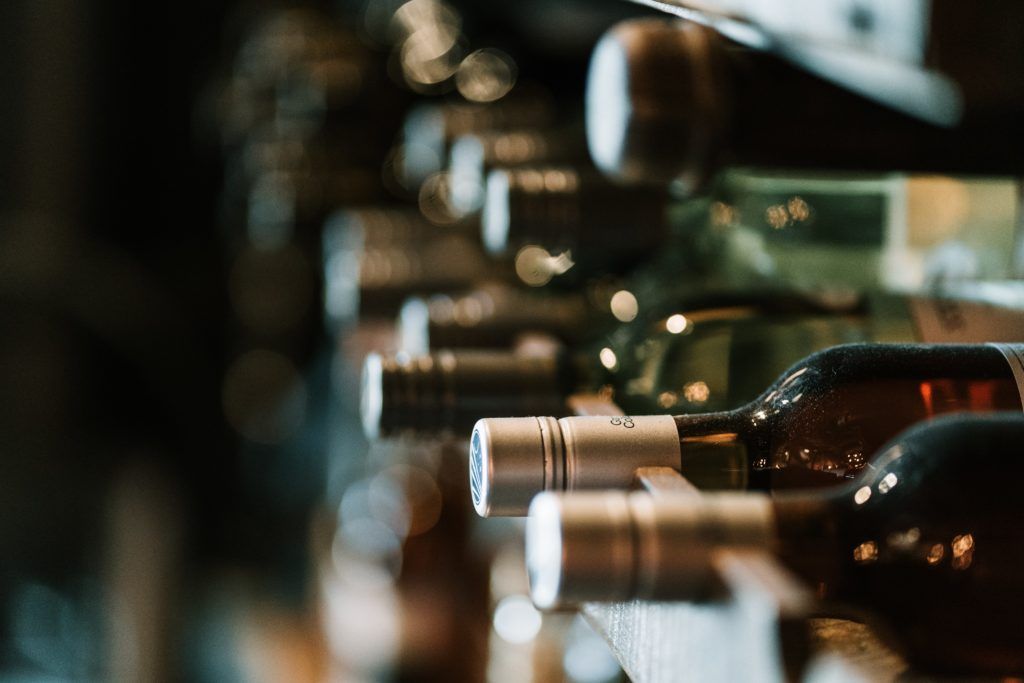 It is easier said than done simply because I have to regurgitate what I just drank and string the words into sentences. It isn't easy, especially after the fourth, fifth and sixth glasses. Therefore for this assignment, I won't be writing about the conventional wine tasting notes strewn with the familiar descriptions that most people won't want to read – and yet editors seem to want them. 
Wine is about emotion
Wine tasting for me is an emotional experience and it is a process conjuring up feelings. It is not about the depth of cherry or strawberry undertones that I discover in a bottle but more of why I like it so much or what I don't enjoy about it. 
Starting off my first wine review with Lifestyle Asia KL, I feel like I am going back to my blogging days. I was in my early 20s and it was also the period I learned to appreciate wine. You might wonder and ask: Between whisky and wine, which do I prefer? The answer would be the latter.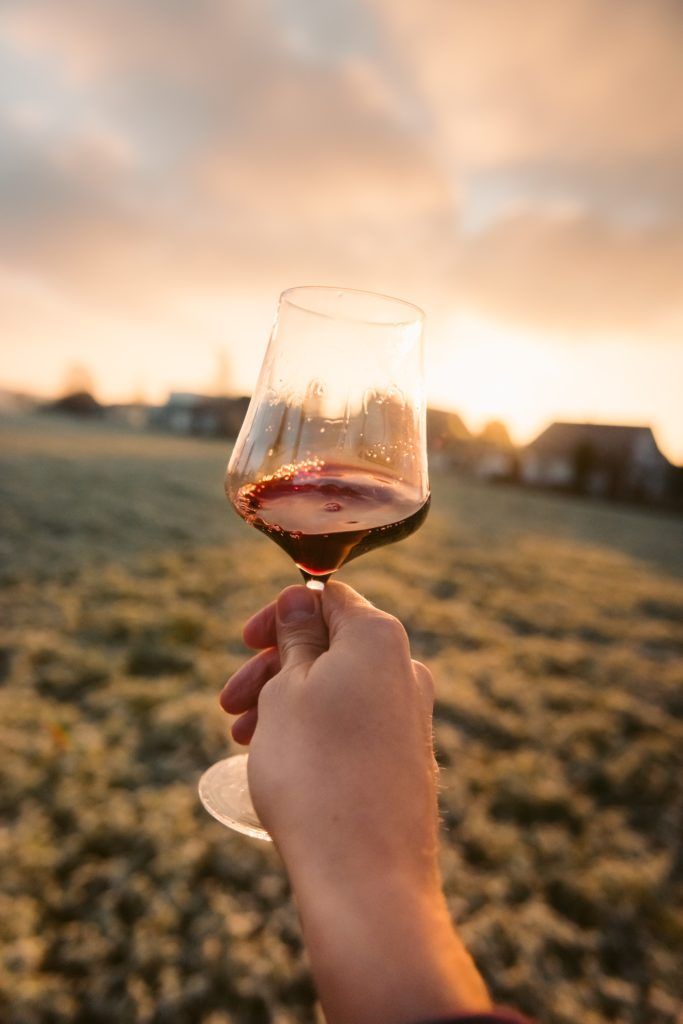 Wine is more than just a drink in a Zalto glass for the sophisticated people mingling in a fancy restaurant, because most of the time, when I am sipping wine, I am at home, reclined on the couch and dressed comfortably in pyjamas. Everyone can enjoy a glass, anytime and anywhere, even when you know nothing about wine at all. 
Now with a little over 12 years of wine-sipping experience, I have developed an affinity for French wine. The journey started with an innocent bottle of Australian Shiraz to now being a huge fan of Burgundy (aka "Bourgogne" in French). I believe one's palate evolves when one is open to trying and tasting new expressions. As I pen down my thoughts here, I am going through a list of 25 bottles of wine we opened in Burgundy during my visit last week and I'm going to choose a few to be featured here. 
Starting off with fine bubbles 
During the drive to Beaune, my husband and I stopped by Champagne Paul Launois located in Mesnil-sur-Oger in the region of Côte des Blancs. This small village houses the world's best champagnes like Salon and Krug Clos du Mesnil. 
Julien Launois and his wife Sarah were so kind to host us when we stopped for a night at Champagne. An artist by trade, Sarah designs the labels for all their champagne expressions, while the forward-thinking Julien was the person who initiated the single barrel concept.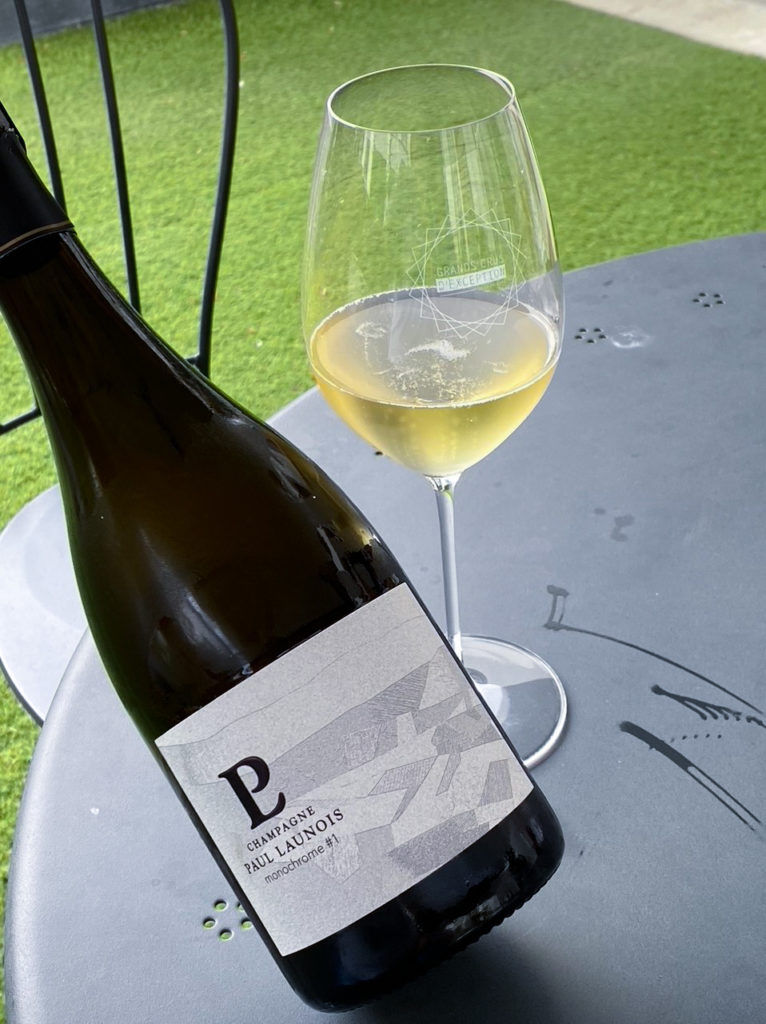 I was impressed with their NV Monochrome #1 which is a Grand Cru Blanc de Blancs (100% Chardonnay) with a very low 2 g/L dosage based on the Chardonnay-friendly 2017 vintage, with 17% reserve wines that have seen both oak and stainless steel ageing.  I love the fine bubbles, a less yeasty kind of bubbly with citrus peel, flowers and salty minerals coming through to reflect the chalky soils of the area. This is a fresh champagne perfect to be consumed now or in a year or two. It is an easy-going champagne yet with a bright acidity. You can discern the soft and rounded bubbles dancing on the palate. 
The label is modern, in monochrome with a background of the vineyard, an excellent artist's impression from Sarah. All the decadence for just a fraction of the price compared to his prestigious neighbours. Think about it: The vines responsible for Monochrome #1 share the same dew drops with Krug Clos de Mesnil lieu-dit.  
Krug resonated with me
The other champagne that we popped on this trip was Krug Vintage 2000. It was my ultimate champagne when I was in my 20s. I still remember that my friends and I blind tasted 4 bottles coming from big champagne houses and this was my clear favourite. 
This bottle was consumed at a restaurant serving the best roast poularde de Bresse in Beaune in classic French style. The first bottle the sommelier opened was unfortunately corked, but fortunately he had another one in the cellar. The second bottle was perfect and we had the champagne decanted.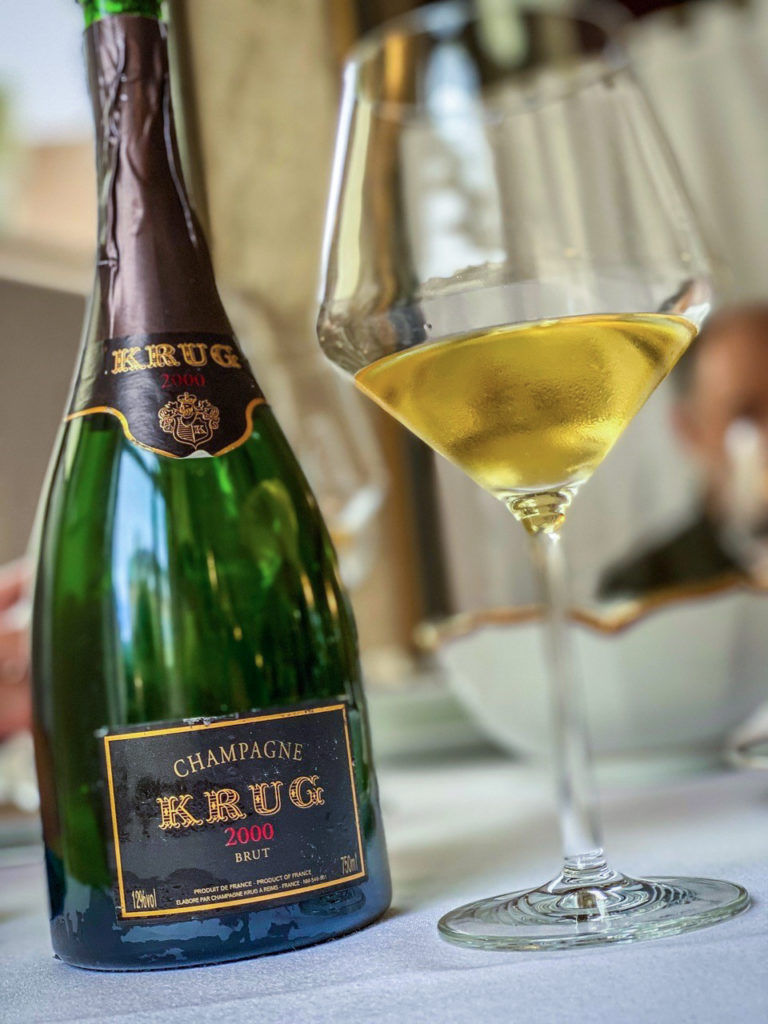 A vintage Krug like this one here is a blend of the most expressive wines from a single year and matured for 10 years in the cellar before being released. This is the last vintage of the millennium and Krug calls it a "Stormy Indulgence", desiring the wine to express what a chaotic year it was, especially weather-wise. An extreme year pelted by rainstorm and copious sunlight, nonetheless, the harvest was bountiful and the wine was rich and complex. 
Krug 2000 is a dramatic champagne. After 21 years, it exhibits secondary aromas such as kumquat, lime zest, hazelnut, caramel, ripe apple and a freshly baked brioche. It is great to drink now and for me, this is at its peak. The finish is sublime due to the delicate effervescence. It articulates like a fine Burgundy white. A sip of Krug and a spoon of caviar makes a great pairing. It is so gorgeous that I could put my nose to it the whole evening.  
Time for Burgundy whites
We made our way to the Côte de Beaune, subregion of Burgundy where there are a few outstanding Grand Cru vineyards. I'm a huge fan of Burgundy white wine, primarily due to the fact that it is made from 100% Chardonnay. In the commune of Puligny-Montrachet, the 3 highly rated Grand Cru vineyards are Chevalier-Montrachet, Montrachet and Bâtard-Montrachet. 
We had dinner at Ma Cuisine on the first evening in Beaune. This is the place for traditional French cuisine, coupled with a heavenly wine list. Often, we look for hidden gems within these hundreds of lines of names.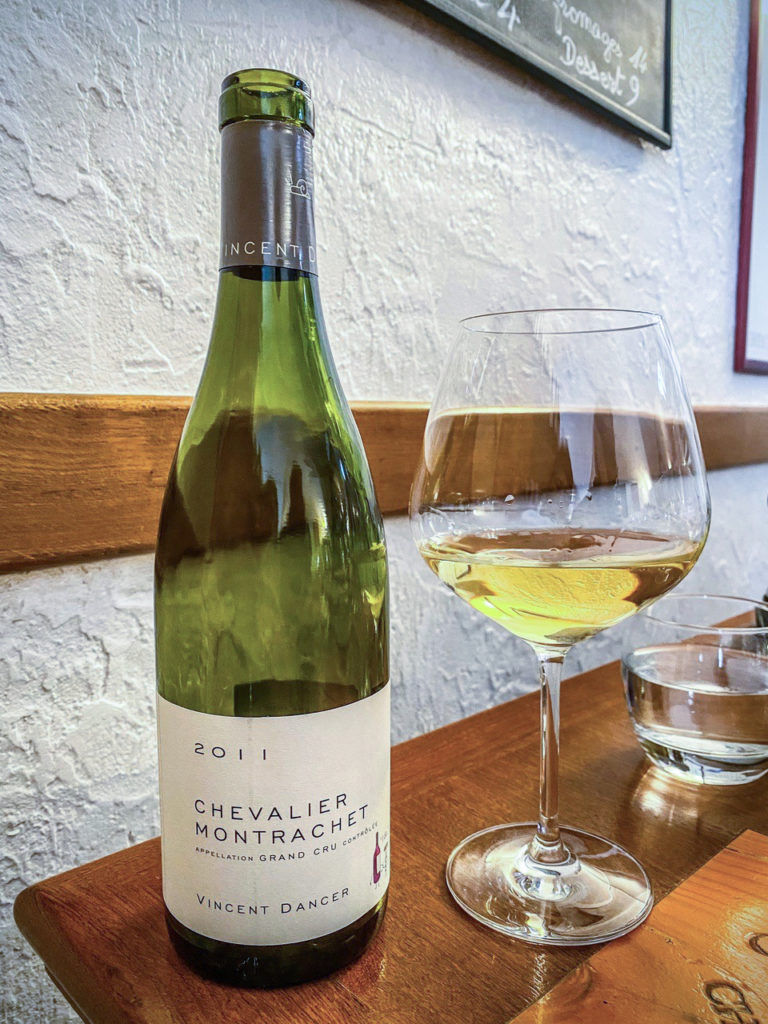 That very evening, we opened a bottle of 2011 Vincent Dancer Chevalier-Montrachet. Although 2011 is not as exceptional as 2010 or 2009, it is a year of elegance as opposed to intensity and concentration. This bottle is so rare to the extent that I tried looking for it online and I couldn't find any. 
His wines are well known among a small circle of restaurateurs and wine lovers, who religiously procure from him year after year. Dancer has a tiny 0.1 hectare parcel of Chevalier planted in 1952 that sits in the highest part of the top left corner of the vineyard, where it has the same elevation as Le Montrachet and it is worked by horse. That is why the back label states only 300 bottles of this wine are made, entirely from a single barrel. 
This light golden hued wine exudes whiffs of white flower, flint, lemon and green apple. The recommended drinking period is around 2019-2022 and I think this is the right time to enjoy this bottle as there is little acidity present. On the palate, it is vibrant and very pleasant. No doubt it is well made, balanced and elegant, and this is reflected in the price. His wines are some of the highest priced from Chevalier-Montrachet. 
Still the best wines 
In the same commune of Puligny-Montrachet, we ordered a bottle of 2007 Domaine Leflaive Puligny-Montrachet 1er Cru Les Pucelles. Domaine Leflaive is one of the most famous estates in Puligny-Montrachet and also one of the most important producers in Côte de Beaune. The 2007 bottle was re-corked due to many cases of premox (premature oxidation) plaguing their whites from vintage 2006 onwards. Many wine lovers were fed up with the premox bottling and had no choice but to feed these wines to the kitchen sink.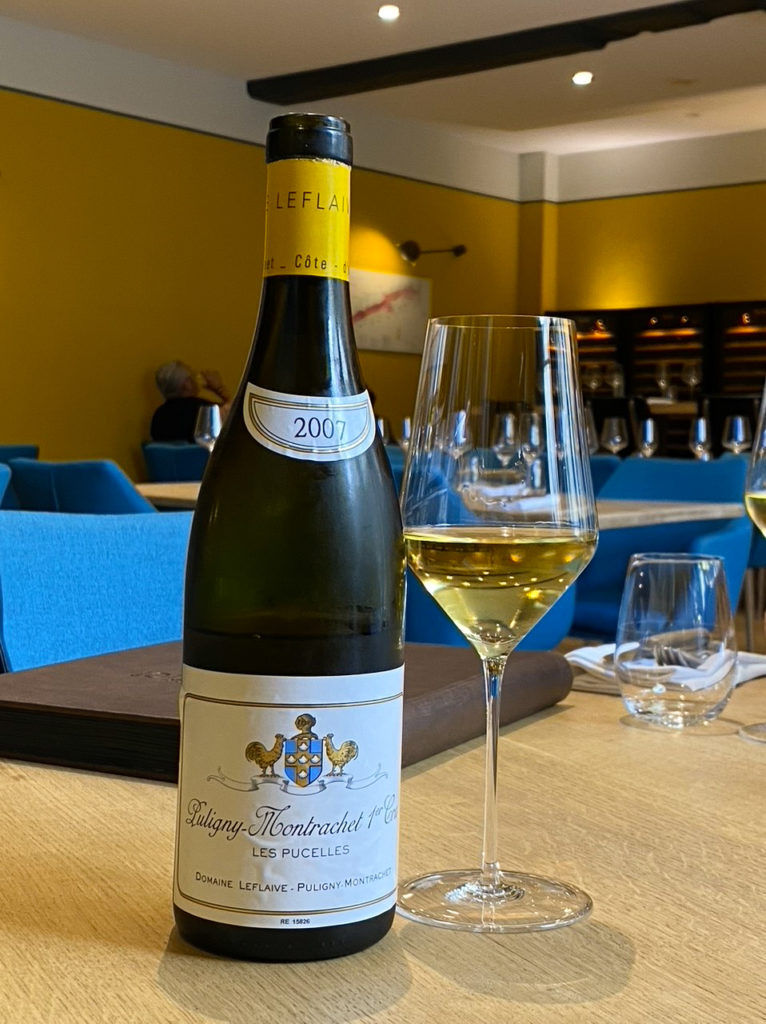 From 2007 onwards, a few producers abandoned natural corks and made a switch to DIAM closures and this domaine is one of them. This 2007 Puligny-Montrachet 1er Cru Les Pucelles has a nice golden hue with no signs of premox. The nose is filled with apple and pear, lemon zest, vanilla and honeysuckle. It is a rich, opulent Chardonnay and reflective of the style of the domaine. When it was allowed to breathe, I got limestone and minerality filtering through the fruity notes in the finish. It is an elegant, stylish white with finesse. I would give this bottle a very high score. It is one of those wines to sip at Les Pucelles, overlooking a horizon of vineyards and a clear blue sky. 
The other Grand Cru from this region I tried on this trip was a 2005 Lucien Le Moine Bâtard-Montrachet. Established in 1999, Lucien Le Moine is a small négociant house which produces wine from several Grand Cru sites, including Bonnes-Mares, Le Montrachet, Echezeaux and Richebourg. It also includes some of Burgundy's most famous Premier Cru sites such as Les Amoureuses. This bottle was also consumed at Ma Cuisine. 
We chose this as an aperitif before progressing to Burgundy reds. The wine was decanted because this Grand Cru needed to breathe before the bouquet could fully open up. I loved the deep golden colour of the wine, accompanied by ripe apples and wet stones on the nose. With a rich and buttery texture, it was a perfect match for my Burgundy escargots starter. An evolving wine with balanced minerality and notes of honey and orchard blossom, it surely won't disappoint.
Hero and feature image by Thomas Schaefer on Unsplash. All images by Eiling Lim, unless stated otherwise