There are only five of this special-edition bottle available in Malaysia.
When two greats come together, it's always a cause for celebration. In this case, legendary architect Frank Gehry and a world-iconic cognac, Hennessy X.O. This year is a special one for Hennessy X.O, as the cognac itself is celebrating its 150th anniversary. To commemorate the occasion, Gehry puts his Midas touch onto the bottle to create a beautifully gilded masterpiece reminiscent of his signature structural style.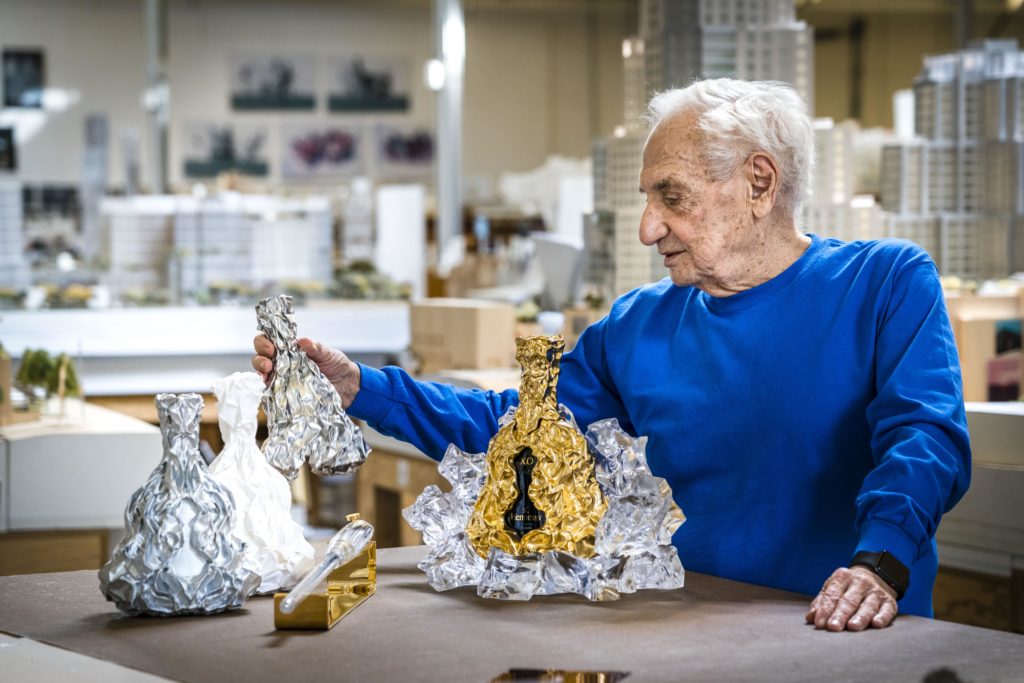 Bringing Gehry into this was no coincidence either. The 91-year-old architect was ahead of his time, bringing unconventional aesthetic into architecture. Just look at the Dancing House in Prague, the Guggenheim Museum Bilbao in Spain, the Walt Disney Concert Hall in Los Angeles, and the Lou Ruvo Center in Las Vegas, to name a few. Similarly, the Hennessy X.O was also ahead of its time, showcasing a daring blend of eaux de vie to create a cognac that would be enjoyed for generations to come.
The result of these two icons coming together birthed this masterpiece. The Hennessy X.O bottle is enveloped in a corrugated sleeve made of bronze and dipped in 24-carat gold. The multifaceted feature brings to mind shimmering water reflecting sunlight, which was the inspiration Gehry had while watching the Charente River in Cognac, France, which runs through the Hennessy Maison. To make the bottle even more resplendent, the decanter sits on a throne of fractured glass glorifier, which further reflects light.
We got the chance to speak to the man himself to find out for ourselves his thought process behind creating this piece – and how it may not be so different from designing a building.
How was designing this Hennessy X.O bottle similar to designing a building?
When we design buildings, we do a lot of research on materials, exterior skin, interior materials, and so on. We're used to studying the character of materials and what they can do, so we have a pretty good knowledge of almost every material in existence, or have at least studied in. This is especially so for metals because we use it a lot on exterior buildings for its reflectivity and tactility. In my early days when we were doing smaller projects, we worked with a lot of wood. In between, we moved on to stones. But every time we think we know all the types of material there is out there, we find another 10 new ones. I love that, discovering new material to work with.
What was your thought process in reimagining the Hennessy X.O bottle in a way that hasn't been done yet?
Well first, I had to know more about the culture of Hennessy. Bernard Arnault (chairman and chief executive of LVMH Moët Hennessy) took me to the Charente River in Cognac, the town, and gave me a tour of the warehouses while meeting the people who are in charge of the barrels. I got a pretty good sense of how detailed their working process was to produce this liquid to get to its zenith. The precision with which they proceeded and their culture around working with it was mesmerising. I mean, I knew stuff like that must have happened, but to see it in person was quite enlightening.
Given that they were situated by the river and the process of making cognac was so detailed, I thought that the bottles or at least, its vessel, had to be designed to measure up to that level. It was a lot of trial and error, trying to work with different materials — all this while, I've been working on things at a larger scale. (When working with glass) that came out of the oven, there were big chunks of black and how it cracked were beautiful. I loved the accidental cracking and the quality of that — it was like nature, somehow. That really inspired me. You'll see that in the (glass) glorifier that surrounds the bottle.
Inspired by feelings that art elicits
As for the metal, many years ago, I went to Delphi in Greece and stood in front of a statue made by an unknown artist. It's called the "Chariot and the Statues of the Charioteer". It's bronze and many, many years old. The label said "artists unknown" and it was so beautiful. The feeling that came to me was so strong that I started to cry, and I realised that somebody in 500 or more years earlier, was able to create something with an inert material that elicited emotions from a character like me.
I wanted to do something that could recreate that feeling. Of course, I didn't have 500 years of culture behind me while making this, but we did a lot of studies into metal, and the final one has a great feeling to it. It's almost like a feeling of power, importance, and gustiness — I don't know how else to say it. It looks like it's been around for a long time, and Hennessy itself has been around for a long time, so it deserves to be seen that way. This bottle design supports that idea, and the texture itself is handmade. We worked with our hands in the office doing that. In fact, it was actually a young Asian boy who worked in the office to do this — his handprints are in there.
On getting the bottle
There are only 150 bottles of this iconic masterpiece in the world, imprinted with Gehry's signature. Alongside this special 24-carat gold bottle, there will also be a wider release of limited-edition Hennessy X.O bottles also created by Gehry to launch worldwide. The latter is retailing at RM938 and available for purchase in Malaysia.
As for the former, Hennessy Malaysia will be hosting a showcase tour for the iconic masterpiece taking place from October 7th to 31st 2020, commencing in Penang and followed by installations in Pavilion KL, Johor, and St. Regis KL. This will culminate in a private final showcase to be held at the St. Regis KL, where the sole five bottles in Malaysia will be auctioned off.
Find out more about the movements of the Hennessy X.O 150th anniversary x Frank Gehry limited-edition bottle here.