Are you excited for Kavalan's latest expression?
Following the immense success of the Solist Vinho Barrique Single Cask Strength, Kavalan has finally announced its sequel, and it'll be the brand's first-ever peated expression. No one thought that the whisky distillery from the picturesque county of Yilan in Taiwan would ever make it big. The producer proved everyone wrong by not only breaking through the international market but by also being named the world's 'best single malt whisky' by World Whisky Awards in 2015.
This award-winning expression was fully matured in ex-American oak wine barrels that were shaved, toasted and re-charred (STR), a technique developed by the late Dr. Jim Swan and Kavalan to enhance the depth of flavour as much as possible in Taiwan's subtropical climate.
The process saw the casks being shaved to remove acid compounds from the wine maturation, before being toasted to bring out all its fruity vanilla notes. They are then re-charred over an intense fire to release other desirable flavours like chocolate and rich caramel, resulting in a whisky that had a bold, expressive flavour profile brimming with berry, plum and caramelised sugar. While it had a smoky characteristic, the Solist Vinho Barrique Single Cask Strength was not considered to be peated, unlike its successor.
This technique will be used once again for the distillery's second STR expression, this time using peated barley.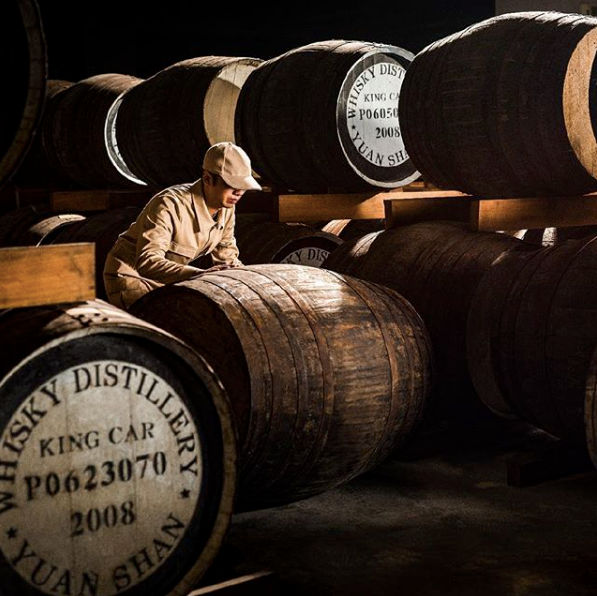 "Kavalan's STR technique awakened the dormant flavours locked within the barrels, resulting in bigger, bolder, fruitier flavours, made possible in Yilan County's phenomenal subtropical climate," said Kavalan's CEO, Albert Lee.
"These layers are underlaid with the alluring, smokey malt aromas from the peated spirit. I've been asked many times when we would release another made-in-Taiwan STR whisky. Now after years of experimenting, we sincerely hope the second STR whisky will pass on the excellent performance of Vinho, becoming the spotlight for whisky fans around the world."
The second STR whisky from Kavalan will launch in Taiwan this October as part of a four-bottle Christmas set and hopefully, to the rest of the world after.
This article first appeared on Lifestyle Asia Singapore.