Think of craft beer breweries and Japan may not be the first to come to mind. America? Yes. Australia? Most definitely. Japan, for the longest time, has always been all about the fine whiskies, gentleman's bars serving craft cocktails, and local izakayas. However, things are taking a turn as the Japanese begin to appreciate craft beer. The proof lies in these bars that serve up craft beer in Tokyo.
And just like everything else that the Japanese set out to do, they always end up making it even better. Japanese craft beer follows the steps of most Western craft beers, but they've successfully blended it with local flavours. Expect subtly delightful flavours in Japanese craft beer such as yuzu, and—if the season permits—sakura. This makes Japanese craft beer a truly original blend that appeals to its locals, as well as international visitors.
Ready to experience a whole new world of Japanese craft beer? Head to these places that serve craft beer in Tokyo the next time you're in this metropolitan city.
Baird Beer Taproom Harajuku is not much different from one of the local izakayas in Tokyo, except that it serves exclusively locally brewed craft beer with the standard pub fare. Opened by a Japanese wife and American husband duo back in 2000. It has since expanded to seven branches in Japan and even one in Los Angeles.
You'll find 15 microbrews on tap, but the Baird Brewing standard that's available all year round is the Teikoku IPA and Baird IPA.
(Picture: Facebook/ Baird Beer Taproom Harajuku)
Recently opened in 2019, Coaster is one of the newer additions to the city's craft beer list. Situated in Shimokitazawa, its facade matches the cool vibes that this neighbourhood is known for. However, don't expect to be served the same beer each time. With 15 taps in its bar, you'll find five kinds of each from Europe, the US, and also Japan. Coaster's focus will always be on fresh and seasonal brew trends, and its local offerings include the likes of Baird Brewing and Far Yeast. Have the beer alongside its burgers.
(Picture: Facebook/ Coaster Craft Beer & Kitchen)
Far Yeast Brewing is one of the top guns in the Japanese craft beer scene, and its flagship store Far Yeast Tokyo Craft Beer & Bao is certainly worth a visit. Here you'll find the brewer's popular beers on taps, such as the Tokyo Blonde, a golden ale, and Tokyo White. Pair your craft beers with baos, an interesting but nonetheless delicious pairing. If you're unsure of which will go better with your beer, don't hesitate to ask any of the friendly staff.
(Picture: Far Yeast Tokyo Craft Beer & Bao)
You might find it slightly difficult to get a place in Goodbeer Faucets, but we can guarantee that it's worth jostling through the crowd. People aside, you can find 40 beers on tap. However, don't expect to keep finding the same ones should you revisit, because the bar updates its tanks daily. Most of the beers in its repertoire are from Japanese microbreweries and North American brands. Be sure to take time to admire the state-of-the-art tap system, which was built by Goodbeer Faucets' owner, Teruya Hori, one of the known names in the scene.
(Picture: Goodbeer Faucets)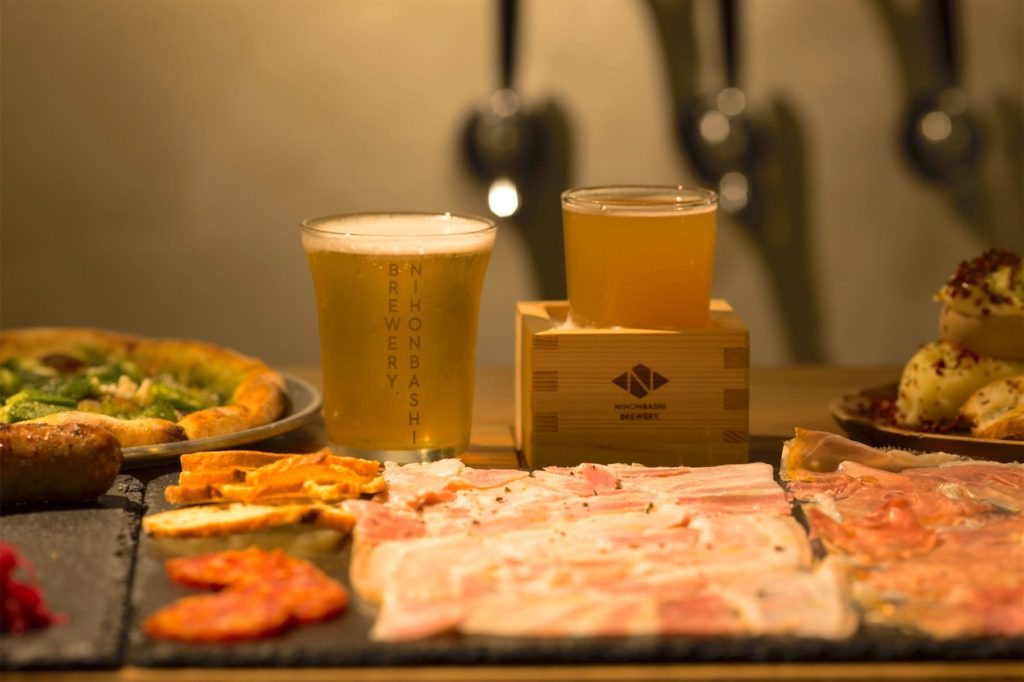 The traditional way of serving Japanese sake is in a masu — a wooden box. Here, you get to replicate that traditional Japanese style of serving craft beer, a glass placed inside the masu. Tradition aside, it's worth noting that the craft beer in Nihonbashi Brewery is crafted under the tutelage of Trevor Bass from Hopworks Urban Brewery in Portland. Otherwise, the bar also serves other types of Japanese craft beer alongside American ones. Have your beer with some Japanese-Italian pizza for a good time out.
(Picture: Facebook/ Nihonbashi Brewery)
Ushitora in Shimokitazawa is separated into two parts: one is a sit-down venue where you can order proper food to have with your beer. Another is a quintessential Japanese standing bar where you can get a round of oden or kushiage (deep-fried skewered meat and vegetables) to go with your beer. Here you can find approximately 35 beers on tap, but we reckon the best part about it is that most of the craft beers are Japanese, some of which are difficult to find elsewhere. Perhaps this could be the best place for a one-stop tasting affair.
(Picture: Facebook/ Beer Bar Ushitora)
Popeye is perhaps one of the most well-known places that stock up on craft beers. Originally a Western-style izakaya, it eventually morphed itself into a craft beer specialist and now boasts more than 70 beers on tap. Be sure to select the ones from Japanese breweries to really experience the local craft beer scene.
(Picture: Facebook/ Popeye)
Swanlake Pub Edo is also one of Japan's most established micro-breweries, and you'll find its original Tokyo outlet (the brewery hails from Niigata) in Kyobashi, near the Tokyo Station. There are 30 taps here offering Swanlake's brews. Be sure to try out the Amber Ale and Porter, and if in season, Swanlake's barley wine.
(Picture: Facebook/ Swanlake Pub Edo)